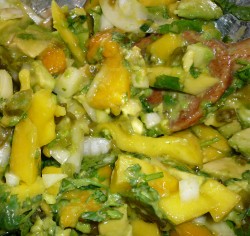 Nothing can really beat classic guacamole. That pure green mixture with the unique flavor is a culinary masterpiece.
On the other hand, sometimes you want or even need a twist to the flavor. If you are having a strong barbeque dish, say chicken or chops that are cooked until the outside begins to blacken, it's a great contrast to have a cool, sweet side dish. This Mango Guacamole is just the trick.
The secret ingredient here, unlike classic guac, is to replace the standard jalapeno with hot/sweet pickles. You can find varieties of these pickles in many stores and we'll be posting a recipe later this summer when our own cucumbers are ready in the garden.
This guac is, naturally, perfect for some chips and a salt-rimmed margarita. But just on the side of your plate, it's a lively way to add character to your meal.
Normally, when we make guac we use a pastry cutter to mash the ingredients. Here, it's chunky style so the size you get is the size you cut.
Mango Guacamole
Yield: about 3 cups
Ingredients:
1 medium sweet onion
½ cup hot/sweet pickles
2 ripe mangoes
2 avocadoes
Juice of 2 lemons
Handful of cilantro
Salt and pepper to taste
Preparation:
Dice the onion and place into a bowl. Dice the pickles and add the pickles and any pickle juice to the bowl. That pickles juice is an important contributor to the flavor.
Skin the mangos, cut off the meat and dice. Add to the bowl.
Skin the avocados, remove the pit, and carefully slice up each half into "smallish" pieces, say ¼ by ¼ by ½ inch. You are doing the avocados at the end here to prevent them from discoloring. Add them to the bowl
Juice the lemons over the bowl. Then dice the cilantro and add. Stir to mix. You may want to add some salt, possibly some pepper, but you need to taste first.
Refrigerate until ready to serve.
Source: Brian O'Rourke
Is it possible to figure out how many potatoes you have eaten in your life? At my age, and with my growing-up-in-the-50s background, my PPC — Personal Potato Count — is very, very high. Baked potatoes, French fries, hash browns, potato salad, … That veggie has been a major part of intake.
And my favorite? Well, for ease of use, I love them baked. However, I could use a baked boost. Just baked with butter is good — although I have been accused of adding too much salt and pepper. But that standard pairing day-in-day-out can get a tad boring. Sour cream and chives? I've been there. Worchester and other steak sauces? Spicy and interesting, but not every day. And there is salt there, too.
Yes, it was suggested that I lower my salt intake. And, yes, my lovely wife is monitoring my intake grain by grain.
Back to that butter. That unsalted butter by the way. This summer Suzen is offering her Cooking by the Book clients steak with an herbed butter. I expanded that idea this weekend to create this flavored butter that was just outstanding on my baked potato. The butter flavor is there, of course, but now augmented with the tasty boost of peppers, basil and cilantro. The best part of this? There is enough flavor here that you do NOT want to grab for the salt shaker.
Pepper and Herbed Butter
Yield: 12 tablespoons
Ingredients:
1 stick of butter [4 ounces or 8 tablespoons]
⅓ cup of canned red pepper, finely diced
5 basil leaves, finely chopped
1 tablespoon cilantro, finely chopped
Preparation:
Take the stick of butter from the refrigerator and finely slice it on a cutting board. Place the slices in a bowl and using a wooded spoon work the butter until it begins to soften. You'll need at least 2 minutes here.
Add the remaining ingredients and continuing working the butter. At some point you may want to use your hands, not a spoon, to gently fold the peppers and herbs into the butter. I had a lot of pepper to incorporate; dicing the peppers finely makes the incorporation stage easier.
Form the butter into a roll, seal in plastic wrap, and refrigerate for at least one hour before use.
Source: Brian O'Rourke