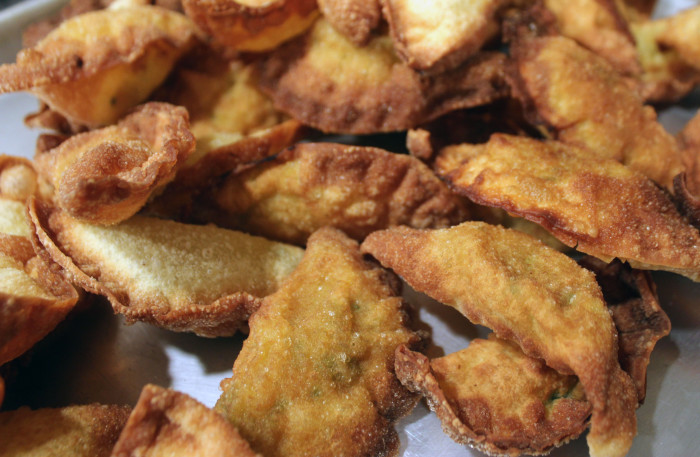 Sometimes you have to fry. I know, it can create a mess and the aroma lingers and no one wants to clean up that mess. Still, there are dishes where there is no option but boiling oil. If the payoff, the taste, is good enough, then all that effort will be forgotten. These samosas are worth every drop of effort and oil
For a party with 30 people, Suzen made four batches of these samosas. We had plenty, or so we thought. But 30 people can, easily, devour 160+ samosas if they are very good. And these dainty packets were voted best by a food-wise crowd here at Cooking by the Book.
The filling is curried butternut squash which surprises on the first bite and remains seductive as you consume every last bit. As with almost all recipes like this one, we "cheat" a bit. We use commercial wonton wrappers rather than make our own dough, one samosa at a time. Especially with the volumes of samosas you need for a party, those packages of wonton wrappers make this dish "doable" for a crowd.
If you party is planned to begin in the kitchen, perhaps with cocktails and appetizers around the island, this dish is wonderful pathway to a culinary evening. You can even have the ingredients at hand and enlist some of your guests to enjoy some hands-on participation. Truthfully, these samosas are best hot out of the oil, so you should search for culinary volunteers. Or just lay down the law and conduct your own version of the draft. In end, everyone will be glad they served.
Curried Butternut Squash Samosas with Tamarind Chutney

Yield: 40 samosas serves 8+, 1 cup of chutney

Ingredients:

For the samosas:

1 butternut squash – about 1 ½ pounds
3 tablespoons olive oil
2 tablespoons white onion, chopped
2 cloves garlic chopped
1 tablespoon madras curry powder
1 teaspoon sea salt,
1 teaspoon sugar,
1 large egg
1 package (1 pound) square wonton wrappers
Canola or rice bran oil for deep-frying
For the tamarind chutney:

½ teaspoon ground cumin
½ teaspoon garam masala
½ teaspoon ground ginger
¼ cup seedless tamarind paste
Sea salt [to your taste]
Sugar [to your taste]
Preparation:

For the samosas:

Preheat the oven to 400°F.
Cut the squash in half lengthwise and scoop out and discard the seeds. Place the halves, cut sides up, on a rimmed baking sheet and drizzle with 1 tablespoon of the olive oil. Bake the squash until tender when pierced with a knife, about 40 minutes. Let cool until easy to handle. Scoop the cooled squash flesh into a bowl and discard the shells.
In a saucepan over medium-low heat, warm the remaining 2 tablespoons olive oil. Add the onion and garlic and sauté until the onion is soft, about 5 minutes. Remove from the heat and stir in the curry powder. Add the squash flesh and mash with a potato masher until almost smooth. Stir in the salt and sugar, then taste and adjust the seasonings.
In a small bowl, beat the egg with a fork until blended. Lay about 5 wonton wrappers on a work surface; keep the remaining wrappers covered with a slightly damp kitchen towel. Spoon a scant tablespoon of the squash filling in the center of each wrapper and flatten with the bottom of the spoon. Brush the edges of the wrapper with the egg. Fold each wrapper in half on the diagonal, forming a triangle, and then press the edges together to seal the filling inside; set aside. Repeat with the remaining wrappers and filling.
Preheat the oven to 200°F. Line a large baking sheet with paper towels and place a wire rack on top. Pour canola oil into a heavy, high-sided skillet to a depth of 3 inches and warm over medium-high heat until very hot. Working in batches, add the samosas to the oil and fry, turning once, until golden brown on both sides, about 2 minutes on each side. Using a slotted spoon, transfer the samosas to the rack to drain and keep warm in the oven. Cook the remaining samosas in the same way, adding oil to the pan as needed.
Arrange the samosas on a warmed platter and set the chutney alongside for dipping. Serve right away.
For the tamarind chutney:

In a small, dry saucepan over medium heat, toast the cumin, garam masala, and ginger, shaking the pan occasionally, until fragrant, about 1 minute. Remove from the heat and let cool for about 2 minutes.
Break up the tamarind paste with your fingers and remove any extraneous seeds. Add the tamarind and 2 cups water to the pan and return to medium heat.
Simmer the mixture, stirring and mashing the tamarind constantly, until reduced by one-half, about 15 minutes. Taste and adjust the seasonings with salt and sugar. Pour the chutney into a small bowl, let cool, cover and set aside at room temperature.
Source: Williams-Sonoma New Flavors for Appetizers

Photo Information Canon T2i, EFS 60 mm Macro Lens, F/3.5 for 1/30th second at ISO‑640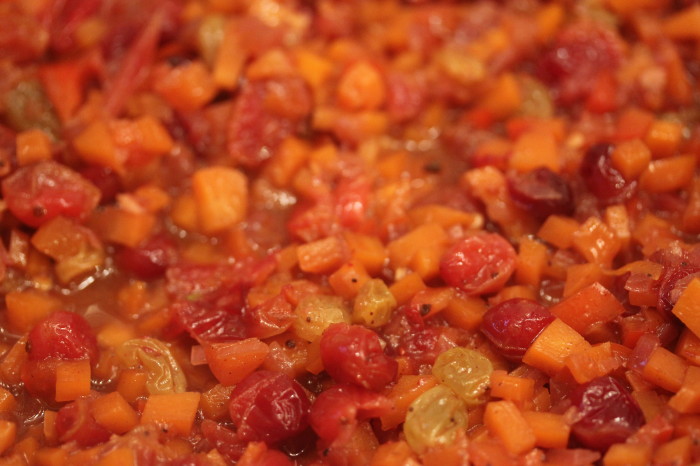 "How does this taste?" I asked Suzen.
"Like a dentist," she replied.
That was bad. Very bad.
Not because dentists are inherently bad. But because her first husband was a dentist. Ugly divorce.
Still, she had a point, the spice mix did kinda resemble that goop a dentist can apply before sticking a needle in your gum. I always hate the needle, but I actually like the spice stuff.
And so will you. No, you are going to love the spices, the carrots, the onions, the cranberries, the raisins, …
This chutney will bring an avalanche of flavors to your holiday table. This is Suzen's recipe, inspired by one in Chutneys & Relishes by Lorraine Bodger, published in 1995. Lorraine's Golden Carrot Chutney recipe has been extended here for the Thanksgiving table.
Here's a way to get your cranberries and your carrots, all packaged up in one sweet and spicy dish. Suzen added the cranberries. I added a lot more spices. The result is a dish that is simply packed with flavor. It's a great mate for turkey and can be served either cold or hot, although I think that hot is more aromatic.
Suzen's Thanksgiving Chutney: Carrots, Raisins, Bell Pepper and Cranberries
Yield: serves 8
Ingredients:
1 pound of carrots
2 tablespoons olive ol
1 Spanish onion, diced
1 red pepper, diced
2 garlic cloves, minced
½ cup golden raisins
½ cup light brown sugar, packed
½ cup vinegar
½ cup water
1 teaspoon salt
½ teaspoon ground cloves
½ teaspoon cinnamon
½ teaspoon nutmeg
½ teaspoon ground ginger
½ teaspoon ground allspice
1 tablespoon hot red pepper flakes
Preparation:
Trim and peel the carrots; mince them or cut them in small dice. Heat the oil in a large skillet, add the carrots and onion and sauté until the onion is translucent.
Meanwhile, cut the bell pepper in small dice. Add the bell pepper, garlic and raisins to the skillet and sauté just until the pepper softens.
Add all the remaining ingredients and stir well. Then cover the skillet tightly and cook over low heat for 20 minutes, until the carrots are tender but not mushy. Remove the cover and continue cooking for another few minutes until all the liquid evaporates.
Serve hot or cold.
Source: Inspired by Chutneys & Relishes by Lorraine Bodger
Photo Information: Canon T2i. EFS 60 macro lens, F/2.8, 1/100th second, ISO 2000