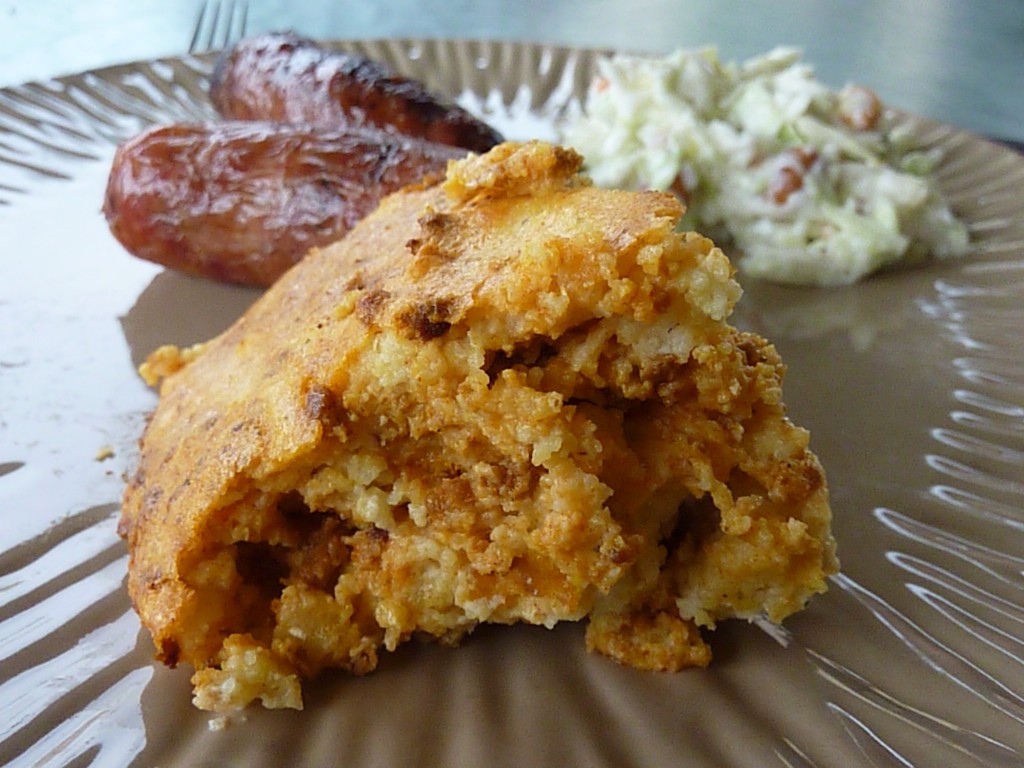 Spoonbread? You may have heard of it, but unless you have had the delight of tasting it, spoonbread has to be mystery. Soft, gooey, … what could it be?
On my first bite, I said, "This is a cornmeal soufflé." And that's exactly right. A spoonbread is a savory pudding, which is why the "spoon" part comes in. You have to spoon it out of the pan. You cannot cut it out of the pan, and you cannot spread butter and honey on it. This dish is made with cornmeal but it surely is not cornbread.
This version of spoonbread, with a full pound of chorizo, definitely has that spicy taste. Wait a couple of days, and the flavors have merged and mellowed. This is a great side dish for barbequed chicken or burgers with that hard black crust you love to snap through. In the picture above, we had sausages and coleslaw. You'll be fascinated by the textures and flavor of this dish.
Spoonbread with Simple Chorizo
Yield: 8 generous servings
Ingredients:
1 tablespoon butter
4 cups milk
2 cups cornmeal
Kosher salt
2 teaspoons baking powder
¼ cup unsalted butter, melted
4 eggs, beaten until thick
1 ½ cups grated Monterey jack cheese
1 pound cooked chorizo meat [stripped out from chorizo sausages]
1 tablespoon roasted garlic
Preparation:
Preheat the oven to 375°F and grease a medium-size casserole dish with the butter.
In a saucepan, over medium-high heat, bring the milk to a boil. Gradually add the cornmeal, stirring constantly until all the milk has been absorbed. Remove from heat and let cool.
In a large bowl, combine the cornmeal mixture, salt, baking powder, and butter until well mixed. Gently fold in the eggs, cheese, chorizo, and garlic. Pour into the casserole dish and bake for 20 to 30 minutes, or until the top starts to brown.
Remove and serve warm.
Source: Texas Cowboy Kitchen by Grady Spears with June Naylor
When is summer over? About 90% of the leaves have fallen from our trees. It's time to stop kidding ourselves and face facts: it is not going to be 80° outside for a long, long time. Given the price of heating oil, it is never going to be 80° inside!
So we've conceded to the seasons and begun doing the fall things. We are actively stacking firewood on the deck. We are passively watching the wind blow the leaves away. We consider very un-Green to rake and burn. Besides with three acres, do you know how many leaves there are?
We have put away summer clothes and dug out the winter stuff.
We have put away summer cookbooks and dug out the winter stuff. And that brings us to old friends and cookbook treasures.
We've blogged a few times from Eat Feed Autumn Winter by Anne Bramley:
Ancho Chili Soup with Sweet Potatoes and Chorizo
Indian Spiced Cauliflower
Wild Rice Pilaf with Cherries and Pecans.
You can find these recipes by using the search box on this blog. We're going back to this book for the fall and will post even more recipes.
You might want to treat yourself and look for a copy of Eat Feed Autumn Winter at your local bookstore or online. It's a book worthy of being on your shelves.