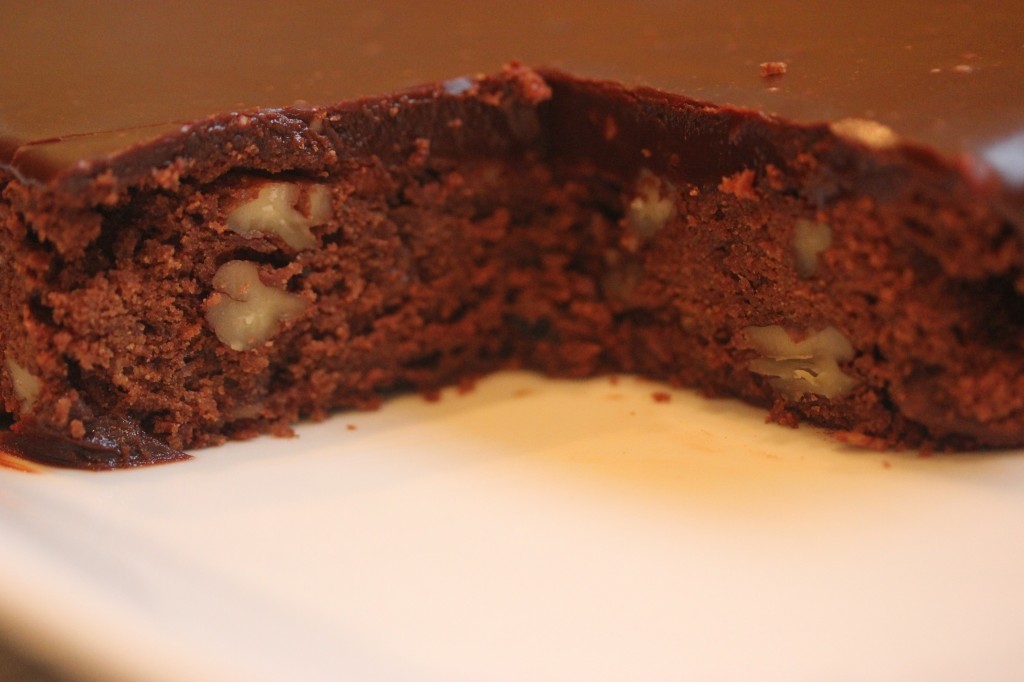 Ah, yes, the brownie is good. It's really good. And I swear I will blog it tomorrow. But today, raise your eyes. Look at that chocolate glaze. That perfect chocolate glaze that made these brownies "the best ever." Suzen said that. I was humbled.
The brownie is from Maida Heatter, with some modifications. This glaze starts with her, too, but I've totally modified it. Maida wants only cream, instant coffee powder and LOTS of chocolate. Her glaze was for a cake, mine for a single layer of brownies, so I use less chocolate, add some butter and some powdered sugar.
The result? This is an awesome glaze, for many reasons. It's easy to make. It spread wonderfully. And it dries into a work of art.
Often when you see a recipe for powdered sugar, it calls for sifting or sieving. That's a good idea here. You might see in my picture just a speck of two of powdered sugar that was not fully dissolved. By the time you add the powdered sugar, this mixture is becoming very viscous. You won't have the opportunity to get rid of every speck of unsifted powdered sugar. Just consider it decoration.
Brian's Perfect Chocolate Glaze
Yield: easily enough to top one 8" X 10" sheet.
Ingredients:
½ cups heavy cream
1 tablespoon instant coffee powder
3 ounces unsweetened chocolate, in small pieces
2 tablespoons butter
1 ½ cups powdered sugar
Preparation:
Put the cream in a medium saucepan on medium heat. Bring to a simmer, with bubbles starting to form on the side of the saucepan. Add the instant coffee powder and the chocolate and whisk for one minute — with the mixture still on medium heat.
Remove from the heat and, if necessary, continue to whisk until the chocolate is fully melted. Add the butter and whisk until smooth. Add the sugar, ½ cup at a time, whisking after each addition. You'll need two additions and perhaps much of the third.
If the glaze is still "hot" then wait a few moments. When it is warm, and still quite fluid, pour the glaze over your brownies, or whatever, and allow it to gracefully flow.
Complete the task by taking a rubber spatula and cleaning any remaining glaze out of the bowl. You can share with your spouse or your children. Or, if you are alone, you can just eat it all yourself and smile at your success.
Source: Brian O'Rourke inspired by Maida Heatter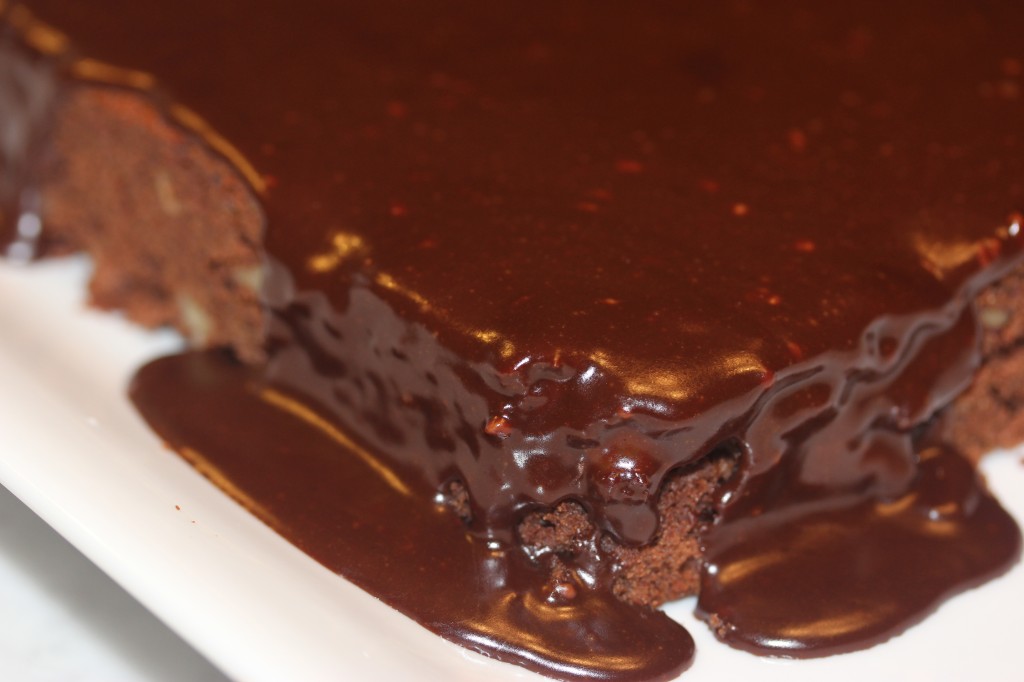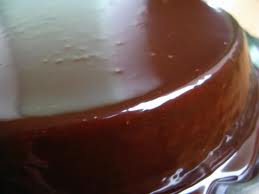 This is a two part blog: cake and frosting. Of course, frosting comes first and tomorrow you'll have the cake. Frosting deserves to be first. Well, icing should come first. Icing, frosting, which is it? Even in the recipe from The Great American Cookbook by Clementine Paddleford the two terms are confused. She calls this a Fudge Icing but refers to the mixture as a frosting. Oh, and it's not fudge. It's Mocha.
What is going on here? In mid-century, Clementine Paddleford toured America, writing for magazines and cataloging the "best" in local recipes. Those recipes were collected into her book How America Eats, which has now been republished as The Great American Cookbook. The book provides "typical but great" recipes region by region, state by state.
It is assuredly American. And it is great. Most importantly, this book captures how Americans cooked over 50 years ago. That was a different America. The terminology was different: hence using "icing" and "frosting" interchangeably. The styles of cooking were different. There is a recipe here for Hungarian Meatballs, something you'd expect to come from Pennsylvania or Ohio. No, it's from Florida, which had a much smaller population in the 1950's with a radically different ethnic mix.
There are recipes here with terms you've never heard of: Montauk Berry Duff from New York.
Today, the hottest restaurant in New York City is just two block from where I live on Worth Street. The chef is from Portland, Oregon, now listed as one of the food centers of America if not the world. I grew up in Portland. In the 1950's the hottest restaurant in Portland was Manning's Cafeteria where you pushed along a tray to get salmon croquettes and meatloaf and blue berry pie. For me, the close connections and yet the enormous increase in culinary complexity, well, it makes me shake my head and smile and the same time.
Ah, if you want to smile, then make this icing. It is an icing, thin and shining, not deep and thick like a frosting. But you won't care. You can use this icing on cakes, on cookies, or even on your fingertips.
Tomorrow comes the cake that Clementine recommended.
Fudge Icing from Seattle Circa 1960
Servings: covers one 9 X 13" sheet cake
Ingredients:
2 ¼ cups confectioners' sugar
5 tablespoons cocoa powder
6 tablespoons [¾ stick] unsalted butter
5 tablespoons hot coffee
1 ½ teaspoons vanilla extract
Preparation:
Sift the confectioners' sugar and cocoa into a medium bowl. Stir in the butter, then the coffee, followed by the vanilla, mixing well with a wooden spoon after each addition, until the frosting is smooth. Ice the top and sides of your cake with frosting.
Source: The Great American Cookbook by Clementine Paddleford