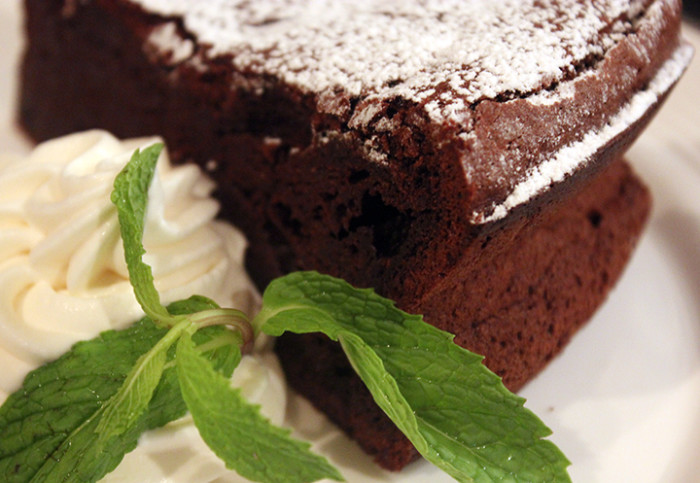 Some food items are simply hard to photograph. Soup. Drinks. Flourless chocolate cake.
The taste of this cake is exceptional but photographing it is hard. The side is one solid slab of darkness. No grain or texture. Just a mass of dark something. This could probably double as part of a set on a science fiction film.
Except, this is no fiction. It's a real cake, a real recipe. Both molten and flourless chocolate cake recipes abound. Sometimes, you can be a bit confused about what you are eating: is this kinda molten or flourless kinda? Here, there is no question. No molten anything. Deep, dark and dense.
Overpoweringly dense. I actually recommend that you not eat this by itself. The flavor is so overpowering, that a complement is needed. Unsweetened whipped cream — yes, whipped perhaps with a little vanilla but no sugar — is the perfect foil, and that follows in the recipe below.
Or vanilla ice cream. Better, French vanilla.
Or, a glass of port or brandy.
Just something to offset the relentless dense chocolate intensity. Hey, I'm not complaining here. I love this dessert, but everyone has their limits and this certainly pushed mine.
A heavy meal, say steaks off the grill, can often demand an equally intense dessert so that there is no "meal letdown." You scale up your wine complexity during your meal. Dessert often follows the same pattern. If "light and delicate" won't do, then it is time for the heavy artillery. This cake is just what you meal demands. There will be no complaints but quite possibly a few "Oh my Gods."
The official name for this recipe is Chocolate Cracked Earth. Do not be concerned. It's a massive creature and the thermal stress in your oven is going to create cracks. See, I told you this belonged in a science fiction film.
Chocolate Cracked Earth (aka Flourless Chocolate Cake)
Yield: serves 10
Ingredients:
·       1 pound bittersweet chocolate, chopped into small pieces
·       1 stick unsalted butter*
·       9 large eggs, separated
·       ¾ cup granulated sugar, plus 1 tablespoon
·       2 cups heavy cream, cold
·       Confectioners' sugar, for dusting
Preparation:
Preheat the oven to 350 degrees F. Butter a 9-inch spring form pan.
Put the chocolate and butter into the top of a double boiler (or in a heat proof bowl) and heat over (but not touching) about 1-inch of simmering water until melted. Meanwhile, whisk the egg yolks with the sugar in a mixing bowl until light yellow in color. Whisk a little of the chocolate mixture into the egg yolk mixture to temper the eggs – this will keep the eggs from scrambling from the heat of the chocolate; then whisk in the rest of the chocolate mixture.
Beat the egg whites in a mixing bowl until stiff peaks form and fold into the chocolate mixture. Pour into the prepared pan and bake until the cake is set, the top starts to crack and a toothpick inserted into the cake comes out with moist crumbs clinging to it, 20 to 25 minutes. Let stand 10 minutes, then remove sides of pan.
While the cake is cooking, make the whipped cream. Whip the cream until it becomes light and fluffy.
Serve at room temperature dusted with confectioners' and the whipped cream.
Source: Tyler Florence on TheFoodNetwork.com
Photo Credits: Canon T2i, 18-55MM Macro lens, F/5.6, 1/10th second, ISO 3200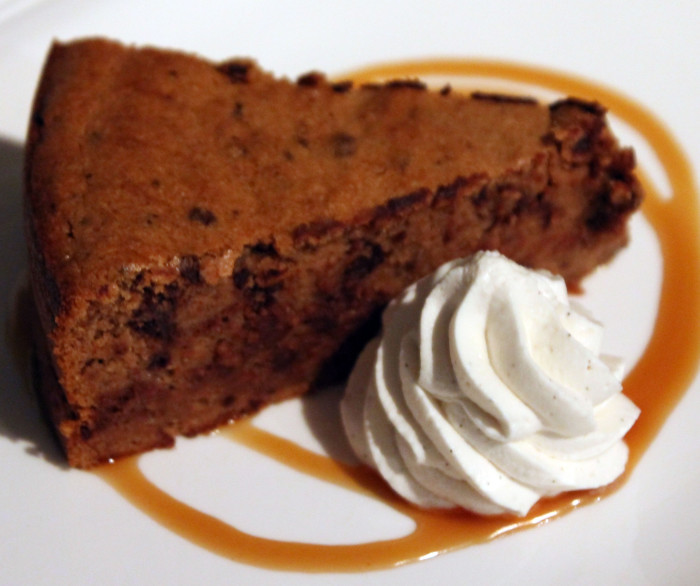 Amber Rose has just published Love Bake Nourish, a baking book that reflects a very distinctive personal nature. She's a passionate about foods that are seasonal, organic and not processed. She loves different flours and she cannot abide processed sugar. In her career as chef and author, she has scoured for recipes, old and new, that meet her standards for superior and naturally healthy baking.
This dish is old, Italian, and a treasure. No sugar, just honey. No flour, just ground walnuts plus chestnut puree. There is a reason traditional recipes are the core of our culinary heritage. They taste good.
Amber's recipes typically end with serving suggestions. I expected to read about whipped cream. How lovely to find she wants this dense, rich cake served with sour cream. This combination is truly self-intensifying.
And, uh, no, there is no chance of confusing this cake for a baked potato.
Addendum
Suzen made this cake for her monthly group of celiac patients from the Columbia University Center for Celiac Disease. She teaches patients and their families, not just how to get through, but how to thrive. Our pastry chef made this cake and I reminded her that it should come with sour cream. Our pastry chef is from the Caribbean and very dignified and a bit terse. "No, whipped cream," she said. And that's what the picture shows.
This cake is unleavened, so it is Passover ready.
A Comforting Chocolate and Chestnut Cake
Yield: serves 10-12
Ingredients:
5 large free-range eggs, separated
½ cup honey
7 tablespoons unsalted butter, softened
18 ounces unsweetened chestnut puree
1 ½ cups ground walnuts (or hazelnuts)
Finely grated zest of 1 unwaxed lemon
4 ounces dark chocolate (70% cocoa solids), grated or chopped
Preparation:
Preheat t h e oven to 350°F. Grease and flour a 10-inch loose-bottomed cake pan.
Mix the egg yolks and honey in a large bowl until thick and smooth, then add the butter, pureed chestnuts, walnuts, lemon zest, and chocolate, and mix thoroughly until everything is completely incorporated.
In a separate, very clean bowl, whisk the egg whites until stiff peaks form. Carefully fold the egg whites into the cake mixture, trying not to lose the air from the mixture, and don't bang the bowl. Scrape the mixture into the prepared pan and bake in the oven for 50 minutes to 1 hour. Remove from the oven and leave to cool in the pan.
When the cake has cooled completely, turn out onto a serving plate. Serve cold with a little sour cream or crème fraiche. I like it with cherry compote.
Source: Love Bake Nourish by Amber Rose