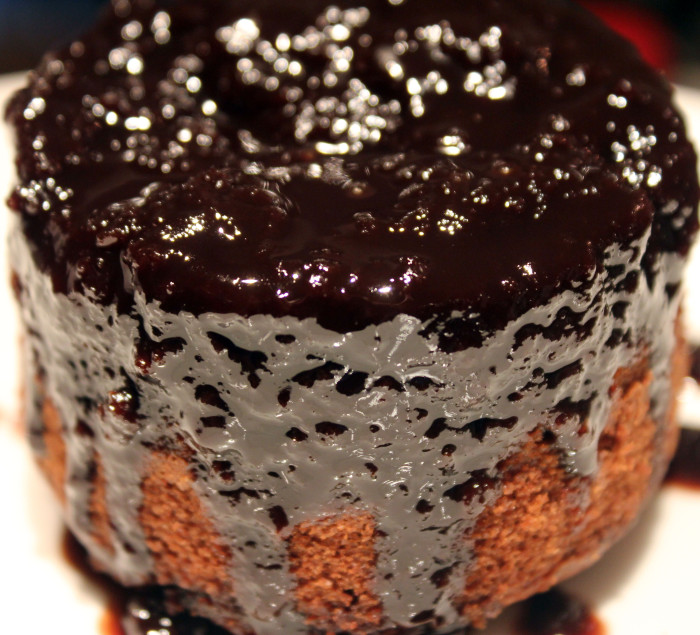 How many times have you have Chocolate Molten Cake? A lot? Too much? Over it?
Lie down on couch. Take your shoes off. Fold your hands. Shut your eyes. Go back, far in time, to a simpler time and space.
Take your best memories of chocolate cake and chocolate pudding and let them flow and merge and …
Time to wake up. Time to cook. Shoes on, please. Go directly to the kitchen. Search for the cocoa powder and everything else you need. I know, I sound bossy here. I know, too, that later you will thank me.
This is better than those molten exotics: rich, dense and satisfying as only chocolate — actually cocoa — can be. Suzen has served dozens and dozens of these desserts this summer at Cooking by the Book. I never ever tire of getting my own private little dessert at the end of the meal. It may be small, only the size of one ramekin, but it's mine, all mine.
Make yours. Then find a couch, lie down. Kick those shoes off. Again. Close your eyes. Again. Take one deep spoonful.
Okay, it may not be a life changing event. But's a great treat.
---
Warm Chocolate Pudding Cake

Yield: serves 4
Ingredients:
For the chocolate sauce:

1 cup boiling water
¼ cup unsweetened cocoa powder
2 ½ cups soft brown sugar
For the chocolate pudding cake:

1 cup all-purpose flour
A pinch of salt
2 teaspoons baking powder
⅓ cup unsweetened cocoa powder
1 cup whole milk
5 tablespoons unsalted butter, melted
½ cup plus 1 tablespoon sugar
2 large eggs
1 tsp real vanilla extract
For serving: Crème fraiche, mascarpone cheese, or vanilla ice cream
Preparation:

Preheat the oven to 350°F. Grease four 5-oz. ramekins.
First make the chocolate sauce. Pour a scant cup boiling water into a small saucepan, add the cocoa powder and brown sugar, and lightly whisk over a low heat making sure that there are no lumps and the sugar has dissolved. Transfer the batter to a jug.
To make the puddings, sift the flour with the salt, baking powder, and cocoa powder into a large bowl. Whisk in the milk, melted butter, sugar, eggs, and vanilla extract until a thick, smooth batter forms. Transfer the batter to a jug, then pour it into the ramekins so that the mixture comes halfway up the sides. Place the ramekins on a baking sheet.
Pour the chocolate sauce mixture carefully over the prepared puddings and bake in the preheated oven for 15- 20 minutes: they should still be wobbly in the center when they are ready.
If desired, top each pudding with a dollop of crème fraîche, mascarpone cheese, or a scoop of vanilla ice cream.
Source: No Fuss Dinners by Caroline Marson

Photo Information: Canon T2i, EFS 60mm Macro Lens, F/5 for1/60th second at ISO‑1000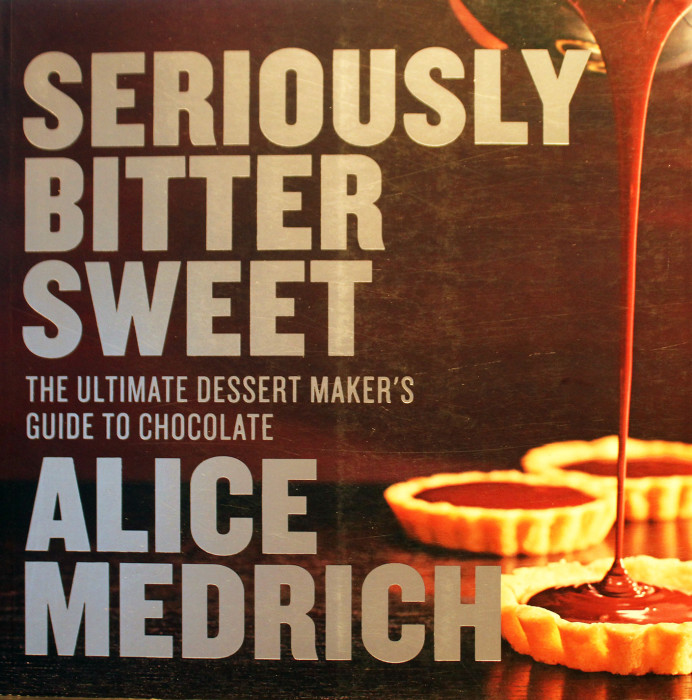 This is about an author and a book and why, if you enjoy chocolate, you want to have Seriously Bitter Sweet in your kitchen.
In 2003 chocolate maven Alice Medrich wrote Bittersweet, a primer on chocolate that reflected her 30 years of chocolate experience. Author, chef, chocolate shop owner, consultant to chocolate firms, Alice possessed all the knowledge needed to write a book for the ages.
Except even in 2003 Alice sensed the growing chocolate revolution that was about to explode worldwide and most specifically here in the United States. She knew that Bittersweet would need a successor, and now we have it. [Yes, it was Bittersweet then but Bitter Sweet now. Things change.]
Into the 70's and 80's in the United States there was baking chocolate and eating chocolate. "No sense wasting good chocolate in cooking" was a motto followed by many. And the baking chocolates came from one manufacturer primarily in colored boxes labeled unsweetened, bittersweet and semisweet. As you may have discovered, there really was no taste or cooking consequence for substituting between bittersweet and semisweet.
Then Alice went to Paris. That is a place where people know how to cook. She ate a chocolate truffle. Then another. Her year of graduate studies over, she returned to Berkeley to finish her masters degree. Along the way, sort of for fun, sort of out of truffle withdrawl, she began making truffles and other chocolate delicacies based on her European experiences. School dissolved in a mound of melted chocolate. She opened a famed store, Cocolat. She got orders from Zabars. She got a Gail Greene review. Her life was sealed in chocolate.
After Cocolat was sold, Alice consulted with the team at Scharfen Berger, the first bean-to-bar American firm in 50 years and the first ever to produce a 70% cocoa bar. And that was the rub, because she discovered that those high percentage cocoa chocolates — American or European — cannot just be substituted for the 54-59% style of recipes we had all gotten used to. With those boxes of cooking chocolate.
Bittersweet in 2003 began with an explanation of the coming tidal transformation and the possible consumer confusion as new chocolate makers came on line but rarely published the cocoa content on their packaging. Those percentages were considered a trade secret. As a consequence, many of us baked some chocolate extravaganza and had disappointments — because we had a complete mismatch in what chocolate we should have been using.
A decade has passed since Bittersweet and Alice has worked this entire time on educating people to work in this new land of chocolates. Packaging thankfully now helps because you can go into any gourmet, or even local, market and find shelves and shelves of artisan chocolates. The percentages are there on every competing label.
That's where Seriously Bitter Sweet is your new chocolate bible. Alice has refined her earlier Bittersweet recipes to reflect the new percentage information that is available to you on each chocolate source. She tells you what percentage to use in what recipes and why. She's learned herself how the new high percentage chocolates require adjustments to all the ingredients: less sugar and less cream and less egg — not more — are needed to expand out the more complex flavors of the new artisan chocolates. For example, she prepares crème brulee with water not cream and she knows why it is better.
Alice is proud to state that Seriously Bitter Sweet is the only book on the market that addresses this chemically complex issue, that educates you, and that gives you an array of both sweet and savory chocolate recipes tuned for perfection.
The American food scene is, thankfully, abundant with artisans of all shapes and sizes. Boutique gin and bourbon producers can be found in old warehouses in Brooklyn or on faraway farms in upstate New York. The story holds across the country.
And artisan chocolate makers, real bean-to-bar producers, are sprouting up everywhere, too. In our upstate town of Olive, we have Fruition Chocolate just three miles away. It's conveniently located between our pizza/barbecue hangout, the gas station, and the post office. You can't go anywhere for anything and not pass Fruition, so you might as well …
Fruition is an example of the outstanding new chocolates. But, after our first bites, Suzen and I had the same question: with something this intense and rich, how do we cook with it? Seriously Bitter Sweet is our guide, and yours, to enriching your life in the new chocolate environment. You could not have a better instructor than Alice Medrich.