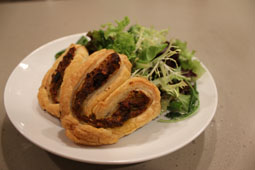 Palmier? Your mind instantly thinks of a wide, thin sweet pasty, laden with sugar. Perhaps paired with a cappuccino in a Paris café. They are big and they are a meal.
A savory palmier? That's got to be an oxymoron. How could you possibly make something that is not sweet, or, worse, potentially even healthy?
Well, you can. And these palmiers, filled with homemade pesto, are every bit as addictive as the sweet ones. Better yet, you can make and freeze these. Served as appetizers or as a first course with salad, as the recipe shows below, you'll find your dinner partners grabbing for more.
The unusual nature of these palmiers will immediately attract attention. Then, after a first bite, there will appear a smile and a quiet look of astonishment. Different, flavorful and zero calories.
Two out of three isn't bad.
Savory Palmiers
Ingredients:
For the Palmiers:
1 package frozen puff pastry, Pepperidge Farm or other, defrosted
1 cup prepared pesto, store-bough or homemade
½ cup crumbled goat cheese, such as Montrachet
¼ cup finely chopped sun-dried tomatoes in oil, drained
¼ cup pine nuts
For the Pesto (2 cups):
¼ cup walnuts
¼ cup pine nuts
3 tablespoons chopped garlic (9 cloves)
5 cups fresh basil leaves, packed
1 teaspoon kosher salt
1 teaspoon freshly ground black pepper
¾ cup extra-virgin olive oil
1 cup fresh grated parmesan cheese
For the Salad and Vinaigrette:
6-8 cups torn salad greens, such as frisée, Boston, red leaf, baby arugula
2 tablespoons chives, cut
½ teaspoon tarragon leaves, cut
½ teaspoon thyme leaves, minced
¾ cup extra-virgin olive oil
¾ cup red wine vinegar
1 tablespoons Dijon mustard
1 tablespoon water
Preparation:
Preheat the oven to 400°F.
To make the pesto: Place the walnuts, pine nuts, and garlic in the bowl of a food processor fitted with a steel blade. Process for 30 seconds. Add the basil leaves, salt, and pepper. With the processor running, slowly pour the olive oil into the bowl through the feed tube and process until the pesto is finely puréed. Add the parmesan and purée for a minute. Serve, or store the pesto in the refrigerator or freezer with a thin film of olive oil on top.
Purée the goat cheese and sun-dried tomatoes in a food processor; stir in the pesto
Lightly flour a board and carefully unfold one sheet of puff pastry. Roll the pastry lightly with a rolling pin until it is 9½ x 11½ inches. Spread the sheet of puff pastry with half the pesto, the sprinkle with half the goat cheese, half the sun-dried tomatoes, and half the pine nuts. Sprinkle with ¼ teaspoon salt.
Working from the short ends, fold each end halfway to the center. Then fold each side again toward the center until the folded edges almost touch. Fold one side over the other and press lightly. Place on a sheet pan lined with parchment paper and chill roll. Repeat for the second sheet of puff pastry using the remaining ingredients. Cover and chill.
Cut the prepared rolls of puff pastry into ¼-inch-thick slices and place them face up 2 inches apart on sheet pans lined with parchment paper. Bake for 14 minutes, until golden brown.
Meanwhile the palmiers are baking, prepare the vinaigrette. In a small bowl whisk together, the olive oil, red wine vinegar and mustard to emulsify. Add the chopped herbs and salt and pepper to taste.
Source: Adapted from Back to Basics by Ina Garten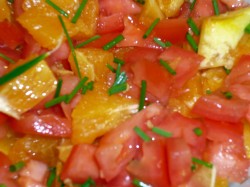 I don't work at Barnes and Noble but I do shop there. When you first enter the store, there is often a rack of "special" books that you may overlook. They always have modest prices. They always have a distinct size or cover. You might pass right by, but if you see The Complete Mexican by Jane Milton, Jenni Fleetwood, and Marina Filippelli, grab a copy. It's filled with recipes that simply don't "look" like the ones you are used to. You'll gain a very new perspective on Mexican fare.
For example, salsa. Salsa? Most of the time we make our salsa with some — but not necessarily all — of a core set of ingredients: tomatoes, chilies, onion, cilantro.
Here's a twist. Keep the tomato, but ditch the other stuff. Use oranges and chives instead! Yes, it sounds almost bizarrely different. But, it's delicious. I had this as a side dish with a Mexican trout — blog to come! — and it was brightly flavorful.
One note here. You dice up the tomato and oranges. There's a lot of fluid running around. This dish is best made just before the meal. And, no, it really does not last overnight in the fridge. In that sense, it seems to be a very authentic "make it now and eat it now" dish.
Orange, Tomato and Chive Salsa
Yield: Serves 4 as a side dish
2 large, sweet oranges
1 beefsteak tomato, or 2 plum tomatoes
Bunch of fresh chives [mine were right of the garden!]
1 garlic clove
2 tablespoons extra virgin olive oil
Sea salt
Preparation:
Slice the base off each orange so they will stand firmly on a chopping board. Using a large sharp knife, remove the peel by slicing from the top to the bottom of each orange.
Working over a bowl, segment each orange in turn. Slice toward the middle of the fruit, and slightly tone side of a segment, and then gently twist the knife to release the orange segment. Squeeze any juice form the remaining membrane.
Roughly chop the orange segments and them to the bowl of collected orange juice. Halve the tomato, and scoop the meat into the bowl. Dice the remaining flesh of each tomato half and add to the bowl.
Hold the bunch of chives over the bowl, and use scissors to snip them in short pieces over the bowl.
Thinly slice the garlic and stir into the mixture. Pour in the olive oil, then season with salt. Stir, taste, and adjust to meet your needs.
Source: The Complete Mexican by Jane Milton, Jenni Fleetwood, and Marina Filippelli