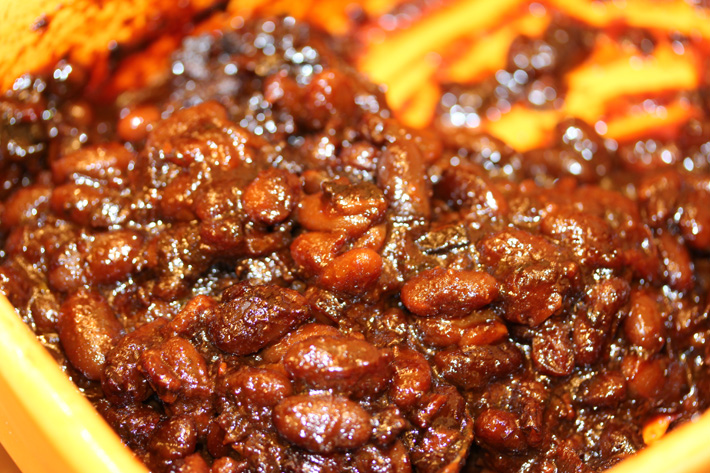 Slow food versus fast food. Slow food versus very slow food. Long cooking times can enable flavors and textures that simply are not possible with a microwave, a deep fryer or a simple broiler. Here's a perfect example. You start with cooked white beans, adorn them with a parade of additional flavors and let the combination bake away for hours. And the result? These are baked beans unlike anything you have ever had.
"More?" Brian asked me.
"I can make more," I said. I watched the tears fall from his eyes and all I could think was: leverage!
Your husband, wife or partner will beg you for these beans. Do not give up this recipe or your control. Slow is good. Very slow is very good.
Made according to this recipe, the chipotle here adds smokiness but only modest heat. The sugar and molasses of course add sweetness but also a stickiness that appeals. This a great complement to chicken wings or burgers. You will truly enjoy this complex combination of flavors.
Smoked Chipotle Baked Beans
Serves: 4 to 6 modestly, 2 persons hungrily
Ingredients:
One 16-ounce can cooked white beans
¼ cup chopped onion
¼ pound uncooked bacon, finely diced
¾ cup molasses
½ cup ketchup
¼ cup packed light brown sugar
1 smoked, dried chipotle pepper, seeded and crushed
1 teaspoons dry mustard
1 teaspoon salt
1 teaspoon Worcestershire sauce
1 tablespoon chopped fresh cilantro.
Preparation:
Heat the oil in a fryer to 350°F.
In a medium mixing bowl, combine the beans, onion, bacon, molasses, ketchup, brown sugar, chipotle, mustard, salt, Worcestershire, and cilantro. Mix well.
Transfer the mixture to a buttered 5- to 6-inch deep baking dish. Cover with foil and bake for 4 hours. Check the beans every hour for moisture content. If they become too dry, add a little water.
Serve piping hot.
Source: Wings Across America by Armand Vandersitgchel
One rule of life is that there are exceptions to every rule. One of my rules is that to make great food takes time. The leading restaurants of Paris have staff working 7 X 24 to embrace your palette with those velvety sauces. How can great ever be quick?
This recipe is the exception, a remarkable one. One taste and you will agree that the flavors here are perfectly blended. And they truly are unlike anything you have tasted before.
This recipe comes from a brilliant book, Antojitos: Festive and Flavorful Mexican Small Plates by Barbara Sibley and Margaritte Malfy. The twist to this book is that it offers very doable, very upscale Mexican recipes. The "small plates" idea in the title does reflect a tapas orientation. But many of the dishes in this book would make rich full entrees.
Antojitos has chapters devoted to cocktails and snacks, salsas, seafood, poultry, meats, and vegetables. Those standard titles belie the treasures they contain. For a cocktail, how about a White Hibiscus Sangria? For seafood, have you ever heard of Spiced Catfish and Nopal Cactus Tamales? Every time you turn the page in Antojitos, you stop, salivate, and ponder just stopping on the delicious idea before you. This is Mexican cooking on a level you have never seen.
Now, I said this recipe was quick to make yet it does call for 2 cups of cooked duck meat. You can cook that in advance, and perhaps have it frozen. Suzen and I used duck confit that was purchased at our local mega-mart. Or, you can pay a visit to your local Chinese restaurant and purchase lovely meat there.
Duck meat is the starting point here, but turkey, with its gamey taste, would also be an excellent match for the Chipotle-Fig Sauce. That sauce is too good to waste on chicken. Treat yourself and get an upscale bird meat for this matchless dish.

Duck Breasts Tostada with Chipotle-Fig Sauce
Yield: 36 tostadas to serve 8 to 12
Ingredients for the Sauce:
1 cup dried figs, such as Mission, halved lengthwise
1 cup firmly packed light or dark brown sugar
3 chipotles en adobo
1 tablespoon adobo sauce from chipotles en adobo
Kosher salt
Ingredients for the Tostadas:
6 6-inch blue or white corn tortillas
1 cup corn oil
Kosher salt
2 cups sliced cooked duck at room temperature
3 tablespoons chopped fresh cilantro leaves
3 tablespoons crumbled queso fresco or ricotta salata cheese
Preparation:
To make the sauce, put the figs in a bowl, add warm water to cover, and set aside for about 20 minutes to soften.  Drain and reserve the soaking water.
Transfer the fits to a blender or food processor, add the brown sugar, chipotles, and adobo, and process until smooth. Add as much of the soaking water as needed to create a syrupy consistency. Season to taste with salt.
To make the tostadas, using a cookie cutter, cut the tortillas into 2-inch-rounds. Or, using a knife, cut each tortilla into 6 wedges.
In a deep sauté pan, heat the oil over medium-high heat until a small piece of tortilla dropped into the oil crisps within 15 second. Fry the tortilla pieces , a few at a time, for about 15 seconds on the first side, or until they start to curl. Turn and fry on the second side for 15 seconds. Be careful not to overcook. Using a slotted spoon, transfer to paper towels to drain. Let the oil regain temperature between batches.
Spread the hot tostadas on a ;platter and season with salt. Top each tostada with some of the duck, drizzle with a little of the sauce, and sprinkle with the cilantro and cheese. Serve at once.
Source: Antojitos by Barbara Sibley and Margaritte Malfy