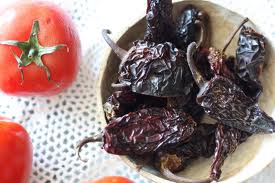 In the coming weeks, leading up to the Super Bowl, there will be chips and salsa aplenty. You can treat yourself, and any family or friends, to a salsa combination you almost surely have never had before. Here pecans and chipotles merge for a slow-building heat. This recipe, from Tacos, Tortas, and Tamales by Roberto Santibanez, is said to be ideal for tacos or simple tortas. I think it's a great chips salsa because of the surprising flavor combination. You'll dip that chip, have it snap in your mouth, and then wonder just what it is that is now filling your mouth with such substance.
The recipe calls for chipotle mora chiles, pictured above. They are small and purple-red in color. You should be able to find them in a Mexican market. Of course, your chili of choice can be substituted to give you a different flavor experience. If you are Googling, you'll see some different discussions about chipotles, moras, and chipotle moras. If possible get some professional assistance. The color is the key.
You can make this salsa up to 5 days in advance, refrigerate, and then bring to room temperature before serving.
Pecan-Chipotle Salsa
Yield: 1 cup
Ingredients:
3 dried chipotle mora chiles [small, purplish-red], whipped clean and stemmed
½ cup pecans, coarsely chopped
2 tablespoons olive or vegetable oil
½ cup finely chopped white onion
1 medium garlic clove, finely chopped
½ teaspoon kosher salt
Preparation:
Preheat a dry small pan over medium-low heat and toast the chiles, turning them over occasionally, until they have puffed up and blistered in spots, 3 to 5 minutes. Transfer them to a blender along with ½ cup of water.
Preheat the oven to 350⁰F and toast the pecans in one layer on a baking sheet, shaking once or twice, until they are two shades darker and very fragrant, 5 to 8 minutes. Transfer them to a blender. Blend the mixture to form a slightly chunky puree, gradually adding more water if necessary to blend.
Wipe the small pan clean, add the oil and set the pan over medium heat. When the oil shimmers, add the onion and garlic and cook just until the onion is translucent and soft, about 2 minutes. Add the blended mixture to the pan, then pour 1 tablespoon of water into the blender to loosen the remaining puree and pour it into the pan.
Add the salt and let the mixture come to a strong simmer, stirring constantly, then turn off the heat. Let the salsa cool, then season it to taste with more salt.
Source: Tacos, Tortas, and Tamales by Roberto Santibanez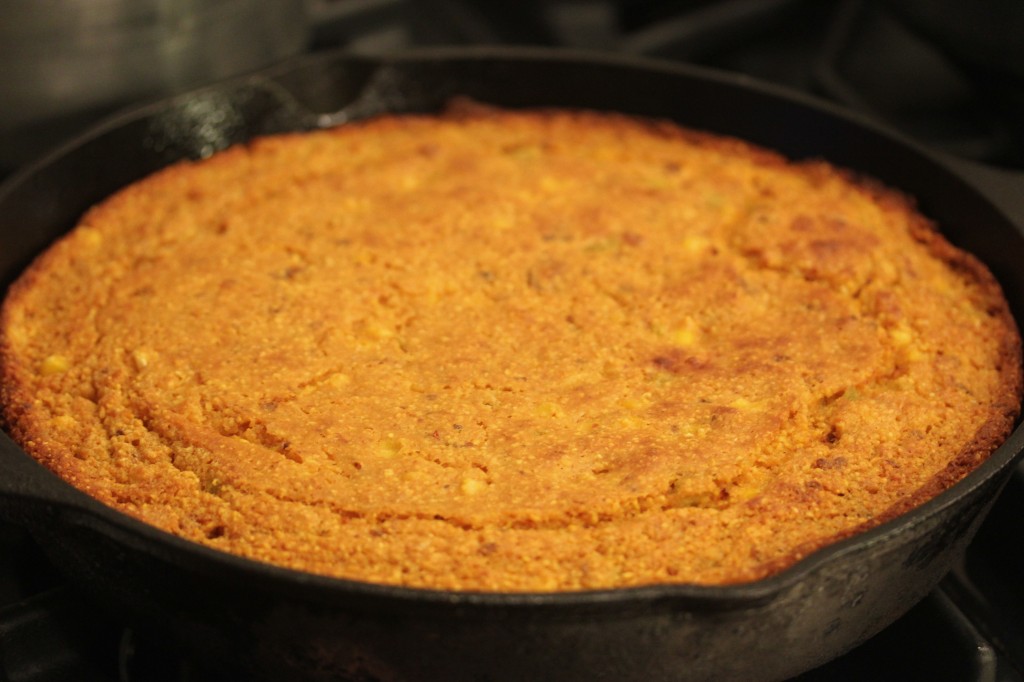 Yesterday I blogged about a cornbread stuffing that asked for "1 recipe" of your cornbread of choice.
Here's ours: Chipotle Cornbread. Depending on how hot you want this bread, you can add more or less chipotle. Because this cornbread is destined to be stuffing, with mushrooms and raisins, we've cut back on the chipotle for ourselves. The original recipe is shown below with 4 canned chipotle peppers plus the sauce. For the stuffing, we want just the hint of heat so we do not overpower those other flavors.
So, for stuffing purposes I suggest 1 chipotle and a dash of sauce.
This recipe is from The Cornbread Gospels, an appropriate title for this Christmas-time treat. The author, Crescent Dragonwagon, can only be said to have a rather Harry Potter name. She's a good author and this book, from 2007, is the best cornbread tome I've ever encountered. It has LOTS of wonderful recipe ideas. And Ms. Dragonwagon does seem to have an affinity for the hotter side of life. So, there are many recipes, like this chipotle one, that offer your mouth warmth and dense flavor.
Here's the original recipe, which would also make a great side dish for Christmas or New Year's or just a very fine way to start any winter morning.
Chipotle Cornbread
Yield:   8 big wedges
Ingredients:
Vegetable oil cooking spray
⅓ cup butter
1 cup coarse stone-ground yellow cornmeal
1 cup unbleached white flour
2 teaspoons sugar
2 teaspoons baking powder
½ teaspoon salt
2 eggs, lightly beaten
⅔ cup milk
4 canned chipotle peppers (stems removed and discarded) plus 2 teaspoons adobo sauce pureed
Preparation:
Preheat the oven to 400°F. Spray a 10-inch cast-iron skillet with oil and dollop in the butter.
Combine the cornmeal, flour, sugar, baking powder, and salt in a large bowl.
Whisk together the eggs, milk, and pureed chipotle-adobo mix in a small bowl.
Place the prepared skillet in the oven to heat up for a few minutes, allowing the butter to melt.
Combine the cornmeal mixture and the egg mixture, stirring until everything is just mixed. Then pull the skillet from the oven and pour about half the melted butter from the skillet into the batter. Stir the butter in, and working quickly so that skillet remains almost smoking hot, transfer the batter into it.
Put the whole shebang back in the oven and bake until it is deep golden brown, about 20 to 25 minutes.
Source:   The Cornbread Gospels by Crescent Dragonwagon