From James Peterson's Meat comes a new level of heat. His interpretation of chili [not chile] uses meat along with beans, but it's the poblanos that make the difference. This is a hot dish. A beer evoking, tongue singing recipe that will put sweat on your brow. Those are facts, not a complaint. This chili is definitely a meal unto itself.
You can make a full batch of this chili, enjoy what you wish, and then freeze for a rainy day. We ate this just straight from the pot, with none of the adornments you might want: sour cream, onion, or cheese. We wanted to enjoy the flavor of this recipe by itself, and we did just that. The first ingredient listed below is 8 poblano chiles, and Peterson does suggest you have sour cream on the table. You just might want the soothing sour cream ready on the side!
Poblano Chili con Carne
Yield: 8 servings
Ingredients:
8 poblano chiles
3 pounds boneless beef stew meat from the chuck, cut into 1-inch cubes
Salt
Pepper
5 tablespoons olive oil, or as needed 1 large onion, sliced
4 cloves garlic, minced
10 tomatoes, about 5 pounds total weight, peeled, seeded and chopped
1 tablespoon dried oregano
1 tablespoon ground cumin
1 chipotle chile in adobo sauce, rinsed, seeded, and chopped
3 tablespoons chopped fresh cilantro
Sour cream
Preparation:
If you have a gas stove, put the poblano chiles over the flame and turn as needed to blacken evenly. If you don't have a gas stove, preheat the broiler,
Put the poblano chiles on a sheet pan, slip under the broiler, and broil, turning as needed to blacken evenly. Transfer the chiles to a bowl, cover with plastic wrap, and let stand for about 15 minutes to steam to simplify peeling. Rinse the peppers under cold running water and peel away the skin with your fingertips. Scrape off any stubborn patches with a small knife. Seed the chiles and cut length-wise into ¼ inch-wide strips.
Season the meat all over with salt and pepper. In a heavy sauté pan, heat 3 tablespoons of the olive oil over high heat. When the oil begins to smoke, working in batches if needed to avoid crowding, add the beef and brown well on all sides. Transfer the beef to a plate. Pour the fat out of the pan.
In a pot just large enough to hold the meat, heat the remaining 2 tablespoons olive oil over medium heat. Add the onion and garlic and sweat them, stirring occasionally, for about 15 minutes, or until the onion and garlic have softened. Add the browned meat, tomatoes, oregano, and cumin to the pot and stir well. Cover, adjust the heat to maintain a gentle simmer, and cook for about 1½hours, or until the meat is just tender.
Add the poblanos, re-cover, and simmer for 30 minutes longer, or until the meat is easily penetrated with a fork. Add the chipotle chile and cilantro and stir well. Spoon the chili into warmed soup plates and serve. Pass the sour cream at the table.
Source: Meat: A Kitchen Education by James Peterson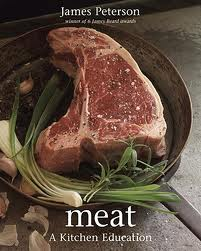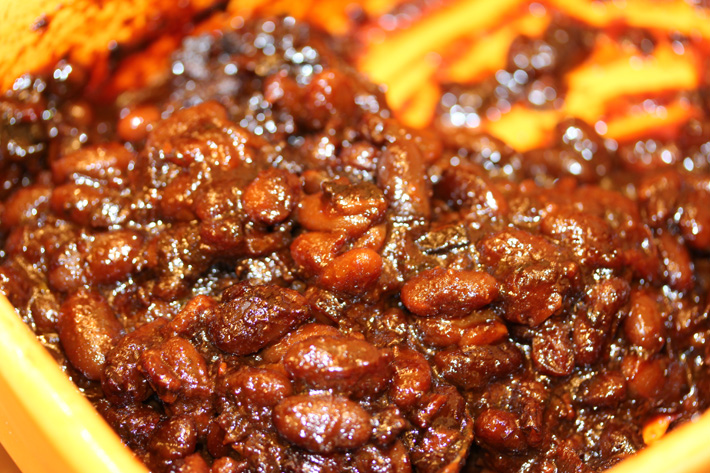 Slow food versus fast food. Slow food versus very slow food. Long cooking times can enable flavors and textures that simply are not possible with a microwave, a deep fryer or a simple broiler. Here's a perfect example. You start with cooked white beans, adorn them with a parade of additional flavors and let the combination bake away for hours. And the result? These are baked beans unlike anything you have ever had.
"More?" Brian asked me.
"I can make more," I said. I watched the tears fall from his eyes and all I could think was: leverage!
Your husband, wife or partner will beg you for these beans. Do not give up this recipe or your control. Slow is good. Very slow is very good.
Made according to this recipe, the chipotle here adds smokiness but only modest heat. The sugar and molasses of course add sweetness but also a stickiness that appeals. This a great complement to chicken wings or burgers. You will truly enjoy this complex combination of flavors.
Smoked Chipotle Baked Beans
Serves: 4 to 6 modestly, 2 persons hungrily
Ingredients:
One 16-ounce can cooked white beans
¼ cup chopped onion
¼ pound uncooked bacon, finely diced
¾ cup molasses
½ cup ketchup
¼ cup packed light brown sugar
1 smoked, dried chipotle pepper, seeded and crushed
1 teaspoons dry mustard
1 teaspoon salt
1 teaspoon Worcestershire sauce
1 tablespoon chopped fresh cilantro.
Preparation:
Heat the oil in a fryer to 350°F.
In a medium mixing bowl, combine the beans, onion, bacon, molasses, ketchup, brown sugar, chipotle, mustard, salt, Worcestershire, and cilantro. Mix well.
Transfer the mixture to a buttered 5- to 6-inch deep baking dish. Cover with foil and bake for 4 hours. Check the beans every hour for moisture content. If they become too dry, add a little water.
Serve piping hot.
Source: Wings Across America by Armand Vandersitgchel