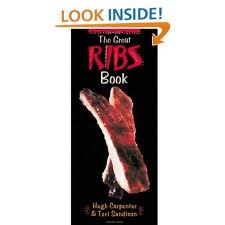 My favorite cuisine? Well sort of Mexican, Southwestern, Thai, French, Italian, Japanese, Chinese. You know what I mean.
I like a lot things and the "most liked" can depend on the time of day, the smells on the street, how long since my last pasta gorge, or how long since I ate some great ribs.
Ribs. No matter what the "cuisine" I can do the ribs. It can be a Chinese restaurant with those red gems, or a Thai place with ribs floating in broth, or a barbecue place with smoke in the air. It's always the ribs. Yes, the next morning, even after brushing my teeth, I'm still getting stands of meat from between my teeth. But, you know what? Those strands can still taste great.
This recipe for Sweet and Sour and Fiery Ribs comes from The Great Ribs Book by Hugh Carpenter and Teri Sandsion. It's a universalist recipe that can be applied to ribs of any denomination: beef, pork, or even lamb. Beef is the meat of choice, though, for these.
Here you will find sweet flavor from honey, sour from vinegar, and heat from chipotle. Plus lots of overtones from tomato paste, cinnamon, and cilantro. There is flavor aplenty here.
When we make these, we don't marinate for just the 15 minutes minimum. We go the whole hog [or whole cow] and let the sauce penetrate for hours and hours. I know there are discussions about how long you really need to marinate something. I am of the firm belief that you have to give all the flavor molecules equal opportunity to penetrate and offer up their tasty secrets.
I have to say that on a Sunday afternoon or early evening, when your football team is the race for playoff spot, you have a choice. You can be in the stadium, with the rain and snow, cheering your team on and then braving the 3-hours of snarled traffic to get home. Or you can be watching on your big screen, munching these ribs and having a beer or some sangria. What you do is up to you. I don't drink and drive.
Sweet and Sour and Fiery Ribs
Yield: Serves 4
Ingredients:
6 pounds beef ribs or ribs of your choice
½ cup honey
½ cup water
½ cup distilled white vinegar
½ cup chipotle chiles in adobo sauce
½ cup tomato paste
1 teaspoon ground cinnamon
1 cup chopped cilantro sprigs
6 gloves garlic, finely minced
Preparation:
Remove the membrane from the underside of the ribs if it is still present. If you are not sure, talk to your butcher when you buy the ribs.
To make the sauce, come all the remaining ingredients in a food processor fitted with a metal bland and puree. Makes about 2 ½ cups.
Coat the ribs evenly on both sides with half the sauce. Marinate the ribs for at least 15 minutes and up to 8 hours. Reserve the remaining sauce to serve with the ribs [or you may be basting with it if you are oven roasting or grilling; if you are a sauce freak and paranoid, just double the recipe; you can use leftover sauce the next day on your sandwich instead of mayo].
Cook the ribs using the technique you prefer: grill, smoke, or roast. Since winter is upon us, the instructions for roasting [indoors!] are presented below.
Once cooked, serve by cutting each side of the ribs into single ribs or half or one third side slabs. Serve at once with the accompanying sauce.
How to Oven Roast Ribs
Preheat the oven to 350⁰F. If your oven has a convection setting, set the oven on "convection" at 325⁰. Place the ribs on a wire rack, meaty side up. Place the rack on a foil-lined baking sheet on the middle oven rack. Place a small pan of hot water in the bottom of the oven, and roast the ribs until the meat begins to shrink from the ends of the bone. Brush the meaty side with reserved marinade one or two times during the roasting. Do NOT turn the ribs over. Approximate roasting times: pork baby back ribs and country-style spareribs for 75 minutes, spareribs and beef ribs for 90 minutes, and lamb ribs for 40 minutes. Don't overcook that lamb!
Source: The Great Ribs Book by Hugh Carpenter and Teri Sandsion.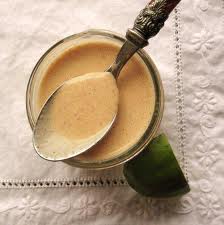 The current heat is good for some things and certainly great for one: corn. The burst of heat now is letting your local corn plants create sugar in those kernels as they expand to the bursting point.
So, it's the perfect weekend to visit your farmers market and grab as many fresh ears as you can handle. Don't dawdle with that culinary treasure. Head home, and cook as soon as you can. Grilling is ideal, but boiling the ears is fine.
And, to serve with that corn, better than butter is a chipotle crema. You'll find many recipes for crema, with a variety of dairy of products considered: half-and-half, heavy cream, and sour cream. This recipe uses my favorites, equal parts heavy cream and sour cream.
However, to quote Robby the Robot in Forbidden Planet [1956]: WARNING, WARNING!
Creama recipes typically call for mixing the dairy products together and letting them sit out at room temperature for 3 to 24 hours [depending on the recipe]. The idea is to let "natural cultures" form and to thus create the correct texture and flavor. In the heat wave now blanketing the United States, following those directions might result in very upset tummies. Or worse. Or worst.
So, in my recipe, you mix everything at once and refrigerate. I've included some lime juice for tang and an acid safety factor. No, this is not authentic street-wise crema. But it is quite delicious and very food-safe.
How to grill corn? Oh, there are many suggestions. We loosen the top of the husks, but grill with the husk on, checking an ear or two for doneness. Some folks prefer to husk the corn first, put the corn on the grill, and constantly turn. Others will husk, wrap in aluminum foil, and grill with occasionally turning.
Keeping the corn in the husk seems the easiest. Rotate every 5 minutes. Total cooking time with this method is about 15 minutes on a medium-high grill.
Brian's Chipotle Crema for a Hot Day
Yield: 2 cups
Ingredients:
1 cup heavy cream
1 cup sour cream
1 teaspoon salt
4 chipotle peppers in adobo sauce
Juice of one lime
Preparation:
Place all ingredients, perhaps just 3 of the peppers first, in the bowl of a food processor. Process until smooth.
Taste test and adjust. You may want to add the 4th chipotle or simply more of the adobo sauce. You can work your way up the heat ladder, but not down very easily.
Refrigerate until using with your corn.
Source: Brian O'Rourke