From James Peterson's Meat comes a new level of heat. His interpretation of chili [not chile] uses meat along with beans, but it's the poblanos that make the difference. This is a hot dish. A beer evoking, tongue singing recipe that will put sweat on your brow. Those are facts, not a complaint. This chili is definitely a meal unto itself.
You can make a full batch of this chili, enjoy what you wish, and then freeze for a rainy day. We ate this just straight from the pot, with none of the adornments you might want: sour cream, onion, or cheese. We wanted to enjoy the flavor of this recipe by itself, and we did just that. The first ingredient listed below is 8 poblano chiles, and Peterson does suggest you have sour cream on the table. You just might want the soothing sour cream ready on the side!
Poblano Chili con Carne
Yield: 8 servings
Ingredients:
8 poblano chiles
3 pounds boneless beef stew meat from the chuck, cut into 1-inch cubes
Salt
Pepper
5 tablespoons olive oil, or as needed 1 large onion, sliced
4 cloves garlic, minced
10 tomatoes, about 5 pounds total weight, peeled, seeded and chopped
1 tablespoon dried oregano
1 tablespoon ground cumin
1 chipotle chile in adobo sauce, rinsed, seeded, and chopped
3 tablespoons chopped fresh cilantro
Sour cream
Preparation:
If you have a gas stove, put the poblano chiles over the flame and turn as needed to blacken evenly. If you don't have a gas stove, preheat the broiler,
Put the poblano chiles on a sheet pan, slip under the broiler, and broil, turning as needed to blacken evenly. Transfer the chiles to a bowl, cover with plastic wrap, and let stand for about 15 minutes to steam to simplify peeling. Rinse the peppers under cold running water and peel away the skin with your fingertips. Scrape off any stubborn patches with a small knife. Seed the chiles and cut length-wise into ¼ inch-wide strips.
Season the meat all over with salt and pepper. In a heavy sauté pan, heat 3 tablespoons of the olive oil over high heat. When the oil begins to smoke, working in batches if needed to avoid crowding, add the beef and brown well on all sides. Transfer the beef to a plate. Pour the fat out of the pan.
In a pot just large enough to hold the meat, heat the remaining 2 tablespoons olive oil over medium heat. Add the onion and garlic and sweat them, stirring occasionally, for about 15 minutes, or until the onion and garlic have softened. Add the browned meat, tomatoes, oregano, and cumin to the pot and stir well. Cover, adjust the heat to maintain a gentle simmer, and cook for about 1½hours, or until the meat is just tender.
Add the poblanos, re-cover, and simmer for 30 minutes longer, or until the meat is easily penetrated with a fork. Add the chipotle chile and cilantro and stir well. Spoon the chili into warmed soup plates and serve. Pass the sour cream at the table.
Source: Meat: A Kitchen Education by James Peterson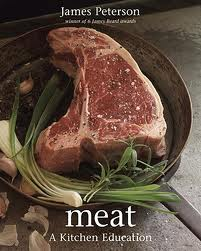 It may be September but somewhere the asparagus, a springtime treat, is still sprouting. When I see a spear of asparagus, I start looking around for a lurking T-Rex. Asparagus is positively prehistoric looking. And then you taste it, and that confirms that your portion must be prehistoric. That flavor. Nothing like it. I'll have to try it again next year.
Or, you can use this modestly simple recipe and experience chili heat, butter smoothness and with just the overtones of the veggie. This is mellow asparagus. No dinosaur fears here.
Grilled Asparagus with Chili-Lime Butter
Yield: 4 to 6 Servings
Ingredients:
3 tablespoon unsalted butter, melted
1/2 teaspoon chili powder
1/4 teaspoon cayenne pepper
1/8 teaspoon red pepper flakes
1 teaspoon grated lime zest
1½ lbs thick asparagus spears, ends trimmed
1/4 teaspoon table salt
freshly ground black pepper
vegetable oil for the grill pan
Preparation:
Combine butter, chili powder, cayenne pepper and red pepper flakes. Add the asparagus with the butter mixture, sprinkle with salt and season with pepper to taste.
If using a stove-top grill pan, heat over medium-high heat, brush lightly with vegetable oil. Grill asparagus turning once, until just tender and caramelized, 3 to 5 minutes per side, moving asparagus as needed to ensure even cooking.
Source: Cook's Illustrated