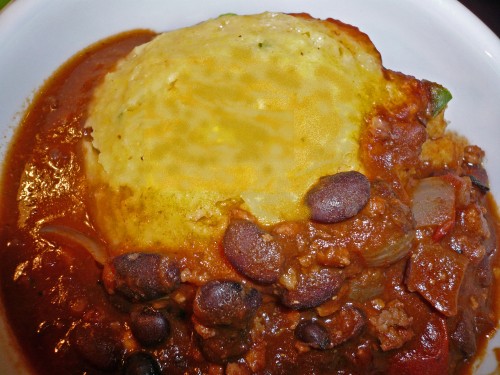 I had to be careful. If I blew it, Suzen was not going to make this dish for me. I could not seem selfish or self-serving. That requires enormous concentration and energy. You could argue that if I just focused on being … What fun is that?
"You, uh, you do like jalapenos?" I asked her.
She put down the paper and her coffee. "What are you talking about? Are we married or not?"
"No, no," I said. "It's just with the acid reflux you've been having, I wondered if you could eat, say, a cooked jalapeno?"
"Cooking in what?" she asked. Her eyebrows were up. If our cat's ears are up, I know that is good. If Suzen's eyebrows are up, and her ears are twitching, that's bad.
"Cooked in a little cheese. Sort of soothing." I had to back her down.
"Maybe." The eyebrows lowered. "Show me." She extended her hand.
I passed her our new copy of The Whole Hog Cookbook by Libbie Summers. It was open to the picture of this chili with its jalapeno cheese dumplings.
She seized book, staring with the recipe but here attention immediately shifted to the picture: a steaming bowl of chili topped with dumplings. Her eyebrows descended fully. The ears were motionless. Her eyes shifted to me. "Why the hell didn't you say so? Get your wallet. We're going to Whole Foods."
This book, The Whole Hog Cookbook, is brilliant, one of the best cookbooks we've seen in a year. Author Libbie Summers has earned her credibility with a lifetime in food. She began as girl visiting her grandparents' hog farm in Missouri. She's been a private chef on yachts [tough work but someone has to do it], worked for many food companies, is a food stylist master [see the pictures in this book], and is now the "driving force in kitchens of Paula Dean."
Every time you turn the page in this book, you stop. You may want to begin cooking at once, or you may need to read to make sure you understand what the devil you are looking at:
Sweet Potato Pork Pie
Sweet Tea-Brined Pork Roast
Buttery Potted Ham
Prosciutto Pretzel Knots
Bacon Beignets
Rosemary Bacon Scones
This is one of those cookbooks that you'll keep close at hand. You can cook your way through it all this fall and winter.
Besides the recipes, there well-photographed how-to sections demonstrating techniques for preparing your meat, like how to remove the membranes from pork ribs. Literally everything you need to know for creating outstanding pork dishes is all here in this craftily written work.
Oh, the dumplings? Oh, those dumplings. I love this chili, and it is a bit spicy, but the dumplings are what will bring the tears to your eyes.
Hog-Tied and Hungry Chile with Jalapeno Cheese Dumplings
Yield: 6 servings
Ingredients:
For the chili:
1 pound dried black beans, rinsed and drained 1 pound ground pork
1 large sweet onion, finely diced
2 cloves garlic, minced
2 (4 ½  ounce) cans chopped green chiles
1 chipotle chile in adobo sauce, minced
1 tablespoon chili powder
2 tablespoons ground cumin
1 teaspoon kosher salt
1 teaspoon freshly ground black pepper
1 (28-ounce) can crushed San Marzano tomatoes
2 cups tomato juice
2 cups pork stock (page 154)
2 ounces bittersweet chocolate, chopped
For the dumplings:
½ cup all-purpose flour
½ cup masa harina
1 teaspoon baking powder
½ teaspoon kosher salt
1 large egg
½ cup milk
1 tablespoon lard or vegetable shortening, melted
2 teaspoons honey
½ cup shredded cheddar cheese
1 jalapeno chile, seeded and minced
Preparation:
In a large stockpot, cover the beans with 3 inches cold water. Bring to a boil, lower the heat, simmer for 2 hours, or until the beans are fork tender. Drain the beans and set aside.
In the same large stockpot, cook the pork until the meat is no longer pink. Stir in the onion, garlic, green chiles, chipotle, chili powder, cumin, salt, and pepper.
Sauté for 10 minutes, or until the onion is translucent. Stir in the beans, tomatoes, tomato juice, stock and chocolate. Bring to a boil, then lower the heat and simmer for 30 minutes.
Meanwhile, make the dumplings: Whisk together the all-purpose flour, masa harina, baking powder and salt in a large mixing bowl. In a separate mixing bowl  whisk together the egg, milk, lard, and honey.
Stir the wet ingredients into the dry ingredients until just  combined. Stir in the cheese and jalapenos.
Drop heaping tablespoons of the dumping dough into the simmering chili, leaving a little space between the dumplings so they do not touch. Cover and simmer 20 minutes. Do not lift the lid while the dumplings are cooking. The dumplings should be firm to the touch, still moist in the center. Serve hot.
Source: The Whole Hog Cookbook by Libbie Summers
From James Peterson's Meat comes a new level of heat. His interpretation of chili [not chile] uses meat along with beans, but it's the poblanos that make the difference. This is a hot dish. A beer evoking, tongue singing recipe that will put sweat on your brow. Those are facts, not a complaint. This chili is definitely a meal unto itself.
You can make a full batch of this chili, enjoy what you wish, and then freeze for a rainy day. We ate this just straight from the pot, with none of the adornments you might want: sour cream, onion, or cheese. We wanted to enjoy the flavor of this recipe by itself, and we did just that. The first ingredient listed below is 8 poblano chiles, and Peterson does suggest you have sour cream on the table. You just might want the soothing sour cream ready on the side!
Poblano Chili con Carne
Yield: 8 servings
Ingredients:
8 poblano chiles
3 pounds boneless beef stew meat from the chuck, cut into 1-inch cubes
Salt
Pepper
5 tablespoons olive oil, or as needed 1 large onion, sliced
4 cloves garlic, minced
10 tomatoes, about 5 pounds total weight, peeled, seeded and chopped
1 tablespoon dried oregano
1 tablespoon ground cumin
1 chipotle chile in adobo sauce, rinsed, seeded, and chopped
3 tablespoons chopped fresh cilantro
Sour cream
Preparation:
If you have a gas stove, put the poblano chiles over the flame and turn as needed to blacken evenly. If you don't have a gas stove, preheat the broiler,
Put the poblano chiles on a sheet pan, slip under the broiler, and broil, turning as needed to blacken evenly. Transfer the chiles to a bowl, cover with plastic wrap, and let stand for about 15 minutes to steam to simplify peeling. Rinse the peppers under cold running water and peel away the skin with your fingertips. Scrape off any stubborn patches with a small knife. Seed the chiles and cut length-wise into ¼ inch-wide strips.
Season the meat all over with salt and pepper. In a heavy sauté pan, heat 3 tablespoons of the olive oil over high heat. When the oil begins to smoke, working in batches if needed to avoid crowding, add the beef and brown well on all sides. Transfer the beef to a plate. Pour the fat out of the pan.
In a pot just large enough to hold the meat, heat the remaining 2 tablespoons olive oil over medium heat. Add the onion and garlic and sweat them, stirring occasionally, for about 15 minutes, or until the onion and garlic have softened. Add the browned meat, tomatoes, oregano, and cumin to the pot and stir well. Cover, adjust the heat to maintain a gentle simmer, and cook for about 1½hours, or until the meat is just tender.
Add the poblanos, re-cover, and simmer for 30 minutes longer, or until the meat is easily penetrated with a fork. Add the chipotle chile and cilantro and stir well. Spoon the chili into warmed soup plates and serve. Pass the sour cream at the table.
Source: Meat: A Kitchen Education by James Peterson