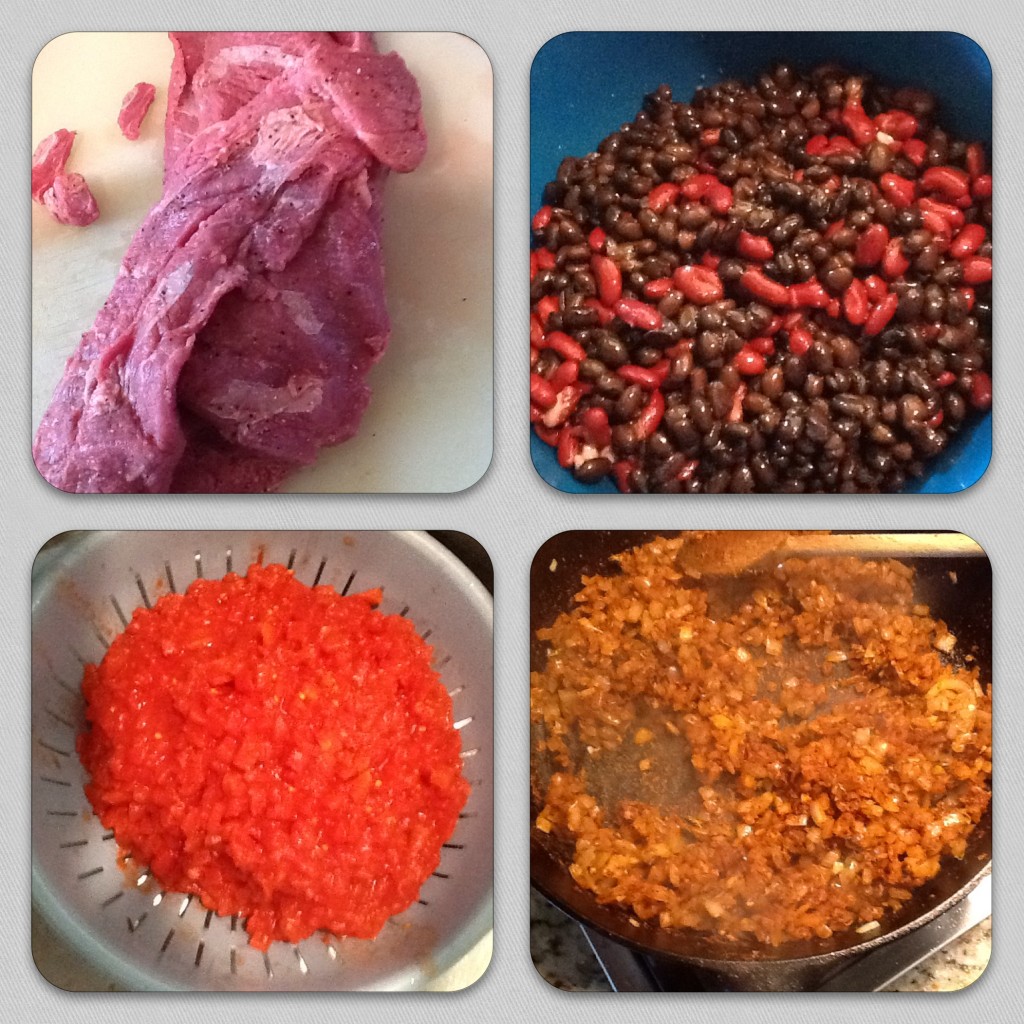 Chili or chile? Bean only, meat only, or both?
My son Michael settled on "chili" and has offered this chili recipe at the annual Halloween party for years. It's a great recipe, full of meat and beans. It's easily scaled up for a party size and can be cooked ahead of time. You can even freeze the leftovers, but there won't be any.
The original recipe called for round steak or chuck. Here we are substituting fajita meat. Yes, it comes packaged in plastic bag as is filled with flavoring stuff. Very good for chili.
Make this the morning or afternoon of your party, let it simmer for hours, then crank up the heat and serve hot with sour cream, diced onions and shredded cheese. This recipe is as healthy or unhealthy as you want it to be.
This is one of those infinitely variable recipes. Feel free to add more or less beans. You can make it 2 tablespoons, not teaspoons, of oregano. Let your taste buds guide. Remember this, you can always add some more heat at the end by stirring in more chili powder, green chilies or chili sauce. It is very hard to unheat a dish. Taste test along the way and you won't go wrong.
Michael's Pedernales River Chili
Yield: 10+ servings
Ingredients:
2 tablespoons of oil for each batch of fajita meat being browned
8 pounds of packaged fajita meat
2 tablespoons of oil
1 large onion, chopped
2 large cloves garlic, minced
2 teaspoons minced oregano
1 teaspoon ground onion
1 tablespoon red chili pepper
2 7-ounce cans of diced green chiles, mild
3 14-ounces cans of diced tomatoes, drained
3 tablespoons tomato paste
2 cups beef stock
2 15 -ounce casn kidney beans
2 15-ounce cans black beans
Salt and pepper to taste
Preparation:
Heat the oil in a heavy pan over medium heat and add the fajitas. Cook until lightly browned. The packaged fajitas will release a lot of liquid. Pour off the liquid, allow the meet to cool, then dice to bite size pieces. You will probably need to cook the 8 pounds of fajitas if 4 stages.
If necessary, add some more oil to the pan. Sweat the onions, add the garlic just at the end and cook it lightly. Don't burn the garlic.
Put the cut fajitas, cooked onion and garlic, and all the other ingredients in very large pot. Bring to a boil, lower the heat, and simmer for an hour or slightly more. Skim occasionally. Season with salt.
If the party is some time off, turn off the heat and keep the pot covered. Check to make sure the mixture never cools to room temperature and, if necessary, add some heat to get the chili back to hot. Just before serving, crank the heat one last time to have the chili hot enough to melt the grated cheese you will crown it with.
Source: Michael O'Rourke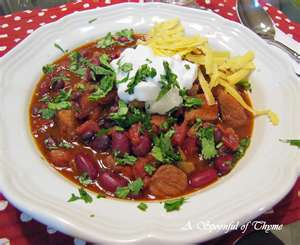 If you are looking for an elegant meal, particularly if you need something for a Super Bowl party, think chili.  Oh, I know what just crossed your mind.  Chili?  How unexciting can that be?
How did chili get such a confused reputation?  It's more than just an issue of spelling: "chili" versus "chile."  There is real ambivalence about this dish, measured in the often unhappy reactions you receive if suggesting chili for anything but a cheap microwave lunch.  Why?
It may begin with image.  If you just look at the cans of chili in the supermarket, they tend to be so unattractive that you just want to hustle on down the aisle.  If you do have the nerve to pick up one of those cans and read the list of ingredients, that should send you down the aisle.
And there are those Trekky-style, weird chili festivals.  You've seen them on TV.  Suzen and I actually went to one, at a local motor cycle dealership — I think that act truly defines doubling down.  The dealer's asphalt parking lot was already soft from summer heat.  There were forty different booths, ranging from little gas burners to something that looked like it could put a new layer of asphalt down.  And there was a variety of contesting chefs, ranging from gargantuan types to razor thin ones.
We did sample each offering, mostly spiced to alter the roof of your mouth, some okay, and a few so bad I had to force a smile at its confident creator while my eyes searched for the nearest private spot to just spit it out.  I could not correlate chef body size with chili quality or cooking apparatus.  The festival simply deepened the mystery.
For me, I know when chili crossed to the dark side.  I earned free lunches in junior high by working in the kitchen as a dishwasher.  Every two weeks I had to scrape half-eaten chili off four hundred lunch plates.  That was a life altering experience.
Yet with all the interest in chili, all those festivals and books and recipes, there has to be some deep urge in humanity to find the goodness.  What if there were a really wonderful chili recipe?  Chili with the class of beef bourguignon.  Julia Child's beef bourguignon.  What if there were chili you could serve your best friends or family with complete enthusiasm and pride?
It exists.  Suzen has made it.  I have eaten it.  I have even frozen, defrosted and eaten it again.  It is wonderful.
Tom Valenti is one of New York City's most gifted and altruistic chefs.  A few years ago, with co-author Andrew Friedman, Valenti produced a remarkable book, Tom Valenti's Soups, Stews, and One-Pot Meals.  Suzen and I have actually under-used this book for years: there is one recipe there that we love, the lamb pasticcio, and we just never get beyond it.  We would open the book and only cook that one recipe.  In retrospect, this was not our best culinary behavior.
It's a rich chili, balanced in flavor, thick, with a deep dark red color that is unlike any chili you've ever seen.  You can serve it by itself, on rice, on noodles.  If as suggested you adorn it with some grated cheese, some diced scallions or cilantro, and some sour cream, you have the most fragrant and tasty rainbow of your life.
The recipe is simple to execute and scales perfectly.  Yes, there are lot of ingredients here, like a recipe for hot and sour soup, but the payoff is exceptional.  We made a triple batch, ate some and froze the rest.  You want extra because you can put it to many uses.  In my next blog, I'll suggest using some of this chili as part of the best Super Bowl Nachos you can imagine.
Texas Style Chili
Yield: Serves 6+
Ingredients:
2 pounds beef chuck, cut into 1-inch chunks, trimmed of fat
Coarse salt
Freshly ground black pepper
Garlic powder
Chili powder
2 tablespoons olive oil
2 large carrots, peeled and cut into small dice
1 large Spanish onion, peeled and cut into small dice
1 stalk celery, cut into small dice
2 bell peppers, seeded and cut into small dice
10 cloves garlic, peeled and minced
2 heaping tablespoons tomato paste
Pinch of sugar
2 tablespoons all-purpose flour
1 tablespoon distilled white vinegar
1 quart store-bough reduced-sodium beef broth
4 plum tomatoes, coarsely chopped
1 teaspoon ground cumin, plus more to taste
1 ancho chile, seeded, stemmed, and minced
2 15-ounce cans red kidney beans, drained and rinsed
Sour cream, grated cheddar cheese, Tabasco sauce, and minced onion or scallions, optional.
Preparation:
Put the meat in a bowl and season with 1 tablespoon each of salt pepper garlic powder and chili powder. Set aside.
Warm the oil in a large pot over medium-high heat.  Add the meat and cook until browned all over, 7 to 10 minutes, then transfer to a plate and set aside.
Drain off all but a few tablespoons of liquid from the pot. Add the carrots, onion, celery, bell peppers, and garlic, season with salt and pepper, and cook, stirring, until softened but not browned, about five minutes. Add the tomato paste and sugar and stir to coat the vegetables.
Return the meat to the pot sprinkle the flour over the meat stirred in, working quickly to keep it from browning.
Add the vinegar and stir to loosen any bits of flour or meet stuck to the bottom of the pot.  Add the broth in small increments, stirring to prevent lumps add the tomatoes proven, and showed chili stir. Bring the liquid to a boil over high heat.
Cover the pot, reduce the heat so that the liquid just simmers, and cook for one hour. Add the beans and continue to cook until they are very tender, about 15 minutes. If not serving immediately, but cool, cover, and refrigerate for a few days or freeze for up to one month. Reheat before conditioning very
To serve, divide the chili among six bowls and pass garnishes at the table in individual bowls, inviting everyone to doctor his or her chili to taste.
Source: Tom Valenti's Soups, Stews, and One-Pot Meals by Tom Valenti