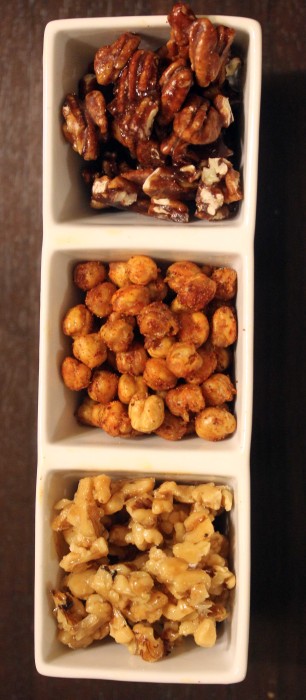 "What are you blogging today?" my wife Suzen asked me.
I don't get asked every day and when I am asked, it comes in two forms. There is the "I'm curious what you are going to please people with today" voice that I love. And, then, of course, there is the "One more cocktail or cheesy dip or frosted brownie and I'm going to scream at you, again" voice that I fear.
I fear it because of guilt. I know. This blog is not balanced. I'm sorry. I'm working on it. I'm in multiple 12-step programs. Thing is, Step 7 in Program A does not match Step 7 in Program B.
Or as my sponsors say, I am out of step.
And, I am about to blog some cheesy things in the coming days so, to preempt her angst, I'm going to post something modestly healthy: chili nuts with options.
In moderation, as with all things, nuts are fine. Unsalted nuts are better. So, for party appetizers instead of cheese and crackers, or a cheesy dip for the crudité, or queso something for the chips — I am making myself drool her, seriously — instead of all that why not offer some chili nuts that are satisfying, healthy and pair with anything from beer to sangria.
This recipe comes with options for you: the nuts, the spices, the liquid used to first bond nuts and spice. I've seen oven temperatures range from 250° to 325° with baking times from 45 down to 15 minutes. What should you do? Pick a temperature and monitor your nuts along the way. If you can smell them baking, you're done.
Actually, my recipe below uses more liquid than other recipes, so I would suspect that a longer baking time is wise.
---
Brian's Chili Nuts

Yield: 3 cups

Ingredients:

3 cups unsalted nuts: peanuts, cashews, walnuts, pecans, even chickpeas [mixed if you desire]
3 tablespoons liquid: lime juice or olive oil, depending on your flavor preference [I love lime]
1 tablespoon salt [omit if your nuts are salted, but add if the nuts are not salted; it's for flavor]
4 tablespoons total of dry spices: chili powder, ground pepper, garlic powder, ground cumin, celery salt, cayenne pepper, ground cinnamon, ground allspice [and anything that makes your tongue tingle]
Preparation:

Preheat the oven to 250°. Line a half sheet pan with aluminum foil.
In a small bowl, add the nuts and then the liquid. Mix with your hands to ensure the nut surface is coated evenly. If necessary, because of all the cracks and crevices in the nuts, add additional liquid.
Wash and dry your hands. Make the spice mixture. Work down in quantity in the order of spices shown above. For example, use more chili powder than allspice. Remember that a little cumin goes a long way. Celery salt has a wonderful flavor, if you like it. The best way to proceed here is to work your way along, stopping to taste test until you have the balance and the heat you like.
Sprinkle half, just half, of your spice mixture over the nuts. Mix by hand. If necessary add more spice but remember you are looking to impart flavor, not coat the nuts in sheet of molecules that will sparkle on your tongue. Less is more.
Spread the nuts in a single layer on the prepared sheet, put in the heated oven, and bake for around 30 minutes. Be alert for smells telling you the nuts are done. Every 15 minutes, stir the nuts so they do not stick and do taste test along the way.
Source: Brian O'Rourke

Photo Information Canon T2i, EFS 60 mm Macro Lens, F/28 for 1/100th second at ISO‑2000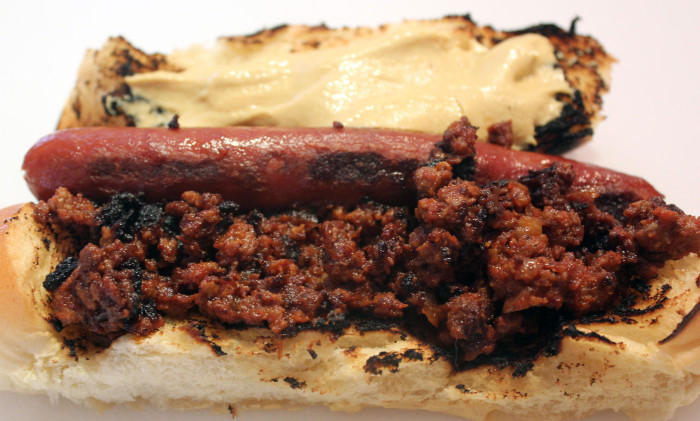 I've begun my great hog dog chili sauce tests using the recipes in Haute Dog by Russell Van Kraayenburg. I made his basic, classic chili sauce — the recipe is repeated below.
In a word, it's hot. Blazingly hot. No, it is nothing like Roakes in Portland. But I did learn one thing: Roakes must use tomato sauce and not tomato paste.
The classic recipe below, using paste, has a deep red tint and, in addition to the heat, a dash of sweetness. Nothing like Roakes.
I had a second test: Russell's Coney Island Sauce which follows the classic recipe below with these changes:
Do not put in the cumin and cayenne [less heat]
Add 1 tablespoon of yellow mustard with the other spices
Substitute tomato sauce for tomato paste
This second Coney Island sauce is a tad milder, but still hot. And still not Roakes. Both these sauces are "meaty" as you see in the picture. I have to figure out how to get a more "liquid" sauce, with no meaty chunks. How to do that, say without overloading with tomato flavor from additional sauce, is the challenge.
More experiments to come. I do recommend either of these excellent recipes for your Memorial Day barbequing.
Classic Hot Dog Chili
Yield: 1 quart of sauce [can be frozen]
Ingredients:
2 tablespoons extra virgin olive oil
2 large white onions, diced
4 cloves garlic, finely chopped
1 teaspoon salt
¼ teaspoon freshly ground black pepper
1 tablespoon ground chili power
1 teaspoon ground cumin
⅛ teaspoon ground cayenne pepper
1 pound ground beef
1 cup beef stock
8 ounces tomato paste
Preparation:
Heat the olive oil in a large skillet over medium-high heat. Add the onions and cook until soft and translucent, about 8 minutes, stirring occasionally. Add garlic and cook for another 2 minutes, stirring occasionally.
Add the salt, black pepper, chili powder, cumin cayenne, and beef. Cook until beef is browned and no trace of pink remains.
Reduce the heat to medium-low and add beef stock and tomato paste. Stir until evenly combined. Simmer for 30 minutes, stirring occasionally. Serve immediately or store in an airtight container in the refrigerator for up to 3 days.
Source: Haute Dog by Russell Van Kraayenburg
Photo Information Canon T2i, EFS 60 mm Macro Lens, F/4.5 for 1/40th second at ISO-1250