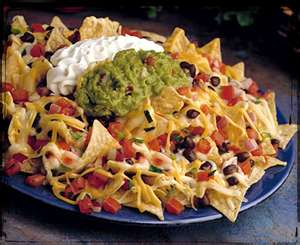 My personal culinary debt to Mexico is great: margaritas, Caesar salad, and nachos.  If you just add chicken wings, marshmallow fluff, and brownies, I think that constitutes a completely balanced diet. And while you won't be consuming all of those at your Super Bowl party — well, probably you won't — nachos are a core dish for many of us. Easy to prepare, they are wonderful to consume one touchdown at a time.
According to Kate Heykoe, author of Macho Nachos, these addictive treats are a fairly recent creation from our southern neighbor.  In 1943, a Mexican chef invented the dish on the fly to please some visiting American wives.  And supposedly he even used Wisconsin cheddar cheese!
Nachos can be a snack or meal.  You've probably had plenty of bland plates of overworked chips and the fast food versions are rarely exciting.  In contrast, Kate's book is filled with interesting variations: some honest basics, versions that can be speedily created, and even breakfast and dessert varieties.
The nacho recipe below is mine, but I do want to credit Kate for its inspiration.  And, to accompany the nacho, I'm adding Kate's recipe for Avocado Creama, a beautifully cooling side to balance the heat of the nachos.
Heat.  Yes, my nachos offer some heat.  They won't burn your mouth, but they are definitely warm.  I suggest using two key ingredients.  The first is chili, and there is no better chili to use than our recent blog, Texas-Style Chile [http://www.cookingbythebook.com/blog/recipes/texasstyle-chili-super-disk-super-bowl/].  This Tom Valenti recipe really elevates this dish from a "snack" to a full meal.
The second ingredient is the jalapenos to use.  Nacho lovers can endlessly debate just what to do here.  The great divide is over fresh jalapenos — that you simply slice and add — versus something in a jar.  I am a jar man, but not just any jar.  There is a product that will provide a striking new dimension to your Mexican and Southwestern dishes: candied jalapenos.  You may be able to find candied jalapenos in your local megamart and there are web-recipes to make them yourself.
Here is my nacho recipe followed by Kate's creama recipe.  Whether you make these for snacks or a full meal, you are in for a treat.
Brian's Super Chili Nachos
Ingredients:
5 ounces corn tortilla chips
8 ounces grated cheddar cheese [or Monterey Jack or Pepper Jack]
¾ cup candied jalapenos, or more depending on your tolerance
1 large onion finely diced
2 cups chili [ideally Tom Valenti's Texas-Style Chili]
Sour cream, avocado creama, diced tomatoes, or additional grated cheese as garnishes
Preparation:
Preheat the oven to 475°.
Spread the tortilla chips evenly over pan [half-sheet] lined with foil.  Cover evenly with the grated cheese.  Evenly sprinkle the jalapenos and diced onions.
Top with the chili.  This is best done a spoonful at a time.  Just try to cover in bite size globs.  Spreading the chili evenly over the other ingredients is not easy, and not necessary.
Bake the nachos for about 7 minutes, until the cheese is fully melted.  If the chili is leftovers and has been refrigerated, it may take about 10 minutes to fully heat the dish.
Remove from the oven and serve with the garnishes.
Source: Brian O'Rourke
Avocado Crema
Ingredients:
1 ripe avocado, peeled and pit removed
½ cup buttermilk
3 tablespoons lime juice
¼ cup sour cream
½ teaspoon salt
Variations are unlimited, but consider: chili powder of any variety, garlic, chives, cilantro, or green chili
Preparation:
Puree all the ingredients in a blender or food processor for one or two minutes.  Sample the taste and add additional seasoning — salt or white pepper — to suit your palette.
Source: Macho Nacho by Kate Heykoe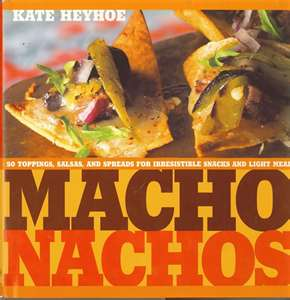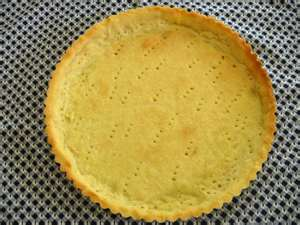 Yes, that's an empty tart shell, waiting to serve you. What you need is a delicious way to fill it to the brim.
Here's an elegant way to serve potatoes and tomatoes in a tart with with a crust that adds the flavor overtones of Parmesan and chili. "Tart" is, for me, a special word. It always seems to denote something special, something personal, something with a twist that will make me smile. This tart is exactly that lovely treat. There is a dash of richness from the creme fraiche, overtones from sea salt, and a chile hit.
This tart consists of a tomato base topped with potato slices. You can artfully arrange those slices in different patterns and perhaps top with some additional chili flakes or herbs.
This tart takes a bit of effort, but you'll truly appreciate the results. It can be a side dish, but has the substance of a main course. Try this on a Sunday afternoon. Let the ballgames play out on television while you focus on something sure to be a success. [This blog was written by a New York Giants fan after three consecutive losses. I need, and deserve, serious comfort food.]
Chile Potato Tart
Yield: Makes 6 servings
Ingredients:
Filling:
1 ½ pounds ripe red plum tomatoes halved lengthwise and seeded [or cherry tomatoes]
3 tablespoons extra-virgin olive oil
4 whole garlic cloves, unpeeled
1 large red chile
1 ½ teaspoons sea salt flakes
1 tablespoons sugar
1 pound waxy potatoes boiled in their skins for 15 minutes then peeled and thinly sliced
1 ¼ cups crème fraiche lightly whipped and seasoned with salt and pepper
Salt and freshly ground black pepper
Chile Pastry:
1 ⅓ cups all-purposes flour
Pinch of salt
7 tablespoons unsalted butter, diced,
¼ cup finely grated Parmesan cheese
1 red chile, seeded and very finely chopped (optional)
Preparation:
Filling:
Preheat oven to 350° F.
To roast the tomatoes, lightly brush a baking tray with some of the olive oil and arrange the tomatoes cut side up.  Add the garlic and whole chile and sprinkle with the remaining olive oil.  Sprinkle the salt and sugar evenly over the tomatoes and bake in the preheated oven.
Remove the garlic after 10-15 minutes when soft, and squeeze the flesh into a bowl.  Remove the chile after 15-20 minutes when the skin is blistered and slightly charred.  Leave the tomatoes for 45-50 minutes until very soft and slightly charred.  Cool the chile a little, then peel, seed, chop finely, and add to the garlic.  Scoop the tomato flesh into the bowl, discarding skins [with cherry tomatoes, simply mash the skins].  Mash the flesh.  Season to taste.
Pastry:
Sift the flour and salt into a bowl.  Rub the butter until the mixture resembles fine crumbs.  Stir in the Parmesan and chile, if using.  Add enough cold water to make firm dough.
Roll out on a lightly floured surface and use to line a greased, 10-inch fluted art pan.  Lightly prick the base with a fork.  Chill for 30 minutes, then line with foil and baking beans.  Heat a baking tray on the middle shelf of a preheated oven at. 400°.  Put the tart shell on the tray, bake for 10-15 minutes, then remove from the oven and remove the foil and beans.  Increase the oven heat to 450°.
Spread the tomato mixture evenly over the tart base, then over with concentric circles of potato slices.  Pour the crème fraiche over the potato.  Bake for 8 to 10 minutes until the top is golden.
Source:
Potatoes: From Mash To Fries by  Annie Nichols