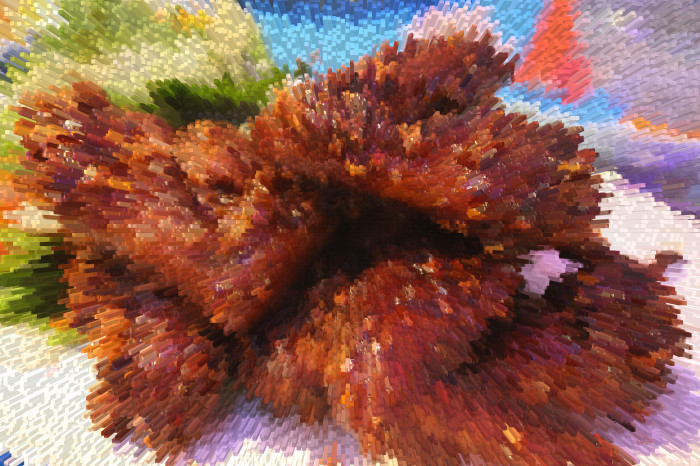 Pok Pok in New York City and Portland is famous for its chicken wings. Which it turns out are actually Vietnamese. That picture above is representative of your mouth and brain after couple of bites. Actually, the wings are equally sweet and hot, so the overall effect is not mouth‑destoying. Yes, the photo above was created with Photoshop. The original photo is at the bottom of this posts and, yes, it is out of focus because I took it while still trying to chew a wing.
If you ever go to a Pok Pok restaurant, the wings are a must. If you get this lovely cookbook, this should be the first recipe you try.
The wings are not only sweet and hot, they are sticky. So, be prepared to wipe down that bottle of beer you have on the side. And, uh, a full bottle it should be. Here is the total text of the recipe from the Pok Pok cookbook, including the extensive headnote from author Andy Ricker. The details he provides for each recipe in Pok Pok are outstanding and do make this an "exotic" book you can master at home.
---
Ike's Vietnamese Fish Sauce Wings

I've spent the better part of the last twenty years roaming around Thailand, trying to figure out how to reproduce Thai food. To me, that's what Pok Pok is all about. Yet, the most popular item at Pok Pok isn't even Thai. I get a kick out of the irony.
These wings basically pay our mortgage. They allow me to take risks with the rest of the menu. Because even if you're apprehensive of the fire and funk of Isaan-style papaya salad or by shrimpy, sour kaengsom, you'll leave impressed by the thrill of these ridiculous umami bombs.
The wings happen to be a rather common dish in Vietnam called gochien nudemam. Right before I opened Pok Pok, I tried to make a version I had eaten once in Saigon at a bia hoi stand. Bia hoi is often translated as "fresh beer" in Vietnamese, and little street-side stalls with comically low plastic tables and stools sell the watery, low alcohol lager by the jug for cheap. You sit there, knees up around your ears, drinking the beer over ice and burning through delicious little snacks that help you pass the time required to get a buzz off bia hoi. By the time I'd sucked clean several orders of the wings, I knew I wanted them on the opening menu.
Back in Portland, I took a few swings and misses at the recipe before enlisting the help of Pok Pok's first employee, Ich Truong (who I nicknamed "Ike" because "Ich" is too hard for us honkies to pronounce). A recent arrival from Vietnam, Ike is an all-around handy guy who first joined my painting crew(when I was still working as a house painter) and then joined me in the trenches to open the restaurant. (Literally, in the trenches. We once had to dig one so deep to find a drain pipe that he disappeared into it.) Not only did he help me build the restaurant, but he's also a good cook, and showed me a few tricks that helped the wings reach the level they're at now. We still work together today.
Making a home version requires some deviation from the method we use at the restaurant, where we have industrial deep-fryers and serious BTU fire power. Nevertheless, the result of this streamlined recipe comes pretty close to what you get at Pok Pok with about half the effort. If you're making the spicy version, open a window and turn on the stove's exhaust fan.
Yield: one dozen wings, 3-4 persons as appetizers

Ingredients:

Sauce and Marinade:

1 ounce peeled garlic [about 8 medium cloves]
1 teaspoon kosher salt
¼ cup warm water
½ cup Vietnamese fish sauce
½ cup superfine sugar
2 pounds medium-size chicken wings [about 2], split at the joint
Sauce and Marinade:

Vegetable oil for deep frying
1 cup white rice flour [not glutinous rice flour]
¼ cup tempura batter mix
¼ cup water
1-2 teaspoons Naam Phrik Phao [roasted chile paste, see page 287 in the book], optional
To Serve Alongside:

Pickled carrot and daikon radish
Several long spears of cucumber
Several sprigs of mint, cilantro or basil
Preparation:

Make the Sauce and Marinate the Wings:

Very finely chop the garlic, sprinkle on the salt, then chop the two together for 15 seconds or so. Scrape the mixture into small bowl, add the ¼ cup of warm water, and let it sit for few minutes.
Set a fine-mesh strainer over another bowl, pour the garlic mixture into the strainer [or squeeze the mixture in a cheesecloth over the bowl], and use the back of a spoon to stir and smoosh the garlic to extract as much liquid as you can. Reserve the garlic. Add the fish sauce and sugar to the bowl and stir until the sugar has fully dissolved. You should have 1 cup of liquid.
Put the chicken wings in a large mixing bowl, add the ½ cup of the fish sauce mixture, reserving the rest, and toss well with your hands. Cover and refrigerate for at least 4 hours, or as long as overnight, tossing very hour or so.
Fry the Garlic:

Meanwhile, pour enough oil into a small pan to reach a depth of ¾ inch or so and set it over high heat until it shimmers. Set a fine-mesh strainer over a heatproof bowl. Test whether the oil is hot enough: as soon as a piece of garlic added to the oil bubbles right away, add the rest. Decrease the heat to medium-low [you don't want to rush the process with high heat], and stir once or twice. Cook the garlic just until it is evenly light golden brown, about 5 minutes. Strain the garlic, reserving the flavorful oil for another purpose. Gently shake the strainer, then transfer the garlic in more or less one layer to paper towels to drain and cool. You should have 2 tablespoons of fried garlic. It keeps in an airtight container at room temperature for a day or two.
Fry the Wings:

Transfer the wings to a colander in the sink, shaking the occasionally, to let them drain well before you fry them, at least 15 minutes.
Pour enough of the oil into a wok, Dutch oven or wide pot [even better, use a countertop deep fryer] to reach a depth that will completely submerge the wings, about 2 inches. Set the pot over medium-high heat, bring the oil to 350°F [use a deep-fry thermometer], carefully stirring the oil to maintain a consistent temperature, and adjust the heat to maintain the temperature.
In a large mixing bowl, stir together the rice flour and tempura batter.
Fry the wings in two batches. Toss half the wings in the flour mixture to coat them well and knock them against the edge of the bowl so any excess flour falls off before adding them to the hot oil. Add the first batch to the oil and cook, prodding the wings to move them around a bit after 4 minutes or so and then every few minutes, until they're cooked evenly deep golden brown and completely cooked through, 6 to 8 minutes. Transfer them to paper towels to drain, let the oil come back to 350°F, and do the same with the next batch.
Finish the Wings:

Add the ¼ cup of water to the remaining fish sauce mixture, stir well, and set it aside.
Work in two batches to finish the wings [if you have a very large wok, one batch will do]. Combine ¼ cup of the fish sauce mixture and half of the chile paste [if you are using it] in a nonstick wok, set it over high heat, and bring it to a boil. Cook until the mixture has reduced by about half, about 45 seconds. Add half of the chicken wings and cook, using tongs, a wok spatula, or a deft flick of your wrists to toss the wings in the liquid every 15 seconds or so, until the liquid has become a sticky, caramel-colored glaze that coats the wings, about 1 minute. Add 1 tablespoon of the reserved fried garlic, toss well, and keep cooking, tossing constantly, until the glaze has turned a shade or two darker, about 30 seconds more.
Transfer the wings to a serving plate. The sticky coating seals in the heat, so the batch of wings should keep warm while you finish the next one. You can also keep the first batch in an oven set to warm.
Rinse and wipe out the wok, and repeat with another ¼ cup of the liquid, the remaining chile paste, the remaining wings, and the remaining tablespoon of fried garlic.
Serve the wings with the pickled vegetables, cucumber spears, and herb springs.
Source: Pok Pok by Andy Richter

Photo Information [bottom]: Canon T2i, EFS60 mm Macro Lens, F/4.5 for 1/2 second at ISO‑3200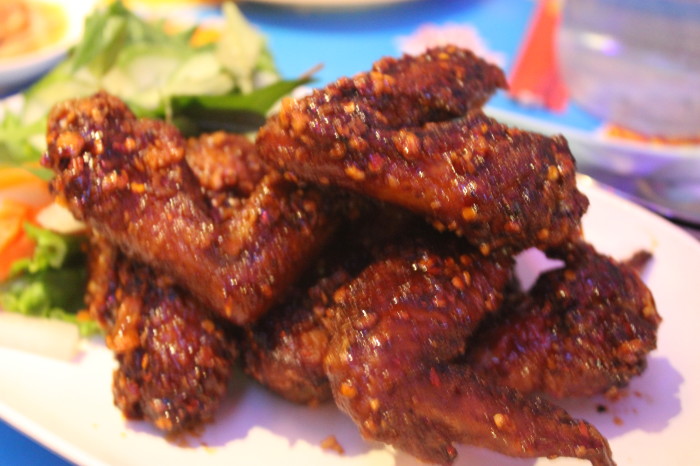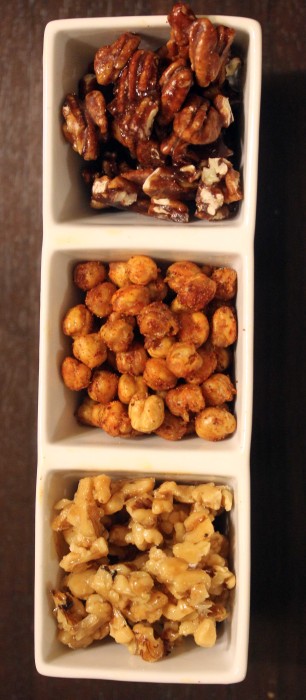 "What are you blogging today?" my wife Suzen asked me.
I don't get asked every day and when I am asked, it comes in two forms. There is the "I'm curious what you are going to please people with today" voice that I love. And, then, of course, there is the "One more cocktail or cheesy dip or frosted brownie and I'm going to scream at you, again" voice that I fear.
I fear it because of guilt. I know. This blog is not balanced. I'm sorry. I'm working on it. I'm in multiple 12-step programs. Thing is, Step 7 in Program A does not match Step 7 in Program B.
Or as my sponsors say, I am out of step.
And, I am about to blog some cheesy things in the coming days so, to preempt her angst, I'm going to post something modestly healthy: chili nuts with options.
In moderation, as with all things, nuts are fine. Unsalted nuts are better. So, for party appetizers instead of cheese and crackers, or a cheesy dip for the crudité, or queso something for the chips — I am making myself drool her, seriously — instead of all that why not offer some chili nuts that are satisfying, healthy and pair with anything from beer to sangria.
This recipe comes with options for you: the nuts, the spices, the liquid used to first bond nuts and spice. I've seen oven temperatures range from 250° to 325° with baking times from 45 down to 15 minutes. What should you do? Pick a temperature and monitor your nuts along the way. If you can smell them baking, you're done.
Actually, my recipe below uses more liquid than other recipes, so I would suspect that a longer baking time is wise.
---
Brian's Chili Nuts

Yield: 3 cups

Ingredients:

3 cups unsalted nuts: peanuts, cashews, walnuts, pecans, even chickpeas [mixed if you desire]
3 tablespoons liquid: lime juice or olive oil, depending on your flavor preference [I love lime]
1 tablespoon salt [omit if your nuts are salted, but add if the nuts are not salted; it's for flavor]
4 tablespoons total of dry spices: chili powder, ground pepper, garlic powder, ground cumin, celery salt, cayenne pepper, ground cinnamon, ground allspice [and anything that makes your tongue tingle]
Preparation:

Preheat the oven to 250°. Line a half sheet pan with aluminum foil.
In a small bowl, add the nuts and then the liquid. Mix with your hands to ensure the nut surface is coated evenly. If necessary, because of all the cracks and crevices in the nuts, add additional liquid.
Wash and dry your hands. Make the spice mixture. Work down in quantity in the order of spices shown above. For example, use more chili powder than allspice. Remember that a little cumin goes a long way. Celery salt has a wonderful flavor, if you like it. The best way to proceed here is to work your way along, stopping to taste test until you have the balance and the heat you like.
Sprinkle half, just half, of your spice mixture over the nuts. Mix by hand. If necessary add more spice but remember you are looking to impart flavor, not coat the nuts in sheet of molecules that will sparkle on your tongue. Less is more.
Spread the nuts in a single layer on the prepared sheet, put in the heated oven, and bake for around 30 minutes. Be alert for smells telling you the nuts are done. Every 15 minutes, stir the nuts so they do not stick and do taste test along the way.
Source: Brian O'Rourke

Photo Information Canon T2i, EFS 60 mm Macro Lens, F/28 for 1/100th second at ISO‑2000