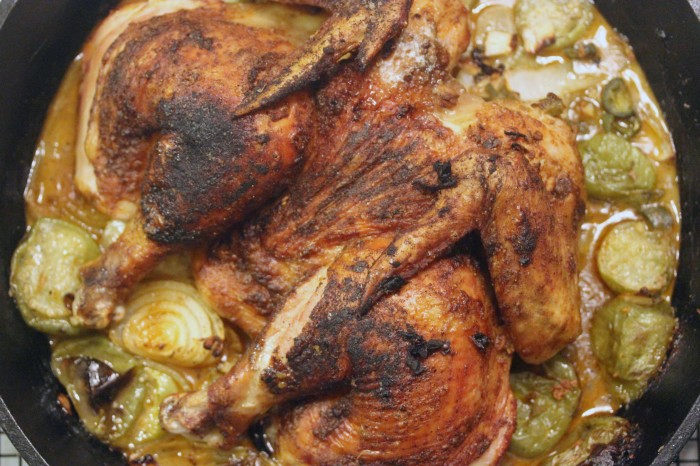 We have simply fallen in love with Curtis Stone's What's for Dinner? The range of recipes here, from simple to elegant, is impressive. Even more impressive is this: these recipes work. They have been tested and honed. Pick one, follow the directions and, voila, you will seem to be culinary guru.
Well, maybe that's what a guru is: someone who has found the path and shares it. What's for Dinner is organized by day of the week and Wednesday is devoted to one-pot meals. As the picture shows, one pot does not necessarily meal "everything kinda thrown together." This roasted chicken with tomatillos is beautiful to behold, you'll have smelled it for an hour, and everyone will be thrilled when, finally, this dish arrives at the table.
The nose and eyes eat first and Curtis is so thorough in meeting those sensory needs. There is professional care in every recipe here from Monday to Sunday.
This dish is a snap to prepare and may give you a new experience: as they cook the tomatillos soften, sweeten, but pass their inherent tang into the chicken. You find that you do not need salt here at all. This one-pot dish is superbly self-contained.
Roasted Butterflied Chicken and Tomatillos
Yield: serves 4
Ingredients:
One four-pound chicken
¼ cup olive oil
2 teaspoons paprika
1 teaspoon ground cumin
Kosher salt and freshly ground black pepper
1 ½ pounds tomatillos, husked, rinsed and halved
1 white onion, halved and cut into ½ inch thick wedges
3 garlic cloves, finely chopped
1 jalapeno pepper, seeded and finely chopped [keep the seeds for heat]
¼ cup coarsely chopped cilantro
1 lime, cut into wedges for serving
8 whole wheat flour or corn tortillas, warmed for serving
Preparation:
Preheat the oven to 400°F.
Using poultry shears, split the chicken open by cutting down one side of the backbone, then cut out and remove the backbone. Place the chicken skin side up on a chopping board. Put your hand on the breastbone and press hard to flatten the chicken.
Heat a very large cast-iron or other heavy ovenproof skillet over medium-high heat. Meanwhile, in a small bowl, mix 2 tablespoons of the olive oil with the paprika, cumin, 1 teaspoon salt, and 1 teaspoon pepper. Rub the mixture all over the chicken. Place the chicken skin side down in the hot skillet and cook for about 4 minutes, or just until the skin side is golden brown. Transfer the chicken to a large plate. Set the skillet aside.
In a large bowl, toss the tomatillos, onions, garlic, and jalapenos with the remaining 2 tablespoons olive oil. Season with salt and pepper. Arrange half of the tomatillo mixture in the skillet and nestle the chicken on top, skin side up. Scatter the remaining tomatillo mixture around the chicken.
Roast for about 45 minutes, or until the chicken shows no sign of pink when pierced in the thickest part with the tip of a small sharp knife and the tomatillos are falling apart into the sauce. Remove from the oven and let stand for 10 minutes.
Season the tomatillo salsa to taste with salt. Sprinkle the cilantro over the chicken and salsa and serve with the lime wedges and tortillas.
Source: What's for Dinner by Curtis Stone
Photo Information Canon T2i, EFS 60 mm Macro Lens, F/2.8 for 1/60th second at ISO-3200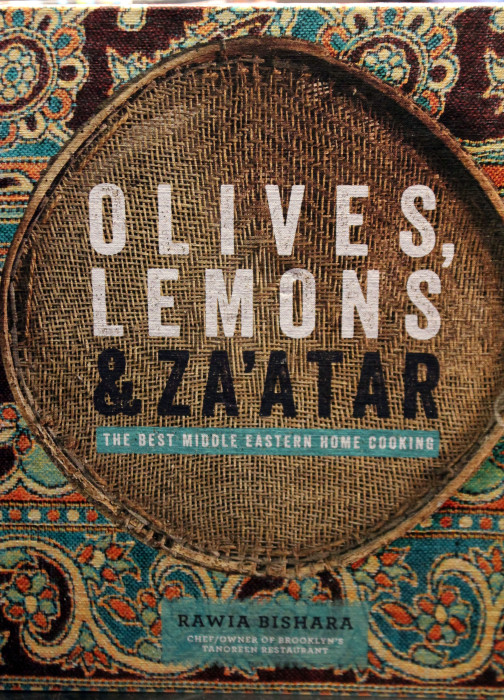 Ok, to begin with za'atar is a Middle Eastern spice mix: dry oregano or thyme is mixed with sumac, toasted sesame seeds and salt and then served with olive oil and flat bread as the signature breakfast dish.
Oh, sumac? That is a spice made from the dried and powdered berries of a shrub that is common in the Middle East. The flavor is often described as lemony. Yes, we have our own varieties of sumac growing in North America. They are strikingly beautiful in the fall: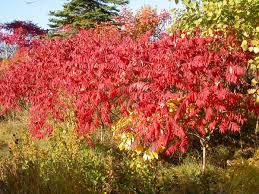 Well, with all that background, that's almost reason enough for you to buy a wonderful new cookbook: Olives, Lemons, and Za'atar. This post is really a three-fer: book review, restaurant review, and cooking school recommendation. What's the common denominator: author Raiwa Bishara.
Several months ago Suzen and I were in Collucios, the premier Italian market in Brooklyn. I was hungry so I asked the natural question, "Where should we go from here to eat. Local and great please."
Now, I expected to be directed to some place with veal, pasta, and endless wine.
"Have you been to Tanoreen?" I was asked.
"Never heard of it," I admitted. Well, that drew a frown. My status as a foodie was had just been downgraded. A lot.
So the wonderful Collucio people sent us to the premier Middle Eastern restaurant in Brooklyn, no, actually in New York City. Chef Rawia Bishara began as a home cook whose children had friends, friends who kept coming over and over and eating and eating. Rawia was encouraged to open a restaurant, Tanoreen. Going from a home kitchen to a restaurant can be a major transition. Not for Rawia. "I just moved from one kitchen to another," she smiles. "Everything, everything is the same."
Suzen and I had a memorable meal that night. Do I remember everything? No, one dish followed another, each surely better than the last. I became confused. And I had this pang of guilt. Middle Eastern food? Well you know about that. Just consider all those food carts and hummus in the deli and …
Middle Eastern food can stand on its own, with any cuisine. Its Mediterranean roots are as deep and dense as Greek, Turkish, Italian, Spanish, or North African. Rich flavors that may be familiar to you, often new ideas that bring a smile in an "ah ha" moment.
Three nights ago, Suzen and I sat in DeGustibus, the 30 year old cooking school in mid-town Manhattan. Located on the 8th floor of Macy's, DeGustibus benefits from the taste and energy of owner Salvatore Rizzo. He is passionate about food and his guest chefs. At DeGustibus, you sit and watch a chef prepare a full meal, a 2 ½ hour experience. Along the way, as the chef dazzles with each dish, a terrific back kitchen crew prepares a full-sized copy of each dish for you. You cannot leave DeGustibus hungry. Impossible after 5 or 6 dream dishes.
And who were we watching as the guest chef? Rawia Bishara. And why? Because last month she published Olives, Lemons, & Za'atar, her celebration of the spectrum of recipes that distinguish Tanoreen. This is Middle Eastern food elevated to a level you probably not have experienced. But you should. And, because the genesis of this food was Rawia watching her mother in the home kitchen, this is home food, the daily food of a food-loving culture. So, these marvelous dishes are certainly attainable by you.
There are ideas here you probably know about, have surely sampled in you foodie life, "common" dishes like:
Tabouleh
Whole stuffed chicken
Hummus
Oh, but you don't know about how Raiwa has perfected these dishes.
Her tabouleh uses far less bulgar than many recipes, less mint too, but far more parsley. Raiwa explains that her variation reflects that  tabouleh, traditionally only prepared and only eaten by women, varies from village to village. Ingredients and proportions are passionately debated.
Her chicken — which she pronounces correctly to be lavish —is prepared with allspice, nutmeg, and cardamom. And it is stuffed, with a combination that includes yet more spices plus chopped lamb or beef, rice, and tomato. You haven't had chicken like that. You deserve it and, again, this recipe is well within the reach of any of us.
And the hummus. Actually, there are multiple recipes including her mother's hummus. Raiwa is a lovely women and outwardly so friendly. But I must say that she has the confidence and presence of an empress. What she says, you will do. And Raiwa is adamant about cooking the chickpeas in boiling water until they fall apart. "Maybe two hours," she waves her arm. "Whatever it takes. It must be soft."
I've eaten hummus. I know hummus. Well, I thought I knew hummus. I have never had anything so soft and charmingly divine in my life. That's not true: I remember the first time I had the French cheese epoisse. This humus offers the same love at first bite feeling. The status as a wonderful food experience.
Suzen and I are doing hummus this weekend, straight from this important book. We'll pass along the recipe, but you don't have to wait for us. Olives, Lemons, & Za'atar is at your bookstore. Don't hesitate