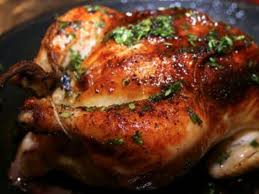 It's Thursday. I can guess two things are going to happen for you between now and Monday.
First, you are going to go shopping.
Second, you are going to buy a chicken.
But what will you do with it? And what do you wish you could do with it?
Sometimes reality swamps ambition. You can have that chicken on your kitchen counter and you want to do something good, something different. You wonder how Thomas Keller would do it. Or Alan Ducasse. Or one of the other star chefs. You might even have their books on hand, but do you have an afternoon to sit and compare and decide?
You don't have to. There is a great website call greenmarketrecipes.com. And buried there is this page:
http://greenmarketrecipes.com/poultry/best_roast_chicken_recipes.htm
There you will find a table with the roasted chicken techniques from 11 very famous, very good sources. Mr. Keller and Monsieur Ducasse and Tom Colicchio and other very talented sources.
The table describes the prep work, the cooking technique, and some after cooking comments and ideas. There is detail here, but not too much. In a cup of coffee, you can read, consider, and decide on how that chicken is going to come out. Maybe your mom's technique is still the one you need to use. Or, maybe, you can explore new territory, new worlds.
I always wondered what they did on Star Trek. I mean they are out there for years, there is no chicken ranch on the ship, so they need to fashion chicken from the molecule up. I, I just don't know if I would ever volunteer for Star Fleet Command with that culinary future before me.
Fortunately, the current president has effectively canceled the United States manned space program so none of us will be faced with such a difficult choice. Of course, when the aliens land and ask why the hell we have not shown adventuresome spirit, I don't know what we're gonna say. We'll just probably chicken out.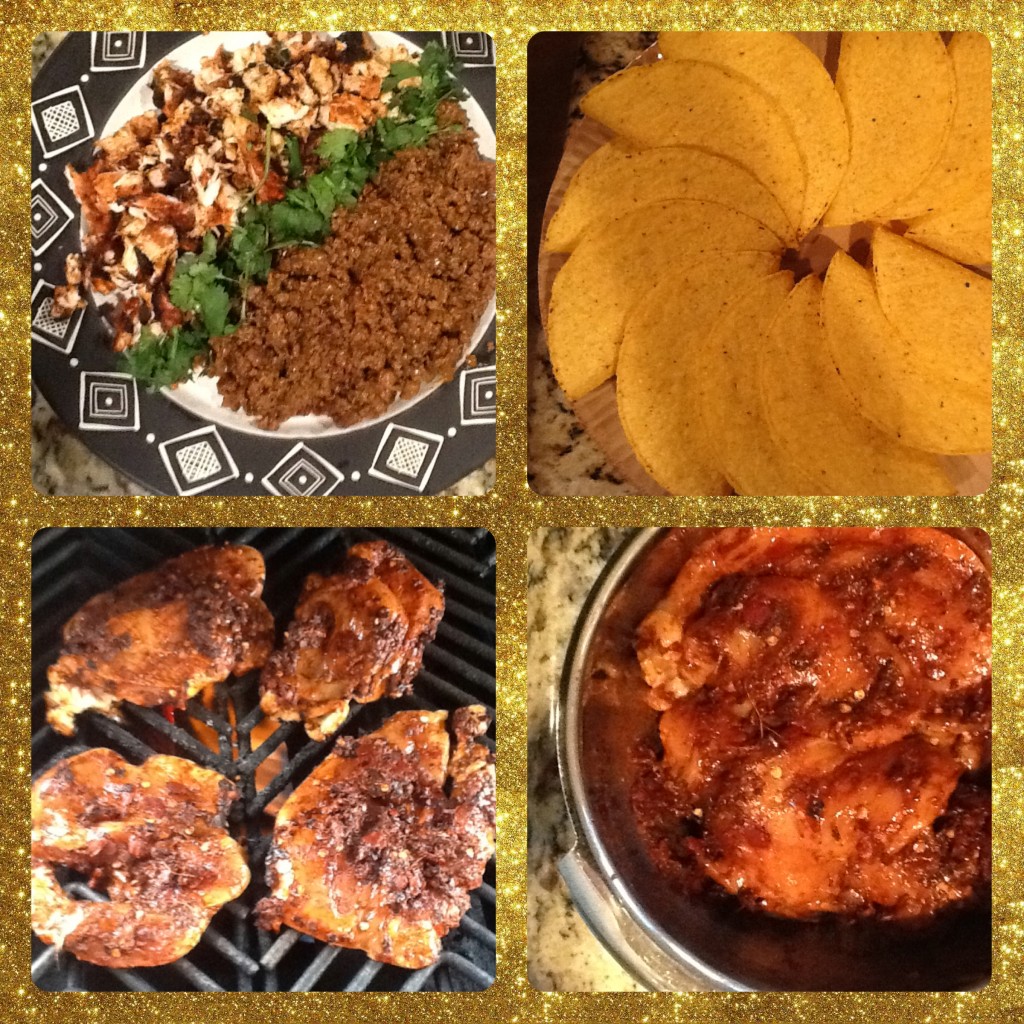 I was visiting my family is Austin and the nightly issue was dinner for my grandsons. What would they eat for dinner, what did I want, what could we compromise on.
Tacos. I made them their standard beef tacos using the packaged sauce, because that is what they like and I did not want to fight. So, their burger stuff got half the meat plate. But, but on other half of the meat plate, I put this great, great chicken ingredient.
This is from the new book Tacos, Tortas, and Tamales by Roberto Santibañez. Here's the idea. You make an adobo-marinated chicken filling that has the heat you want, some, a lot, or ambulance inducing. You are in control. The best part, no roasting of chilies. This is all done with your blender: combining dried chilies with some spices.
Once the blending is done, you slather chicken breasts with the goop. Roberto says to use half of the puree and save the rest. I used it all. The longer you let your chicken marinate, the hotter they become. I went for an hour and, truthfully, they were warm but not unbearable.
The best news? Well I put the chicken filling on the other side of the plate, across from the burger stuff, and I think a few chicken pieces got into my grandsons tacos. They did not fuss and they did not complain. I saw them eye me, wondering if I had slipped them something. Even good grandchildren can be suspicious and ungrateful.
They actually enjoyed it and so will you.
Adobe-Marinated Chicken Tacos
Yield: makes 16 tacos
Ingredients:
4 dried guajillo chiles, about 1 ounce, whipped clean, stemmed, slit open, seeded and deveined
4 dried ancho chiles, about 2 ounces, with the same prep
2 teaspoons chopped peeled ginger
¾ teaspoon ground cumin
¼ teaspoon freshly ground black pepper
1 12/ teaspoons kosher salt
2 pounds chicken cutlets
2 tablespoons olive or vegetable oil
Preparation:
Combine the chiles in a large bowl and add enough water to cover them. Soak the chiles until they're soft, about 30 minutes Drain and discard the soaking water.
Blend the soaked chiles with the ginger, cumin, pepper and ½ cup of fresh water in a blender until the mixture is smooth. You'll probably have to poke and pulse to help it blend. Don't be tempted to add more water, because you want the puree to be as thick as possible.
Put the chicken in a bowl, add the rub and rub it into the chicken until very well coated. Get your hands dirty here. But, but, either wear rubber cloves or clean your hands thorough right away. If your chili-covered hands touch your eyes, you are in deep trouble.
You can cook right away, or marinate for up to a few hours. The longer you marinate, the hotter the chicken.
Preheat a grill, griddle, or large skillet over medium heat with just enough oil to add a thin sheen to the grill grates or pan. Season the chile-slathered breasts with salt and cook, in batches if necessary, until they're well browned on both sides and just cooked through, turning them over once, 8 to 10 minutes per batch.
Let the chicken rest for a few minutes, then slice or dice it tacos.
Taco serving suggestions include green salsa, tomato salsa, diced onion, sour cream and of course shredded cheese.
Source: Tacos, Tortas, and Tamales by Roberto Santibañez