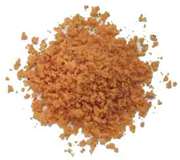 There can be no argument. The best chicken recipes in the world are French. Now, I have just insulted advocates for Italian cuisine and Chinese and every BBQ fanatic across America. I love all those other styles, but it's just a plain fact: French recipes and techniques for chicken produce a combination of flavor and elegance that make you pause at the first bite.
If you ever have a chance to visit Paris, then be sure to tour some of the open air street markets. The markets can be small, with only twenty stands or overwhelming with over two hundred vendors tempting you step by step.
You'll find wonder of all kinds in these markets, and along the way almost certainly a rotisserie filled with chickens scenting the market for many paces on either side. If you are lucky, you are renting a house and have a kitchen. So you can buy a fresh chicken, herbs and veggies, take it all back to your stove, and cook something grand.
A recipe? Essential Pepin has many chicken offerings but this one is Suzen's favorite. Marrying a great chicken [from Free Bird Farm in the Hudson valley] with fresh herbs from our winter garden yields a bird that you are still picking at as you clean up the kitchen. If, if by chance, there are leftovers the next day, then you can have a great chicken sandwich: sliced or made into chicken salad. Go all out there, and make you own mayo. It turns out, it's not that hard being French.
Jacques urges you to use fresh breadcrumbs. If you use dried ones, you'll only need half the volume. Yes, one of the ingredients is Tabasco sauce. Yes, you'll taste it. Yes, French chefs are flexible and inventive. No, I don't think his grandmother ever cooked this for him.
If you do plan a trip to Paris, then the best guides to the street markets are Paris in a Basket: Markets, the Food and the People and Markets of Paris. Paul Bocuse co-authored In a Basket so it has great credibility. In a Basket can still be bought from resellers at Amazon while the newer Markets of Paris is still in print. If you love France, then both books are ones you will treasure.
Baked Chicken with Herb Crumbs from Jacque Pepin
Yield: serves 4
Ingredients:
For the Chicken:
1 chicken (about 3 ½ pounds)
1 tablespoon olive oil
½ teaspoon Tabasco sauce
¼ teaspoon salt
For the Herb Crumbs:
2 fresh thyme sprigs or ½ teaspoon dried thyme
dried thyme
2 fresh oregano sprigs or ½ teaspoon dried oregano
3 slices firm white bread (3 ounces), processed to crumbs in a food processor (about 1 ½ cups)
¼ cup chopped fresh chives or parsley
½ teaspoon freshly ground black pepper
1 tablespoon olive oil
Preparation:
Preheat the oven to 425°F.
Cut the wing tips off the chicken. (The wing tips, neck, and gizzard can be frozen for use in stock or soup.) Butterfly the chicken (see the sidebar).
Pull off the skin; it should come off easily except, perhaps, around the wings. Remove as much as you can.
Place the chicken flesh side up o n a large baking sheet and rub with the oil and Tabasco. Sprinkle with the salt.
For the herb crumbs, if using fresh thyme and oregano, chop the leaves in a food processor or mini-chop or with a sharp knife. Combine the bread crumbs, thyme, oregano, chives or parsley, pepper, and oil in a bowl and toss gently.
Pat the herb coating lightly over the surface of the chicken. Bake for 35 to 40 minutes, until the chicken is cooked through and the crumbs are nicely browned. Remove and let rest for 10 minutes.
Cut the chicken into pieces and serve. Discard the melt fast or use it to sauté potatoes.-
Source: Essential Pepin by Jacques Pepin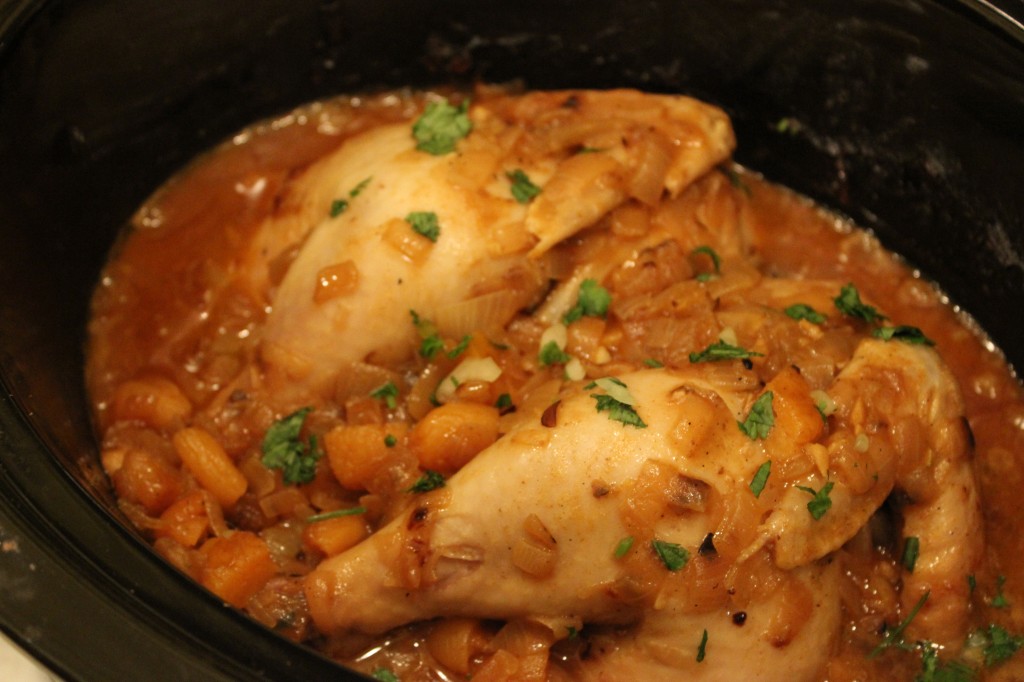 We need to clarify something. The phrase "slow cooker" does not refer to some dim-witted person in the kitchen. No, a slow cooker is one of those kitchen devices you may have ignored for some time. You may have one already, orphaned on a back shelf. Or you may walk by them in your local kitchenware store. Yes, you'll stop, look at the device, and just ignore it.
Well, it is time to dust off that creature you already have or go buy a brand new shiny one because the world of slow cooking is capturing attention everywhere. And the best advocate for slow cooking is Michele Scicolone.
Michele's The Italian Slow Cooker was a tour de force in her home court: Italian cooking. Now, she has a brilliant new success in The French Slow Cooker. Advocates of French cuisine have nothing to be worried about. Michele's multiculturalism shines on every page with French food given all the loving respect it deserves.
Michele describes her own awakening here, learning how a slow cooker is the ideal way to create a wide away of French home dishes and do it more easily and more successfully. Soufflés and quiches require careful timing when using an oven. In a slow cooker, with its low and even warmness, these "sensitive" dishes are far easier to prepare. Vegetable dishes, gratins, seafood, and even gooey desserts like crème caramel can all be easily created with your slow cooker.
Suzen's starting point for testing this new book was this Moroccan Chicken with Apricots and Almonds [I wanted the crème caramel, but …]. We have a pantry always ready with dried fruits and nuts. And each fall we stock up on the best organic chickens in the Hudson Valley, from Free Bird Farm who offer them Saturday's at the Kingston farmers market. Our freezer has a shelf full of birds ready to go — after just a little defrosting.
Yes, this recipe calls for chicken breasts but Suzi simply sliced that whole chicken in half. It looked a bit like a closeup scene from a television hospital show. In fact, Suzen has told me that my next surgery will be home-based. I think it's all a gimmick to get me to shovel the snow.
Michele Scicolone describes this dish as lightly spiced. It's exactly that. As the chicken cooks, your kitchen is not overpowered by scent. There's just this magical suggestion that a great meal is forthcoming.
Michele suggests serving this over couscous. We did rice instead. Either way, all the chicken, all fruit, and all the sauce are soon gone.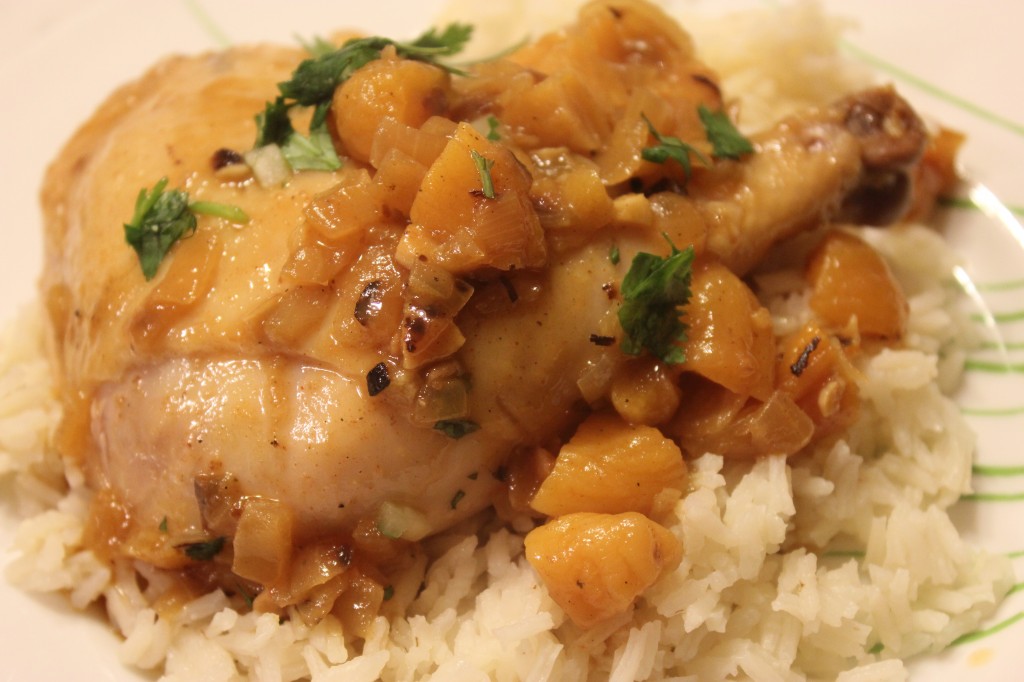 Moroccan Chicken with Apricots and Almonds
Yield: serves 4-8
Ingredients:
2 tablespoons olive oil
2 large onions, chopped
2 garlic cloves, finely chopped
2 tablespoons all-purpose flour
2 teaspoons paprika
1 teaspoon ground ginger
1 teaspoon ground cumin
2 cups chicken broth, ideally home made
2 tablespoons fresh lemon juice
2 tablespoons honey
1 cup dried apricot halves, quartered
8 skinless, boneless chicken breast halves
Salt and freshly ground pepper
2 tablespoons sliced toasted almonds
Chopped fresh cilantro.
Preparation:
In a large skillet, heat the oil over medium heat. Add the onions and garlic and cook, stirring frequently, until the onions are golden, about 10 minutes. Mix in the flour and spices and cook for 1 minute. Whisk in the broth, lemon juice, and honey. Bring to a simmer and cook until slightly thickened, about 5 minutes. Stir in the apricots.
Pour half of the sauce into a large slow cooker. Sprinkle the chicken with salt and pepper to taste. Place the chicken in the cooker, overlapping the pieces slightly. Drizzle with the remaining sauce. Cover and cook on low for 2 ½ to 3 hours, or until the chicken is cooked through.
Serve the chicken sprinkled with the almonds and cilantro.
Source: The French Slow Cooker by Michele Scicolone [Published by Houghton Mifflin Harcourt]