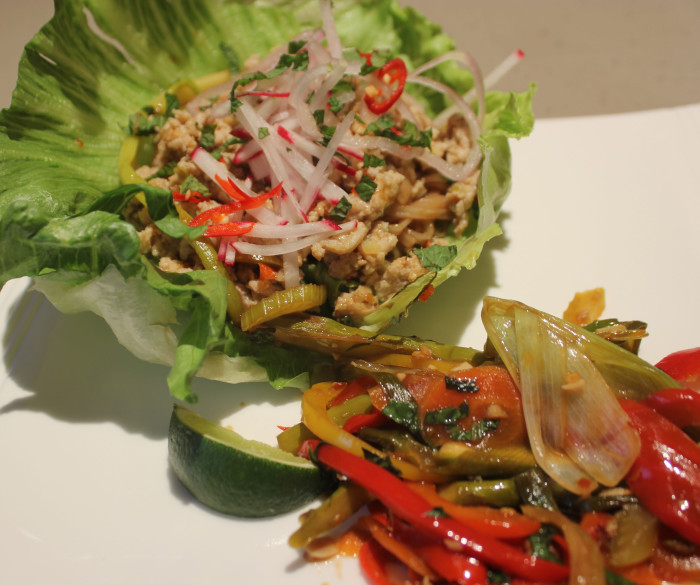 There are times when I can eat a dish and feel that I have done something actually healthy. Asian cuisines are my favorites for this "feel good" situation. I know, tempura and fried rice are not exactly high on the healthy scale. But, this dish is. It's beautiful when plated: elegant lettuce leaves embracing ground pork or chicken [or both] sizzling hot out of the wok. Scents of garlic and fish sauce and lime wafting through the air.
If you have the ingredients on hand, this dish is rapidly prepared. It's ideal for a quick week night meal where you are short on time but long for a taste treat, something to just break up the routine of those standard recipes that keeping repeating onto your table.
While this can be a meal unto itself, we often serve it with sautéed vegetables, say peppers, for contrast in color and flavor.
The recipe calls for chiles, so you have room for maneuver here. How much heat do you want? Small shallots are included, but you can supplement with scallions or other onions for contrast and flavor.
Oh, chopsticks are optional, but recommended. You've gone to good effort here, so you should complete the gestalt. And a cold beer, very cold.
When Suzen serves this to her corporate clients at Cooking by the Book, for some reason they often request a brownie for dessert. We don't have an official Vietnamese brownie recipe here on the blog, but you should check out for the Killer Brownies:
http://www.cookingbythebook.com/cookie-jar/killer-brownies-from-marc-forgione/
No chopsticks required.
Don't have a wok? You can improvise, but woks are so inexpensive and so useful that it is time to visit your local kitchen supply store. Remember the saying: you have to wok before you can run. At least, I think I heard that saying.
---
Vietnamese Ginger Pork/Chicken Lettuce Cups

Yield: 4 servings

Ingredients:

2 cloves garlic crushed
1 tablespoon fresh ginger, peeled, finely grated
2 red or green chiles, seeded, finely chopped
1 tablespoon peanut oil
1 pound ground pork/ground chicken
2 teaspoons finely grated lime zest
¼ cup fish sauce
¼ cup fresh lime juice
1 tablespoon superfine sugar or granulated sugar
12 small iceberg, Bibb, or Boston lettuce leaves
5 radishes, thinly sliced
4 small shallots, thinly sliced
Fresh mint sprigs and lime wedges for garnish and accent
Preparation:

In a small bowl, combine garlic, ginger, and half of the chiles.
In a large wok or a large, deep skillet, heat oil over high heat. Add garlic mixture and stir-fry 30 seconds to 1 minute.
Add the meat and cook, stirring constantly, 3 to 4 minutes, until meat begins to brown and is no longer pink. Add lime zest, fish sauce, lime juice, and sugar and cook 2 minutes.
Remove from heat; taste to adjust seasonings if necessary.
Spoon into lettuce cups; sprinkle with radishes, shallots, mint, and remaining chiles. Serve with lime wedges.
Source: Frank Melodia in Redbook Magazine

Photo Information: Canon T2i, EFS 60mm Macro Lens, F/3.5 for1/30th second at ISO‑100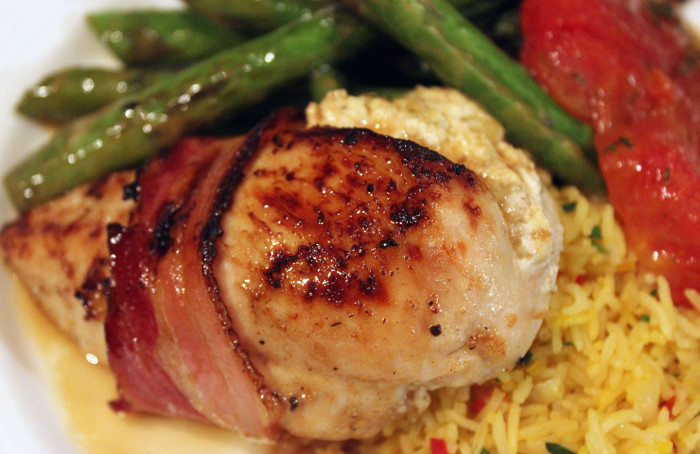 Here's a dish to surprise your dinner guess. The chicken breast is wrapped with bacon so visually each person knows what to suspect when they take that bite. Of course, as they cut that bite, there will be something squishy in the middle: that's the first hint of the bounty to come.
When they take that first chew, the surprise begins delivery: the strong bacon taste is paired with something cheesy and then, then there is more. An underlying sweetness that serves to bind the whole dish together. The secret, and the surprise is there in the middle of each chicken breast: a mixture of earthy goat cheese and fig.
And, as a final surprise, there will be heat. A combination of all-spice and chili powder has been sprinkled on each chicken breast for sensory acceleration.
Several years ago our friend Marie Simmons wrote Fig Heaven. This is her recipe and the book title is not, as it turns out, an overstatement about fig power. Figs can be heavenly. Sticky, that's true. But heavenly as well, particularly when paired with a good cheese. [If you are not a goat cheese fan, then feel free to substitute any other softer cheese.]
This post is coming up on a Sunday. A June Sunday that is supposed to be filled with sunshine and warmth. There is still time to get to the grocery store, fire up your grill [instead of the suggested oven], and end the weekend with a superb treat. If grilling and not cooking in the oven, use your barbecuing senses, plus smell and touch, to judge doneness.
We paired this chicken dish with rice, grilled tomatoes, and grilled green beans and asparagus. It's an homage to summer, an early summer feast that you do not want to miss.
With the sides we used, this is a meal unto itself. No need for other sides or salad. Just save room for dessert.
One other point. Suzen uses this dish for her culinary team building events at Cooking by the Book. It's the perfect dish to create with a "team" because there are many steps. Particularly if you are preparing this dish for a group, say 20 or 30 people, you can have assignments for making the stuffing, pocketing the chicken, wrapping with the bacon, and grilling. It's an assembly line dish that would put a smile on Henry Ford.
Bacon Wrapped Chicken Stuffed with Figs and Goat Cheese
Yield: 4 servings
Ingredients:
For the chicken:
4 large boneless and skinless chicken breast halves
1 tablespoon fresh thyme leaves
Kosher salt and fresh ground black pepper
For the stuffing:
2 cups diced fresh green or black dried figs [about 12 figs]
½ cup crumbled well-chilled goat cheese
2 tablespoons extra virgin olive oil
1 teaspoon minced garlic
1 egg
For the spice mixture and wrapping:
½ teaspoon ground all-spice
½ teaspoon ground chili powder
Pinch of salt
4 thick slices pancetta or bacon [about 1/8 inch thick]
½ cup dry white wine
Preparation:
If the chicken breasts come with the fillet attached, remove them. The fillet is the long slender piece attached to the bottom side of each breast half. They are sometimes removed from the chicken breasts and sold separately as "chicken tenders." Pull them off and reserve them for another use, such as in stir-fries or soup.
Preheat the oven to 400°F.
Place the chicken breasts, smooth side up, on a work surface with the thickest portion to your right. Butterfly the breast by cutting through the thick side toward the tapered side so that you can open the breast like a book.
Sprinkle the butterflied chicken breasts inside and out 'with ½ tablespoon of the thyme leaves, pinch of salt, and a grinding of pepper.
For the stuffing: In a small bowl combine the figs, goat cheese, 1 tablespoon of the olive oil, garlic, egg, ½ tablespoon thyme,½ teaspoon salt, and a grinding of black pepper. Toss to combine.
For spice mixture: In a small bowl combine the allspice, ground chili and salt, toss to combine.
Spoon the stuffing onto one side of each chicken breast, dividing it evenly. Close the chicken over the stuffing. Sprinkle on closed over chicken the spice mixture.
Wrap a slice of bacon or pancetta around each chicken breast. Use a tooth pick (or a small metal skewer) to hold the breast closed and keep the bacon or pancetta in place.
Oil a large (about 13 X 9-inch) shallow flameproof baking pan with the remaining 1 tablespoon of olive oil.
Place the chicken breasts in the pan and roast in the oven for 10 minutes. Turn and roast the other side until cooked through, about 10 minutes.
Remove the pan from the oven; transfer the chicken to a serving platter and cover with foil.
Add the wine to the roasting pan and heat to a boil over high heat, scraping up the browned bits and reducing the wine to a syrup, about 5 minutes. Drizzle the wine over the chicken, and serve.
Source: Fig Heaven by Marie Simmons
Photo Information [top]: Canon T2i, EFS 60 mm Macro Lens, F/4 for 1/10th second at ISO-3200