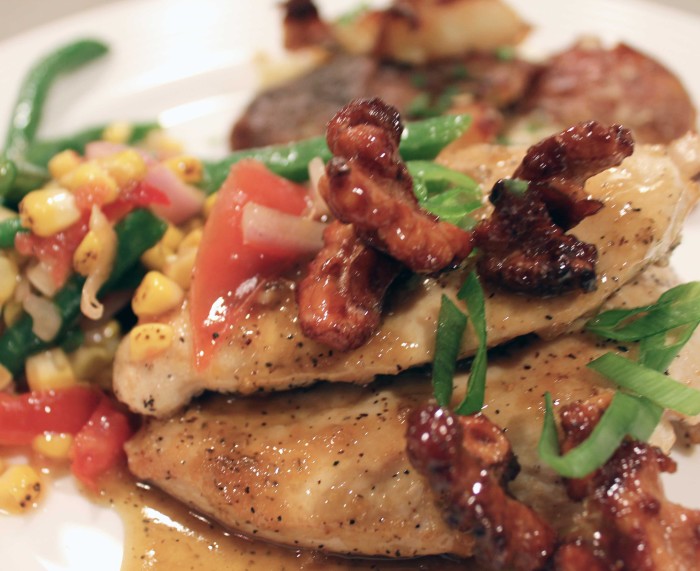 Have you ever followed a recipe in a cookbook, really and truly and honestly followed it, and the result was a disaster?
It wasn't you. It was the cookbook. And the failure of the author and publisher to make sure that each and every recipe in the book has been tested and works exactly as written. A couple of decades ago, you could depend on that quality in any cookbook you bought. Today? It's rare, and the recipes in many books can be hit and miss.
What's the solution to this more than minor problem? First, if you make something and it fails, shoot off an email — maybe with a photo — and just very politely tell the PR department at the publisher that there may be a problem.
Second, and more directly, you can avoid the problem entirely by searching for books from authors and publishers you can trust. Authors like Marie Simmons. With well over a dozen cookbooks in her portfolio, Marie is one of those very special authors you can put full trust in. If it is a recipe in her book, and you follow that recipe, you will have something quite special.
In the past two years, there has been a flurry of cookbooks devoted to one sweet topic: honey. Marie has authored Taste of Honey and it ranks at the top of the hive. Typical of her books, it is smart and simple. The recipes are not 1-2-3 simple, I admit. But, Marie's writing style is excellent. The directions lead you step-by-step with clarity and precision. Most importantly, Marie has a spirit of adventure, like this recipe where honey and ginger and walnuts and chicken all come together in a sticky, delicious delight.
---
Pan-Seared Lemon Chicken with Ginger Honey Sauce and Ginger-Honey Walnuts

Yield: 4 servings

Ingredients:

For the ginger-honey walnuts:

2 teaspoons extra virgin olive oil
½ teaspoon grated ginger
1 small clove garlic, grated
½ cup walnut halves
1 tablespoon honey
½ teaspoon coarse salt
For the lemon chicken:

1 ½ pounds boneless and skinless chicken breasts (see note)
Coarse salt and freshly ground black pepper
4 tablespoons extra virgin olive oil
1 teaspoon grated ginger
1 clove garlic, grated
¼ cup fresh lemon juice
¼ cup chicken broth
2 tablespoons honey
1 thinly sliced scallion (about 1 tablespoon, green part only)
Preparation:

To make the ginger-honey walnuts, place oil, ginger, and garlic in small skillet. Slowly heat over medium-low until garlic sizzles. Add walnuts and honey. Cook on medium heat for about 2-3 minutes, adjusting temperature until honey boils and sticks to walnuts and walnuts turn golden. Sprinkle with the salt, adjusting to taste. Transfer to a side dish or sheet of aluminum foil. Do not put on paper towels because they will stick.
To make the lemon chicken, with a sharp knife, fillet the chicken breasts through the thickest part to make 8 cutlets.
Place them on a large piece of plastic wrap, sprinkle with salt and pepper, cover with second sheet of plastic wrap, and gently but firmly pound chicken with a meat pounder or underside of a small, heavy skillet to make fillets of even thickness of ¼ to ⅓ inch.
Heat 3 tablespoons of the olive oil in large, broad skillet until hot enough to sizzle.
Add the chicken a few at a time and cook 1-2 minutes per side, until lightly browned.
As the chicken is cooked, transfer to a platter and cover with foil to keep warm.
Discard oil in skillet and let skillet cool slightly. Add remaining 1 tbsp. of oil, ginger, and garlic to skillet. Heat and stir over medium-low heat just until garlic sizzles. Add the lemon juice, chicken broth, and honey. Heat, stirring to loosen any browned bits in skillet, for about 3 minutes, or until mixture boils and thickens. Pour sauce over chicken and sprinkle with the walnuts and scallions.
Source: Taste of Honey by Marie Simmons

Photo Information Canon T2i, EFS 60 mm Macro Lens, F/3.5 for 1/30th second at ISO‑500


This post is appearing early on a Saturday morning, offering you plenty of time to think about weekend meals. How long has it been since "chicken" inspired you? Seriously? I do know that barbecuing chicken can, with the rubs and sauces, and then blackening, can give you a renewed chicken experience.
But summer is winding down and you've probably had several birds off the grill with that special black flavor that is becoming all too familiar.
Time to step back, reconsider, evaluate, and find a chicken dish that is refreshingly different.
How about figs? If you eat chicken often, you probably eat figs less than often. Maybe never. Or maybe you tried one once, found your fingers sticking together, and vowed never again to become involved with a fig. I understand. Growing up in Oregon, our house had two fig trees that were constantly surround by bees guarding that very sweet fruit. It was impossible to sneak even one fig without being stung. So, I have had a very deep fig aversion.
Marie Simmons is one of our favorite and most trusted cookbook authors. Take any of her recipes, make it, and you will have success. She is meticulous about her writing and her testing. And her passions. A decade ago she wrote Fig Heaven, a book reflecting her total embrace of this neglected fruit.
Marie knows it can take a bit of persuasion to get us fig-phobic types to consider giving them another try. So, in this recipe she resorts to blatant bribery. Fill a chicken breast a mixture of goat cheese, figs and spice. Wrap the breast in bacon. Cook, create a wine-based sauce and surround the chicken in surreal flavor.
This dish takes a little time to prepare, but offers you surprising rewards. It's grand for a Saturday or Sunday dinner.
Figs are Asian in origin, eaten for perhaps 10,000 years. Today, they are grown in abundance in Turkey, Egypt, Algeria, Morocco, and Iran. So, when sampling and buying, look for a Middle Eastern grocery store with experts behind the counter. They already know what Marie is trying to tell you: figs are heaven.
---
Bacon Wrapped Chicken Stuffed with Figs and Goat Cheese

Yield: 8 servings

Ingredients:

4 large boneless and skinless chicken breast halves, fillets removed (see Note)
1 tablespoon fresh thyme leaves
Stuffing Mixture:

2 cup diced fresh green or black figs (about 12 figs)
½ cup crumbled well-chilled goat cheese
2 tablespoons extra virgin olive oil
1 teaspoon minced garlic
1 egg
Spice Mixture:

½ teaspoon ground all-spice
½ teaspoon ground chili powder
Pinch of salt
4 thick cut slices pancetta or bacon (about ⅛ inch thick)
½ cup dry white wine
Preparation:

Preheat the oven to 400°F.
Place the chicken breasts, smooth side up, on a work surface with the thickest portion to your right. Butterfly the breast by cutting through the thick side toward the tapered side so that you can open the breast like a book.
Sprinkle the butterflied chicken breasts inside and out 'with ½ tablespoon of the thyme leaves, pinch of salt, and a grinding of pepper.
For the stuffing: In a small bowl combine the figs, goat cheese, 1 tablespoon of the olive oil, garlic, egg, ½ tablespoon thyme,½ teaspoon salt, and a grinding of black pepper. Toss to combine.
For spice mixture: In a small bowl combine the allspice, ground chili and salt, toss to combine.
Spoon the stuffing onto one side of each chicken breast, dividing it evenly. Close the chicken over the stuffing. Sprinkle on closed over chicken the spice mixture.
Wrap a slice of bacon or pancetta around each chicken breast. Use a tooth pick (or a small metal skewer) to hold the breast closed and keep the bacon or pancetta in place.
Oil a large (about 13 X 9-inch) shallow flameproof baking pan with the remaining 1 tablespoon of olive oil. Place the chicken breasts in the pan and roast in the oven for 10 minutes. Turn and roast the other side until cooked through, about 10 minutes.
Remove the pan from the oven; transfer the chicken to a serving platter and cover with foil.
Add the wine to the roasting pan and heat to a boil over high heat, scraping up the browned bits and reducing the wine to a syrup, about 5 minutes. Drizzle the wine over the chicken, and serve
Tip: the fillet is the long slender piece attached to the bottom side of each breast half. They are sometimes removed from the chicken breasts and sold separately as "chicken tenders." Pull them off and reserve them for another use, such as in stir-fries or soup.


Source: Fig Heaven by Marie Simmons

Photo Information: Canon T2i, EFS 60mm Macro Lens, F/4.0 for1/40th second at ISO‑200