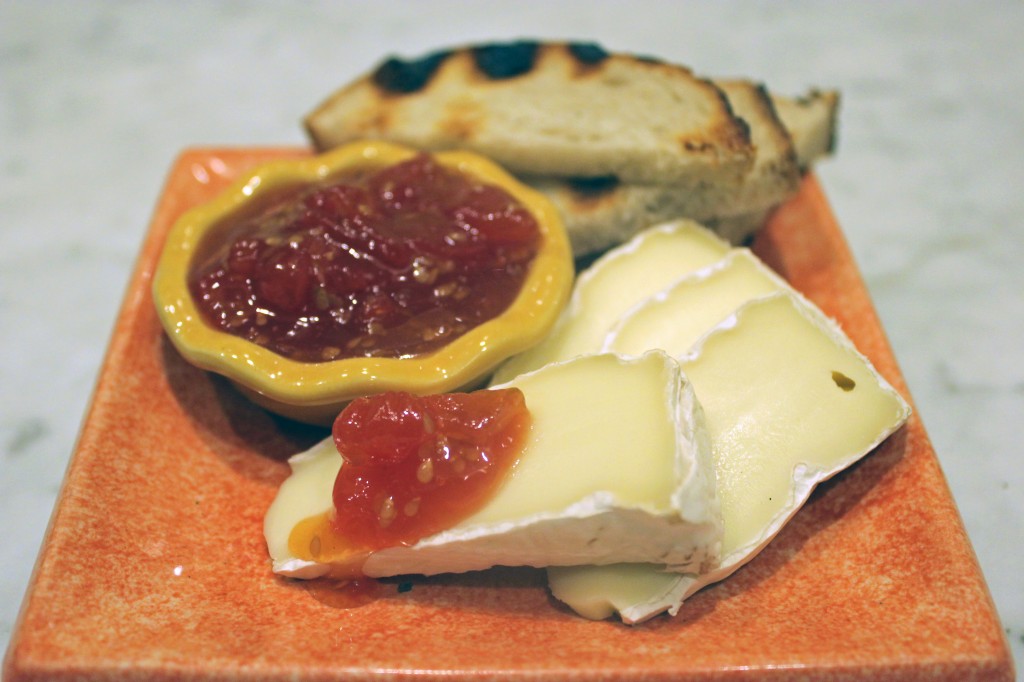 Did you ever have someone give you an absolutely perfect dish? And you were going to get that recipe from them? And then, most sadly, they passed away? You remember their face and their laughter. You remember their tomato conserve that was a miracle.
Suzen and I had the pleasure of knowing Jacques Burdick, a wonderful man who once gave us a small jar of his tomato conserve. He smiled when he passed it to us but he did not make a big deal about his gift or boast that this was a treasure. He went home, we tasted, we could not believe.
And we never got around to asking him for the recipe and now we cannot.
So, we've searched recipe books and googled and never found anything close. Until now.
The Cheesemonger's Table is a gorgeous book filled with cheese-oriented recipes. Serious, upscale recipes. I'll blog about the book itself tomorrow. But very, very importantly, the book has this recipe for Cherry Tomato Jam for cheese. It's quite close to Jacques' miracle.
This jam can be made in an hour with very little effort. Physically, it is stunningly beautiful. Taste wise, it's really, really good. Remember, tomatoes are fruit and all fruit is destined to become jam [or pies, or tarts, or …]
Enjoy this jam with soft white cheese on toasted bread. Triple crème never tasted so good.
The recipe comes from an exceptionally well-trained chef, Chester Hastings, in Los Angles. When he makes this jam, he's mostly using California cherry tomatoes. When I made this jam, I was using supermarket tomatoes in February in upstate New York. My jam was great, but it was a bit lemony. I would suggest that when you make it, do some taste tests along the way, before and during the addition of the lemon juice to reach the flavor balance you like.
The yield stated in the recipe is 1 ½ cups. I got just over 1 cup. I think it's a matter of the juiciness of the tomatoes and how much mass is lost when you take the skins off.
If you don't get enough, just make more. All that you are doing is letting tomatoes fulfill their culinary destiny. It's kinda religious. It's definitely delicious.
Cherry Tomato Jam
Yield: 1 ½ cups
Ingredients:
2 cups [340 grams] cherry or grape tomatoes
¾ cup [150 grams] sugar
3 tablespoons freshly squeezed lemon juice
Zest of 1 lemon
½ teaspoon fresh rosemary, finely chopped
Preparation:
Heat the oven to 350°F.
Cut the tomatoes in half and place on a baking sheet lined with aluminum foil. Bake for about 15 minutes to loosen the skins. Remove the tomatoes from the oven and let cool slightly before carefully peeling away the skins.
Place the tomatoes and the sugar in sauce pan over medium heat and gently melt the sugar. Bring to a boil and cook, boiling rapidly for 5 to 7 minutes, or until thick and syrupy. Remove from the heat and stir in the lemon  juice, lemon zest, and rosemary.
Transfer to a clean, sterilized jar and seal well. The jam can be kept refrigerated for 2 weeks, though I doubt it will last that long.
Source: Cheesemonger's Kitchen by Chester Hastings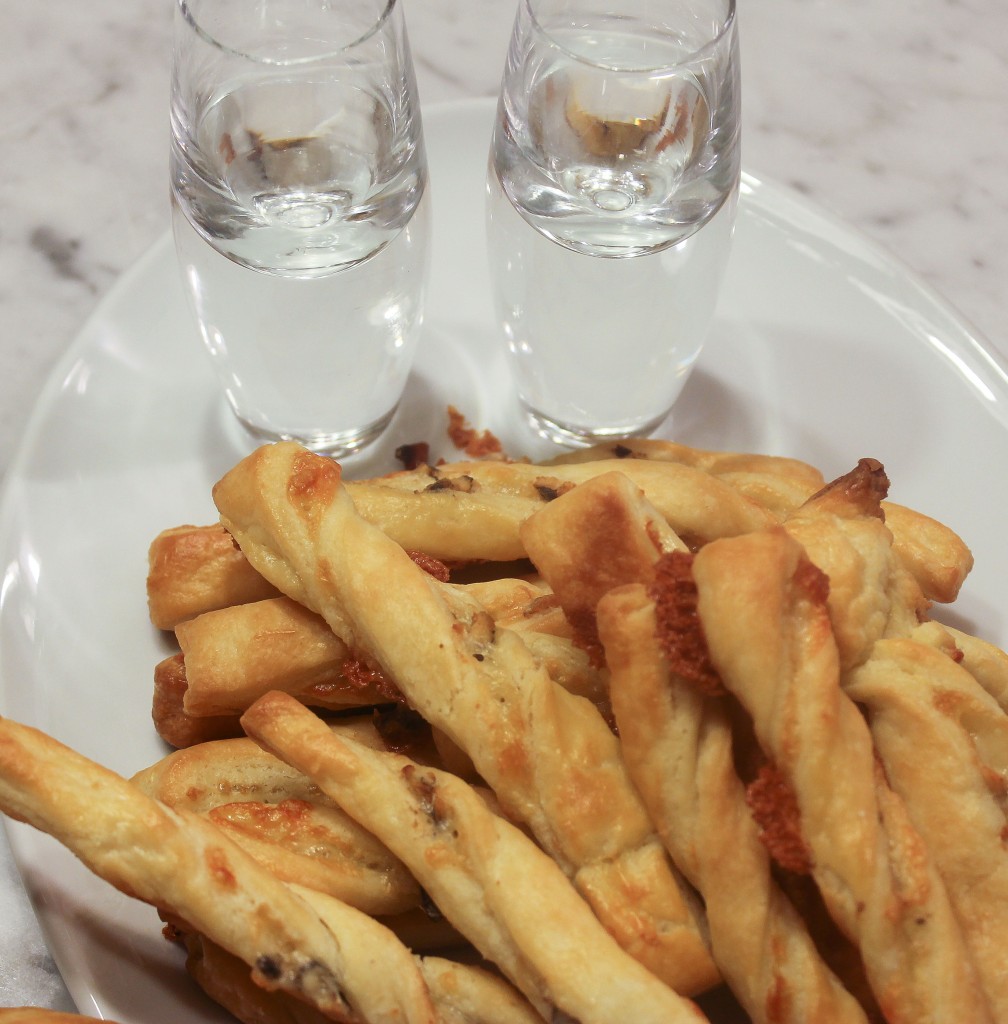 Having a party? Need a quick appetizer to tantalize your guests? These anchovy twists are flavor grenades. Serving these lovely twists will give you a running start for a flavor profile that will have everyone bubbling and provide you with a theme for the entire evening.
Anchovy offers an intense flavor that is readily matched with strong cocktails [think margaritas!]. And this spikey flavor naturally leads to a dinner table adorned with Caesar Salad [more anchovy!] and crusted protein [grilled steak or lamb chops].
While you've probably had cheese twists lately, these anchovy gems are quite different: soft and tender, not hard and crispy. That feel-and-taste distinction will have your guests guessing what other twists you have planned for them. [Clearly, some twisted cookie recipe is needed here. I'm off and researching!]
Anchovy Twists
Yield: 20-25 twists
Ingredients:
1 Quantity Pastry with Quark [recipe follows]
1 egg, lightly beaten, for glazing
2 ounces anchovy fillets packed in oil, drained and finely chopped

Grated sharp cheese [optional]
Preparation:
Make the Pastry with Quark according to the recipe below but divide it into two portions before wrapping in plastic wrap.
Preheat the oven to 425°F.
Take the pastry out of the refrigerator and remove the plastic wrap. Roll one portion out on a lightly floured surface, with a rolling pin, into a rectangle about 16×12 inches. Repeat with the other portion.
Brush some of the beaten egg over each portion of pastry. Divide the chopped anchovies in two and spread them evenly over half of each pastry rectangle.
Optionally, at this point you can enrich the twists by sprinkling with some grated sharp cheese.
Fold the bare pastry half over the anchovy [and cheese] filling and press gently together. Repeat with the other pastry rectangle. Brush the remaining beaten egg over the top. Cut into strips about ½ inch wide and twist each strip into a spiral. Arrange on the prepared baking sheet.
Bake in the preheated oven for 7-9 minutes, or until golden brown.
Serve warm or cold.
Pastry with Quark
Ingredients:
2 sticks unsalted butter,
softened at room temperature
8 ounces (1 cup) quark or pot cheese
2 cups all-purpose flour
1 teaspoon baking powder
Pinch of salt
Preparation:
Put the butter and quark in a mixing bowl and beat together with a wooden spoon until well mixed.
In a separate bowl, mix the flour, baking powder, and salt together. Tip into the mixing bowl and mix until a dough forms.
Roll into a ball, then flatten into a disk before wrapping in plastic wrap.
Refrigerate for at least 30 minutes before continuing with the recipe you are following.
Source: Nordic Bakery Cookbook by Miisa Mink