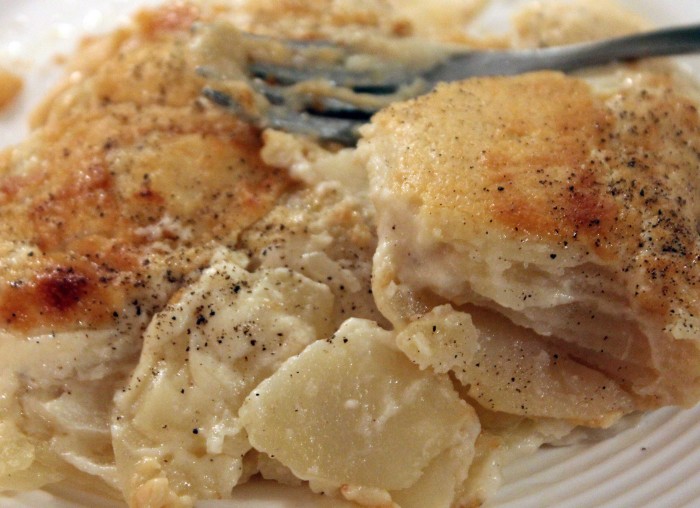 This post finishes the series on what we had for Easter dinner last Sunday. I've saved the best for last.
If you google "what does cauliflower taste like" you have a quick descent into a tar pit. There are plenty of discussions, not about what it tastes like or why, but what to do about the flavor. How can you make it taste like mashed potatoes? What cheese should you add? Some say there is no taste to cauliflower at all. Some say it stinks, like the cabbage it is descended from
I find cauliflower to be distinctive, not unappealing, but certainly subject to flavor enhancement through the addition of dairy. [Which could be said for just about anything!]
Potato gratins are one of the premier sins on the planet. They are not healthy. There are addictive. They are relished. And sometimes, sometimes, they can be just a little over the top. Are you eating potato or cheese? If you have had a heavy hand in the kitchen preparing a gratin, there may be a tad more cheese than you intended.
Or that the recipe call for. Is there really a difference between a half cup and whole cup? Actually, yes. But once that cheese has begun to melt, there is no retreat.
Australian guru Curtis Stone has an excellent solution. Use lots of finely diced [and then blended and sieved] cauliflower to cook with potatoes. I find cauliflower to have mild, distinctive flavor and you still sense it here but it's a refinement and a complement to the cheese in the gratin.
To be honest, Suzen did not use Camembert — although this recipe calls for a modest 4 ounces. Instead we had some excellent goat cheese and made the substitution. This is part of the recipe where you, too, have room to experiment. Actually, I find the tastes of cauliflower and goat cheese both oddly similar. I taste them somewhere in the back of my mouth, surely with amplification from the scents that have passed up my nose. These are distinctive, complex flavors, quite unlike your simple "sweet" or "salt" tastes. Together, goat cheese in modest amounts and cauliflower in abundance yield a gratin that is unmistakably potato and wondrously, smoothly complex.
Leftovers, if you should have some, are equally wonderful.
Curtis suggests this gratin to pair with grilled pork chops, an excellent idea. We had the gratin with a slow roasted shoulder of lamb. The gratin is made to side up to meat muscular in body and flavor.
A great meal is often made from creating similarities or creating contrasts. This warm gratin can still be served on a summer night, nestled next to a steak right off the barbeque. Or matched with salmon that has been cooked and chilled.
One final note. There is liquid here, a combination of milk and heavy cream. Follow the recipe's instructions and use just enough. We had well over half left over and wisely decided not to drown our potatoes. Yes, dairy is good and, yes, there can be too much dairy.
Potato, Cauliflower and Camembert Gratin
Yield: serves 8
Ingredients:
2 tablespoons unsalted butter, plus more the baking dish
1 yellow onion, thinly sliced
3 garlic cloves, finely chopped
4 large sprigs of thyme
2 cups finely chopped cauliflower
2 cups heavy cream
2 cups whole milk
4 ounces Camembert cheese with rind, cut into large pieces
Kosher salt and freshly ground black pepper
2 ¾ pounds baking potatoes [russets], peeled and sliced into ⅛-inch thick slices
Preparation:
Preheat the oven to 325°F. Lightly butter a 3-quart shallow baking dish.
To make the gratin: Heat a large pot over medium heat. Add the butter and stir until melted. Add the onions, garlic, and thyme and sauté for about 5 minutes, or until the onions are tender but have not taken on any color. Add the cauliflower and cook for about 6 minutes, stirring often, or until softened. Add the cream and milk and bring to a simmer. Add the cheese and stir until it melts, then remove from the heat and discard the thyme stems.
Working in batches, puree the mixture in a blender; return to the pot. Season generously to taste with salt and pepper.
Stir the potato slices into the hot cream mixture to coat. Spoon 1 cup of the cream mixture into the baking dish. Spread the potatoes and the remaining cream mixture evenly in the dish. Cover with aluminum foil and put on a rimmed baking sheet. Bake for about 1 hour, or until a knife can be inserted easily into the potatoes. Uncover the dish, raise the oven temperature to 400°F, and continue baking for about 10 minutes, or until golden brown on top. Remove from the oven and let stand for 10 to 20 minutes before serving.
Source: What's for Dinner by Curtis Stone
Photo Information: Canon T2i, EFS 18-55MM Lens, F/5.6, 1/40th second, ISO-2000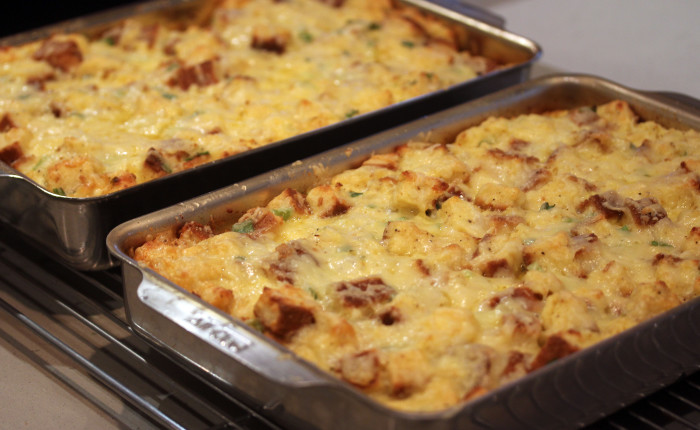 Yesterday's post talked about team building and brunch and families. Suzen has created a brunch menu that is targeted towards that first team you probably had: your family. Yes, you have fought and argued and scrambled with you siblings and parents. But, everybody eats. Every family.
Even my family almost always waved a white flag at meal time.
Here's a center piece dish for your brunch. A cheese strata is a breakfast casserole that you can adapt to your own particular needs and preferences. The recipe below, for example, includes bacon as an option. You can add peppers, herbs, … The list is endless, the combinations all a miracle to the mouth.
Be sure to assemble this breakfast casserole the night before so the bread has time to absorb the egg mixture. For a special treat, you can use artisanal bread from a favorite baker and real Parmigiano-Reggiano cheese for delicious results. In Suzen's case, she uses homemade challah, soft and luxuriously eggy.
This recipe is from Entertaining Simple, an exceptional book. Yes, it has recipes for food, but it really has recipes for entertaining. If the thought of throwing a party gives you hives [or spasms], then you want this book. Everything, from the table set up to dessert, everything is carefully described and photograph. This is your guidebook to party success. No Maalox needed.
Cheese Strata
Yield: serves 10
Ingredients:
·       3 tablespoons unsalted butter
·       1 medium onion, thinly sliced (1 cup)
·       4 scallions, white and green parts, finely chopped
·       10 slices ¼ inch thick, hearty white bread, lightly toasted and cut in half crosswise or in ¾ inch cubes
·       8 slices cooked bacon, chopped into -inch pieces (optional)**
·       6 ounces Parmesan cheese, finely grated (1 cup)
·       8 ounces Gruyere cheese, coarsely grated (2 cups)
·       10 large eggs
·       2 cups milk or Half & Half
·       2 teaspoons kosher or sea salt
·       1 teaspoon freshly ground black pepper
Preparation:
Preheat the oven to 425⁰F.
In a medium sauté pan over medium-high heat melt 1 tablespoon of the butter. Add the onion and cook, stirring, until translucent, 3 to 4 minutes. Add the scallions and cook, stirring, until they turn bright green, about 2 minutes more. Remove the pan from the heat and let the contents cool to room temperature.
Grease the bottom of a large baking dish with the remaining 2 tablespoons butter.
If using bacon, line the bottom of the dish with half the pieces of bread (slices can overlap). Sprinkle an even layer of bacon on top of the bread. Spoon on the onion and scallion mixture and sprinkle with both cheeses. Arrange the remaining bread slices in overlapping rows on top.
If not using bacon, just put down a layer of bread. . Spoon on the onion and scallion mixture and sprinkle with both cheeses.
In a medium bowl, whisk together the eggs and milk until well combined. Whisk in the salt and pepper. Pour the egg mixture over the bread in the baking dish. Gently push the bread into the egg mixture. Cover the dish with foil (butter the underside of the foil that will be on top of the food) and refrigerate for 8 to 10 hours or overnight.
Preheat the oven to 375°F.
Bake the foil-covered strata for 20 minutes, then remove the foil and bake for 20 minutes longer until the top is golden brown.
Source: Entertaining Simple by Matthew Mead
Photo Credits: Canon T2i, 18-55MM Macro lens, F/2.8, 1/80th second, ISO 400