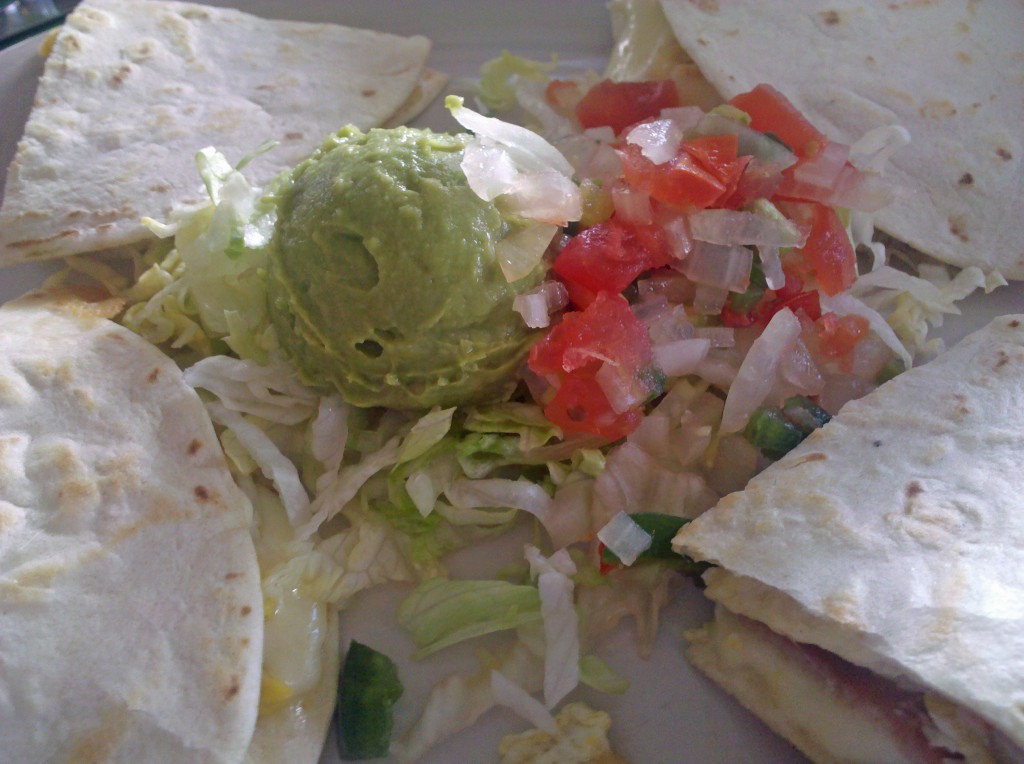 Breakfast in Texas offers opportunities for diversity. First, find a good, really good Tex-Mex spot. Like Curra's Grill in South Austin. Then peruse the menu, find something you've never heard of, and give it a fling. Like a sincronizada [yes, "synchronized"].
It looks like a quesadillas but only a Tex-Mex amateur would confuse the two. A sincronizada is a tortilla-based sandwich, using wheat tortillas that are layered sandwich style instead of being folded quesadilla style. The key ingredients in a sincronizada are one or two slices of ham and cheese. Ideally Oaxaca cheese.
To make this "sandwich," just add the ingredients and  grill until the cheese melts. Consume at once.
Variations abound. The Tex-Mex versions this side of the border often have beans added and perhaps use a different cheese like Monterey Jack. The dish may be topped off with sour cream, salsa, or guacamole for richness.
At Curra's a special ingredient is tiny chunks of already cooked potatoes. Melted cheese, ham, and soft potatoes. That was a perfect start to my day.
You can toss together you own sincronizada in moments. It's a great alternative to that fast food breakfast you or your kids have been craving.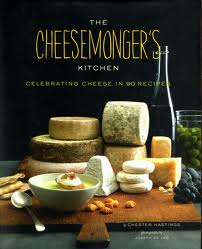 The title for The Cheesemonger's Kitchen has been very carefully chosen. Author Chester Hastings is a superior cheesemonger, a man with a culinary pedigree we all would dream about. And the "kitchen" part? This is a cookbook, not a cheese encyclopedia filled with maps or charts. No here, you will find recipes and what recipes they are. Just consider this sample:
Tomato Braised Meatballs with Melting Mozzarella
Burrata with Asparagus, Pine Nuts and Golden Raisins [with Saffron]
Roasted Garlic and Cauliflower Soup with Aged Cheddar
Red Chili and Cheddar Diamonds [crackers with snap]
Maytag Madeleines with Wildflower Honey
Club Sandwich's with Gravlax, Avocadoes, Bacon And Beaufort
Savory Chocolate Fettuccine with Mascarpone and Lemon
Tommino Cheese with Salsa Verde and Anchovies
Chester grew up in California in a culinary family. As a teenager, he went his own way. He might have had purple hair at the time, but San Francisco Chef Carlo Middione hired the kid, and then mentored him. Chester studied Italian cuisine, book by book, first in Middione's restaurant basement and then in Italy, then working in Middione's kitchen. Chester's passion was Italian cuisine and, along the way, he learned the vital importance that cheese imparts to many of the recipes.
3rd Street in Los Angeles is one of the iconic food streets that put a smile on our faces. 3rd and Fairfax is the original LA Farmers Market, a maze of stalls that has offered food since 1934. An empty lot was the landing spot for local farmers bringing in truckloads of really, really fresh food. From that beginning, 3rd became a street for restaurants.
Chester rejoined his family as the cheesemonger at Joan's on Third, a food emporium with just the scale and quality you dream about.
Imagination, education, intelligence — those are all good reasons to consider this wonderful book. But there is one more thing, the very first line in the book: There is no right or wrong. With all his experience, Chester has earned the right to be a cheese snob. He isn't. He just wants to help you enjoy the wonders that cheese can wrought. And in The Cheesemonger's Kitchen he totally succeeds.
If you go back just a few days, you'll find his recipe for Cherry Tomato Jam, a condiment to pair with cheese, especially those gooey, soft white ones. You should try it. [Disclaimer: this blog is not responsible for any food addictions to recipes posted here. Sorry, but my lawyer is a stickler.]