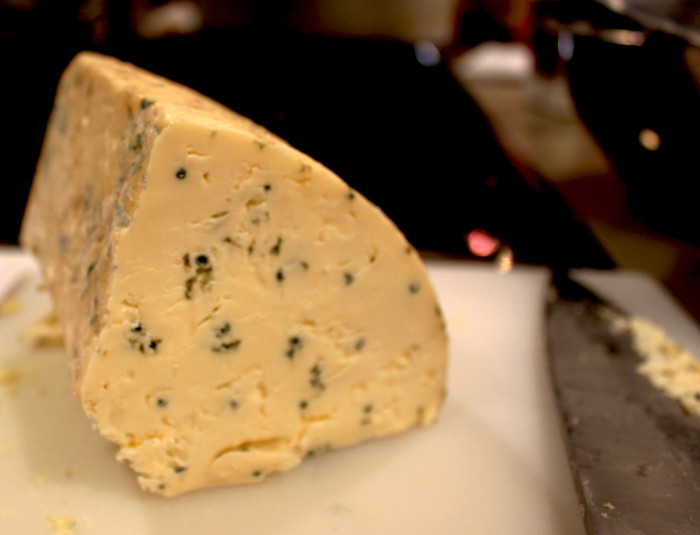 Blue cheese. I just hate assocaitin the word "bacteria" with something so beautiful. And so versatile. I love to eat blue cheese, directly, on crackers, by the quarter pound. But the truth is blue cheese belongs in salad and soups and, yes sauces.
There is a photo at the bottom of this post of the actual sauce. I will be chided for the photo. It's a conundrum. I have this great recipe and this not so perfect photo. Suzen will be displeased, but it's summer barbecue season and I cannot go another day without giving you this secret. So, I shall publish and bear the consequences.
Do you know what the hardest think to photograph is? Soup. Followed by beverages. Followed by sauces, like a blue cheese sauce. If it's liquid, it's hard. Rock solid hard. Does that make sense? Probably.
I'm working on it. Please bear with me. Because of the way digital cameras focus, a liquid surface confuses the computer chips and algorithms in a digital camera. People are working on better computers, better algorithms, better lighting techniques, … better everything.
Now about the sauce. There is nothing like a great barbecued steak. It's simple, direct and deep in flavor. So why do we all employ sauces that are so powerful they can show up on the Richter scale? Seriously. You aren't eating steak with sauce. It's sauce with steak. Or maybe just sauce.
Too often sauces dominate, burying all those steak flavors. What if you want a sauce that does have flavor, but that smoothly complements the meat instead of being its bitter rival.
Here's a solution, a blue cheese dressing that you can adjust for heat but that will not overpower you meat. You can make this sauce in a couple of minutes. If you are adventuresome, you can add some herbs, too, but beware of being your own worst meat enemy.
---
Brian's Blue Cheese Steak Sauce

Yield: serves 2

Ingredients:

2 ounces of blue cheese
¼ cup buttermilk
Freshly ground pepper
Hot sauce to taste [Tabasco or your favorite but do not overdo it!]
Preparation:
Put the cheese and buttermilk in a metal bowl. Using a fork, work the cheese into the buttermilk. At first you'll have just crumbled cheese and buttermilk liquid but the mixture will ultimately homogenize. Add the pepper and then a few drops of hot sauce. Adjust the hot sauce to your preference. Because you used blue cheese, salt should not be necessary.

Source: Brian O'Rourke

Photo Information Canon T2i, EFS 60 mm Macro Lens, F/5 for 1/20th second at ISO‑3200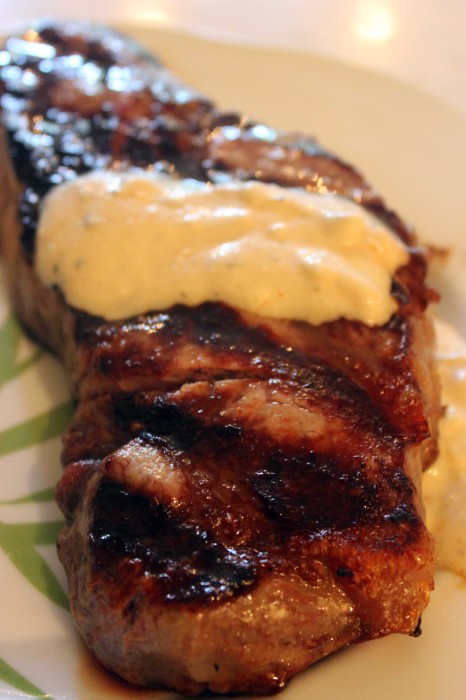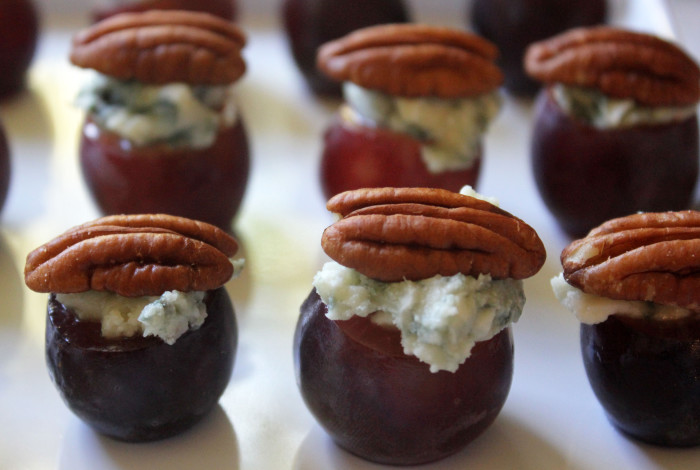 Sometimes you want just a sweet bite of this, a little taste of that. Bites so small it's hard to call them tapas even. Consider Gale Gand's Just a Bite. Published in 2001, we often pull it from our bookshelf.
The 125 recipes here are, technically, all desserts. And there are chapters on cookie bites, cake bites, creamy stuff, frozen, candy, chocolate, fruity, and cheese.
Ah, cheese. The cheese plate. I'm sorry. But cheese is not dessert. Not for me. It's an appetizer, plain and simple. Take Gale's recipe for Maytag Blue Grapes. I don't want to wait until dessert to try these. Although, it is true, these grapes with a grand port might be a delectable and successful end to any meal.
I can't wait. Suzen and I had a plate of these with cocktails last Saturday when the thermometer screamed that summer had arrived. Thunderstorms dotted around us. The wind blew. There was heavy rain and then azure sky. Through it all we just sat on our screened in porch. Eating grapes, sipping gin and tonics.
The technique here affords you ample room for experimentation. Not a fan of blue cheese? Substitute away. If you prefer walnuts, which Gale suggests, than do as you wish. Or mix and match. Or use some cashews. There is room for diversity, and you will experience pleasure in every little bite. Just as Gale intended.
Maytag Blue Grapes
Yield: 20 pieces, enough for 5-6 people
Ingredients:
2 ounces Maytag blue cheese
20 large seedless grapes: green, white, or red
20 small walnut pieces [or pecan halves if you prefer]
Freshly ground black pepper
Preparation:
Use your hands to roll the cheese into very small balls.
Use a very sharp knife to cut a thin slice off the bottom of each grape to give it a flat bottom to stand on. Cut off the top third of each grape. Use the tip of a knife or small spoon to make a little hollow in each grape (to hold the cheese ball). Press a ball of cheese into each hollow and dot with a nut pieces. Sprinkle with pepper.
Serve immediately or chill for up to 12 hours. The grapes can be served chilled or at room temperature, but do not leave out for more than 4 hours.
Sources: Gale Gand's Just a Bite
Photo Information Canon T2i, EFS 60 mm Macro Lens, F/5.6 for 1/60th second at ISO-1600