I am, in my soul, a gazpacho addict. I love the concept and all the flavors that gazpacho, made with fresh ingredients, can deliver to my table.
Funny thing, after thinking conventional tomato soup was ghastly, any tomato soup on a menu now captures my attention. Even roasted tomato soup. From canned tomatoes.  I must admit that for this recipe, roasting the tomatoes in brown sugar may have something to do with my new found preferences. Just maybe.
This lovely soup has this key advantage: it is available year round. No need to wait for Jersey tomato giants in August. This generously flavored soup has a peasant food heritage: diced bread and grated cheese merged with half-and-half. This soup can be your introduction to a full meal, but it has the body to, on its own, be the centerpiece of your evening. Just pair with a salad. And, of course, finish with a clever dessert. [Need a clever idea? Try our earlier post on Cutie Pies!]
Ingredients:
Nonstick cooking spray
2 (28 ounce) cans whole peeled tomatoes, drained, liquid reserved
Kosher salt and freshly ground black pepper
3 tablespoons dark or light brown sugar
Half a medium loaf of focaccia bread, cut into a 1/2″ dice (about 3 cups bread cubes)
1 tablespoon extra virgin olive oil
1/2 cup finely grated sharp cheddar cheese (use a Microplane grater)
2 tablespoons unsalted butter (see note above)
4 large shallots, peeled and roughly chopped
1 large or 2 medium garlic cloves, peeled and chopped (about 2 teaspoons)
1 teaspoon chopped fresh thyme leaves (optional)
1 tablespoon tomato paste
About 3 cups water
1/2 cup half-and-half
Preparation:
Adjust oven racks to middle positions and preheat oven to 375°F.
Prepare the tomatoes: spray a large rimmed sheet tray with an even coating of cooking spray. Add drained tomatoes and space evenly. Season tomatoes to taste with salt and pepper, then divide brown sugar over tops of tomatoes. Roast tomatoes in oven until sugar is browned and tomatoes have shrunken slightly, about 45 minutes. Remove tomatoes from oven.
Meanwhile, prepare the croutons. In a large bowl, toss cubed bread with olive oil, salt and pepper to taste, and grated cheddar cheese. Massage bread so cheese adheres well. Turn out onto a rimmed baking sheet and bake, stirring occasionally, until well-browned and crisp, 10 to 12 minutes. Remove from oven and let cool.
Prepare the soup: Heat butter in a large, heavy-bottomed Dutch oven set over medium heat. Add shallots, garlic, and thyme (if using), and season with salt and pepper. Cook, stirring occasionally, until shallots are translucent but not browned, about 6 minutes. Add tomato paste and cook, stirring, until it browns, about 2 minutes. Add roasted tomatoes, reserved tomato liquid, and enough water to cover, about 3 cups. Bring soup to a boil, reduce to a simmer and cook, stirring occasionally, until some liquid has evaporated, about 30 minutes.
Let soup cool slightly, about 10 minutes. Add half and half and use a hand blender to blend soup until smooth. Alternatively, blend soup in a blender in two batches. Check soup for seasoning, adding more salt and pepper to taste. Serve in bowls, garnished with a handful of croutons.
Source: Serious Eats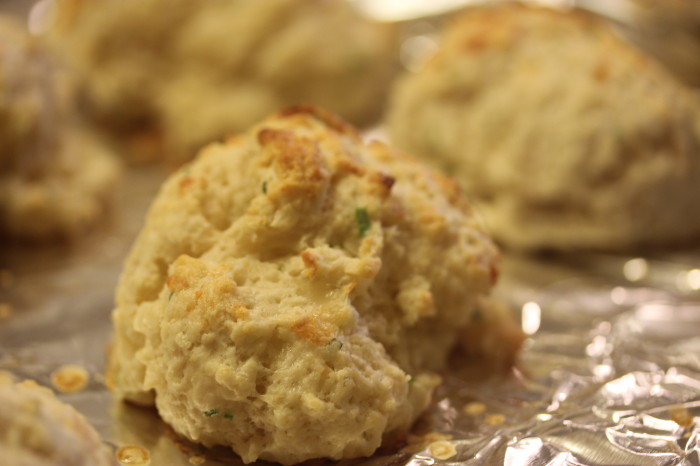 The lovely new book Biscuits, a Savor the South cookbook from the University of North Carolina Press asks a fundamental question: why not put the bacon right in the biscuit.
While you're at it, why not add in some cheese. Breakfast can be something with a biscuit on the side, or you can make these full flavor items your total meal. A good cup of coffee and one or two these Bacon-Cheddar Biscuits is an ideal way to start your Sunday. Or Monday, or …
As with really authentic biscuits, these are made with buttermilk. To make life easy, they are not rolled and cut out. These are drop biscuits whose ragged top and edges make each biscuit charmingly unique.
The recipe below suggests dividing the cheese in half, putting half in the dough and sprinkling the rest over the top of the biscuits before baking. In our case, we wanted the cheese flavor deep inside so all that cheese and bacon went inside. A marvelous personal choice, I must say.
Bacon-Cheddar
Yield: 8 biscuits
Ingredients:
2 cups soft wheat all-purpose flour
1 tablespoon baking powder
½ teaspoon salt
3 tablespoons firmly packed brown sugar
½ teaspoon freshly ground black pepper
 4 tablespoons unsalted butter, cut into ½-inch chunks and chilled for 15 minutes
6-8 ounces smoky bacon
1 cup shredded sharp cheddar cheese, divided
¾ cup buttermilk, plus more if needed
1 tablespoon rendered bacon fat.
Preparation:
Preheat the oven to 425°F. Line a baking sheet with parchment paper.
Whisk together the flour, baking powder, salt, brown sugar, and pepper in a large mixing bowl. Cut in the butter until it's the size of small peas.
In a skillet over low heat, cook the bacon until done. Drain on paper towels, reserving the rendered fat. Finely chop the bacon and return to the skillet. Cook over low heat until the bacon is crisp and most of the fat is rendered, about 7 minutes. Allow to cool slightly.
Stir the bacon and half of the cheese into the flour mixture. Add the buttermilk and rendered bacon fat and stir to combine. Add additional buttermilk if needed to create a sticky dough.
Using an ice cream scoop on heaping tablespoon, drop the biscuits onto the baking sheet. Sprinkle the remaining cheese on top.
Bake for 12 minutes or until the biscuits are golden brown.
Source: Biscuits: a Savor the South cookbook by Belinda Ellis, Copyright 2013 by the Univrsity fo North Carolina Press. Used by permission of the publisher. www.uncpress.unc.ed.
Photo Information: Canon T2i, EFS 18-55MM Macro lens shot at F/2.8, 1/100th second, ISO 500