Brian and I are still working our way through Kim Haasarud's wonderful 101 Champagne Cocktails. This one caught his eye because it has two of his favorites: Midori melon liqueur and pineapple juice. Add Coco Lopez and you'd be on your way to a Midori Colada. Instead, the pure flavor of Midori graces the sparkling wine. Kiwi is, Brian just learned, not inherently sweet. So it presents a definite contrast to that very sweet pineapple juice and the Midori, which is melon on steroids.
This drink is potent. You can pair it with just about anything and you'll find it stands on its own, able to compete and to complement strong protein and vegetable flavors. We enjoyed this with Basque Chicken with Peppers and Tomatoes from Joel Robuchon [a blog to come this week!]. It was probably not a politically correct combination, but it worked for us.
Kiwi Royale
Yield: 1 drink
Ingredients:
2 slices of kiwi, cut into quarters, plus an extra slice for garnish [optional]

1 ounce Midori

1 ounce pineapple juice

4 ounces sparkling wine
Preparation:
Combine the kiwi, Midori and pineapple juice in a cocktail shaker with ice. Shake vigorously and pour into a highball glass. Top off with sparkling wine. Garnish with an additional kiwi slice, if desired.
Source: 101 Champagne Cocktails by Kim Haasarud.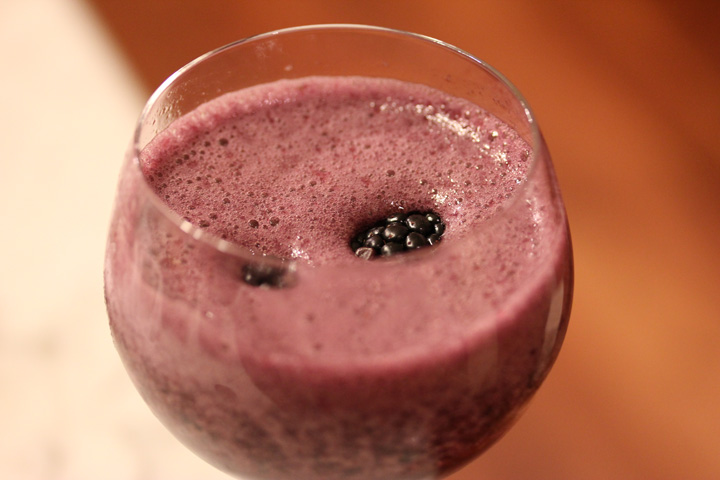 Brian and I are working our way through Kim Haasarud's wonderful 101 Champagne Cocktails. We've had good and great drinks so far, and then we had this one: superior in every sense. This is just an easy, delightful beverage. Champagne in a blender? Who has ever done that before? As the picture above shows, you get a little fizz with your buzz. The balance of this drink is very intriguing: the pineapple and berries simply merge with the sweetness of the syrup to create something that tastes great but that you can't pinpoint. You can't tell what berry, or that it is pineapple. It's just good.
We've made this beverage both with and without the ice cubes that are suggested. You certainly more volume with the ice, Brian prefers to add just a couple of cubes. The resulting color and flavor are more intense. For a party, this is an interesting beverage choice. You can just scale it up, turn on the blender and you're set to serve everyone!
Frozen Berry Bellini
Yield: drinks for 2
Ingredients:
½ cup mixed berries [blackberries are excellent] plus more for garnish
3 ounces champagne
1 ounce simple syrup
1 ounce pineapple juice
Preparation:
Combine all the ingredients in a blender. Process until smooth. Add 1 cup of ice cubes and process. Pour into small juice glasses and garnish with a few berries
Source: 101 Champagne Cocktails by Kim Haasarud.