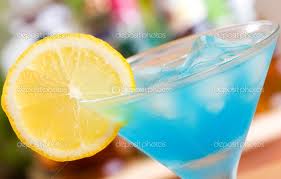 Blue is not Christmas green or red, but the blue of blue curacao is surely a message of celebration. This cocktail, from Holiday Cocktails by Jessica Strand, is a beautiful surprise. You may love tequila. You probably love champagne, or some sparkling wine. Citrus flavors always make the palette sparkle. In this drink, you combine all those flavors in one enchanting beverage.
This recipe calls for champagne but obviously any sparkling wine will create interesting flavors. I particularly like Cava. A little added sweetness is a great match for the lime juice here. And, as usual, lemon juice can be substituted for the lime juice to form a different flavor profile.
This cocktail can easily be scaled up. A pitcher of these would be a fine way to begin a holiday party.
Feliz Navidad
Yield: 1 drink
Ingredients:
1 ounce blue curacao
1 ounce tequila
1 ounce freshly squeezed lime juice
4 ounces champagne
Citrus slice for garnish [orange, lemon, or lime]
Preparation:
Pour the blue curacao, tequila, lime juice, and champagne into a glass — classic cocktail or red wine — filled with 4 to 5 ice cubes. Stir with a bar spoon, then garnish with the orange slice.
Source: Holiday Cocktails by Jessica Strand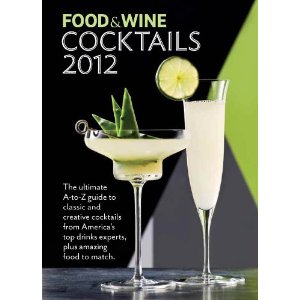 Mothers' Day is tomorrow. When you bring her breakfast in bed, or serve her brunch, or offer that dinner you and the kids made, well, what is she going to drink? Something different. Something special. She deserves no less.
She deserves a Mexico 70.
I look forward each year to the publication of the Food & Wine Cocktail books. The 2012 edition has just been published and there, on the cover, are two sensational cocktails. That's a classic Margarita on the left with agave leaves. And on the right, with the lime slice, is the Mexico 70. This year's version, Cocktails 2012, includes the reinvention of over 40 classic cocktails. The Mexico 70 first appeared in 1970 when Mexico hosted the World Cup. Mexico did not win the cup, but drinkers everywhere can sample this wonder born that year.
The flavor here is deep and earthy. There is the natural heat and smoke of tequila, the powerful sweetness of agave, and the tingle of sparkling wine. That's pleasure on many fronts, and surely Mom is entitled to that. [Dad, too!]
Mexico 70
Yield: 1 cocktail
Ingredients:
1 ounce blanco tequila
½ ounce fresh lime juice
¼ ounce agave nectar
3 ounces chilled dry sparkling wine
1 lime wheel or lime twist, for garnish
Preparation:
Fill a cocktail shaker with ice. Add the tequila, lime juice and agave nectar and shake well. Fine strain into a chilled champagne flute. Top with sparkling wine. Garnish the drink with the lime wheel or twist.
Source: Food and Wine Cocktails 2012