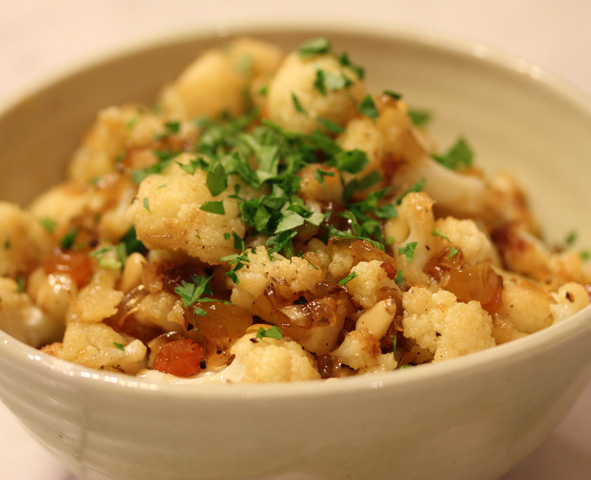 Michael Chiarello lives in Napa Valley. He cooks, he creates wonderful restaurants [Tra Vigne, Bottega, ...] and he writes recipes that you will want to try. The subtitle to his new book Bottega — his seventh —  reads "Bold Italian Flavors from the Heart of California's Wine Country." This book truly lives up to its name. These are new recipes, new combinations that reflect Chiarello's care and diligence. This cauliflower recipe is superb. How good is it? My husband Brian asked for seconds. Cauliflower for God's sake! This isn't a just a recipe. It's a miracle.
As you can see from the picture, this dish presents beautifully on the table. I know, there are enough ingredients here to think you are in a Chinese restaurant but every element here, and every step, is necessary.
In the cookbook, this dish serves as a side for scallops. With the "sweet sour" sauce this cauliflower is bold enough to complement any protein main course: chicken, turkey, beef, … It's versatile, beautiful and delicious.
Cauliflower Agrodolce
Yield: 10 t0 12 servings
Ingredients:
3 cups white wine vinegar or Champagne vinegar
1 cup sugar
1/3 cup golden raisins
1 sweet white onion, finely diced
½ cup unsalted butter
¼ cup extra-virgin olive oil
1 head of cauliflower (about 2 ½ pounds) broken into florets
Pinch of sea salt, preferably gay salt
Freshly ground black pepper
2 tablespoons pine nuts, toasted
½ cup olio nuovo or finest late-harvest olive oil
2 tablespoons shredded fresh flat-leaf parsley leaves
Preparation:
In a large saucepan or sauté pan (at least 10 inches wide), combine the vinegar, sugar and raisins. Bring to a boil over medium heat and add the onion. Reduce the heat to a simmer and cook until the onion is soft and the liquid is reduced to about 1 cup, 3 to 5 minutes. Remove from the heat and set aside.
Heat a large sauté pan or skillet over medium heat, add the butter with the olive oil and heat until the butter foams. Add the cauliflower florets and season with salt and pepper. Cook until tender and lightly browned, about 7 minutes.
Using a slotted spoon or wire skimmer, transfer the cauliflower to a sieve or colander to allow excess fat to drip off. Wipe out the sauté pan and return the drained cauliflower to the pan over medium heat. Add the pine nuts and sauté for 30 seconds. Add the vinegar mixture and toss to infuse the flavors. Drizzle with the olio nuovo. Top with the parsley and taste for seasoning.
Use now or cover and refrigerate for up to 24 hours; reheat in a large sauté pan over medium heat.
Source: Michael Chiarello's Bottega
"One to ten," Brian offered.
I was so angry. I simply counted to ten, then responded. "One to one."
He was a little shaken at my response. He looked at me to gauge how serious I was. "One to eight," he began to compromise.
"One to two," I retaliated.
"One to seven," he edged down.
"ONE TO THREE!" I screamed. I even startled myself. He backed off.
"Okay, okay," He said. "One cooked …" he began.
"NO. One eaten," I corrected.
"Alright. One eaten for every three. Agreed?" He said it carefully, afraid I'd yell again.
"Agreed," I said. It was an accomplishment, but I did not smile. The man has his pride and we share a bed. And a bathroom.
As you may have read in an earlier post, Brian had some health issues and is attempting dietary reform. The ratio we were negotiating was pounds of vegetables to pounds of chocolate. The deal we struck was simple: for every pound of vegetables eaten, he gets three pounds of chocolate. Believe me, that's an improvement.
And apparently an inspiration. For Christmas dinner, he suggested the following cauliflower recipe: Indian Spiced Cauliflower from Eat Feed Autumn Winter by Anne Bramley.
I was proud of him and very proud of the result. I know that cauliflower is not high on most lists of favorite vegetables. Just think of cauliflower as a white canvas, one with potential for you to be a culinary artist. We both enjoyed every bite of this dish, served with rice pilaf and rich braised duck.
I'll blog the duck recipe tomorrow.
Brian got his chocolate.
Indian Spiced Cauliflower
Yield: serves 4
Ingredients:
1 large head cauliflower (about 2 pounds)
2 tablespoons unsalted butter
1 teaspoon ground coriander
½ teaspoon ground ginger
½ teaspoon ground cumin
¼ teaspoon turmeric
¾ teaspoon brown mustard seeds
1/8 teaspoon cinnamon
1 cup chicken broth
¼ teaspoon salt
¼ teaspoon freshly ground black pepper
Preparation:
Remove the outer leaves of the cauliflower. Cut the cauliflower in half, remove the core, and beak into small-to-medium florets. Melt the butter in a large skillet over medium heat. Add the florets and stir to coat with butter. Sprinkle with the coriander, ginger, cum, turmeric, mustard seeds, and cinnamon. Stir to coat with spices.
Pour the chicken broth over the cauliflower and bring to a boil. Reduce the heat to a simmer, cover, and cook for 10 minutes, shirring halfway through. Remove the lid and continue to cook at a simmer, stirring frequently, until all liquid is evaporated and cauliflower is fork-tender, about another 10 minutes.
In two batches, coarsely chop a food processor by using "pulse" just a few times. Don't puree it into a mash. It should look a little like popcorn when you are done. Return to the skillet. Stir in the salt and pepper. Reheat before serving.
Tasting Notes:
As with the rice pilaf that day, we used turkey, not chicken, stock. Our Thanksgiving bird had been saved for a day, the meat stripped away, and the carcass combined with lots of veggies. We had 6 quarts of high intensity stock. Both this cauliflower and the rice benefited.
This recipe comes from a full meal menu laid out my Anne. For the entry, she suggested Duck Breast with Grapes. It's a lovely recipe and we'll try that soon. We did serve this cauliflower with braised duck legs and the match was heavenly.
Source: Eat Feed Autumn Winter by Anne Bramley