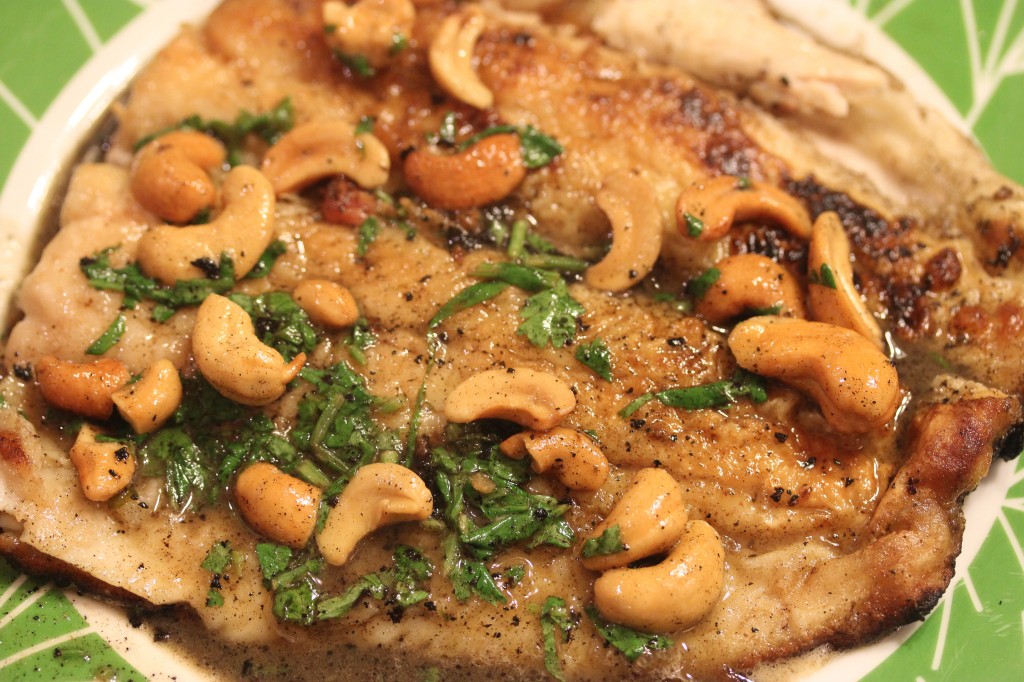 A long time ago, in a galaxy far away …  No, it was only the 1980's and it was here, right here in the USA. Public television ran several series call Great Chefs. Great Chefs of Chicago. Great Chefs of New York. You may have seen them or remember the woman's soft voice.
When it came to other parts of the country, PBS punted. They published a book called Southwest Tastes, authored by Ellen Brown, which documented the Great Chefs of the West, not just the Southwest. The recipes ranged from Texas to San Francisco. And now, 25 years later, they are worth revisiting.
Take trout. Growing up in Oregon, we had two kinds of fish: salmon and trout. Oh, yeah there was bass from the lakes but, my God, lakes? Who the hell fishes in lakes? You fish in rivers in Oregon or out in the ocean. Not in some silly lake. Talk about fish in a barrel!
So, I ate a lot of trout. Pan fried and served with lemon juice, I had them endlessly. And while I never had been bored by trout, truthfully it seems a waste not to amplify the flavor. Here's an exciting recipe from Jeffrey's in Austin, Texas, a restaurant still there, still serving great quality.
I've modified the recipe here, using less butter, and the same amount of sauce for two trout, not four. Instead of cutting the cashews into small pieces, I'm used mostly cashew halves, for visual effect and bigger crunch.
Don't cook the trout too long. You want it moist and soft, not leathery. The combination of moist trout with a strong sauce generates a grand dining experience. This dish would pair best with some simple, very buttery mashed potatoes.
Trout with Cashews, Cilantro and Lime-Butter Sauce
Yield: Serves 2
Ingredients:
2 trout fillets
Salt and freshly ground black pepper
½ cup unbleached all-purpose flour
3 tablespoons butter
3 limes
1 cup chicken stock
½ cup cashew halves
3 tablespoons unsalted butter cut into a dozen small pieces
¼ cup chopped cilantro
Preparation:
Remove any skin and small bones from the fillets. Sprinkle the fillets with slat and pepper and dust lightly with flour, shaking to remove any excess.
Heat the 3 first three tablespoons of butter in a cast iron pan. When melted, add the two trout, skin side down. Cook for 3-4 minutes, gently turn, and cook for 2 more minutes. Transfer to warming dish and keep warm in an oven at 150°F.
Pour the grease from the pan and add the juice of the limes and chicken stock. Reduce over high heat by ¾, then add the cashews and turn off the heat. Add the remaining butter one pieces at a time, whisking to blend. Add the cilantro, stir to mix and serve over the fish.
Source: Southwest Tastes by Ellen Brown from Jeffrey's of Austin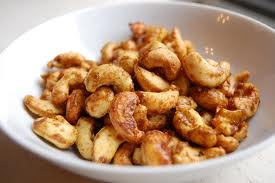 This recipe is for anyone who loves cashews, bacon, and sugar. Okay, it's not a kosher recipe, but in that case you can see how to quickly modify this for use in Israel, Muslim lands, or places where bacon is not loved.
This is a brilliant way to serve up cashews in a different format. You keep the nut taste, but the augmentation of bacon and sweetness is very wonderful. You may not have ever had cashews cooked in sugar syrup before. It's an experience and the flavor does intensity besides sweetening.
The recipe calls for a 4 cups of nuts, which seems like a lot, but really isn't. This will be the top dog appetizer at a party, or for a small friends and family gathering watching a weekend ballgame. There are, believe it or not, alternatives to salsa and chips.
Candied Bacon Cashews
Yield: 5 cups
Ingredients: 
1/4 pound slab bacon, cut into 1/4-inch dice
1/2 cup sugar
4 cups raw cashews (about 1 1/4 pounds)
1 tablespoon unsalted butter
Smoked sea salt (see Note)
Preparation:
In a small skillet, cook the bacon until browned, about 7 minutes. Using a slotted spoon,transfer the bacon to a paper towel-lined plate. Measure out 1 tablespoon of the rendered bacon fat and reserve.
In a medium saucepan, combine the sugar with 1/2  cup of water and bring to a boil. Add the cashews and cook over high heat, stirring constantly, until golden, about 8 minutes. Stir in the butter and the reserved 1 tablespoon of bacon fat and cook over low heat, stirring, for 2 minutes. Stir in the diced bacon and season with smoked salt. Let cool completely, then serve.
NOTE: Smoked sea salt is available at specialty food stores  from surlatable.com.
Source: Food and Wine Cocktails 2012