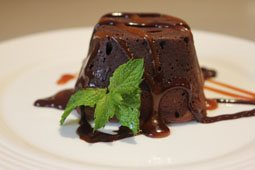 Molten chocolate cakes. Been there. Done that.
They seemed so good when they first appeared. And they were. But after a couple of decades of them, it's a tired dessert. Where's the excitement, the passion?
It's here. Keep the molten part, but now adorn the outside with a sauce. Not just any sauce. A Kahlua-Caramel sauce.
The result? Goo everywhere. And absolutely no need for whipped cream on the side. Although, if you want …
Molten Chocolate Cakes with Kahlua-Caramel Sauce
Yield: 6 desserts
Ingredients:
For the cakes:
5 ounces bittersweet chocolate, chopped
10 tablesppons [1 ¼ sticks] unsalted butter
3 large eggs
3 large egg yolks
1 ½ cups powdered sugar
½ cup all-purpose flour
For the cakes:
1 cup dark brown sugar, firmly packed
½ cup Kahlua liqueur
2 teaspoons instant espresso powder
½ cup whipping cream
Preparation:
Preheat the oven to 450 degrees F.
Butter six ¾ cup soufflé ramekins. Stir chocolate and butter in a heavy medium saucepan over low heat until melted. Cool slightly.
Whisk eggs and egg yolks in a large bowl to blend. Whisk in sugar, then chocolate mixture and flour. Pour batter into dishes, dividing evenly.
Bake cakes until sides are set but center remains soft and runny, about 16 minutes. Run small knife around cakes to loosen.
For the sauce: combine the first 3 ingredients in a heavy medium saucepan over medium heat and stir until espresso powder dissolves (mixture will be grainy) Increase heat to medium-high and bring to boil. Boil for 5 minutes, stirring frequently. Add the cream and stir until smooth. Cool 10 minutes; do not stir.
To serve, remove cakes form soufflé cups and spoon sauce over them.
Source: Adapted from Bon Appetit, January 2001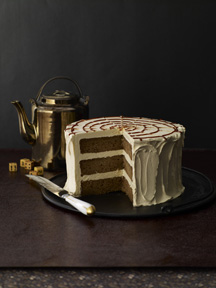 Why are recurring dreams always so scary? Mine are terrible. Long, unpleasant and intense. There's the one where the Head Librarian from my graduate school has summoned me back to Baltimore. She's seven feet tall, dips down towards me, and nastily says I have to retype my dissertation. On the original Selectric typewriter. Two hundred pages of equations. I awake in an exhausted sweat. Do I still have the Symbol Ball for that Selectric?
Surprisingly, there's been one change to my really worst dream, one that was already painful but now become surreal. In the original dream, I am on trial for a single count of having too many chocolate recipes on the blog. It's a capital offense. And the prosecutor looks remarkably like my wife.
This week the dream intensified with a new, second count against me: hypocrisy. The dream ends with this exchange:
"And if you are found guilty, Mr. O'Rourke, will you want a chocolate dessert before your execution?" the prosecutor asks.
"I don't intend to be convicted," I say bravely.
"Answer the question or I'll direct the jury to vote guilty, sir," the Judge says.
"Before you answer," the prosecutor says, "I remind you that you are under oath. Commit perjury and we can inflict capital punishment in a very unpleasant manner. We know how to waterboard with white chocolate ganache."
"No," I mumble.
"No what?" the judge leans toward me.
"No, my last dessert, my one last dessert, would not be chocolate," I say.
"And just what would it be?" the prosecutor asks. The judge leans directly over me.
"That cake," I acknowledge. "That caramel apple cake with the incredible frosting."
I can't tell you how good this cake is. See that picture at the top, three layers with luscious slabs of frosting? Suzen and I made this cake last week. Same colors, but ours was bigger. I'm not boasting here, I'm just saying we did a fabulous job.
In Brooklyn you will find the bakery Baked, opened by Matt Lewis and Renato Poliafito. This recipe comes from Baked Explorations, their second book and one so intense you'll probably gain three pounds just reading it.
The authors note that apples are the fruit of the Northeast, and certainly of New York. Suzen and I live in the Hudson Valley, the most apple-intense geography in the United States. They may grow more apples in Washington and Oregon, but those trees have their origin in Hudson Valley soil. And in the valley there people experimenting year-round with new apple varieties and resurrecting old ones. Travel the back roads of upstate counties, stop at the farm stands, and you'll see piles of apples with names you've never heard of.
And so, the authors of Baked Explorations explain they've sorted through recipe after recipe from the Northeast. Heirloom recipes, family recipes, famous recipes, buried treasures. And this recipe is the winner: moist, dense, lightly spiced, and then covered in a thick, slightly sweet caramel frosting. They say this cake is "pure fall." It's also pure extravagance. One slice and you'll remember this recipe forever.
This recipe calls for 4 cups of applesauce and suggests homemade. We did that, and it makes a big difference. Their instructions for creating that homemade applesauce are here for you to follow.
Oh, yes, the frosting recipe calls for flour. Flour and frosting may not seem a natural pairing, but this is why you can trust Baked Explorations. It's sublime.
Baked Explorations made my list of the four best new dessert cookbooks for this fall. It is filled with treats that you'll want to try. The recipes are perfectly written, easy to follow, and won't fail you. The photographs, by Tina Rupp, are seductive. And, they are accurate. Honest to God, our cake looked just like the photo above. Except bigger.
Caramel Apple Cake
Yield: one 8-inch, 3-layer cake
Ingredients for the Apple Cake:
4 cups all-purpose flour
2 teaspoons baking soda
1 teaspoon baking powder
1 teaspoon salt
2 teaspoons cinnamon
1 teaspoon ground allspice
1 teaspoon ground clove
1 ½ cups [3 sticks] unsalted butter, cut into 1-inch cubes, at room temperature
2 ½ cups sugar
2 large eggs
4 cups homemade applesauce [recipe follows]
Ingredients for the Caramel Butter Cream:
1 ½ cups sugar
⅓ cup all-purpose flour
1 ½ cups whole milk
⅓ cup heavy cream
1 ½ cups [3 sticks] unsalted butter, soft but cook, cut into small pieces
1 teaspoon pure vanilla extract
⅓cup plus 2 tablespoon Classic Caramel Sauce at room temperature [recipe follows]
Preparation for the Apple Cake:
Preheat the oven to 325°F. Butter three 8-inch round cake pans, line the bottoms with parchment paper, and butter the parchment. Dust the parchment the flour and knock out the excess flour.
Sift the flour, baking soda, baking powder, salt, cinnamon, allspice, and cloves together into a large bowl. Set aside.
In the bowl of a standing mixer fitted with the paddle attachment, beat the butter until creamy, about 4 minutes. Add the sugar and beat until light and fluffy, about 3 minutes. Add the eggs and beat until combined.
Add the flour mixture to the mixer bowl in three parts, alternating with the applesauce, beginning and ending with the flour mixture. Scrape down the bowl, then mix on low speed for a few more seconds.
Divide the batter among the prepared pans and smooth the tops. Bake for 40 to 45 minutes, rotating the pans halfway through the baking time, until a toothpick inserted in the center of the cake comes out clean. Transfer the pans to a wire rack over 20 minutes. Turn the cakes out onto the rack, remove the parchment, and let completely
Preparation for the Caramel Buttercream:
In a medium, heavy bottomed saucepan, whisk the sugar and flour together. Add the milk and cream and cook over medium heat, whisking occasionally until the mixture comes to a boil and has thickened, about 10 to 15 minutes.
Transfer the mixture to the bowl of a stand mixer fitted with the paddle attachment. Beat on high speed until cool. Reduce speed to low and add the butter and vanilla. Mix until thoroughly incorporated. Increase the speed to medium-high and beat until the frosting is light and fluffy.
Add ⅓ cup of the caramel and continue mixing until combined. If the frosting is too soft, put the bowl in the refrigerator to chill slightly, then beat again until it is the proper consistency. If the frosting is to firm, set the bowl over a pot of simmering water and beat with a wooden spoon until it is the proper consistency.
Cake Assembly:
Place one cake layer on a serving platter. Trim the top to create a flat surface and evenly spread about 1 ¼ cups of frosting on top. Add the next layer, trim and frost it, and then add the third layer. Spread a very thin layer of frosting over the sides and top of the cake and put it in the refrigerator for about 15 minutes to firm up. This is known as crumb coating and will help to keep loose cake crumbs under control when you frost the outside of the cake. Frost the sides and top with remaining frosting. Drizzle on a few swirls of caramel and refrigerate the finish cake for 15 minutes to firm it up before serving.
This cake will keep beautifully in a cake server at room temperature for up to three days, as long as the weather is cool and humidity free. Otherwise, place the cake in cake server and refrigerate for up to three days. Let a chilled cake sit at room temperature for at least two hours before serving.
Homemade Applesauce:
The basic recipe is to peel and cut apples and place them in a medium saucepan with a small amount (maybe a ⅓ cup) apple cider, ground cinnamon to taste, and a tiny bit dark brown sugar [optional]. Cover the saucepan and cook for about 30 minutes. Uncover and mash as you would potatoes.
Classic Caramel Sauce:
Ingredients for the Caramel Sauce:
1 ½ cups sugar
¼ cup corn syrup
½ cup [1 stick] butter, softened, cut into ½-inch cubes
1 ½ cups heavy cream
 
Preparation of the Caramel Sauce:
In a medium saucepan with high sides, combine the sugar and corn syrup with ½ cup water. Stir the mixture gently so that you don't slosh any of it up the sides of the pan. Turn the heat to medium-high and continue stirring until the sugar dissolves. Increase the heat to high, stop stirring, and allow the mixture to boil. Once begins to churn a rich caramel color (if you don't want to eyeball it, take the caramel to 300°F on a candy thermometer), remove from the heat, add the butter and cream, and stir until combined.
You can save the caramel sauce, tightly covered, in the refrigerator for up to one week. Let it come to room temperature before using it on cakes, ice cream, or quick breads.
If you want a warm topping, heat the caramel sauce in short bursts in the microwave or in the top of a double boiler.
Source: Baking Explorations by Matt Lewis and Renato Poliafito