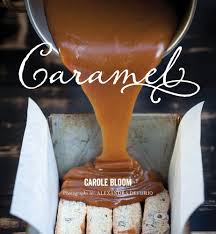 Carole Bloom has been a prolific and respected dessert author for 20 years. Suzen and I have almost, but not quite, every one of her dozen books. Number 12 is new and gorgeous and enticing. Caramel is filled with sweet, gooey, decadent treasures. I can't say you should eat one every day, but I could understand if you did.
Yes, I'm going to post a few recipes from Caramel here over the next couple of weeks. But, the one recipe I am not going to post is Carole's Classic Caramel Sauce. For that you need to journey out and take a look at Caramel yourself. I am here really encouraging you to buy the book. I think Carole has perfected caramel sauce and I hope you learn her secrets.
Google caramel sauce instead? Oh, I tried that last night. You know how, when you start a search in Google, you are offered auto completion hints? Well, when you start with "caramel" you are offered lots of suggestions: with milk, without milk, … Too many suggestions. Go down one of the search paths, and you will find recipes that have two ingredients, three, four, … , a gaggle. There is a grove of recipes out there and an equal complexity about techniques. Take a look at Carole's book and you'll save yourself time and effort.
Beyond that secret caramel sauce, what other treats are there in Caramel? Well:
Caramel Cashew Tart
Caramel Layered Dark Chocolate Brownies
Caramel Milk Chocolate Mousse
Caramel Dulce de Leche Pecan Pie
Cocoa and Caramel Sandwich Cookies
Classic Butterscotch Pudding
Classic Cream Caramels
Pecan Butterscotch Cookies
Espresso Crème Caramel
Salted Peanut Caramel Tartlets
Caramelized Banana Turnovers
and more …
Temptation lies on every page. The photographs by Alexandra DeFurio are full page and as deep in color as the caramel is in flavor. They are seductive, but they also can assist you in making your daily choice.
The recipes are, typical of Carole, clearly written with detail that gracefully guides you step by step. These are not 5 minute recipes so do plan on investing some time. Greatness, sticky greatness, takes just a tad of effort.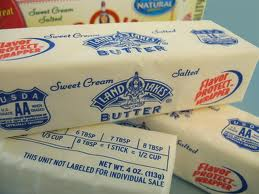 "You are an idiot," Suzen said. It's a term of endearment I often hear. Sometimes softly, sometimes with passion. This time it was delivered with particular force.
"Sweetie, it's really going to be really interesting. You love caramel. I picked this recipe for you."
"Brian, it has TWO POUNDS OF BUTTER. Do you understand what that means?"
"Well, actually, I was doing the calorie calculation in Excel, and if you cut the cake into 24 pieces, then each one will …"
"Absolutely not. You are a dumb idiot." She walked away.
And so, we did not, have not made this cake.
But, I came away with a victory. We are making this for New Year's, which is why I call it a New Year's Resolution Cake. I mean, what are you going to promise yourself for 2013? Lose some weight? Okay, that's great. You are going to suffer in January and February. Maybe even into March if you are tenacious.
So, give yourself one great treat before the ordeal begins. Enjoy this cake. I will be making it with my 11-years old grandsons. They are becoming buttercream masters. There will be photos then, but you have the recipe now.
Perhaps you can plan a healthy end-of-year menu around this cake. You know, celery and carrot sticks for the entrée and this modest rich cake for dessert.
Just consider the idea.
Brown Sugar Layer Cake
Yield: 2 8" rounds [for two large, or four modest layers]
Ingredients:
2 sticks unsalted butter, softened, plus more for pans
3 cups cake flour, plus more for pans

2 cups packed dark-brown sugar
1 cup granulated sugar
6 large eggs
1 tablespoon pure vanilla extract
¼ teaspoon salt
8 ounces sour cream
½ teaspoon baking soda
Caramel Buttercream Frosting [recipe follows]
Preparation:
Preheat oven to 325°. Butter two 8-inch round cake pans. Line with parchment. Butter paper, and flour pans. Beat together butter and sugars with a mixer until light and fluffy, about 3 minutes. Beat in eggs, 1 at a time, beating well after each addition. Beat in vanilla. Whisk together flour and salt. In another bowl, combine sour cream and baking soda. Gradually add flour mixture to butter mixture in 3 additions, alternating with sour cream mixture and starting and ending with flour mixture.
Divide batter between pans. Bake until golden and a toothpick inserted into centers comes out clean, about 50 minutes. Let cakes cool in pans, about 30 minutes. Invert cakes, remove pans and parchment, and let cool completely on a wire rack.
Trim tops of cakes with a serrated knife to make level, then cut each cake in half horizontally. Reserve 1 bottom layer for another use. Place remaining bottom layer on a cake stand and spread evenly with 1¼ cups frosting. Repeat with a second layer and another 1¼ cups frosting. Place third layer on top. Spread entire cake top and sides with 1¼ cups frosting. Refrigerate cake until firm, about 30 minutes. Spread with 1½ cups frosting smoothing top and sides.
Serve immediately or refrigerate up to 2 days; if refrigerated let cake come to room temperature before serving.
Caramel Buttercream Frosting
Yield: 7 cups [That's a lot! You'll have ~2 cups left over after frosting this cake]
Ingredients:
2¼ cups sugar, divided
½ cup water
½ cup heavy cream
9 large egg whites, room temperature
6 sticks unsalted butter, softened, divided
1½ teaspoons pure vanilla extract
Preparation:
Combine 1¼ cups sugar and the water in a medium saucepan. Bring to a boil, stirring to dissolve sugar. Brush down sides of pan with a damp pastry brush, and cook, without stirring until dark amber. Remove from heat, and gradually stir in cream until completely smooth.
Whisk together remaining sugar and the egg whites in the bowl of a mixer set over a pot of simmering water. Whisk until sugar dissolves and mixture is warm. Transfer bowl to a stand mixer fitted with the whisk attachment, and whisk on medium high speed until fluffy and cool and stiff peaks form, about 10 minutes. Add butter, 2 tablespoons at a time, whisking well after each addition. Whisk in vanilla. Slowly pour in caramel with mixer on medium speed, and whisk until completely incorporated
Continue to whisk until smooth, about 3 minutes. Use immediately, or transfer to an airtight container and refrigerate up to 3 days. Before using, bring to room temperature, and beat until smooth.
Source: MarthaStewart.com