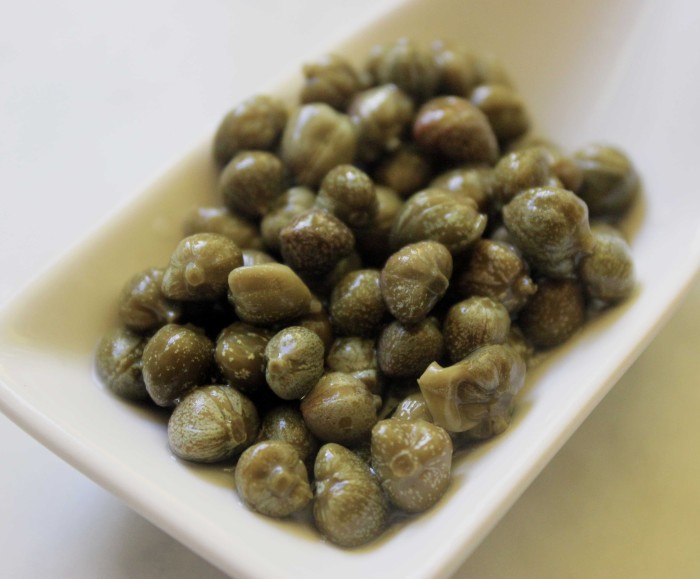 It's a Friday in July. The odds are that today or tomorrow or Sunday, you'll buy summer corn, sweetening with each week of additional sun. And then you'll grill or boil or broil or microwave those ears for one or more weekend meals.
Salt and butter will be consumed with that corn. Here's a way to get both butter and salty flavor, combined, with a tangy benefit: make Caper Butter to spread on your corn. Capers are the pickled berries of a bush that grows wild around the perimeter of the Mediterranean, actually down into the Sahara and as far East as Iran. Capers are a staple, employed extensively and quite differently in the different Mediterranean cuisines.
Capers can, actually, be used wonderfully on their own. In many Mediterranean dishes though, you'll often find capers used alongside chopped fresh oregano or other herbs, spices of all kinds, onion aplenty, citrus juices of all varieties, pepper and chiles of all shapes and sizes. When making this butter, then, you really have unlimited options. I've indicated a good, basic combination that Suzen and I have used, one that that will make your corn even more sumptuous.
Feel free to chop up your favorite additional flavors and add into the butter mixture.
---
Caper Butter for Your Weekend Corn

Yield: ½ cup

Ingredients:

1 stick [½ cup] butter, softened
2-4 tablespoons capers, depending on your pucker factor
1 tablespoon lemon juice, optional
Pinch of freshly chopped oregano, optional
Preparation:

In a metal bowl, add all the ingredients and gradually mix with a wooden spoon.
When thoroughly mixed, roll the butter into a log wrapped with plastic wrap. Refrigerate until firm. Use within a week.
Source: Brian O'Rourke

Photo Information Canon T2i, EFS 60 mm Macro Lens, F/5.6for 1/60th second at ISO‑1250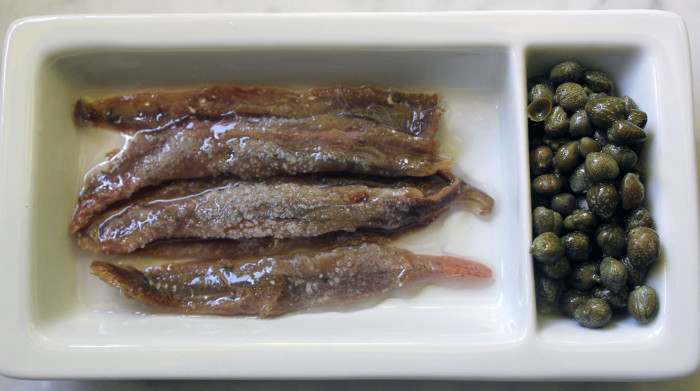 This post is appearing at the demand of my wife, Suzen Mines-O'Rourke.
Things were going fine until she read this morning's first post.
"Butterscotch sauce? You just did malted milk chocolate sauce yesterday? What is wrong with you? People want a balance of recipes on this blog. You are unbalanced. Totally unbalanced."
"Nothing is wrong," I said. My voice was a little shaky. It can be hard to defend a sugar addiction. "But," I began to mount a defense, "Friday will be the 4th of July and there will be all that ice cream. I'm just being patriotic."
"Find something healthy. Post it. Now." Suzen issued a command.
And so I obey. Happily obey, because it is about to be a holiday weekend with parties, beverages, appetizers, and an urgent need for delicious, easy dips.
From The French Kitchen Cookbook comes the very simplest recipe ever from Patricia Wells. Anchovy Cream is a staple in Provence with each home cook and restaurant chef offering their own interesting combination of tangy flavors. This version is strikingly simple: just capers, anchovies and cream. Take them for a spin in a food processor and you are ready to go.
Use this cream for an appetizer dip or as a sandwich spread. Put it on a baked potato or use it on green beans. There are endless ways to enjoy this potent combination of anchovies and capers. Proof once again that small can still be powerful.
Anchovy Cream
Yield: ½ cup
Ingredients:
• 1 2.82 ounce [80 grams] jar of Italian anchovy fillets in olive oil, about 20 small fillets
• 1 tablespoon capers in vinegar, drained
• ¼ cup light cream or half-and-half
Preparation:
Combine the ingredients in the bowl of the food processor and process to a chunky consistency.
Store in an airtight container in the refrigerator for up to 3 days.
Source: The French Kitchen Cookbook by Patricia Wells
Photo Information: Canon T2i, EFS 60 mm Macro Lens, F/5 for 1/50th second at ISO-320