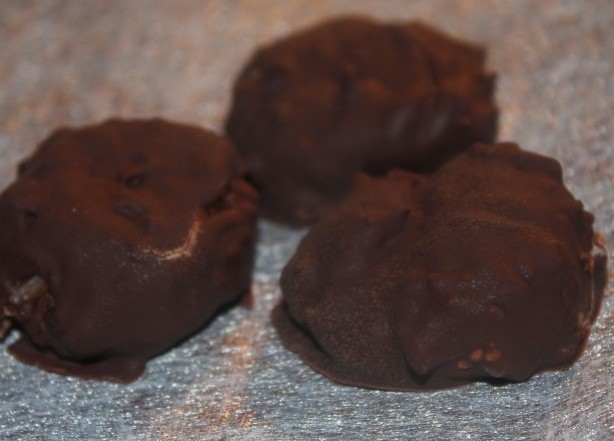 For some, Florida seems a weird place. For the rest of us, Florida is a weird place. Now the fourth largest state, Florida is a jumble of theme parks, trailer parks, strip malls, and highways.
But the "old" Florida, the Florida of 40 or 50 years ago was something else, mostly rural and quiet. Get off the interstate, and you can still find the old Florida. There are scenic byways that wind through modest hills and groves of all kinds of trees. The best place to stop? Any of those authentic old farm stands, clinging to the side of the road with a dirt parking lot and wooden walls that slope in all directions. There, you'll be hit by the smell of citrus as soon as you leave your air-conditioned car. The smell, and the taste of any of the juice there, can be overpowering.
No matter how much you love your skis, your snowboard, your snow shoes, you can't help standing in that parking lot and wondering, "What if?"
Next to the cash register in the farm stands, there is usually a shelf piled high with oblong cardboard boxes colored white or yellow. The boxes hold a tender goodie: coconut patties. You can buy them at the farm stand, at the airport on the way home [for $ more], or on Amazon [9 patties for $20 + shipping & handling].
I love the patties, I have not been to Florida in a while, and — I am not cheap — but I am being economical in these times. It's funny, but these patties are exactly the sort of thing you always buy, but never make. It never crossed my mind to do-it-myself. A couple of nights ago, at 3AM I had a bad hour. I had monkey brains and I could almost taste a coconut patty in my mouth. Almost taste. Like some vision in a scene from Shakespeare, there I lay: wide awake, rehearsing a speech to tell off some jerk in my life, and watching that chocolate-covered patty dance before me.
What did I do? I got up. My doctor says don't just lie there. I tried a glass of really good tequila [my doctor does not mention tequila but I do know how to improvise]. And, while sipping, I surfed the web. Since God likes coconut too, I found this recipe. Actually, I found several, all quite similar. One of them actually credits this recipe to Wolfgang Puck, so I don't want to leave him out of my chain of thanks. The recipe below calls for a semi-sweet chocolate covering. If you wish, substitute milk chocolate [but then add 1 tablespoon of vegetable oil or shortening and blend into the melted chocolate before dipping the patties].
These are easy to make. Really easy. They are easy to eat. Really easy. They are good for you. Kinda good.
Florida Style Coconut Cream Patties
Servings: 15+ patties depending on size
Ingredients:
1.25 cups powdered sugar
½ stick (4 tablespoons) butter, cubed
1 egg white
1.25 cups sweetened shredded coconut
1 teaspoon vanilla extract
1 cup semi-sweet chocolate 
Preparation:
Fill a medium saucepan with an inch of water and set it over medium heat to simmer.
In the bowl of a double boiler (or a bowl that fits snugly on top of your saucepan), combine the powdered sugar, butter, and egg white, and whisk together. Place the bowl over the saucepan of simmering water, and continue to heat and stir until the mixture is well-combined and very runny, about 5-10 minutes. [Note: you don't want to cook that egg white, so do stop if the mixture is quite warm but still viscous].
Remove the bowl from the heat and stir in the coconut and vanilla extract. Wrap the bowl with plastic wrap and refrigerate until it is firm enough to scoop, about 2 hours — overnight is fine.
Once the candy has firmed up, line a baking sheet with aluminum foil. Place the chocolate chips in a microwave-safe bowl and microwave until melted, stirring after every minute.
Using a teaspoon, scoop small balls of the coconut mixture and flatten them into discs between your palms.
Using two forks or dipping tools, dip the discs in the chocolate and drag the bottom against the lip of the bowl to remove excess chocolate. Place the dipped patty on the prepared baking sheet and repeat with the remaining coconut candy and chocolate.
Place the dipped patties in the refrigerator to set the chocolate, about 20 minutes. Store coconut patties in a sealed container in the refrigerator for 1-2 weeks [Note: I seriously doubt the lifetime of these things is beyond 1-2 days, not weeks, so just eat them!]
Source: About.com and Wolfgang Puck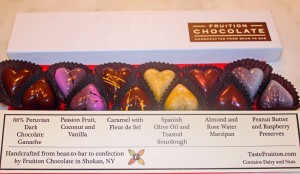 Valentine's Day approaches. I one of those people who does the last minute scramble. I don't like that, I just sort of fall into it.
"Oh, how thoughtful," Suzen will say. I hear the tone and I feel the guilt. So, this year, I'm thinking ahead. I'm thinking chocolate. I'm thinking the best chocolate I can find.
In the Catskills there is a world class chocolate manufacturer and store: Fruition Chocolate. You can visit them and pine away at www.tastefruition.com. During the week, Suzen and I live in Manhattan, and there are loads of fine chocolate shops here. But, if we want Paris-class chocolate, fresh chocolate with exciting flavors and perfect texture, then we go to Fruition. It is, I believe, an act of God that our weekend house is just 3 miles from Fruition. It is, I tell Suzen, a sign that we should eat there on a regular basis.
And to that, Suzen does not say "no" because she is more addicted than I am.
For Valentine's Day, you can order the heart assortment pictured above. My picture does not do justice to the beauty of these gems. From personal sampling, I can tell you the Caramel with Fleur de Sel offers a soft, sweet caramel with a contrasting bite of rich salt. It is simply a burst.
Oh, the Spanish Olive Oil and Toasted Sourdough is real. When I saw it, my hand hesitated. What could this be? It turns out to be subtle with a zillion flavor overtones and a texture that hints at this bread. It will make you want to buy another box.
You can order on line. Fruition is constantly evolving as they step up production and introduce new treats. Their hot chocolate mix will make your day start much, much better.
Suzen knows I got this heart assortment for her Valentine's Day. She saw me buy it, and then she told me, "Oh, how thoughtful." I think this time she was sincere.