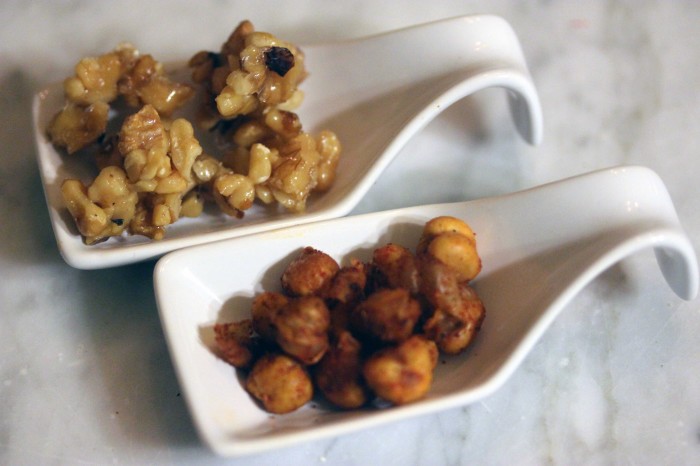 Yesterday's post featured Cinnamon Pecans. And a picture of two others treats, Honey Candied Walnuts and Crispy Roasted Chickpeas. That's them pictured again in the two spoon-sized portions above.
The walnuts, from Alice Waters, are divine on their own but Alice mentions all the potential uses. They pair well with fruit and cheese, either on an appetizer plate or in a salad. These nuts would be a surprise sprinkled on a baked sweet potato or buried deep in a quesadilla filled with pork. While this version uses walnuts, pecans and pistachios are good substitutes. Of course, because honey is key ingredient here, and because honey comes in a zillion flavors, there is the potential for creative variability. Pick your honey. And your walnut, too, for they come with their own range of wonderful flavors.
Chickpeas are the core of hummus, ideally soft, creamy and lightly lemoned. Here is a recipe that goes to the opposite extreme. The chickpeas are roasted until crisp, then rolled in a spicy mixture that will turn you to drink. I suggest something with higher alcohol content than simple water. These treats are hot, and not just moderately hot.
Honey Candied Walnuts
Yield: 2 cups
Ingredients:
½ cup sugar
¼ cup honey
¼ cup water
2 cups walnuts
Preparation:
In a deep saucepan, combine the sugar, honey and water, while stirring. Bring to a boil over medium heat. Add the walnuts.
Stir, mixing well, for 1 minute. Turn off the heat and let the nuts steep in the syrup for 2 to 3 minutes. Pour the nuts into a strainer and drain well. Spread the drained nuts in a single layer on a baking sheet lined with parchment paper. Bake for 10 to 15 minutes, stirring every 5 minutes. Properly candied nuts should feel slightly sticky and look light golden and shiny. Remove the nuts from the oven and cool completely before using. The nuts can be stored in an airtight container in the pantry for up to a month.
Source: The Art of Simple Food II by Alice Waters
Crispy Roasted Chickpeas
Yield: serves 4
Ingredients:
One 15-ounce can chickpeas
2 tablespoons extra-virgin olive oil
¼ teaspoon salt
¼ teaspoon ground cumin
¼ teaspoon smoked paprika
¼ teaspoon freshly ground black pepper
Preparation:
Heat the oven to 400°F. Line a rimmed baking sheet with paper towels.
In a colander, drain and rinse the chickpeas. Remove as much water as you can, then pour the chickpeas onto the lined baking sheet and place another paper towel on top of them. Roll the chickpeas around between the towels to dry the chickpeas and removes some of their loose, thin skins. Remove the paper towels (from the top and bottom) and add the olive oil, tossing to coat well. Roast the chickpeas for 30 to 40 minutes, until they are golden brown and crispy.
Meanwhile, combine the salt, cumin, paprika, and pepper in a small bowl. Removed the chickpeas from the oven and immediately sprinkle them with the spice mixture, tossing to distribute the mixture and evenly coat the chickpeas. Let cool before serving. The chickpeas will keep in an airtight container at room temperature for up to 2 weeks.
Source: Lunch by Gale Gand
Photo Information: Canon T2i, EF-S 60MM Macro Lens, F/2.8, 1/60th second, ISO-3200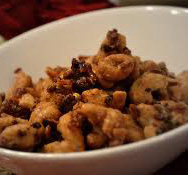 Tomorrow is the 4th of July and many of us will be at or giving parties. After Super Sunday, the 4th is probably the biggest snack day in the USA.
Cashews are the nut I always crave. Peanuts are fine, but cashews have that very special richness and distinctive flavor that you never tire of. By themselves, cashews are a treat. Combine them with bacon in a candy syrup, and you have a snack that will fly off your holiday party table.
Try these as a snack, but also consider them for other uses:
Tossed into a salad
Ground into a powder and used in place of bread crumbs on pork chops
Add-ins to a meat loaf that will make heads turn and lips smile
This recipe calls for sugar, meaning white granulated. For extra flavor, consider using brown sugar or some other exotic sugar. You may need a slight adjustment in the amount of water to achieve syrup of the consistency you prefer.
Candied Bacon Cashew
Yield: 5 cups
Ingredients:
¼ pound slab bacon, cut into ¼-inch slice
½ cup sugar
½ cup water
4 cups raw cashews (1 ¼ pounds)
1 tablespoon unsalted butter
Smoked sea salt
Preparation:
In a small skillet, cook the bacon over moderate heat until browned, about 7 minutes. Using a slotted spoon, transfer the bacon to a paper towel-lined plate. Measure out 1 tablespoon of the rendered bacon fat and reserve
In a medium saucepan, combine the sugar with ½ cup of water and bring to a boil. Add the cashews and cook over high heat, stirring constantly, until golden, about 8 minutes. Stir in the butter and the reserved 1 tablespoon of bacon fat and cook over low heat, stirring for 2 minutes. Remove from the heat.
Stir in the diced bacon and season with smoked salt. Let cool completely, then serve.
Source: Food and Wine Cocktails 2012