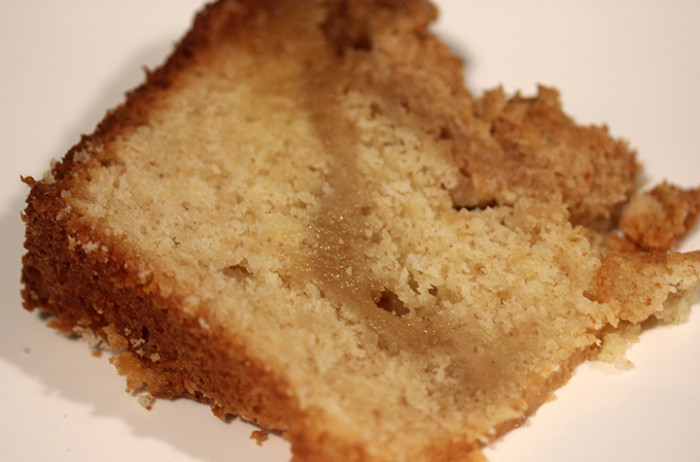 "I'm making this cake," Suzen announced last Sunday morning. She had a book in her hands, cleverly hidden, and I was not shown the recipe.
Three hours later I was presented with the dish in the top picture: a dense coffee cake with streusel topping and that wedge of something slicing down into the cake.
I stared.
"It's okay," she said. "It's supposed to be that way. That's a gooey topping running down into the cake."
"If it's a topping, why isn't it on top?" I asked.
"Because it would interfere with the streusel," she answered.
"I'm confused," I uttered.
She handed me a fork. She mouthed the words, "Shut up and eat," but did not say them out loud.
Two bites and I forgot about the definitions of top, bottom and in between.
She made this cake because it uses sour dough starter. Anything with sour dough is on her agenda. Suzen has had the same sour dough starter since 1994 when she tested the recipes for The Joy of Cooking. For 20 years, that starter has been fed, watered, nourished and monitored through every event possible: power failures, hurricanes, and 9/11. She's given samples that have traveled around the country.
And now, it the basis for this wonderful cake from Maximum Flavor. If you are a baker and have starter on hand, then you are good to go. If you ever needed just a little extra push to make your own starter, then here's an outstanding reason.
The streusel topping is made with leftover cake crumbs. In my house, there is no such thing as leftover cake. But Suzen did have a frozen cake layer saved for our next dinner party. The party was forgotten, the layer defrosted and we had plenty of cake crumbs. I'm sure you'll find a way to improvise, too. And the streusel topping can be made ahead and stored for 2 weeks, giving you plenty of time to put it to good use here.
This is another wonderful recipe from Maximum Flavor, a book you would truly enjoy.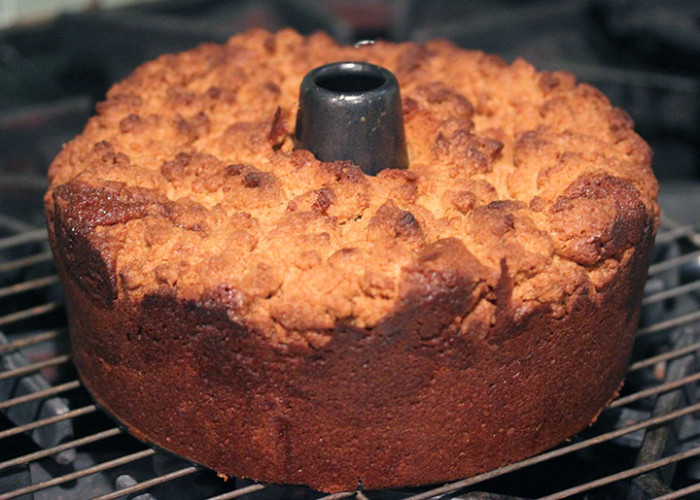 Sour Dough Coffee Cake
Yield: 1 9-inch tube cake, enough for ~8 people
Ingredients:
Gooey Topping:
8 tablespoons unsalted butter, at room temperature
¼ cup packed dark brown sugar
1 cup granulated sugar
¼ teaspoon fine sea salt
1 large egg yolk, at room temperature
3 tablespoons Lyle's Golden Syrup
2 tablespoons water
½ teaspoon vanilla extract
1 cup / 150 grams all-purpose flour
Coffee Cake:
8 tablespoons unsalted butter, at room temperature
1 cup grams sugar
2 teaspoons baking powder
½ teaspoon fine sea salt
2 large eggs, at room temperature
2 cups all-purpose flour
⅔ cup milk, at room temperature
1 cup / 200 grams sourdough starter
Cake Crumb Streusel:
1 ½ cups dry cake crumbs
⅔ cup all-purpose flour
6 tablespoons granulated sugar
⅛ teaspoon fine sea salt
8 tablespoons unsalted butter
Preparation:
Make the Streusel:
In a food processor, combine the cake crumbs, flour, sugar and salt and pulse a few times to blend. Add the butter and pulse until the mixture forms small clumps. Transfer the mixture to a lidded container and store in a refrigerator for up to 2 weeks.
Make the Gooey Topping:
In a stand mixer fitted with the paddle attachment, beat the butter, sugars, and salt until light and fluffy, about 2 minutes. Add the egg yolk and mix until well blended. Add the syrup and mix on low speed until well blended, 1 to 2 minutes.
Add the water and vanilla and mix until l well blended. Add the flour and mix on low speed until it comes together as a homogeneous mixture, scraping down the bowl as needed, 1 to 2 minutes. Transfer to a lidded container or zip-top bag and store in the refrigerator for up to 2 weeks.
Make the Coffee Cake:
Preheat the oven to 3SO°F (i75°C). Butter a 9-inch (23 cm) tube cake pan with a removable bottom and put it on a baking sheet lined with parchment paper.
In a stand mixer fitted with the paddle attachment, beat the butter, sugar, baking powder, and salt until the mixture is light and fluffy, 2 to 3 minutes. Increase the mixer speed to medium and add the eggs one at a time, beating well after each addition. Add the flour and mix until it is fully incorporated, 1 to 2 minutes. Turn the mixer off and add the milk and the sourdough starter. Turn the mixer on low speed, then turn it up to medium and mix until a smooth, silky batter is formed, 15 to 20 seconds.
Transfer the batter to the prepared cake pan, using a rubber spatula to smooth it into an even layer. Tap the pan on the table a few times to level it out and remove any air bubbles. Use a teaspoon to scoop dollops of the gooey topping all over the surface of the cake. Sprinkle the cake crumb streusel over the top.
Bake until the cake begins to pull away from the sides of the pan and the top feels firm when touched, or the internal temperature of the center of the cake registers 208°-210° F (97°—98°C), about 1 hour and 20 minutes. Take the pan out of the oven and let the cake cool for 15 minutes in the pan. Then remove the sides and let the cake rest on a wire rack until cool, at least 1 hour.
Source: Maximum Flavor by Aki Kamozawa and Alexander H. Talbot
Photo Information Canon T2i, EFS 60 mm Macro Lens, F/2.8 for 1/80th second at ISO-3200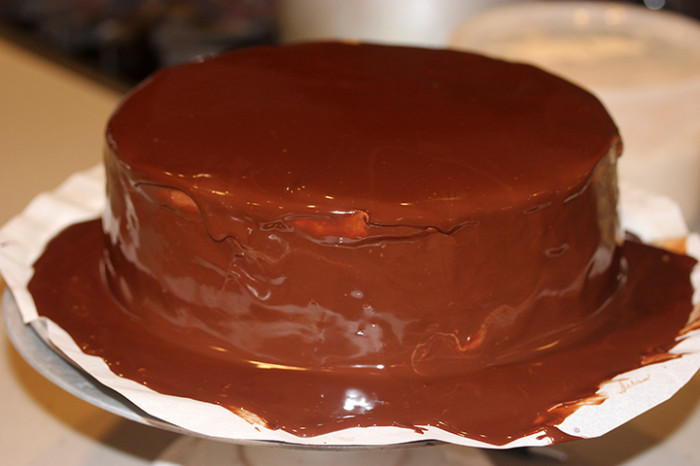 At Cooking by the Book, we do a lot of baking. Whether it is a corporate client or a private party, dessert is on every menu. Often a cake is requested. If the party is for a birthday or anniversary, you can be sure that a cake will be on the table.
I thought it might be fun to show you a cake "literally" in progress. Have you ever seen a perfectly frosted cake and told yourself that you could not do it. That you cannot imagine how it is done. How it can come out so perfectly.
Well, here's the secret. The intermediate steps are messy and demand patience. The final product will smashingly pretty but along the way, there can be a bit of a mess. And touch up work is routine.
Look at the cake above. A couple of minutes ago, warm and flowing chocolate ganache was poured on top. Yes, poured. Gravity is your friend. There is no way you should attempt to "apply" ganache to a cake. Pour it on, let it flow. Then keep letting it flow. You see at the top of the cake how there are a couple of bare spots? Tempted to smooth it out right now? I mean, RIGHT NOW. No, wait. Gravity is your friend.
Don't believe me? Look at the next picture.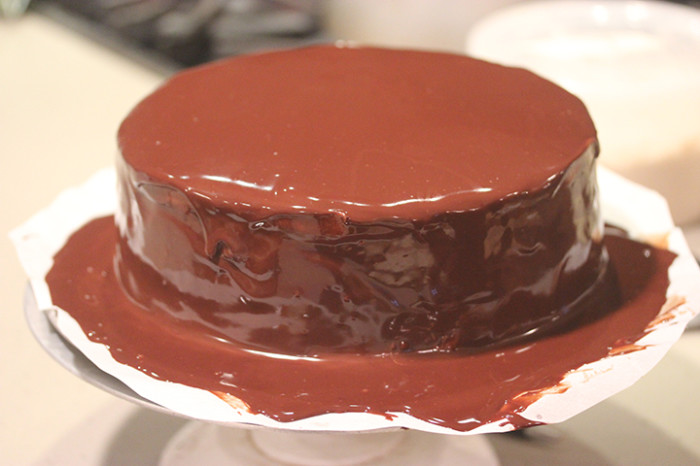 See, it's better. Couple more minutes, slow flow, but the gaps are filling in naturally. Not perfect yet. But better. Now you can unleash the artist in you. Get that flat spatula that has been waving in your hand and go, not to the cake, but to the sink. Run it under hot water. It's a hot spatula that will let you sculpt with grace. Make a mistake? Go wash the spatual clean, heat it up again and just go carefully. You do have time here to "perfect" your surface. You'll have a mistake or two. Frosting a cake successfully is a lot like a yoga class. You have to breathe, move smoothly, have patience and wait for the rewards.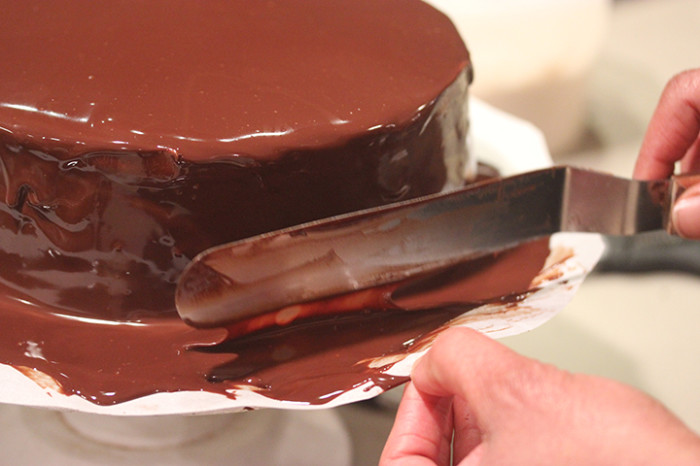 But wait, you say. That bottom is going to get ruffled when the paper is pulled away. It'll crack, it'll be disrupted, the beauty will be lost. Next picture, please.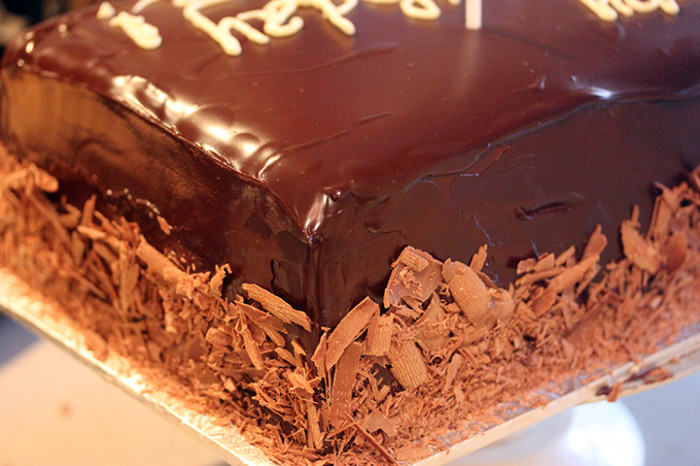 See, you can simply "adorn" the bottom with chocolate shavings and any problems are quite simply hidden.
Oh, the first three cakes above are round and this last one is square? You noticed? Well, our pastry maven Charmaine has made lots of cakes, more than you will in your lifetime. On this particular day, she made both the round one and the square one. By letting the ganache set a bit and by edging with a sharp knife and steady hand, she was able to free up that round cake with minimal damage. A little hot spatula work and it was perfect.
The square cake, on the other hand, needed a little body work. She shaved chocolate and applied it before the ganache had hardened. The result is clearly a chocolate masterpiece.
The moral here is nothing you did not know. Chocolate is messy and your cake will not be looking perfect every second along the way. Just enjoy the experience, take your time, and lick your spatula.