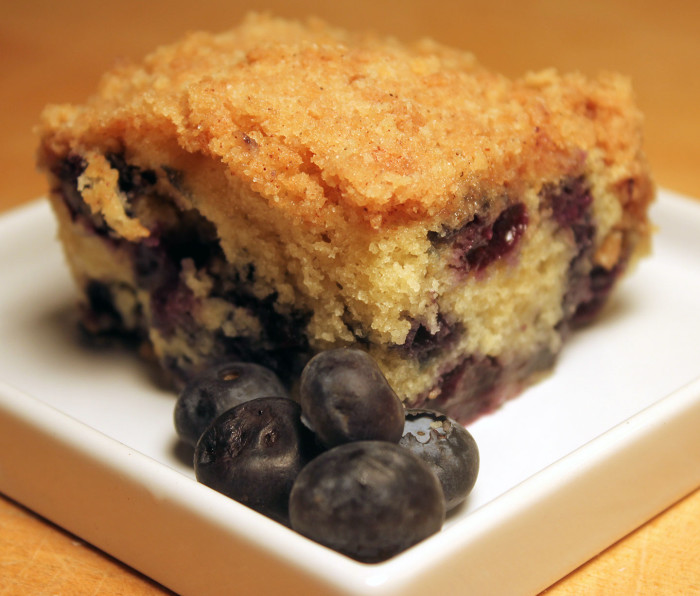 "What was that?" I asked Suzen.
My wife's head popped up. I ate a blueberry and added "I thought I saw something over there." I nodded towards the far end of the blueberry field, which ends in hills and forest. Home to bears.
"Don't go there," Suzen said. She claims I tease her too much. I just think I am toughening her up for real life encounters. Bears run at 30 MPH. It is not the claws or teeth that kill you. It's the impact. You have to, like a Boy Scout, be prepared.
"Probably nothing," I commented. I don't believe in explicit torture of my wife.
Suzen said something to me but this is a family blog. Let's just say it was terse and involved verbs and something I physically am incapable of undertaking.
As with many things.
We did return home with an abundance of blueberries and no bears or even official bear sightings [I did see a branch move out there so …]. Our berries were as fresh as possible and ready to use. I'd found this recipe for Blue Berry Crumb Cake in Michele Stuart's Perfect Pies and More. I admit my first instinct is just to make a pie when I open Michele's books. But the "… and More" book has an avalanche of dessert ideas that are non-pie.
This soft, rich cake with a dense crumb topping is one of those non-pie ideas sure to grab your attention. While designed around berries, Michele suggests you can bake away without any berries at all or, better, substitute your fresh fruit de jour. The operative word is "fresh." If you have ever tasted one of Michele's splendid baked goods, then you have seen the proof that nothing can surpass fresh ingredients.
This recipe is unusual in that it calls for salted butter. We used unsalted. And, when I tried to pour out the milk, it really proved to be past its prime. We substituted buttermilk, remembering to add ½ teaspoon of baking soda, a necessity when buttermilk is in the mix.
Our changes may have had modest changes in the texture of the cake, but our version was lovely. And we'll revisit this recipe during the summer, trying other fruits and having real, fresh milk on hand.
Blueberry Crumb Cake
Yield: enough for 12 pieces
Ingredients:
1 cup of Cinnamon Sugar Crumb Topping [see yesterday's post]
3 cups unbleached all-purpose flour
2 cups granulated sugar
1 teaspoon baking powder
½ pound [2 sticks] salted butter
2 eggs
¾ cup whole milk
1 teaspoon pure vanilla extract
3 cups blueberries, fresh or frozen [fresh is better!]
¼ cup confectioners' sugar, whipped cream or ice cream for topping [optional]
Preparation:
Preheat the oven to 350°F. Grease and flour a 9 X 13-inch baking dish and set aside.
To prepare the batter, in a medium bowl, combine the flour, granulated sugar, and baking powder. Use a pastry blender to blend the butter into the flour mixture until it forms pea-sized pieces. Remove 1 ½ cups of the flour mixture and add it to the cinnamon sugar crumb topping and toss well to fully combine.
Transfer the remaining flour mixture to the bowl of an electric mixer set on medium speed and add the eggs, milk, and vanilla. Mix until combined. Fold the blueberries into the cake batter. Spoon the cake batter into the prepared baking dish. Sprinkle the crumb topping over the batter.
To bake, place the baking dish on a baking sheet and place the sheet on the middle rack of the oven. Bake the cake for 45 to 50 minutes, or until a wooden toothpick inserted in the center of the cake comes out clean. Remove the baking dish from the oven and allow the cake to cool for at least 1 hour before serving.
To serve, dust the top of the cake with sifted confectioners' sugar. Or no sugar. Or whipped cream or ice cream.
The cake can be stored at room temperature for up to 2 days when tightly wrapped with plastic wrap.
Sources: Perfect Pies and More by Michele Stuart
Photo Information: Canon T2i, EFS 60 mm Macro Lens, F/5.6 for 1/60th second at ISO-200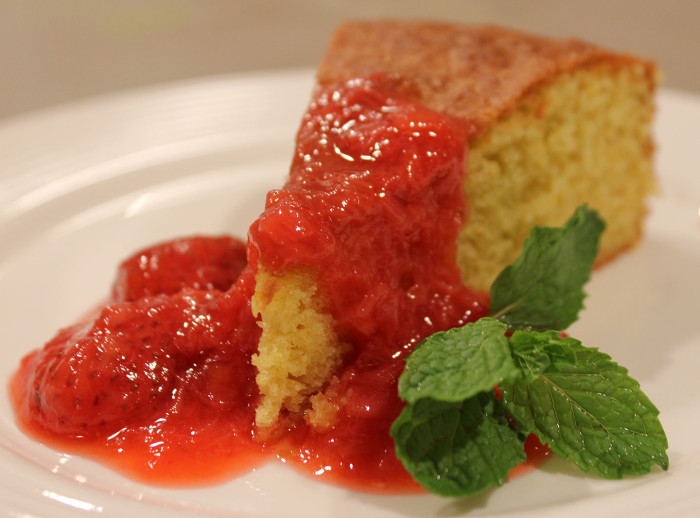 Ordinarily, I want my cake made with butter and not oil. It's a personal preference matter. I just find oil-based cakes to be less attractive in terms of taste and texture.
Except for olive oil cakes. Somehow a good olive oil seems to shine in creating a very special density and texture that I love — and that I don't believe butter can match.
Beyond olive oil, this cake is rich with eggs and milk, plus citrus impact from zest and juice and liqueur. And the cake is paired with a spring celebration of strawberries and rhubarb in a compote.
"Compote" is a French word for "mixture." The dessert began in the 1600's in France combing fruit, often whole, cooked in sugar syrup seasoned with spices or other fruit: cinnamon, lemon or orange peel, vanilla. Sometimes almonds, coconut, candied fruit or raisins were added. These were very sweet desserts.
Served with biscuits and sour cream, the French believed a compote balanced the effect of summer humidity on the human body. Think of it as organic air conditioning.
This cake, served with the strawberry-rhubarb compote, is a totally satisfying dessert all by itself, but it is also a platform for extensions: whipped cream, ice cream, gelato, … You can make it simple, as pictured, or an extravaganza. Add a scoop of blueberry gelato, for example, and you have your total 4th of July dessert.
The compote can be chilled before using, or served warm which actually intensifies the rhubarb notes.
Olive Oil Cake with Strawberry Rhubarb Compote
Yield: serves 8
Ingredients:
For the Cake:
2 cups all-purpose flour
1 ¾ cup sugar
1 ½ teaspoons kosher salt
½ teaspoons baking soda
½ teaspoons baking powder
1 ⅓ cup extra-virgin olive oil
1 ¼ cup whole milk
3 large eggs
1 ½ tablespoons grated orange zest
¼ cup fresh orange juice
¼ cup Grand Marnier
For the Compote:
12 ounces slender rhubarb stalks (about 3), cut into 2-by ⅓ – inch-thick sticks
1 pound fresh strawberries, halved
½ to ¾ cup granulated sugar
3 tablespoons fresh lemon juice
Confectioners' sugar, for dusting
Extra virgin olive oil for drizzling
Preparation:
For the Cake:
Heat the oven to 350° F. Oil, butter, or spray a 9-inch cake pan that is at least 2 inches deep with cooking spray and line the bottom with parchment paper. (If your cake pan is less than 2 inches deep, divide between 2 pans and start checking for doneness at 30 minutes.)
In a bowl, whisk the flour, sugar, salt, baking soda and powder. In another bowl, whisk the olive oil, milk, eggs, orange zest and juice and Grand Marnier. Add the dry ingredients; whisk until just combined.
Pour the batter into the prepared pan and bake for 1 hour, until the top is golden and a cake tester comes out clean. Transfer the cake to a rack and let cool for 30 minutes.
Run a knife around the edge of the pan, invert the cake onto the rack and let cool completely, 2 hours.
For the Compote:
In a large heavy skillet, bring the rhubarb, strawberries, sugar, and lemon juice to a simmer over medium-high heat, stirring often. Continue to cook, stirring often, for about 5 minutes, or until the juices thicken slightly and the rhubarb is falling apart. Let cool.
Sift confectioners' sugar over the cake. Cut the cake into wedges, place on dessert plates, and spoon the compote on top. Drizzle a little olive oil around the cake and serve.
Sources: cake from Maialino Restaurant in New York City and compote from Curtis Stone's What's for Dinner
Photo Information: Canon T2i, EFS 60 mm Macro Lens, F/5 for 1/50th second at ISO-640