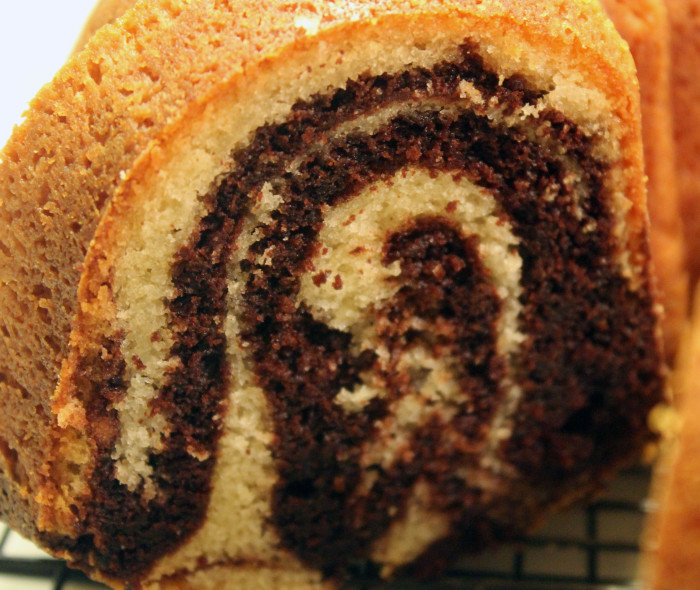 Grandsons often possess special powers. For example, if I want a marble cake, and I ask for it, Suzen is going to reply, "You have to watch your sugar intake! How many times …."
On the other hand, our grandson Reid was visiting from Austin. "Can I have a marble cake?" he asked.
"Brian, find the best possible recipe," Susan commanded me.
"Okay," I acknowledged and backed away. I bowed slightly so Suzen could not see the smile on my face. Reid was stone-faced, not showing one hint of conspiracy. I want the kid to be a lawyer, with his acting skills, but maybe with such skills he should just be an actor. Well, not just an actor. He's bound to get an Oscar, Emmy, Tony or probably all three. He convinced me at that moment of his angelic innocence.
I waited a reasonable amount of time, then reentered the kitchen with the recipe Reid and I had found the night before. Like I said: conspiracy.
In such a situation, where you may have only one shot before discovery, you make the shot count. There is a marvelous book, Cooking with Chocolate edited by Frédéric Bau, the Director of the École du Grand Chocolate Valrhona. This book was released in English in 2011. If you are a chocolate lover and have not yet discovered Cooking with Chocolate, it is time for an Amazon visit. I'll post a full review in a few days. But, in the meantime, …
The book, of course, is impeccable. You know that every recipe has run the gauntlet from a battery of the world's best chefs. There is a small picture on the recipe page for this cake, just a simple little snapshot of a slice of cake. Dark chocolate waves are embedded in a dough so richly yellow you just have to pause. What would this taste like?
Really good, actually. Moist with distinct chocolate and vanilla layers. The vanilla batter has 8 egg yolks [just like a good ice cream base!], so every bite is the definition of satisfaction. Extravagant satisfaction.
For something this good, the recipe is simple with a preparation time of just 20 minutes. It takes 50 minutes to an hour to bake and is dense, so after about 45 minutes you need to start checking for doneness with a long toothpick or, better, a skewer.
Quite honestly, this cake does not require frosting, sauce, whipped cream, ice cream or even just powdered sugar. It doesn't. But, in the interest of continuing the conspiracy, I will supply a few ideas for accompaniment over the next few days. Decadence, like conspiracy, is not a sin. Well, not if it's for a good cause. At least that's what I told my grandson.
For this coming weekend, here is a family-pleasing dessert. If you have young children, giving them a spoon or fork with order to "make the marblilng" is a moment they will always remember.
---
Chocolate-Vanilla Marble Loaf
Yield: serves 8

Ingredients:

For the vanilla batter:

8 egg yolks
1 cup plus 2 tablespoons granulated sugar
½ cup whipping cream
1 vanilla bean
1 ¾ cups cake flour
¾ teaspoon baking powder
4 ½ tablespoons butter, melted and cooled
For the chocolate batter:

2 ½ ounces bittersweet chocolate, 70 percent cocoa
4 egg yolks
⅔ cup sugar
⅓ cup whipping cream
1 cup [2 ¾ ounces or 80 grams] cake flour
2 teaspoons unsweetened cocoa powder
½ teaspoon baking powder
1 tablespoon plus 1 teaspoon grape-seed oil
A little melted butter to dip the spatula [optional]
Preparation:

Prepare the vanilla batter.

In a mixing bowl, combine the egg yolks with the sugar. Add the cream. Slit the vanilla bean lengthways and scrape out the seeds into the mixture. Sift in the flour and baking powder and incorporate them into the batter, then stir in the melted butter. Set aside.
Prepare the chocolate batter.

Chop the chocolate and melt it slowly in a bain-marie or in the microwave oven.
In a mixing bowl, combine the egg yolks with the sugar, then stir in the cream. Sift the flour, cocoa powder, and baking powder together into the mixture and stir in. Then stir in the melted chocolate and grape-seed oil until just blended.
Preheat the oven to 300°F (150°C). Line the loaf pan with parchment paper. For a really attractive marbled pattern (see p. 132), pipe out one-third of the vanilla batter over the bottom of the pan. Then pipe out half of the chocolate batter lengthways through the center. Cover this with one-third of the vanilla batter and pipe out the remaining half of the chocolate batter lengthways through the center. Cover it with the remaining vanilla batter. Dip a spatula into a little melted butter and run it lengthways along the batter, making an incision about ½ inch deep so that the cake rises nicely.
Bake for 50 minutes to 1 hour, until the tip of a knife or cake tester comes out clean.
Turn the cake out onto a cake rack and leave it for about 10 minutes on its sides so that it retains its shape.
Source: Cooking with Chocolate edited by Frédéric Bau

Photo Information Canon T2i, EFS 60 mm Macro Lens, F/5.6 for 1/15th second at ISO‑3200

---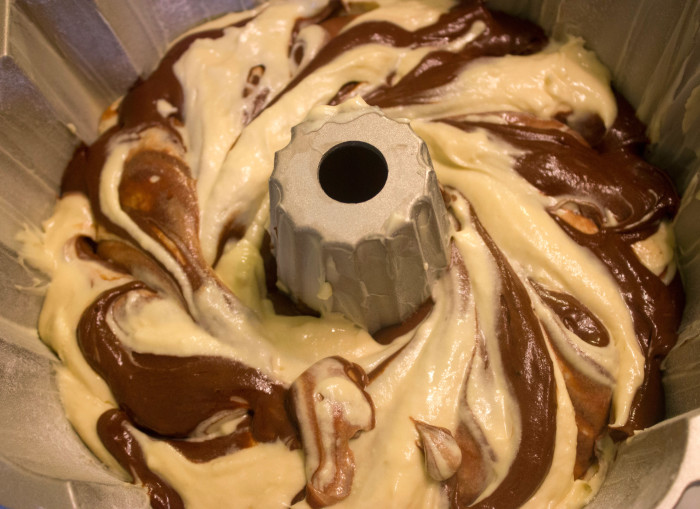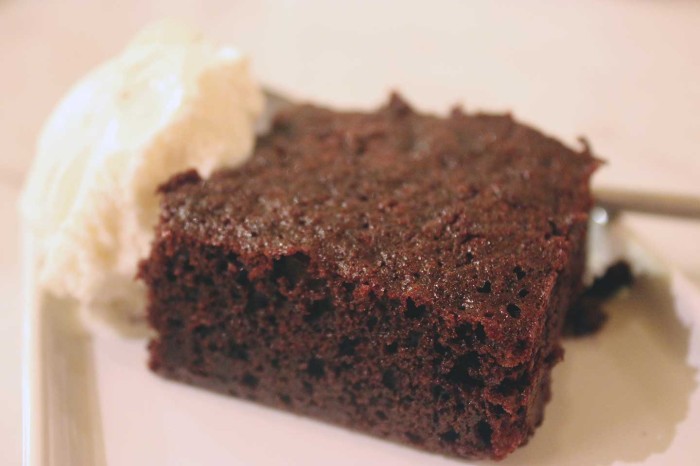 Devil's food cake is an American creation, a fairly recent one from the very early 1900's. The first printed recipe occurred in 1905. And, then evolution set in. The cake is characterized by being more moist and more airy than traditional chocolate cakes. Instead of melted chocolate, cocoa is often used. And most recipes use a combination of buttermilk and baking soda to achieve that particular tang that pairs so well with cocoa.
In The Beekman 1802 Heirloom Dessert Cookbook, authors Brent Ridge and Josh Kilmer-Purcell have a little fun with the name and the ingredients. Calling their cake Diablo, they add some cinnamon, allspice and cayenne pepper to the mix. Just a word: be careful of the cinnamon. It seems that the other ingredients act as a catalyst so a simple ½ teaspoon of cinnamon packs enormous flavor punch.
The recipe below includes the custard sauce recommended by the authors. I found the cake so spicy, and the day was so hot, that a simple vanilla ice cream was used in an arranged marriage that actually worked.
If you have loved Devil's Food Cake and could not imagine it getting better, then you do not have to go to hell, but you do have to make Diablo.
Diablo Food Cake with Custard Sauce

Yield: serves 10 to 12

Ingredients:

For the cake:

· Cooking spray
· 2cups cake flour [spooned into a cup, leveled off, and sifted]
· 1 teaspoon baking soda
· ½ teaspoon salt
· ½ teaspoon ground cinnamon
· ⅛ teaspoon ground allspice
· ⅛ teaspoon cayenne pepper
· ⅔ cup unsweetened cocoa powder
· ½ cup water
· 1 cup buttermilk
· 2 teaspoons pure vanilla extract
· 8 tablespoons (1 stick) unsalted butter, at room temperature
· 1 cup granulated sugar
· 1 cup packed light brown sugar
· 2 large eggs
For the custard sauce:
· 2 cups milk
· ½ cup granulated sugar
· ¾ teaspoon ground cinnamon
· 4 large egg yolks
· ⅛ teaspoon almond extract
Preparation:
To make the cake, preheat the oven to 350T. Coat a 9 X 13-inch baking pan with cooking spray. Line the bottom with parchment or waxed paper. Coat the paper with cooking spray.
In a small bowl, whisk together the flour, baking soda, salt, cinnamon, allspice, and cayenne. In a separate bowl, stir together the cocoa powder and ½ cup water. Stir together the buttermilk and vanilla.
In a bowl, with an electric mixer on medium speed, beat the butter and the granulated and brown sugars together until light in texture. Add the eggs, one at a time, beating well after each addition. Beat in the cocoa mixture. With the mixer on low speed, alternately add the flour mixture and buttermilk in 3 additions, beginning and ending with the flour mixture.
Scrape the batter into the pan and tap the pan on a countertop to remove any air bubbles. Bake for 35 to 40 minutes, or until a wooden pick inserted in the center comes out with some moist crumbs attached and the cake is beginning to pull away from the sides of the pan. Let cool in the pan on a wire rack. Invert (right side up) on to a cake plate, removing the paper.
To make the custard sauce, in a medium saucepan, combine the milk, sugar, and cinnamon and bring to a simmer over low heat.
In a medium bowl, whisk the egg yolks. Gradually whisk about a cup of the warm milk into the egg yolks, then whisk the warmed eggs back into the pan. Cook, whisking, for 5 minutes, or until the mixture is thick enough to coat a spoon. Remove from the heat and strain through a fine mesh sieve into a bowl. Stir in the almond extract.
Cut the cake into serving pieces and serve with the custard sauce.
Source: The Beekman 1802 Heirloom Dessert Cookbook by Brent Ridge and Josh Kilmer-Purcell
Photo Information: Canon T2i, EFS 60 mm Macro Lens, F/4.5 for 1/10th second at ISO-3200