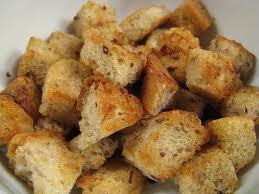 I can't believe I'm writing this, but a trip down the aisle of a megamart has left me no choice. There were dozens of varieties of croutons. All nicely boxed up, all manufactured with enough "additives" to let them last for years. They tend to be rock hard with distinctively chemical tastes. For example, if they are "onion" or "garlic" those boxy scents simply do not ring true to your palette.
The solution? Just make your own. It's wonderfully simple and you have the benefit of controlling flavor and texture. The basic flavoring here is garlic, but you can add onion, chili powder, or herbs. For texture, it's really a matter of your preference and what uses you have in mind. Do you like your croutons soft in your Caesar Salad, then bake until you finger begins to feel some resistance. Want them crispy for a soup, then bake away until they are fully browned.
Seriously, those boxes on the shelves may say croutons, but they are not these are.
When making these, try to get fresh French bread. That megamart probably comes with a bakery that does turn out fresh bread. Look for a loaf still warm from the oven.
Or, go the next step. I make my own sourdough bread and I will modestly say it is wonderful. My bread is an expected contribution to any dinner party we attend, and I am delighted that so many people enjoy it. Like Carnegie Hall, good bread is achieve with practice. With that practice and perhaps a class or two, you can make your own bread and relish in the flavors that truly reflect your home. Talk about terroir!
Really Simple Homemade Croutons
Yield: 3 cups
Ingredients:
1 clove of garlic, smashed
Onions, chili powder, or herbs, optionally
3 tablespoons butter, softened
3 cups of diced French bread, about ¼ by ¼ by ½ inches
Preparation:
Preheat an oven to 350°F. Cover a half sheet pan with aluminum foil.
Place the garlic, butter, and any optional ingredients in a 5-cup glass bowl and microwave until the butter is almost fully melted, about 45 to 75 seconds. Stir to complete the melting of the butter and to make sure the garlic flavor is thoroughly infused.
Add the French bread to the bowl and gentle stir with a spoon to completely coat each piece of bread. Spread the croutons on the foil. Bake until you achieve the level of doneness you desire.
Source: Brian O'Rourke
Is it possible to figure out how many potatoes you have eaten in your life? At my age, and with my growing-up-in-the-50s background, my PPC — Personal Potato Count — is very, very high. Baked potatoes, French fries, hash browns, potato salad, … That veggie has been a major part of intake.
And my favorite? Well, for ease of use, I love them baked. However, I could use a baked boost. Just baked with butter is good — although I have been accused of adding too much salt and pepper. But that standard pairing day-in-day-out can get a tad boring. Sour cream and chives? I've been there. Worchester and other steak sauces? Spicy and interesting, but not every day. And there is salt there, too.
Yes, it was suggested that I lower my salt intake. And, yes, my lovely wife is monitoring my intake grain by grain.
Back to that butter. That unsalted butter by the way. This summer Suzen is offering her Cooking by the Book clients steak with an herbed butter. I expanded that idea this weekend to create this flavored butter that was just outstanding on my baked potato. The butter flavor is there, of course, but now augmented with the tasty boost of peppers, basil and cilantro. The best part of this? There is enough flavor here that you do NOT want to grab for the salt shaker.
Pepper and Herbed Butter
Yield: 12 tablespoons
Ingredients:
1 stick of butter [4 ounces or 8 tablespoons]
⅓ cup of canned red pepper, finely diced
5 basil leaves, finely chopped
1 tablespoon cilantro, finely chopped
Preparation:
Take the stick of butter from the refrigerator and finely slice it on a cutting board. Place the slices in a bowl and using a wooded spoon work the butter until it begins to soften. You'll need at least 2 minutes here.
Add the remaining ingredients and continuing working the butter. At some point you may want to use your hands, not a spoon, to gently fold the peppers and herbs into the butter. I had a lot of pepper to incorporate; dicing the peppers finely makes the incorporation stage easier.
Form the butter into a roll, seal in plastic wrap, and refrigerate for at least one hour before use.
Source: Brian O'Rourke