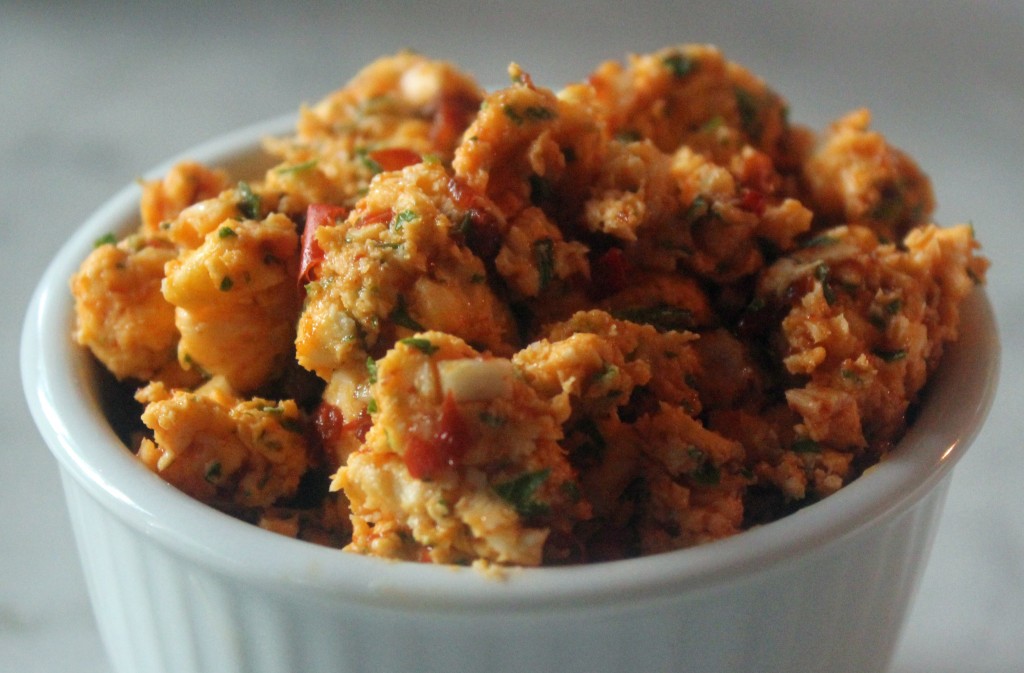 Summer corn and butter. That is a classic combination enjoyed around the world. But in corn-country, the United States, more corn is consumed by people than anywhere else on the planet. And while that simple combo of corn and butter is the favorite, new ideas appear all the time.
A few years ago, Suzen and I would put butter on our corn, then sprinkle on chile powder and maybe even splash with lime juice. It's an intensified flavor we love.
Now, we've discovered a new butter variation that is beautiful to behold and such a flavor enhancer. It's Jalapeno Butter from Fresh Mexico, the little book of 100 recipes that I found and now fall asleep with.
The recipe is right below here. The picture above is from my slight variation. I did not grill the jalapenos; instead I used two canned chipotles with some of the sauce. That's faster and hotter.
Second, I did not soften the butter first. I took a cold stick of butter and cut into ¼-inch cubes. I added the rest of the ingredients and mixed it with a fork. The result is that my version is not homogenous in color or texture. There are "pieces" of chile and parsley there that provide color and contrast.
And of course, I did not wrap it up in a tight roll so I could later cut perfect round of butter.
Other than that, I followed the recipe exactly.
The recipe was devised for corn. But, you have usage options:
A grilled steak with blackened top
A crispy baked potato
Grilled bread, crusty and waiting the moisture of melting butter
Or for whatever personal craving you might have
This dish can be classified as an indulgence. Go forth and feel no guilt.
Jalapeno Butter
Yield: ½ cup
Ingredients:
2 jalapeno chilies
1 stick unsalted butter, softened
1 large garlic clove, minced
2 teaspoon minced fresh parsley
Salt and freshly ground black pepper.
Preparation:
Grill the jalapenos, turning them occasionally, until charred on all sides, about 10 minutes. Transfer them to a cutting board and let cool for 5 minutes.
Using a small paring knife, peel the jalapenos. Scrape out the discard the seeds and veins. Coarsely chop the chiles and transfer them to a medium bowl. Add the butter, garlic and parsley and mash together. Season to taste with salt and pepper. Spoon the jalapeno butter onto the center of a square piece of plastic warp. Roll it up into a 1-inch diameter log. Refrigerate for at least 30 minutes, until set, or for up to 1 week.
Source: Fresh Mexico by Marcela Valladolid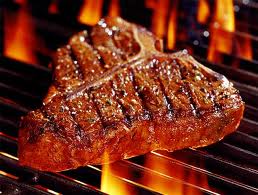 While nothing beats a great steak, we often struggle to attain that greatness. How often have you, or someone at your table, reached for salt, and salt, and salt, to get the flavor boost you are convinced that steak needs.
Of course, there are the endless lines of bottled steak sauces all there for you to try, too, all designed again to somehow "add flavor." And when we try a sauce, nobody does it a teaspoon at a time. That steak, fresh off the grill, may often find itself drowning in sauce.
So much sauce that you can end up eating sauce with steak on the side. The meat flavor is lost in what came out of that bottle: tomatoes, vinegar, onion, salt, herbs, more salt, …
Yes, I'm on a salt kick but only because my doctor told me so. Here's a path to a perfectly satisfying  steak that works and that is easy.
First, turn the grill on and get it hot. Grilling the steak is, for many of us, the only way to prepare our meat.
Second, a half hour before you grill, take the steak out of the fridge and let it come to room temperature. Don't cook cold. The temperature shock when cold meat is plopped on a hot grill can result in tissue breakdown that destroys the texture of the meat.
Third, during that half hour, coat the steak in a little olive oil and then liberally salt and pepper each side of the steak. By "liberal" I'm talking about a teaspoon a side at most. This is the last time your steak will see salt, by the way.
Fourth, grill away to reach you doneness standard. There's a "four minutes a side" rule which of course ignores steak thickness and therefore is really not a universal rule. It's a few minutes a side, though, not several. You do want some redness inside and you do not want to create shoe leather.
Fifth, pull the steak off the grill and do NOTHING. Give it a five minute rest. Now is the time to finally open that bottle of wine, or pour yourself another glass.
Last, plate the steak and serve. Take  2-3 teaspoons of cold butter and drop them on the top of the steak. As the butter melts, squeeze half a lime over the flowing butter. Just half. Pick up your knife and fork and consume away.
Steak sauces generally tend to have a "sour" flavor to them. That "sharpness" is supposed to complement the meat. Well, with this butter-lime technique you cut to the quick. The butter adds richness, just as it would if the steak were pan cooked and then the juice converted into a sauce using, of course, butter. The lime juice gives you that seemingly hidden "brightness" you want  – it really does amplify the flavor — but without all the complex baggage of the "other" flavors that come in those bottle sauces. You'll taste meat now, not the complex array of tones coming from the bottle.
Miss your sauce? Want to used it anyway? Put in on your baked potato. There, the best of both worlds.