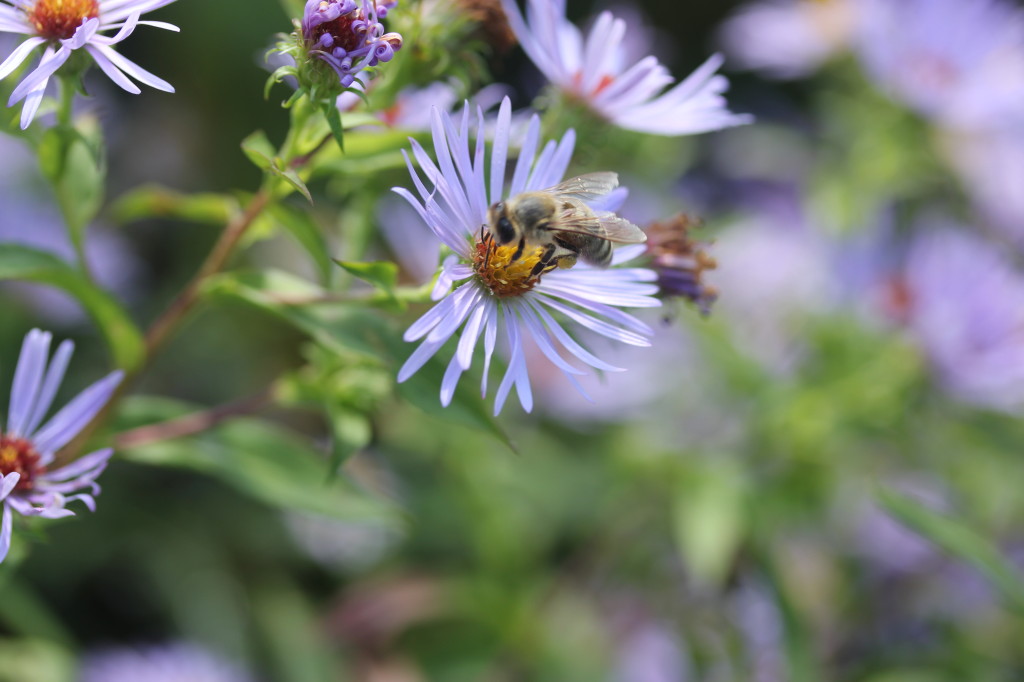 It always helps to begin with the beginning. I'm pretty sure that is a bee in the picture. I got close, but I did not want to get that close.
Bees, of course, are endangered. Suzen and I attended a seminar so we could have our own hive. The problem with doing that is the bears. You need an electric fence around the hive and the hive boxes have to be chained together so they are not destroyed when the bear has destroyed the electric fence.
We spoke with a man who estimated his honey cost him $600/pound, given all the gadgets you need for protection.
Rather than create a small Alcatraz, we've elected to buy our honey.
On a morning biscuit, nothing could be more wonderful than honey butter. Here's just the recipe to let you make your morning perfect. And, if honey is not your preference, you can substitute jam or preserves.
Just try to plant some lavender or other plants that bees can thrive on. They need our help and we need the honey.
Honey Butter
Yield: 1 cup
Ingredients:
¼ pound [1 stick] butter, softened
¼ cup honey
Preparation:
In a medium bowl, place the softened butter and honey. Beat with an electric mixer until light and fluffy. If you are using a stand mixer, then the whip attachment is your tool of choice. But even better, this is a time to use one of the small hand mixers. You can find excellent ones now for under $20 and they actually do a better job in this situation than the stand mixer. You just have that extra control that only an able wrist can provide.
Sources: Thanksgiving Cookbook by Holly Garrison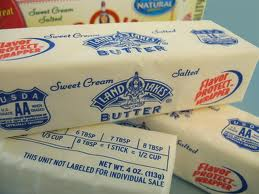 "You are an idiot," Suzen said. It's a term of endearment I often hear. Sometimes softly, sometimes with passion. This time it was delivered with particular force.
"Sweetie, it's really going to be really interesting. You love caramel. I picked this recipe for you."
"Brian, it has TWO POUNDS OF BUTTER. Do you understand what that means?"
"Well, actually, I was doing the calorie calculation in Excel, and if you cut the cake into 24 pieces, then each one will …"
"Absolutely not. You are a dumb idiot." She walked away.
And so, we did not, have not made this cake.
But, I came away with a victory. We are making this for New Year's, which is why I call it a New Year's Resolution Cake. I mean, what are you going to promise yourself for 2013? Lose some weight? Okay, that's great. You are going to suffer in January and February. Maybe even into March if you are tenacious.
So, give yourself one great treat before the ordeal begins. Enjoy this cake. I will be making it with my 11-years old grandsons. They are becoming buttercream masters. There will be photos then, but you have the recipe now.
Perhaps you can plan a healthy end-of-year menu around this cake. You know, celery and carrot sticks for the entrée and this modest rich cake for dessert.
Just consider the idea.
Brown Sugar Layer Cake
Yield: 2 8" rounds [for two large, or four modest layers]
Ingredients:
2 sticks unsalted butter, softened, plus more for pans
3 cups cake flour, plus more for pans

2 cups packed dark-brown sugar
1 cup granulated sugar
6 large eggs
1 tablespoon pure vanilla extract
¼ teaspoon salt
8 ounces sour cream
½ teaspoon baking soda
Caramel Buttercream Frosting [recipe follows]
Preparation:
Preheat oven to 325°. Butter two 8-inch round cake pans. Line with parchment. Butter paper, and flour pans. Beat together butter and sugars with a mixer until light and fluffy, about 3 minutes. Beat in eggs, 1 at a time, beating well after each addition. Beat in vanilla. Whisk together flour and salt. In another bowl, combine sour cream and baking soda. Gradually add flour mixture to butter mixture in 3 additions, alternating with sour cream mixture and starting and ending with flour mixture.
Divide batter between pans. Bake until golden and a toothpick inserted into centers comes out clean, about 50 minutes. Let cakes cool in pans, about 30 minutes. Invert cakes, remove pans and parchment, and let cool completely on a wire rack.
Trim tops of cakes with a serrated knife to make level, then cut each cake in half horizontally. Reserve 1 bottom layer for another use. Place remaining bottom layer on a cake stand and spread evenly with 1¼ cups frosting. Repeat with a second layer and another 1¼ cups frosting. Place third layer on top. Spread entire cake top and sides with 1¼ cups frosting. Refrigerate cake until firm, about 30 minutes. Spread with 1½ cups frosting smoothing top and sides.
Serve immediately or refrigerate up to 2 days; if refrigerated let cake come to room temperature before serving.
Caramel Buttercream Frosting
Yield: 7 cups [That's a lot! You'll have ~2 cups left over after frosting this cake]
Ingredients:
2¼ cups sugar, divided
½ cup water
½ cup heavy cream
9 large egg whites, room temperature
6 sticks unsalted butter, softened, divided
1½ teaspoons pure vanilla extract
Preparation:
Combine 1¼ cups sugar and the water in a medium saucepan. Bring to a boil, stirring to dissolve sugar. Brush down sides of pan with a damp pastry brush, and cook, without stirring until dark amber. Remove from heat, and gradually stir in cream until completely smooth.
Whisk together remaining sugar and the egg whites in the bowl of a mixer set over a pot of simmering water. Whisk until sugar dissolves and mixture is warm. Transfer bowl to a stand mixer fitted with the whisk attachment, and whisk on medium high speed until fluffy and cool and stiff peaks form, about 10 minutes. Add butter, 2 tablespoons at a time, whisking well after each addition. Whisk in vanilla. Slowly pour in caramel with mixer on medium speed, and whisk until completely incorporated
Continue to whisk until smooth, about 3 minutes. Use immediately, or transfer to an airtight container and refrigerate up to 3 days. Before using, bring to room temperature, and beat until smooth.
Source: MarthaStewart.com