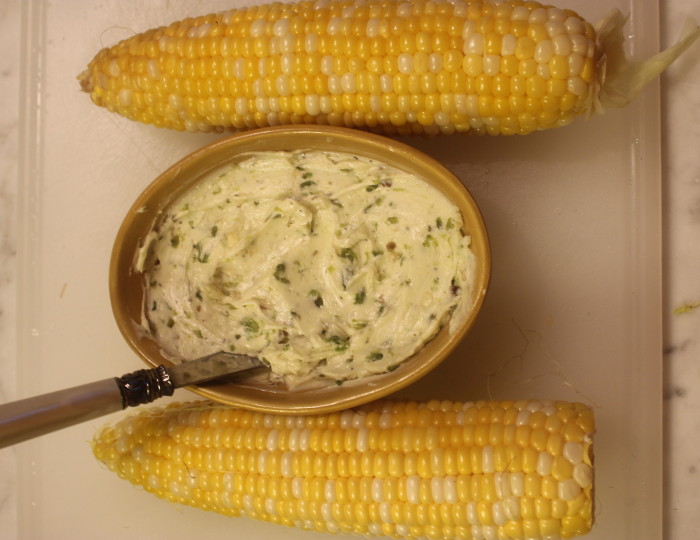 Last year I posted the lovely recipe below for Jalapeno Butter from Fresh Mexico by Marcela Valladolid. It's a perfect recipe for this 4th of July. Jalapeno Butter on corn or on barbequed steak turns goodness into greatness.
Lately I have seen some options and tried some extensions. So, while you can follow the recipe below, here are ideas to expand your flavor repertoire.
First, you can keep the garlic and parsley and/or add some scallions for a modest flavor shift.
Second, instead of mashing everything together, use a food processor to generate a very smooth texture. A few seconds with soft butter will do it. You'll want to pulse to mix, not to complete obliterate the jalapenos. What you should end up with is a lovely light green butter with speckles of dark jalapeno green.
Third, of course, you'll want to use unsalted butter, then taste test. Some salt will probably be needed but it's a matter of your preferences and the nature of your salt. This is the perfect time to visit that new salt store down the block and try something wild. A smoked salt would be perfect here.
Fourth, take out the parsley and replace with cilantro. Even more Mexican.
Ah, finally, if you have jalapeno and cilantro, you could put in half a ripe avocado for a guacamole butter.
And, really, really finally, if you have some or all of these suggested additions, you can edge towards a margarita flavor. Tread carefully here. Use 1-3 teaspoons of lime juice and/or 1-3 teaspoons of tequila. In the food processor, life is easy. Remember, you can't un-lime and you certainly can't un-tequila so start small and add.
In our latest batch, Suzen did the two jalapenos and one stick of butter.
"It's a little too subtle I …" I stopped talking and went in search of a beer. Particularly if you use a high quality butter, the butter flavor and smoothness may come forward. You are about to fooled. It can take a few seconds for the backend hit of the jalapeno to register. Oh, but it will! So when you make this, already have the beer cold, out, and open. You'll need it for the corn and steak anyway.
Jalapeno Butter 2012
Yield: ½ cup
 Ingredients:
2 jalapeno chilies
1 stick unsalted butter, softened
1 large garlic clove, minced
2 teaspoon minced fresh parsley
Salt and freshly ground black pepper.
Preparation:
Grill the jalapenos, turning them occasionally, until charred on all sides, about 10 minutes. Transfer them to a cutting board and let cool for 5 minutes.
Using a small paring knife, peel the jalapenos. Scrape out the discard the seeds and veins. Coarsely chop the chiles and transfer them to a medium bowl. Add the butter, garlic and parsley and mash together. Season to taste with salt and pepper. Spoon the jalapeno butter onto the center of a square piece of plastic warp. Roll it up into a 1-inch diameter log. Refrigerate for at least 30 minutes, until set, or for up to 1 week.
Source: Fresh Mexico by Marcela Valladolid with suggestions by Brian O'Rourke
Photo Information: Canon T2i, EFS 18-55mm Macro Lens, F/4.0 for 1/32

th

of a second at ISO 400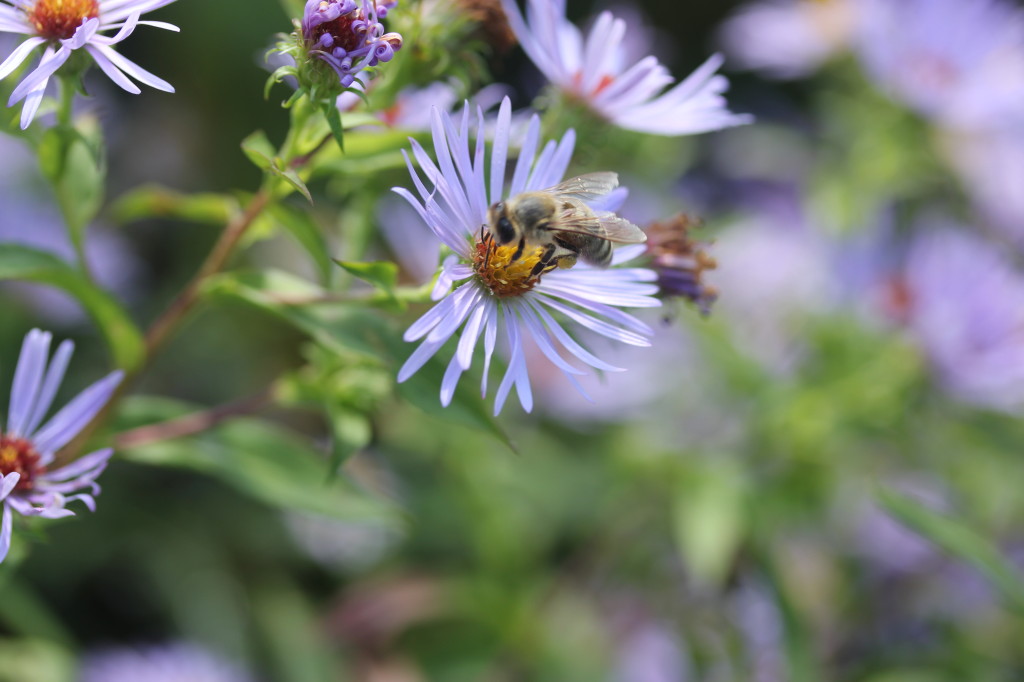 It always helps to begin with the beginning. I'm pretty sure that is a bee in the picture. I got close, but I did not want to get that close.
Bees, of course, are endangered. Suzen and I attended a seminar so we could have our own hive. The problem with doing that is the bears. You need an electric fence around the hive and the hive boxes have to be chained together so they are not destroyed when the bear has destroyed the electric fence.
We spoke with a man who estimated his honey cost him $600/pound, given all the gadgets you need for protection.
Rather than create a small Alcatraz, we've elected to buy our honey.
On a morning biscuit, nothing could be more wonderful than honey butter. Here's just the recipe to let you make your morning perfect. And, if honey is not your preference, you can substitute jam or preserves.
Just try to plant some lavender or other plants that bees can thrive on. They need our help and we need the honey.
Honey Butter
Yield: 1 cup
Ingredients:
¼ pound [1 stick] butter, softened
¼ cup honey
Preparation:
In a medium bowl, place the softened butter and honey. Beat with an electric mixer until light and fluffy. If you are using a stand mixer, then the whip attachment is your tool of choice. But even better, this is a time to use one of the small hand mixers. You can find excellent ones now for under $20 and they actually do a better job in this situation than the stand mixer. You just have that extra control that only an able wrist can provide.
Sources: Thanksgiving Cookbook by Holly Garrison