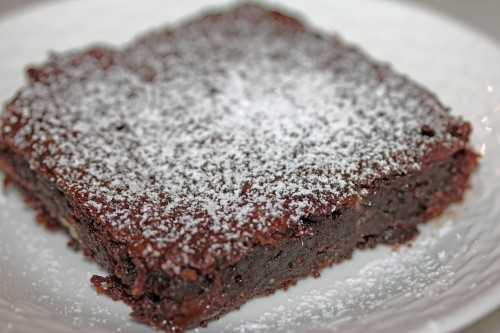 With our economy struggling and Congress bickering, it seems impossible to get people to compromise. About anything. For example, there are those who devoted to having their brownies cakelike. And, equally, some people will fight to defend their rights to a fudgy brownie.
If you are baking brownies for a party, and you bring only one style, you are certain to offend someone. What to do? Renowned food guru James Peterson has a wonderful new cookbook, Kitchen Simple, that has the solution. He says this brownie can satisfy either the cake or the fudgy camps. Suzen and I baked these, and Peterson is right.
These brownies have a very different consistency. It is rich and fudgy but retains a cake-like feeling. How does Peterson do it? He has found the perfect substitute for sugar: it is something called chocolate.
I'm serious.
If you look at most brownie recipes, the ratio of sugar to flour is 2:1 or 3:2. More sugar than flour. In this recipe, there are equal amounts of sugar and flour. But a lot of chocolate. For an 8" square pan, the typical brownies recipe calls for a few tablespoons of cocoa powder or perhaps 4 ounces of chocolate. Here, a full half pound of bittersweet chocolate is employed. The effect is dramatic, as you will discover when you sample these brownies.
Actually, you won't sample these. You will eat them all.
Author James Peterson is recognized for his superior cookbooks. His Sauces was an instant classic and will be read and be forever used by foodies. Kitchen Simple is a carefully crafted book. Peterson calls it his collection of essential recipes for everyday cooking. It's the perfect cookbook for a new bride [or groom].
Reading and using this cookbook will give you an unofficial BA in culinary arts. Beyond the recipes, there is an important philosophy conveyed throughout the book: the best food comes from you and real ingredients. Not cans and chemicals. Here is Peterson's introduction to the Soup Chapter:
Judging by the popularity of canned soups, many of us are intimidated by making our own. Perhaps this is because of our images of long-simmered concoctions that site all day on the back of the stove. In fact, many soups can be made with 10 minutes or so of actual applied work. True, they may need to cook for 30 minutes or a little more but that's all. While most of us think of soups as first course, when served with plenty of bread a typical soup is perfectly adequate as light main course. Consider a soup and salad to be the perfect dinner.
Suzen and I agree.
James Peterson Compromise Brownies
Yield: one 8" square pan [so you can cut it into 9-16 pieces]
Ingredients:
¾ cup [1 ½ sticks] butter
½ pound bittersweet chocolate, roughly chopped
3 eggs
½ cup sugar
½ teaspoon salt
1 teaspoon vanilla extract
½ cup flour
1 cup coarsely chopped nuts [optional]
Preparation:
Preheat the oven to 325°F. Butter an 8" square baking dish.
Combine the butter and chocolate in a microwave bowl and microwave for 30 seconds on high. Stir until smooth. If the chocolate has not completely melted, microwave for another 15 seconds.
In a bowl, beat together the eggs, sugar, salt, and vanilla. Stir in the chocolate mixture. Sift over the flout, stir, and then stir in the nuts.
Spread the mixture in the baking dish and bake for about 30 minutes, or until a toothpick comes out clean. Allow to cool for 15 minutes before cutting the brownies and serving. If you like, dust with powdered sugar.
Source: Kitchen Simple by James Peterson
Cooking by the Book is located at 13 Worth Street in Lower Manhattan, between West Broadway and Hudson. We are eight blocks north of the World Trade Center.
Ten years ago we were there on that remorseful Tuesday morning. Suzen was actually standing on West Broadway when the second plane hit the South Tower. Our son called from Austin and asked if we had seen it. "What plane?" Suzen answered in disbelief. Standing on the north side, she saw only the fireball.
I was on Wall Street and, to get home, walked up Broadway, one block east of the two burning towers. I stopped to assist people standing in shock, trying to use cell phones that would not work. When I was a couple of blocks from home back on West Broadway, the South Tower fell and I saw the dust cloud and people streaking my way. Then I ran.
We began helping people that day. For wondrous reasons, we never lost power, water, cable, or internet. Friends, neighbors, and former neighbors called us to see if we could help them with children stranded at school or shelter a spouse until they could find their way home. We were a triage center, helping the shaken and getting them safely on their journeys home.
On day two, we went out onto the streets. There was harsh silence: no people sounds, just burst of helicopter humming and siren shrieks. Surprisingly, the streets were jammed with parked cars, so many that some had parked diagonally onto the sidewalks. As we walked past, we saw license plates from many states. And men sleeping in the cars with their local fire fighters suits on. These were the fire fighters from around the country who had come to search "The Pile."
One fire fighter was asleep. Standing up against a brick wall. We asked him, and some others, if they would like a bed, a shower, food, a phone, and email. No one turned us down. For three weeks, we were home to two contingents of men, one from Buffalo and one from Providence.
One of the fire fighters from Buffalo, Ken Drodsowski, a veteran of two wars and Special Forces has been an important friend for all these years. When he was married last year, he chose NYC as the place to wed and us as his witnesses.
All these men had come on their own dime and at their own risk: they had all been told that their health insurance would not cover them. "Hero" does not even scratch the surface.
Staying at our place, the men would come and go at all hours. Many worked double shifts as they kept praying to find someone. Anyone. If they got the word that there was a hope, an indication, out they would run back to The Pile to search. They would return and joke about how quickly their latest set of boots had melted as they walked over The Pile. It burned for months, you know, glowing orange in the night. A preview of Hell.
The whole fire fighter contingent used a primary school four blocks away to stage and to eat. The food was donated, some was good, and some was not. After a few days, the Red Cross limited the donations to people with culinary experience including restaurants and people with their food handler's license.
Some years later we heard Matilda Como on NPR talk about some particular housewife in Tribeca who made food and brought it to people. Suzi and I looked at each other and smiled.. That person was Suzen. She is the woman of the myth.
[Actually, I cooked too, but my brownie contribution is a myth lost in the fog of war.]
We were in the mandatory evacuation zone. We stayed and we wanted to do something beyond housing the fire fighters. We could cook.
There are wonderful restaurants and food stores in Tribeca who supplied us with ingredients for our month of cooking. The now gone Bazinni was especially generous. Every morning, we would go somewhere, get ingredients, cook, let it cool just enough, then take the food to the school.
Getting to the school was a major effort. The school was on the other side of three lines of fences erected on Chambers Street to keep the World Trade Center apart from the thousands who thronged to just be there, to just see it all. Suzen would carry three catering size aluminum pans of pasta and chili. I three of brownies. We would nudge our way to the first fence, the first gate. Each time we had to explain, again, what we were doing. Then gates two and three.
At each gate we picked up an escort. By the time we got to the school, there was Suzen, me, two New York City policemen, two New York State policemen, and two National Guard troops. They carried their guns, we carried the food.
The cafeteria was always filled with men between shifts on The Pile. A standard routine developed. We walked with our escorts to the back of the room. The conversations would abate, eyes would turn towards us. We'd deliver our food to the tables, nod to the Red Cross people, turn, and be escorted out.
There would be some smiles and visual gratitude, and a queue would form in front of the table where we had left the food. We don't know which was eaten first, lasagna or brownies. No one ever complained. Just thankful faces, and that was plenty for us.
On that first morning of 9/12, we went out to see the damage. Dust and debris had stopped one block from us. I picked up two concrete blocks that had come from probably the fallen North Tower. I have them now, on a bookshelf, alone.
In that first week, we talked about how in five years we would go to the reopening of a rebuilt Trade Center. We were sure of the time scale. We knew this great city would not stand for this constant reminder of pain. It is now ten years. One highrise went up quickly. Everything else trails. While there has been progress in the last year, while they will open the memorial, things will never be, never could be, the same. And to "finish" that construction will take at least another decade. Frankly, we wanted the towers rebuilt, taller, stronger. Suzen wanted a slightly different location. I wanted them resurging right out of the pits of fallen souls.
There are some people who worry about the ability of this country to get things done. Done with grace and style. Done in a reasonable amount of time. If you come to Lower Manhattan, you might concur.
The world changed ten years ago. For those of us living there, that destruction of our neighborhood and the loss of all those people is something that we will never get over. The fears and memories have percolated into our DNA.
Sometimes when it's a bit overbearing, we go for a walk, but never south on West Broadway because it is much too painful to see the site. Sometimes we go to the gym to try to sweat it out. Most often, we head into the kitchen and cook together. Suzen does pasta, and I do brownies. Suzen adds a green salad, and I open a bottle of red. We think about our good fortune and remember those whom Fate sent on a different journey.
We turn the lights down and eat quietly. We are serenaded by an orchestra of the city: cars and trucks whistling down West Broadway and rattling the steel plates on a pavement still under repair, the earthquake-like rumble of the subways a half block away, and the continual construction cacophony of as the World Trade Center is reborn too slowly.
What is there to do? We sit, sip our wine, and wait for the rest of the world to catch up.