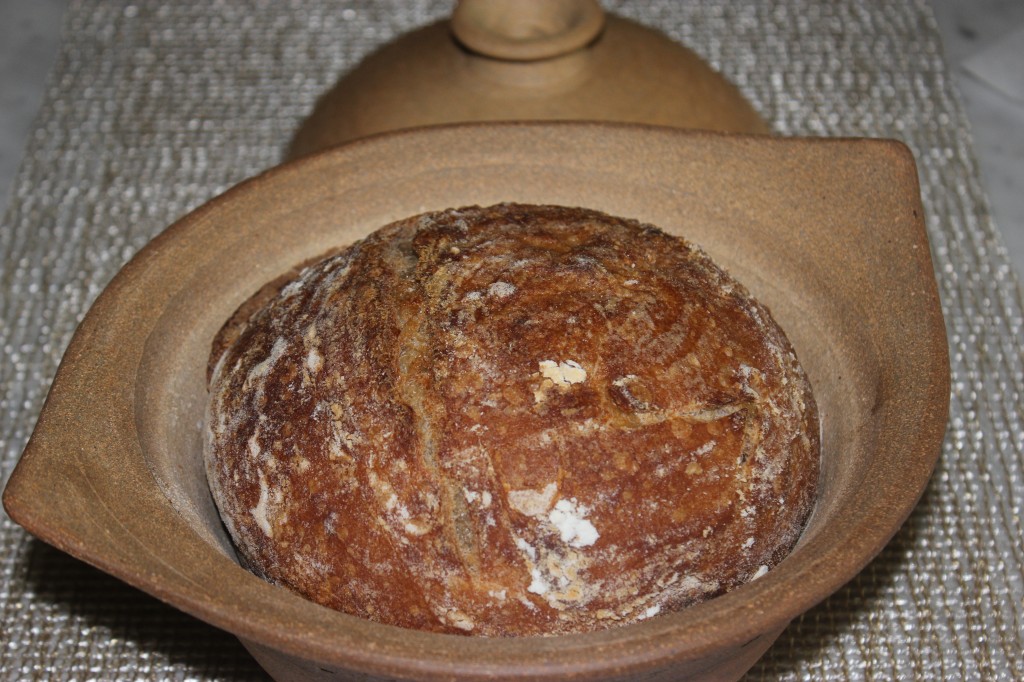 Years ago Suzen mastered making great bread. Great bread. Yet, there are steps beyond mere greatness. Using the latest Tartine cookbook, Suzen has found this amazing technique of baking bread in a pot. She heats the oven and a cast iron pot to 500°F, then pours her dough into the pot. She cooks covered for 30 minutes, then lowers the temperature to 450°F for the final 15 minutes, uncovered.
This technique was not widely known, but it is spreading. Judy Motzkin from Cambridge, MA has created a beautiful line of ceramic pots, with multiple shapes and colors available for you. Suzen saw the pot pictured above at the Kneading Conference two weeks ago in Maine. It was one of those "must buy" items that has proved to be as wonderful in use as it looks on the shelf.
You can go to Judy's website — www.breadbakers.blogspot.com — to learn more. And to buy! As you can see it, lets you create a real Paris-class loaf.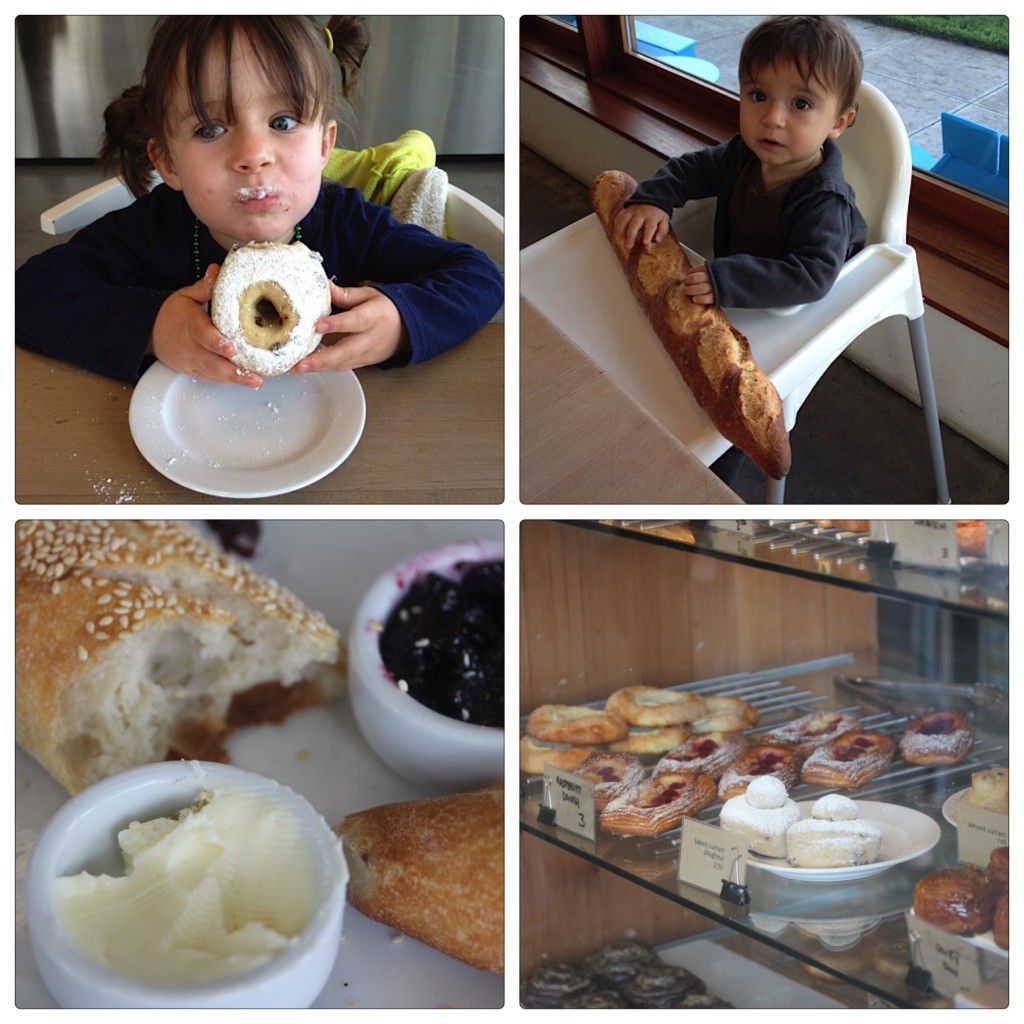 That little girl has a problem. She is looking at the counter, that picture in the lower right, and she's beginning to realize it could be a long day.
Her brother, on the other hand, has clearly learned from his yoga classes. He is aware that the one baguette will suffice.
Twenty years ago Tim Healea was young baker from Portland looking for work in New York City. Suzen hired him and we loved him. Our clients at Cooking by the Book loved him.
But Tim loved Portland and missed the Rose City. He returned to become the head baker at the famed Pearl Bakery in the Pearl District, an amazing urban renaissance. Tim was on the US team in 2002 that competed at the Coupe du Monde de la Boulangerie in Paris and earned the silver medal for the best bakers in the world.
Suzen had lost contact with Tim but was watching the Food Channel when she saw Tim and his team in Paris competing.
"THAT'S TIM! THAT'S OUR TIM!" Suzen said. With exuberance. She ran to me, pulled me to the screen and pointed.
"I guess he's gotten even better," I said.
Tim's little t name for his own bakery in Portland comes from that Paris experience. He was the youngest person on the team. The "little guy."
Here is a fact that cannot be challenged: little t is one of the two best bakeries in the United States. It is that good [the other is Dominique Ansel by us here in New York City]. On our recent trip to Seattle and Portland, we sampled bread in over twenty "good" places. That baguette you see pictured is absolutely the best bread of the trip, the best bread we've ever had. The taste and texture, the crust, the accompaniments, everything on that plate was perfect.
We were not as perplexed as the little girl about what to do when we left. We simply bought a box of goodies.
In the sense of full disclosure, I did not take the pictures of the two adorable kids. When I tried, the little girl was very shy and her tears wiped out the powdered sugar. The kid's gracious mother sent me these two pics, which are from an earlier blog post of her own at her site. Please take a peek at:
http://www.pearoo.com/post/24914839280/yet-another-fabulous-breakfast-place
Tim is an artist. If you are in Portland, or have the opportunity to visit, then little t needs to be at the top of your list.