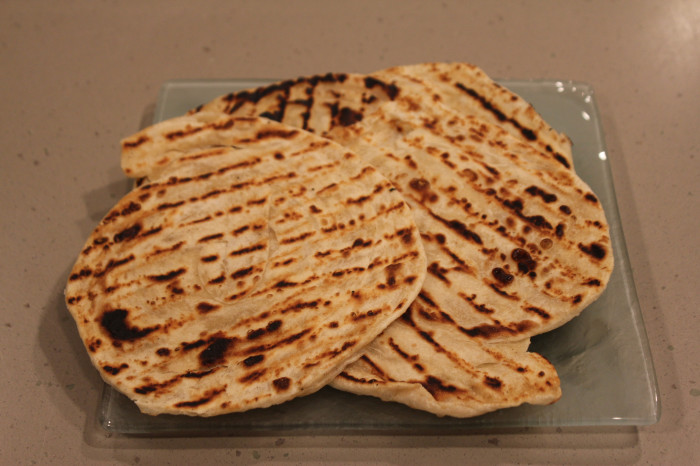 Here is an exceptional flatbread thanks to Bon Appetit. There is no yeast here: just salt, flour and butter. The "flaky" concept comes from the softness of the bread in your mouth. The butter flavor is there along with the carbon aromas creating from skillet cooking. The effect is dramatic, particularly given the bare simple beginnings of this bread.
Suzen served this bread with a creamy salmon spread. The bread would be the ideal vehicle for a bevy of spreads at your next cocktail party.
From start to finish, this bread takes about 5 hours including rising time, so planning ahead is necessary. But the aromas, the tastes will make it all worthwhile.
The recipe below calls for sea salt to adorn the top of the bread. Here is your chance to go freelance using the salt of your choice. Suzen and I live in Manhattan where we have The Meadow as a source of dozens of salts that could be used. The Meadow began in Portland, Oregon and you can go online to see their selection. Or, go to your local gourmet store to find something smoky and fun.
Flaky Bread
Yield: 10 rounds, enough for 5+ people
Ingredients:
1 Teaspoon kosher salt
3 cups all-purpose flour, plus more for the surface while rolling out
6 tablespoons unsalted butter, melt, plus more at room temperature for brushing [about 10]
Flakey sea salt [such as Maldon]
Olive oil for the parchment
Preparation:
Whisk kosher salt and 3 cups flour in a large bowl. Drizzle in the melted butter; mix well. Gradually mix in ¾ cup water. Kneed on a lightly floured surface until the dough is shiny and very soft, about 5 minutes. Wrap in plastic; let rest in a warm spot at least 4 hours.
Divide the dough into 10 pieces and, using your palm, roll into balls. Place the balls on a baking sheet, cover with plastic wrap, and let rest 15 minutes.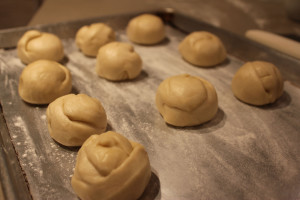 Working with 1 piece at a time, roll out the balls on an unfloured surface with a rolling pin into very thin rounds or ovals about 9" across. [If the dough bounces back, cover with plastic and let rest a few minutes.]
Brush the tops of the rounds with room-temperature butter and sprinkle with sea salt. Roll up each round onto itself to create a long thin rope, then wind each rope around itself to create a tight coil. Working with 1 coil at a time, rollout on an unfloured surface to 10" rounds to more than ⅛" thick. Stack as you go, separating each round with a sheet of parchment paper brushed with oil.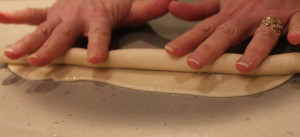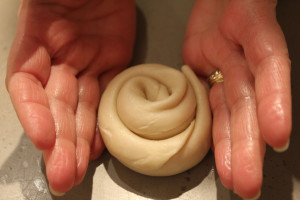 Heat a large cast iron griddle or skillet over medium-high heat. Working 1 at a time, brush both sides of a dough round with room-temperature butter and cook until lightly blistered and cooked through, about 2 minutes per side. Transfer the bread to a wire rack and sprinkle with seat salt.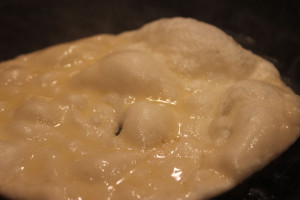 The coils can be rolled out up to 1 month ahead; wrap tightly in plastic wrap and freeze. Cook frozen [adding 1-2minutes to the cooking time].
Source: Bon Appetit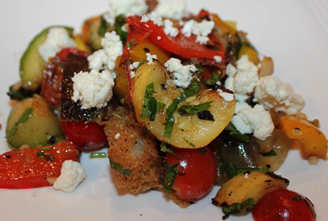 Oh, it's winter and grilling is something you probably cannot conceive of. For this salad, you need grilled veggies but you can do this indoors. Your stove may have a grilling section, or you can buy a simple grilling surface to fit over your regular burners.
Why now, in the middle of winter? This salad is bright, filled with flavor and those grilling smells inside your kitchen will spread cheer on the coldest of days. This "salad" is perfect for a main course. On a football Sunday, you can offer up a bowl of bread salad and let folks serve themselves, grab a beer, and return to that television showing grown men pound each other into oblivion. Let those gridiron gladiators fight away. You can indulge away on these dashing flavors while your football heroes dash about on snowy or rainy fields.
Zucchini, Tomato, Onion, Ricotta Salata and Bread Salad
Yield: serves 6
Ingredients:
For the salad:
½ large sweet onion, sliced ¼ inch thick
1 large red bell pepper, cored, seeded, and sliced ¼ inch thick
1 large yellow bell pepper, cored, seeded, and sliced ¼ inch thick
1 tablespoon extra-virgin olive oil
1 teaspoon fine sea salt and freshly ground black pepper to taste
1 large yellow zucchini, halved lengthwise
1 large green zucchini, halved
4 large heirloom tomatoes of mixed colors, cored and cut into large dice
1 loaf ciabatta bread (8 to 10 oz)
½ medium red onion, thinly sliced (about ½ cup)
¼ cup fresh summer savory
2 ounces ricotta salata
For the dressing:
1 cup extra-virgin olive oil
¼ cup aged sherry vinegar
2 tablespoons freshly squeezed lemon juice
2 tablespoons summer savory
1 tablespoon finely chopped garlic
 Preparation:
—– GRILL THE VEGETABLES —–
In a large bowl, toss the sweet onions and peppers with 1 tablespoon of olive oil. Season with salt and pepper. Brush the zucchini with some of the olive oil and season with salt and pepper.
Preheat a barbecue or stove top grill to medium-high heat. Place the zucchini halves cut-sides down on the grill. Spread the onions and peppers around the zucchini in a single layer. Grill the vegetables, turning them often, until charred and softened, about 5 minutes for the onions and peppers and slightly longer for the zucchini. Cut the peppers and zucchini crosswise into 1-inch pieces.
—– MAKE THE DRESSING —–
In a large bowl, whisk together the oil, vinegar, lemon juice, savory, parsley, and garlic. Season with salt and pepper.
—– MARINATE THE VEGETABLES —–
Add the grilled vegetables and tomatoes to the bowl with the dressing. Adjust seasonings. Set aside.
Trim the crust off the bread and cut into 1-inch slices. Brush each slice with olive oil. Heat grill to medium-high heat. Grill the bread, turning once, until browned and crisp on both sides.
—– ASSEMBLE THE SALAD —–
Add the onion and savory leaves to the marinated vegetables. Place a piece of toast in the middle of each plate. Divide the vegetable mixture evenly among the plates. Shave the ricotta salata over the salad.
Alternatively, the bread can be chopped and mixed in with the vegetables.
Source: Bistro Laurent Tourondel