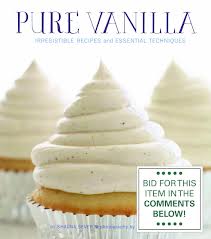 Mankind can probably never repay the Totonac Indians.
Unfortunately, I don't think there are any Totonacs left. In 1519, they were conquered by the Aztecs. Now, the Aztecs did take prisoners, but only so they could take their hearts. So, I'm afraid there are no descendants left.
They were clever people. Orchid lovers. Foodies. Somehow, we don't know how, they learned how to make vanilla from orchids. Thankfully, that discovery was not lost and today we have the wonders of vanilla to sample in so many ways.
About a 100 ways are the topic of Pure Vanilla by Shauna Sever. I posted a recipe yesterday for Vanilla Bean Meringue Kisses [cookies] from the book. It's the perfect recipe with the right crunch, color and flavor. Below you'll find an equally compelling recipe for Vanilla Bourbon Maple Syrup.
There's more than kisses and syrup here. Here are the book chapters and representative recipes:
Breakfast treats: for example, Slow-Cooked Vanilla Spice Oatmeal
Cakes and pies: Vanilla Cream Pie
Cookies and bars: Vanilla Crème Cookie Sandwiches
Candies and confections: Opera Fudge
Custards and creams: Floating Islands
Drinks: Vanilla Mojito
I'm not sure which is coming first in my weekend kitchen, that Vanilla Mojito or the Vanilla Cream Pie. When you think about it, they are not mutually exclusive. Not at all.
You will find Pure Vanilla prominently in the new books section of most bookstores. The book is beautifully laid out with very inviting photographs by Leigh Beisch. The instructions for each recipe are presented with a very different style. Each step is a separate paragraph, bulleted with a highlighted title. I just find it very easy to follow and to skim over the steps right at the start so I have quick overview of what I have to do. Have you ever put something in oven, turned around, and seen that "thing" what was supposed to part of the other "thing" that is now baking away to become "something" that is apparently now a "science experiment?" Won't happen with Pure Vanilla.
Vanilla Bourbon Maple Syrup
Yield: 1 ¾ cups
Ingredients:
½ cup bourbon
2 vanilla beans
1 ½ cups maple syrup
Pinch of salt
Preparation:
Pour the bourbon into a small saucepan. Add the 2 vanilla beans, split lengthwise. Bring to a boil over high heat and continue boiling the bourbon is reduced by half.
Sir in the maple syrup and the pinch of salt. Removed the vanilla pods and scape the caviar into the syrup. Or, if you like, leave the pods in the syrup so the vanilla flavor intensified over time.
Let cool. Place in a tight jar. Use often. [Drink recipes to be devised and blogged by Brian]
Source: Pure Vanilla by Shauna Sever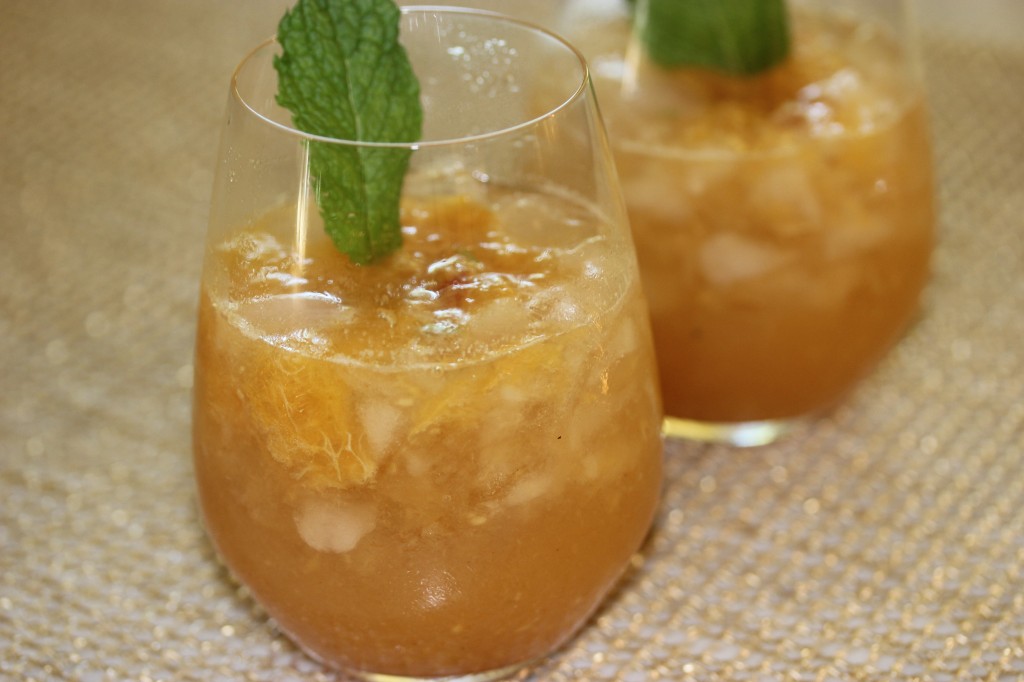 I am a rum and tequila person. Those are the spirits that move me. Literally.
Bourbon and whiskey? I get confused. I drink them rarely and off the top of my head, I can't tell you which is which. I know, it's embarrassing.
But I take refuge in the fact that confusion about the two has reigned for years. So much confusion that in 1964 the United States Congress passed a law making it all clear. Well, not clear, clear because bourbon and whiskey do have that golden-honey color. But, Congress has decreed that:
[1] Bourbon
Must be produced in the United States [really Kentucky and Tennessee]
Be made from a grain mixture that is at least 51% corn
Must have the alcohol content no higher than 80% [160 proof]
Must be 100% natural [only water can be added]
Must be aged in new, charred casks made from American white oak
[2] Rye Whiskey
Must meet the same standards except be made from at least 51% rye
[3] Wheat Whiskey
Same standards but at least 51% wheat
[4] Corn Whiskey
Same Standards but at least 80% corn
[5] Tennessee Whiskey
Bourbon made in Tennessee and filtered through sugar maple charcoal before aging
And just for reference, the first American whiskey was made in Pennsylvania and Maryland from rye. Bourbon is the corn spirit.
Recently in Martha Stewart Magazine, there was a recipe for grilled peaches, muddled, and mixed with Bourbon. The recipe called for grilling the peaches until they begin to blacken, probably a good idea to match the Bourbon. I stopped just short of black, because my peach halves were beginning to stick to the grill. And Martha's recipe called for bitters. I have a shelf of different bitters, including peach. That was a no brainer.
So here's the recipe for the beverage using Bourbon. If you are a Bourbon fan, I'm sure you'll love it. I did enjoy it. But, more importantly, the muddled mixture of peach, sugar, lime juice and bitters was something close to nirvana. I love that mix. This weekend, it goes into rum and tequila and cachaca. I'll let you know. In the meantime, find that bottle of Bourbon and enjoy a truly American cocktail.
Peaches and Bourbon
Yield: 2 generous cocktail
Ingredients:
2 peaches, peeled, halved, pits removed
Vegetable oil
2 tablespoons of sugar
2 tablespoons of lime juice
4 dashes of bitters [peach if you have it]
6 ounces of Bourbon [or the spirit of your choice]
Preparation:
Heat a grill to medium.
Coat the 4 peach halves with a little vegetable oil so they will not stick to the grill, or at least stick less.
Grill the peaches until softened. Remove and place in a cocktail shaker.
Add the sugar, lime juice and bitters. Muddle seriously. You do not want any chunks of peach here, so be patient. It's a 2-3 minutes process.
Add the spirits and ice to the cocktail shaker. Shake vigorously until chilled.
Pour into two cocktails glasses, filled with shaved ice. There will be some peach fragments or strings stuck in the cocktail shaker — no matter how well you tried to muddle. Feel free to spoon those into the cocktails.
Sources: Inspired from Martha Stewart Magazine with reference material from The Ultimate Guide to Spirits and Cocktails by André Dominé