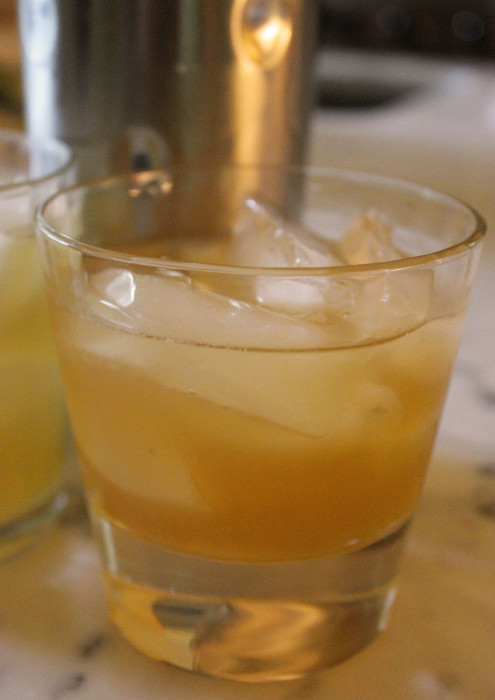 When I blogged a general overview of Pitt Cue Co: The Cookbook, I did mention this cocktail. It's accompanied by a full page picture with two hands holding a very big glass. I took that to be a warning: this drink is full flavored, full bodied and perhaps best consumed on a day when you are not traveling to and from work.
So, I am posting this on a Saturday, with the proviso that you do not attempt this beverage until all Saturday trips for soccer, baseball, football, swimming, dance, judo and ballet are over.
I sometimes wonder who is more exhausted after a weekend: parents or kids. It used to be you left for work on Monday morning rested. Now you leave the house to recover.
Well, I suggest this beverage for an early recovery. I made this drink, served it to my bourbon loving wife, and received a kiss. That's success.
The only change I made to the recipe below, was to use a niche Orancello instead of Cointreau. I traded sweetness for intensity. Of course, to recover sweetness, my "dash" of sugar syrup was ½ ounce in terms of the proportions below — 1 ounce when I made the actual drink.
To get that full glass in the picture, I did double the recipe you see below. I'm not sure why, cookbook recipes for individual cocktails have the liquor ingredients coming in a ½ to under 2 ounces. Never 2 or more. I find myself doubling down for one drink and multiplying by 4 if Suzen and I are both drinking.
Our calculator sits right next to our digital scale.
The Side Truck
Yield: 1 small cocktail [double to simulate the picture]
Ingredients:
1 ¼ ounces bourbon [good bourbon, no plastic bottles]
1 ounce Cointreau
1 ounce fresh lemon juice
1 dash orange bitters [1 dash = 4 drops in my world]
Dash sugar syrup
Orange slice [optional garnish]
Preparation:
Shake all the ingredients in a Boston shaker with ice, and strain over ice in an old fashioned glass. Garnish with a slice of orange if you like.
Sources: Pitt Cue Co.: The Cookbook Photo
Information: Canon T2i, EFS 60 mm Macro Lens, F/4.5 for 1/20th second at ISO-3200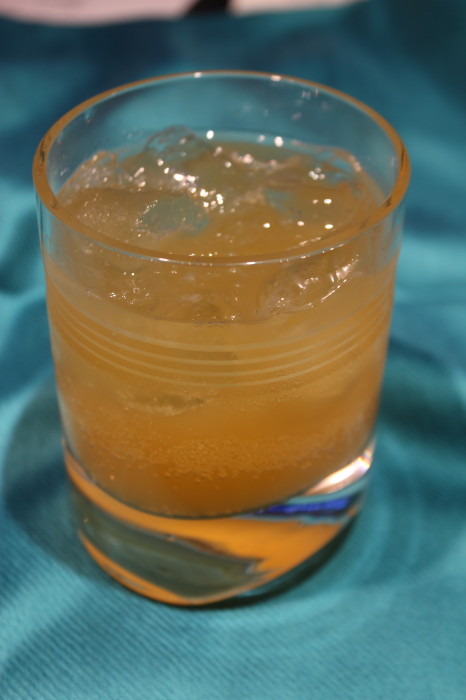 Suzen was having an event for a culinary organization in our Tribeca space. For her corporate team building events, Suzen is in charge and everything goes very smoothly on schedule. When a culinary organization comes in, and takes over the kitchen, it's a little chaotic. People chopping, stirring, preparing and talking.
"Can you make a bourbon cocktail?" the event's organizer asked me.
"Sure," I said. Then, I thought, 30 people. "How about a punch?" I suggested.
"Fine," she replied, turning to chop, stir and cook herself.
I found a recipe online, but we did not have many of the ingredients. "Now what?" I pointed the recipe out to Suzen.
"Let's go to the refrigerator," she said. Out came frozen lemonade, a bottle of mango juice, and club soda. She put them all in my arms. "Improvise," she said.
A few minutes later, I said to her, "Try this."
"Needs more."
One lemon later, "How about this now?" I asked her. She took a second sip. "Fine," she blessed this experiment.
It's fast, it's bold and it's easy to fix. You don't lose the bourbon flavor here. It is boldly there. But the lemonade and mango make it less striking on the tongue. It's just richly pleasant. Great to sit and sip. Better with some appetizers. Wonderful with a steak grilled black.
Suzen's Quick Bourbon Punch
Yield: 1.5 quarts, enough for several thirsty people
Ingredients:
1 cup bourbon
½ cup mango juice
Juice of one lemon
6 ounces of frozen lemonade concentrate, defrosted
1 liter of club soda, chilled
Preparation:
Place the bourbon, mango juice, lemon juice and lemonade concentrate in a large pitcher and stir to mix. Slowly add the club soda. Too fast and you'll generate enough fuzz for a science fiction film.
Stir to mix. Chill until you are ready to serve. Pour into ice filled glasses.
Source: Suzen O'Rourke