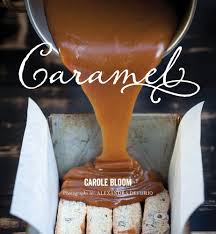 Carole Bloom has been a prolific and respected dessert author for 20 years. Suzen and I have almost, but not quite, every one of her dozen books. Number 12 is new and gorgeous and enticing. Caramel is filled with sweet, gooey, decadent treasures. I can't say you should eat one every day, but I could understand if you did.
Yes, I'm going to post a few recipes from Caramel here over the next couple of weeks. But, the one recipe I am not going to post is Carole's Classic Caramel Sauce. For that you need to journey out and take a look at Caramel yourself. I am here really encouraging you to buy the book. I think Carole has perfected caramel sauce and I hope you learn her secrets.
Google caramel sauce instead? Oh, I tried that last night. You know how, when you start a search in Google, you are offered auto completion hints? Well, when you start with "caramel" you are offered lots of suggestions: with milk, without milk, … Too many suggestions. Go down one of the search paths, and you will find recipes that have two ingredients, three, four, … , a gaggle. There is a grove of recipes out there and an equal complexity about techniques. Take a look at Carole's book and you'll save yourself time and effort.
Beyond that secret caramel sauce, what other treats are there in Caramel? Well:
Caramel Cashew Tart
Caramel Layered Dark Chocolate Brownies
Caramel Milk Chocolate Mousse
Caramel Dulce de Leche Pecan Pie
Cocoa and Caramel Sandwich Cookies
Classic Butterscotch Pudding
Classic Cream Caramels
Pecan Butterscotch Cookies
Espresso Crème Caramel
Salted Peanut Caramel Tartlets
Caramelized Banana Turnovers
and more …
Temptation lies on every page. The photographs by Alexandra DeFurio are full page and as deep in color as the caramel is in flavor. They are seductive, but they also can assist you in making your daily choice.
The recipes are, typical of Carole, clearly written with detail that gracefully guides you step by step. These are not 5 minute recipes so do plan on investing some time. Greatness, sticky greatness, takes just a tad of effort.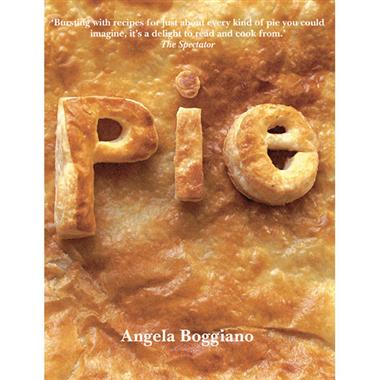 Just a few years ago Angela Boggiano treated us to Pie, her carefully selected set of recipes from the United Kingdom [or Great Britain or England or even Wales]. Now, there is a revised edition of Pie which you may want to consider, particularly if you have a sweet tooth.
There are many critics of British cuisine but it would be a total oversight to miss the true highlights that Britain affords us. While Southern United States chefs may claim dominance for sweet pies, the British can now dispute that with force. One of the new adds to this edition of Pie is a Banana, Chocolate and Salted Caramel Pie that takes second place to none.
In fact, almost all of changes to this edition of Pie come in the sweetpie chapter, a recognition of the power of sweets on both sides of the Atlantic. The other Pie Chapters, which focus on savory pleasures, are almost unchanged [some shifting in the order, a few pictures dropped]. Those savory chapters are full evidence that the British own pies. You'll find:
Asparagus Turnovers: half pie and half tart and spring ready
Spanish Pepper and Chorizo Pie: something Suzen could make every week
Beef Wellington: of course
Cheshire Cheese and Onion Pie: Angela's own mix of cross county tastes
Chicken and Mushroom Pies: elegantly presented with a basket weave crust
It is natural to term these savory pies as hearty. Surely they are that. But there is, and I'll use the word again, a quiet elegance to these recipes. They represent centuries of daily cooking. The combinations of ingredients and proportions have been honed to a razor sharp degree. Angela has dutifully captured these recipes and made them available to us: poetically photographed and written in easy prose. Browse through Pie and you'll be seduced into some combination of protein and veggies. Maybe, just veggies alone!
If you did not catch Pie in its first edition, do give this revised edition a look when you can. You don't have to begin with that Banana, Chocolate and Salted Caramel Pie, but you can. Darn those veggies.