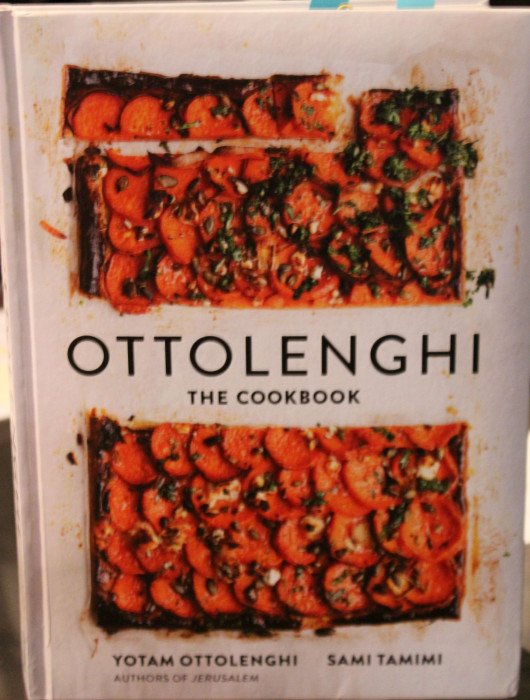 You might have seen Plenty in 2011. And surely you saw Jerusalem published in late 2012. Jerusalem has become a cult cookbook akin to Around My French table.
What you probably have not seen before is the first book by Yotam Ottolenghi and Sami Tamimi. That book, Ottolenghi: The Cookbook, was published in Great Britain in 2008. Now, thanks to Ten Speed Press, that first impressive volume is available to the American audience.
Ottolenghi is as exceptional as its siblings and should be added to your cookbook collection. Most of us do not regularly eat in Middle Eastern restaurants or sample cookbooks from that region. The names of dishes and ingredients alone can be mysterious to us. The combinations can give us pause. You can cook this with that?
Yes, you can. Ottolenghi proves, with every recipe, that culinary surprises and pleasures are just a few steps away. The regional dishes here, often presented with lovely close up shots, are traditional treasures ready for us to incorporate into our lives:
Cucumber and Poppy Seed Salad
Grilled Cauliflower with Tomato, Dill and Capers
Roasted Butternut Squash with Burnt Eggplant and Pomegranate Molasses
Sardines Stuffed with Bulgur, Currants and Pistachios
Suzen has already prepared two of the dishes here: Koseri a rice and lentil dish and Beef and Lamb Meatballs Cooked in Tahini. We made these two the centerpiece for a dinner party that had everyone returning for seconds. The dishes in Ottolenghi are very likely to become part of your "regular recipe rotation." You'll find these recipes in the blogs here on the next two days.
Authors Ottolenghi and Tamimi have an entwined history. Both were born in Jerusalem, one Israeli and one Palestinian. Both migrated to London for education and there to discover their passion for food. They met on a London street, they formed a friendship and then a partnership. The result is history for them and important food contributions for us.
And not just Middle Eastern food. These men are not shy and have embraced the cooking of the Western world just as much as they invite us to their native cuisine. They like sweets. I had to chuckle when I read the half page devoted to how to cook a brownie to achieve that they believe to be the proper texture. Two guys from Jerusalem describing the right level of gooiness and how to measure it? There are, it turns out, real benefits from globalization.
Some of the desserts combine both Western and Middle Eastern flavors into one lovely extravaganza. For example, they offer their Apple and Olive Oil Cake with Maple Icing. Imagine palm trees growing in Maine.
Perhaps that is the essence of this important book: imagination. Suzen and I are planning much of our Thanksgiving feast from this book. That apple cake, a lovely Sweet Potato Gratin, the grilled cauliflower. And for the day after Thanksgiving, they have Turkey and Corn Meatballs with Roasted Red Pepper Sauce. How can you say no to that?
Whatever your culture. Whatever your food preferences, if you page through Ottolenghi then somewhere you will pause. You will wonder just what that dish must taste like. And probably you'll be gracefully seduced into cooking from Ottolenghi. I was.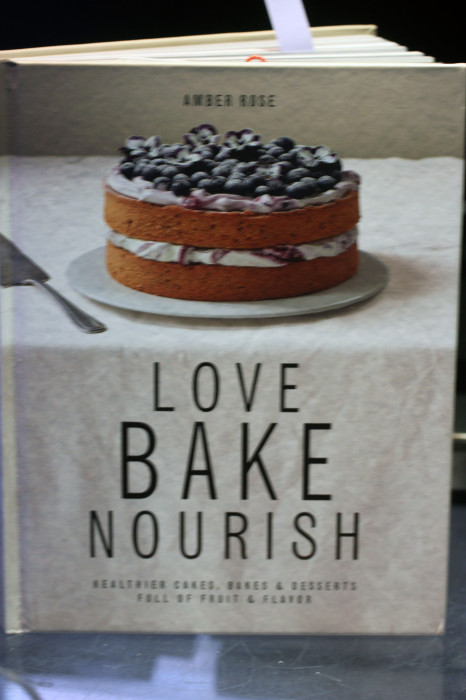 The term "profiling" is not politically correct. I realize that. I also know it is pretty silly because every time you visit the doctor, he does just that: he listens to you, learns your symptoms, and uses profiling techniques to make the most likely deduction about what is causing your headache. Without profiling, a doctor might start by looking at your toes. It's far, in distance and time, from toenails to your sinuses.
So, let's profile Amber Rose, author of Love Bake Nourish. Her father became New Zealand's leading pioneer of sustainable organic agriculture and heritage seed saving. Her mother maintained an organic garden of largely rare 800 species of fruits and vegetables. What was Amber's most likely destiny? To be a physicist doing quantum mechanics? Or to be a chef, teacher and author?
Her realized destiny is our gain. Love Bake Nourish is a baking book devoted to changing when and how you pursue you baking through the year. The season's available fruit, flowers, and nuts are blended with honey and different flours [chestnut flour!] to take you on a culinary journey to a different time, if not a different planet.
There's charm in just the titles of the desserts Amber invites you to try:
Apple and Rose Geranium Compote
Apricot and Pistachio Crumble
Blood Orange and Rosemary Tart
Citrus Honey and Pistachio Drizzle Cake
Lavender Lemon and Honey Cake
Maple Syrup Meringues with Caramelized Pears
Pear and Almond Tart with Orange-Scented Crust
With Amber, processed white sugar is out. Honey is in, which gives your flavor spectrum a new dimension. White sugar taste like white sugar, pound after pound. Honey comes in all those flower-based flavors which you can now match to the fruit and herb ingredients central to Amber's recipes. I look at these recipes and wonder: is this how we all should and perhaps will cook in the future or is this how the Downton Abbey folks relished on country life desserts in that paneled tea room of theirs. There is something comfortingly old and yet forwardly challenging about these recipes.
Ah, challenging? Just in the context of being so different. The recipes themselves are within your reach, I assure you. One page long, maybe a dozen ingredients — and that includes the honey, herbs, and fruits. These are not complicated recipes. They are well written, easily followed.
If you happen to need gluten free dishes, you will find them here in abundance. The Simple Nut Flour Cake is just that, simple: eggs, nut flour, butter, honey and salt. Like many of her recipes, Amber here suggests extensions and options. The cake on its own is lovely but can be adorned with cocoa powder or partnered with fruit. The cake batter can be extended with rosemary or pine nuts or both.
You get the sense that each of these recipes is alive. There are always ways to extend and adorn. And certainly every one of these paths will lead you to enjoyment.
Love Bake Nourish is charming different and worth your deep consideration.