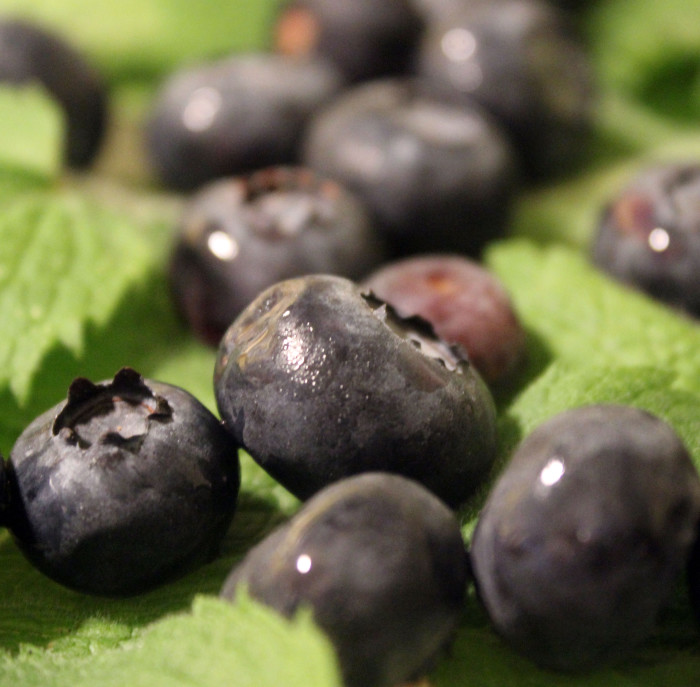 When summer peaks, so does our interest in fruits. Suzen's interest in vegetables also peaks but, frankly my dear, I don't give a … No, I care. I do. It's just that I'm focused on the fruits of the season. One thing at a time.
I've written here about the difficulty of some fruits: peaches and pears come to mind. At the other extreme are creatures like blueberries. They seem wondrously robust with a uniformity of flavor and sweetness. Even if the exterior of that blueberry is a little less than spectacular, the berry is fine to taste, sip, bake, or preserve. A bruised peach has to be examined like an ebola suspect: is it already a gonner, how deep is the distress, can it be saved?
Blueberry sauce has infinite uses. Almost infinite: you really should not just eat it by itself. It deserves some kind of marriage: ice cream, fruit salad, pound cake, cake of almost any order.
This recipe comes from a new book, Bakeless Sweets, that has many expedient treats. You'll soon seen a review of the book and more recipes. In the meantime, should blueberries cross you path, here is a wonderful way to enjoy that very berry bite.
This recipe calls for a teaspoon of vanilla. You can experiment here, substituting brandy for example. And the picture above has blueberries sitting on a bed of mint. Adding some diced mint leaves to the pot is certainly an interesting option. Lastly exotic as it sounds, blueberries do have preferred mates. Just a dash of chile powder will make that ice cream sizzle in your mouth and amplify the blueness of the experience.
This post is appearing on a Monday, the start of our work week. We have a busy days and not much time to think about a complex dessert during the week. This sauce is an expressway towards a lovely yet easy dessert experience.
---
Blueberry Sauce

Yield: 2 cups

Ingredients:

2 cups blueberries, fresh or thawed frozen
2 tablespoons sugar
1 lemon, zested and juiced [about 2 tablespoons juice]
2 teaspoons cornstarch
1 teaspoon pure vanilla extract
Pinch salt
Preparation:

Stir the blueberries, sugar, and lemon zest together in a 2-quart saucepan and bring them to a simmer over medium-high heat.
In a small bowl, whisk the cornstarch into the lemon juice until smooth, then stir the mixture into the blueberry sauce. Boil for a full minute, or until the berries begin to pop open. Remove from the heat and stir in the vanilla and salt. Chill.


Source: Bakeless Sweets by Faith Durand

Photo Information [bottom shot]: Canon T2i, EFS60mm Macro Lens, F/5 for1/30th second at ISO‑1250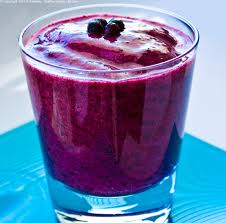 There was a time when fast food was fast and cheap. Somewhere along the line, prices have not just crept up. They have vaulted.
In Manhattan, if you order a burger, maybe some grilled onions, a fries and a shake, sticker shock will appear. And it's that shake now that does it. Remember a $2 shake, or $3 or $4?. Now you see $6 and $7. So you pay for lunch with $20 bill, leave the mandatory tip in the cup, and you don't have enough left to buy today's New York Times. Which you can consider a tragedy or salvation.
The shake is the price culprit, so I usually forsake them now. My doctor would actually be happy at that. But I am not. I want my shake. Especially when I am tempted. Last week's burger joint said a survey had named their Blueberry Pomegranate Shake the best in the city. I spent my $6.50. It was worth it. Great shake.
But tonight, I cooked my burger at home. And I wanted a shake. That shake.  Here it is, in all it's glory. The variable here is the amount of pomegranate juice you add — which is the liquid substitute here for milk. I used 1/2 cup of juice and found the shake good, though definitely blueberry. Another, shake –well, I had to test — was made with 1 cup of pomegranate juice and it definitely had a different flavor.
Not only will the juice proportions affect your shake, but so surely will the brand of pomegranate juice. They vary wild in their color, flavor intensity, and sweetness. I'm afraid, that just like me, you'll have to make more than one. It's a chore, but someone has to enjoy it.
Blueberry Pomegranate Milk Shake
Yield: one shake
Ingredients:
2 cups of vanilla ice cream, softened
1 cup of blueberries, washed and dried
1/2 cup of pomegranate juice.
Preparation:
Add the ingredients into a blender, turn it on, and blend to a smooth consistency. You may find that adding a little more pomegranate juice will change your shake from too thick to just right.