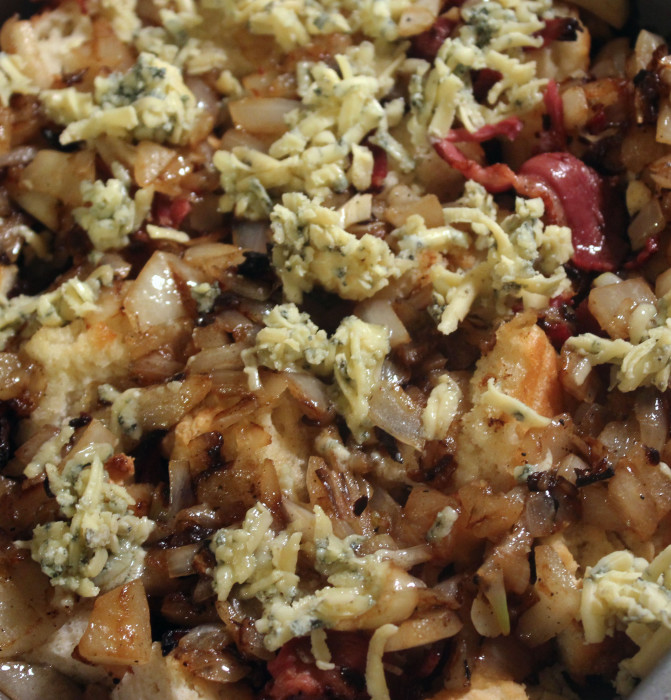 There is nothing better than a fresh biscuit. And nothing worse than a stale one.
If there is just one or two of you, it's unlikely you'll consume a whole batch of biscuits. What to do with those leftovers? Even the next day, they won't be as fresh. For Pete's sake, don't try to reheat them in the microwave, unless you love a dry and rubbery texture.
Here's my combine riff on classic Italian stratas and a biscuit casserole idea from Biscuits by Belinda Ellis. Belinda's recipe calls for bacon and parmesan cheese. I've reduce the bacon and substituted blue cheese — how can you deny that blue and bacon combination. My recipe is below and is one that gives you great latitude. Swap out the bacon for ham. Add some diced potatoes, that have already been cooked. Use other spices, more or less garlic. Add bell peppers. Make it richer with cream in place of milk.
And the cheese. Oh, this was lovely with blue but if you swap to another cheese, the dish will be significantly different. If you have biscuits for Saturday breakfast, and chores to do in the yard on Sunday, this is a powerhouse meal to begin the day.
The picture at the top is before baking, on the bottom is the finished product ready for the table.
---
Brian's Breakfast Biscuit Casserole

Yield: 8 large servings

Ingredients:

¼ pound bacon, diced
1 medium onion, chopped into medium pieces
2 garlic cloves, peeled and minced
3 large eggs
½ cup milk
Salt and freshly ground black pepper to taste
4 cups baked biscuits, pulled into 1-inch chunks
½ cup shredded blue cheese
Preparation:

Preheat the oven to 350°F.
Coat an 8-inch square baking dish with butter or nonstick cooking spray.
In a cast iron skillet, cook the bacon over low heat until just turning crisp. Remove the bacon and transfer to paper towel to dry. Leave the drippings in the pan and add the onion. Cook over medium heat until just browning. Add the garlic and cook for another minute. Remove from the heat.
Crumble the bacon.
Whisk the eggs, milk, salt and pepper in a medium bowl.
Crumble the biscuits into the bottom of the prepared baking dish. Dot with the crumbled bacon, cheese and onion. Pour the egg-milk mixture over the top. Press with a fork to ensure the biscuits absorb the liquid and that every biscuit piece has moisture. Allow to sit for a few moments for the absorption to continue.
Bake in the preheated oven for 30-35 minutes. Check for doneness by inserting a knife. The casserole is ready when the knife comes out clean.
Serve warm with orange juice and coffee.
Source: Brian O'Rourke adapted from Biscuits by Belinda Ellis

Photo Information [top]: Canon T2i, EFS 60mm Macro Lens, F/5 for1/60th second at ISO‑3200

Photo Information [bottom]: Canon T2i, EFS 60mm Macro Lens, F/4.5 for1/50th second at ISO‑640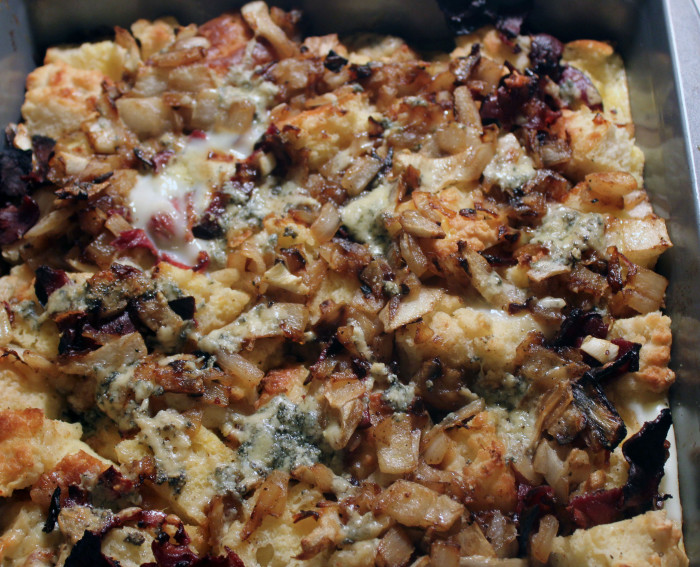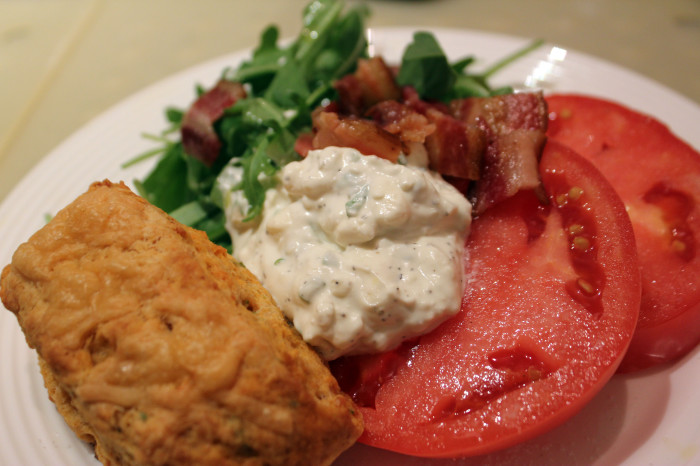 How are those tomato plants in your garden? Ready to harvest yet?
Don't fret. There are these things called greenhouses, and the "hydro" something way of growing, and those states far, far to the south of New York. From those sources, via trucks burning carbon, you can have summer-prime tomatoes on your table. This weekend. Tonight.
[Ignore the carbon guilt. They have already been picked and shipped. It would be a crime to waste them.]
This salad can be a serious starting course. It can be the main course. Our tomatoes here were nearly as big as pork chops. We did not cut them quite that thick, but these were truly meaty giants that gave chewy satisfaction with the firmness of their resistance to each bite.
The combination of tomato, blue cheese and bacon is one that is common. I never tire of it, though, perhaps because I limit myself to just one or two dabbles each month. But then last night when I had this, I wondered why I don't eat it every single day.
You can enhance flavor, and add that variety to prevent any boredom, by using one of the many gourmet salts available. A deep smoky salt, for example, is going to resonate with that blue cheese. A heavy hand with pepper will intensify the flavors and promote additional tingle your tongue.
Temperature is important here, too. The bacon crumbles should be room temperature so the flavor is not subdued, but everything else should be refrigerator cold. There is a surprise awaiting you as the cold from the tomatoes and dressing competes with the inherent "cheese heat" that blue provides.
Do look for firm, meaty tomatoes. They are out there, ready, waiting, and simply delectable.
In the picture, the biscuit is chili and cheese. Recipe to come soon!
Heirloom Tomato Stacks with Blue Cheese Dressing and Bacon Crumbles
Yield: serves 4
Ingredients:
½ cup sour cream
¼ cup mayonnaise
1 tablespoon fruity extra-virgin olive oil
2 teaspoons white wine vinegar
½ teaspoon freshly ground black pepper
¼ teaspoon kosher salt
¼ teaspoon Worcestershire sauce
⅓-½ cup crumbled Clemson Blue cheese
1 tablespoon thinly sliced chives or scallion greens
1 bunch arugula or watercress, rinsed and spun dry
5-6 large heirloom tomatoes, such as Cherokee Purple, Delicious, Striped German, Brandywine(2 ½ pounds), cored and cut crosswise into ½-inch thick slices
4 thick bacon slices, cooked until crisp and crumbled
Salt and fresh black pepper to taste
Preparation:
Mix the sour cream, mayonnaise, olive oil, vinegar, pepper, salt, and Worcestershire sauce in a small bowl with a whisk or fork.
Stir in blue cheese and chives or scallions.
Divide the arugula or watercress between 4 plates. Stack the tomatoes slices on the greens, leaning a little, and sprinkle lightly with a little more salt and pepper. Spoon the dressing on top and crumble the bacon over the tomatoes. Serve.
Source: Tomatoes by Miriam Rubin
Photo Information: Canon T2i, EFS 60 mm Macro Lens, F/4.5 for 1/40th second at ISO-640