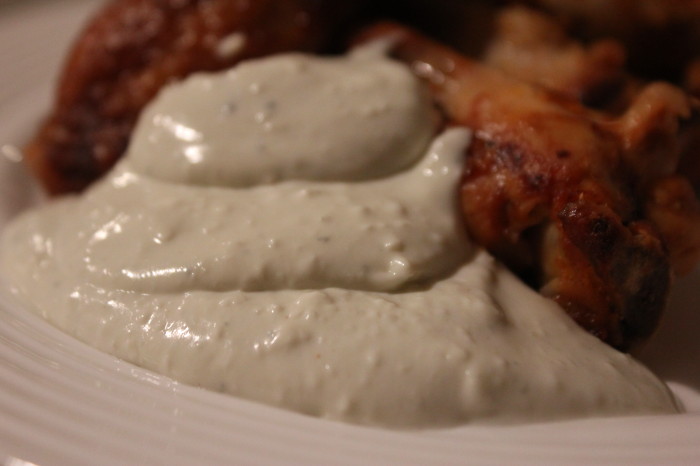 Blue cheese dip is just automatically required for hot chicken wings. Absolutely.
However, many versions of this dip compete with the wings. The blue cheese flavor is so intense that it can distract from the wings. This version is less intense — depending of course on the exact blue cheese you choose. For most blues, though, the balance of the amount of cheese with the mayo and sour cream is going to give you a different flavor experience. Subtle, smooth, and complementary to those wings.
Of course, you are free to add in some cilantro or parsley. The blue cheese can be swapped out for Gorgonzola or other options. Do make this dip the day before to get the full power of "one-day" aging!
Blue Cheese Dip
Yield: 3 cups
Ingredients:
1 ½ cup blue cheese crumbles
1 cup mayonnaise
1 cup sour cream
2 garlic cloves, pressed
2 teaspoons Dijon mustard
1 ½ teaspoon fresh ground black pepper
½ teaspoon salt
Preparation:
Combine the blue cheese crumbles, mayonnaise, sour cream, garlic, Dijon mustard, pepper and salt in the bowl of a food processor. Blend for 30+ second to create a smooth creamy mixture.
Cover and refrigerate. This dip is best made a day in advanced to let the flavors thoroughly blend.
Source: Wings by Debbie Moose
Photo Information: Canon T2i, EFS 18-55mm Macro Lens, F/5.0 for 1/80th second at ISO 3200
Coming in the next few days are some recipes for chicken wings. Now, for many of us, the wings are incidental. It's the dip that matters. And for many of us, the "dip" has to be cheesy. Thing is, blue cheese dips are often, shall we say, harsh. They have a bite that could wake the dead. And if you survive that taste overload, the salt content can drive you to an IV to save your life. What the world needs is a good, a great blue cheese dip that does not shock your taste buds or dehydrate you.
And here it is. From Wings Across America by Armand Vanderstichel, this recipe has some terrific features. First of all, it is subtle, not shocking in taste. It's so smooth that you'll find many uses for it beyond chicken wings: chips, veggies, even a salad. It's a multi-purpose dip that you can create in just moments.
This dip uses sour cream, mayonnaise, and buttermilk. It's a balanced combination that gives you a smooth base, with a hint of sourness, but is still gentle on your tongue.
Of course, this recipe is totally amenable to your personal tastes. You can add more buttermilk, toss in some onion, some hot sauce, chili powder, … Do yourself a favor though and first make this according to the recipe. You'll fall in love and perhaps have a partner for life. And, in the end, that's what we all want, right? [I did not put this last sentence in just to please my wife. Things are going well.]
In Wings Across America, this is called a Roquefort Dip because Armand suggests using Roquefort cheese. I'm a blue man so I substituted Saga Blue and the result was excellent.
Smooth Blue Cheese Dip
Yield: 2 cups
Ingredients:
1 cup sour cream
¼ cup buttermilk
¼ cup mayonnaise
1 garlic clove, mince
1 tablespoon Dijon mustard
½ cup crumbled blue cheese
Preparation:
In a medium bowl, add all the ingredients. Mix well. Refrigerate. Serve with pride.
Source: Wings Across America by Armand Vanderstichel