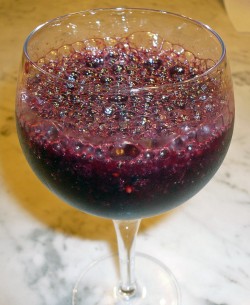 There is an expression I dread to hear: "I'm over edge." When Suzen says that, there is the threat of a tornado, flooding, or quake. Probably simultaneously.
After a recent stressful event here, she looked at me and said, "I need a drink."
"Mojito?" I suggested her favorite.
"No." She said.
"Margarita?"
"No." She said it louder.
Her next sentence was going to be that dreaded, "I'm over the edge."
"You want something different," I said, cutting her off.
She nodded yes.
"Go to the front room," I suggested, hoping to get her out of the kitchen. I opened the refrigerator, found some goodies, and created this super smoothie margarita chock full of fruit flavors.
I gave her a glassful. "Yum," she said.
Disaster averted.
You can make this with just the blackberries and have a good drink, but the banana here adds a flavor layer that is obvious and delicious. It makes the drink a bit more viscous. You'll want to balance the berry/banana flavor here, and you may need a bit more sugar syrup depending on the ripeness of your fruit.
Blackberry Banana Margarita
Yield: 1 full blender, probably 6 drinks
Ingredients:
½ cup white tequila
½ cup orange liquor
½ cup lime juice
½ cup simple sugar syrup
1 pint of blackberries
1 large, ripe banana
Preparation:
Put everything in the blender and process until the berries and banana are smooth. Then add enough ice to fill the blender to the top. Process until the ice is pulverized and you have a smooth consistency. Serve into chilled glasses, top with a whole blackberry.
Source: Brian O'Rourke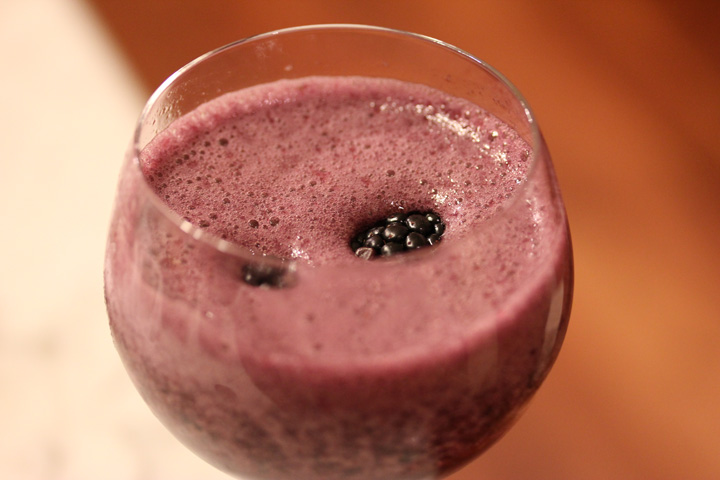 Brian and I are working our way through Kim Haasarud's wonderful 101 Champagne Cocktails. We've had good and great drinks so far, and then we had this one: superior in every sense. This is just an easy, delightful beverage. Champagne in a blender? Who has ever done that before? As the picture above shows, you get a little fizz with your buzz. The balance of this drink is very intriguing: the pineapple and berries simply merge with the sweetness of the syrup to create something that tastes great but that you can't pinpoint. You can't tell what berry, or that it is pineapple. It's just good.
We've made this beverage both with and without the ice cubes that are suggested. You certainly more volume with the ice, Brian prefers to add just a couple of cubes. The resulting color and flavor are more intense. For a party, this is an interesting beverage choice. You can just scale it up, turn on the blender and you're set to serve everyone!
Frozen Berry Bellini
Yield: drinks for 2
Ingredients:
½ cup mixed berries [blackberries are excellent] plus more for garnish
3 ounces champagne
1 ounce simple syrup
1 ounce pineapple juice
Preparation:
Combine all the ingredients in a blender. Process until smooth. Add 1 cup of ice cubes and process. Pour into small juice glasses and garnish with a few berries
Source: 101 Champagne Cocktails by Kim Haasarud.