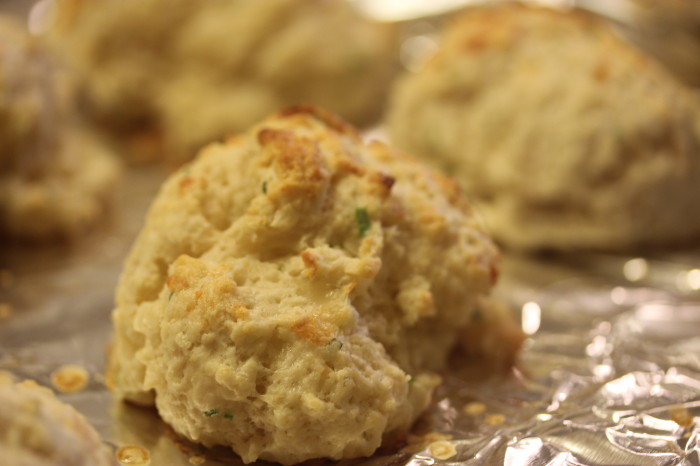 The lovely new book Biscuits, a Savor the South cookbook from the University of North Carolina Press asks a fundamental question: why not put the bacon right in the biscuit.
While you're at it, why not add in some cheese. Breakfast can be something with a biscuit on the side, or you can make these full flavor items your total meal. A good cup of coffee and one or two these Bacon-Cheddar Biscuits is an ideal way to start your Sunday. Or Monday, or …
As with really authentic biscuits, these are made with buttermilk. To make life easy, they are not rolled and cut out. These are drop biscuits whose ragged top and edges make each biscuit charmingly unique.
The recipe below suggests dividing the cheese in half, putting half in the dough and sprinkling the rest over the top of the biscuits before baking. In our case, we wanted the cheese flavor deep inside so all that cheese and bacon went inside. A marvelous personal choice, I must say.
Bacon-Cheddar
Yield: 8 biscuits
Ingredients:
2 cups soft wheat all-purpose flour
1 tablespoon baking powder
½ teaspoon salt
3 tablespoons firmly packed brown sugar
½ teaspoon freshly ground black pepper
 4 tablespoons unsalted butter, cut into ½-inch chunks and chilled for 15 minutes
6-8 ounces smoky bacon
1 cup shredded sharp cheddar cheese, divided
¾ cup buttermilk, plus more if needed
1 tablespoon rendered bacon fat.
Preparation:
Preheat the oven to 425°F. Line a baking sheet with parchment paper.
Whisk together the flour, baking powder, salt, brown sugar, and pepper in a large mixing bowl. Cut in the butter until it's the size of small peas.
In a skillet over low heat, cook the bacon until done. Drain on paper towels, reserving the rendered fat. Finely chop the bacon and return to the skillet. Cook over low heat until the bacon is crisp and most of the fat is rendered, about 7 minutes. Allow to cool slightly.
Stir the bacon and half of the cheese into the flour mixture. Add the buttermilk and rendered bacon fat and stir to combine. Add additional buttermilk if needed to create a sticky dough.
Using an ice cream scoop on heaping tablespoon, drop the biscuits onto the baking sheet. Sprinkle the remaining cheese on top.
Bake for 12 minutes or until the biscuits are golden brown.
Source: Biscuits: a Savor the South cookbook by Belinda Ellis, Copyright 2013 by the Univrsity fo North Carolina Press. Used by permission of the publisher. www.uncpress.unc.ed.
Photo Information: Canon T2i, EFS 18-55MM Macro lens shot at F/2.8, 1/100th second, ISO 500
Now, there's no easy way to say this. Biscuits should taste like God made them. And for that, you cannot unroll some package from the refrigerator section of your supermarket. God does not live next to the whipping cream. Neither does he live next to the yellow box of "all-in-one-mix-for-biscuits-waffles-or-pancakes." No, if God spends a night in the supermarket it's next to the best flour He can find.
Biscuits are a Southern tradition because they have flour there, such as White Lily, that yields astronomically, gastronomically wonderful biscuits. If you live north of the Mason-Dixon Line, it's not easy to get a great biscuit flour.
And that is why this recipe, from the new Sarabeth's Bakery by Sarabeth Levine, is so important. Using standard north-of-the-Mason-Dixon-Line-flour, this recipe produces that light, tender biscuit that you could only experience way, way down South. The secret here is buttermilk plus very careful instructions. It's actually an easy recipe to do and the yield is, well, life changing. You won't be satisfied with "regular" biscuits again. Not when these addicting, light, fluffy, subtle pillows of flavor are so simple to prepare.
For a football party, a batch these is a wonderful starting point. People can enjoy them with butter and jam, or you can top them with ham and cheese, or … You get the idea: these are wonderful on their own and the perfect launching pad for your imagination.
Buttermilk Biscuits
Yield: 16 biscuits
Ingredients:
3 ¼ cups unbleached all-purpose flour
2 tablespoons superfine sugar
1 tablespoon plus 2 teaspoons baking powder
⅛ teaspoon fine sea salt
12 tablespoons (1 ½ sticks) unsalted butter, chilled, cut into 1/2-inch cubes
1 ½ cups buttermilk
 
Preparation:
Position a rack in the center of the oven. Preheat the oven to 400˚F. Line a half-sheet pan with parchment paper.
Sift the flour, sugar, baking powder, and salt together into the bowl of a heavy duty stand mixer. Attach the bowl to the mixer and fit with the paddle attachment. Add the butter. Mix on low speed until the mixture resembles coarse meal with some pea-size pieces of butter. Add the buttermilk, mixing just until the dough barely comes together.
Scrape the dough onto a lightly floured surface and knead a few times until the dough is smooth. Sprinkle the top of the dough with flour and roll out a little more than ¾ inch thick. Using a 2 ¼-inch fluted biscuit cutter, dipping the cutter into flour between cuts, cut out the biscuits and place 1 inch apart on the pan. Gently press the scraps together (do not overhandle the dough). Repeat rolling and cutting.
Bake until the biscuits are well risen and golden brown, 18 to 20 minutes. Serve hot or way. To reheat the biscuits, wrap them in aluminum foil in bake in a preheated 350°F oven for about 10 minutes.
Notes:
Suzen made these and meticulously followed the recipe. That "1 tablespoon plus 2 teaspoons baking powder" was done precisely that way. No rounding off to an even 2 tablespoons. Sarabeth Levine has one of the outstanding bakeries and restaurants in New York City. With her years of experience, you can trust that she has perfected this recipe down to that last teaspoon.
Source: Sarabeth's Bakery by Sarabeth Levine