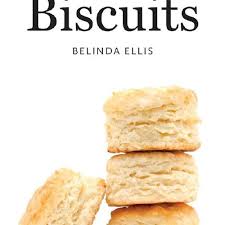 Belinda Ellis had the perfect job. For 15 years, she worked for White Lilly Flour, touring the country and showing people how to make biscuits. She's traveling less but writing more. Biscuits, a Savor the South cookbook from the University of North Carolina Press, is her perfect tome, her lovely tribute with deep insights into biscuits. Biscuits, it turns out, are less humble than you might expect.
If you've ever had a White Lilly Flour biscuit, I need say no more. Light and flakey and flavorful. It's a wonder.
If you know French, then you know that "biscuit" comes from "twice baked" just like biscotti. The original biscuits were like hardtack, designed for long lifetimes at sea. Not soft and flakey.
The key to great biscuits is the flour, particularly from soft winter wheat. That flour is very low in gluten. Gluten is what you want for a cake or a cookie. It is not what you want for a biscuit.
The combination of soft winter wheat flour and buttermilk is essential to making the classic Southern biscuits. Why did biscuits rise, no pun intended, in the South. The soft winter wheat was there. Buttermilk was aplenty. And biscuits bake quickly. In the rural and poor south, having to fire an oven for less time made biscuits the choice over bread.
Biscuits presents over 50 recipes. There is the classic Southern treat, rolled out and cut. There are drop biscuits [aka "lazy" because you don't roll]. But, but in defense of dropping the dough, Belinda emphasizes that the best way to make a bad biscuit is to overwork the dough. Remember, gluten is not your friend. So, dropping the dough is fine. You should not feel guilt.
The chapter on flavored biscuits provides an abundance of combinations to make your morning. I've already posted this week about a Bacon Cheddar gem. Belinda offers more extravagant options:
Gorgonzola, Walnut and Cranberry
Fresh Garlic, Cheese and Herb
Pimento Cheese
Goat Cheese
Black Pepper and Sour Cream
If you love biscuits so much you want them for dinner, you can do that. In fact, the biscuits don't have to sit on the side of the plate. You'll find recipes for:
The Southern Reuben
Chicken Pot Pie with Cheddar Biscuit Topping
Chicken and Dumplings
Lamb Stew with Caramelized Onion Mashed Potato Dumplings
It's now officially fall. Biscuits was officially published on September 4th. The timing could not have been better. A cool night and warm biscuit are the ingredients for family memories that will never be forgotten.
Now, there's no easy way to say this. Biscuits should taste like God made them. And for that, you cannot unroll some package from the refrigerator section of your supermarket. God does not live next to the whipping cream. Neither does he live next to the yellow box of "all-in-one-mix-for-biscuits-waffles-or-pancakes." No, if God spends a night in the supermarket it's next to the best flour He can find.
Biscuits are a Southern tradition because they have flour there, such as White Lily, that yields astronomically, gastronomically wonderful biscuits. If you live north of the Mason-Dixon Line, it's not easy to get a great biscuit flour.
And that is why this recipe, from the new Sarabeth's Bakery by Sarabeth Levine, is so important. Using standard north-of-the-Mason-Dixon-Line-flour, this recipe produces that light, tender biscuit that you could only experience way, way down South. The secret here is buttermilk plus very careful instructions. It's actually an easy recipe to do and the yield is, well, life changing. You won't be satisfied with "regular" biscuits again. Not when these addicting, light, fluffy, subtle pillows of flavor are so simple to prepare.
For a football party, a batch these is a wonderful starting point. People can enjoy them with butter and jam, or you can top them with ham and cheese, or … You get the idea: these are wonderful on their own and the perfect launching pad for your imagination.
Buttermilk Biscuits
Yield: 16 biscuits
Ingredients:
3 ¼ cups unbleached all-purpose flour
2 tablespoons superfine sugar
1 tablespoon plus 2 teaspoons baking powder
⅛ teaspoon fine sea salt
12 tablespoons (1 ½ sticks) unsalted butter, chilled, cut into 1/2-inch cubes
1 ½ cups buttermilk
 
Preparation:
Position a rack in the center of the oven. Preheat the oven to 400˚F. Line a half-sheet pan with parchment paper.
Sift the flour, sugar, baking powder, and salt together into the bowl of a heavy duty stand mixer. Attach the bowl to the mixer and fit with the paddle attachment. Add the butter. Mix on low speed until the mixture resembles coarse meal with some pea-size pieces of butter. Add the buttermilk, mixing just until the dough barely comes together.
Scrape the dough onto a lightly floured surface and knead a few times until the dough is smooth. Sprinkle the top of the dough with flour and roll out a little more than ¾ inch thick. Using a 2 ¼-inch fluted biscuit cutter, dipping the cutter into flour between cuts, cut out the biscuits and place 1 inch apart on the pan. Gently press the scraps together (do not overhandle the dough). Repeat rolling and cutting.
Bake until the biscuits are well risen and golden brown, 18 to 20 minutes. Serve hot or way. To reheat the biscuits, wrap them in aluminum foil in bake in a preheated 350°F oven for about 10 minutes.
Notes:
Suzen made these and meticulously followed the recipe. That "1 tablespoon plus 2 teaspoons baking powder" was done precisely that way. No rounding off to an even 2 tablespoons. Sarabeth Levine has one of the outstanding bakeries and restaurants in New York City. With her years of experience, you can trust that she has perfected this recipe down to that last teaspoon.
Source: Sarabeth's Bakery by Sarabeth Levine