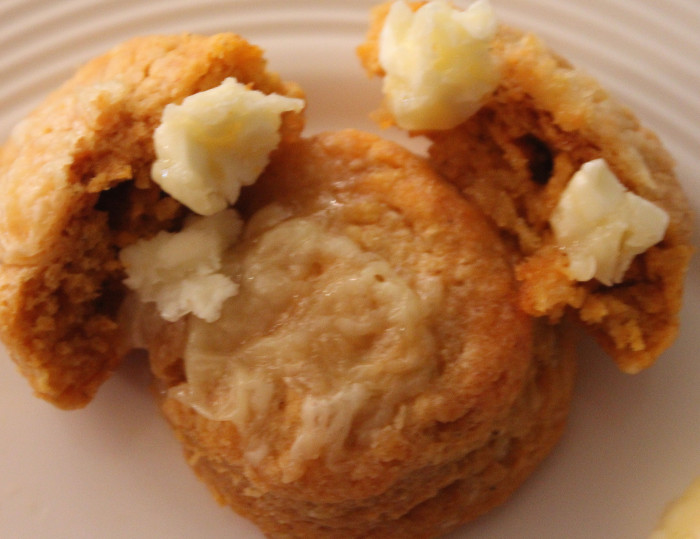 Yes, ten years ago you could not spell chipotle or easily find them in many stores. Now, every dish seems to contain it. Chipotle overload? Perhaps. It is time to be selective, and this recipe is just that. Chipotle is combined with cheddar cheese and paprika. The resulting biscuits are warm, not hot, to the taste and have a lovely reddish brown color.
To complement the warmth, we served these biscuits with honey butter. Why bother to make honey butter? Why not just put butter on the biscuits and then top with honey from the bottle?
Oh, you did not read my recent post about the book Taste. When you taste food, there is the sense of taste involved and the sense of smell and the sense of texture or feel. Honey butter integrates the honey texture into the butter and mutes the sweetness. If you simply pour honey on a biscuit and bite, your tongue is unavoidably saturated with the honey sweetness and the velvet texture of the flowing honey dominates the signals going to your brain.
If, on the other hand, you make this honey butter, the experience is very different. You will, for example, use less honey than if you were pouring it on directly. The sweetness level is lower, so the biscuit flavor is not lost. Try this butter just once and you'll be a fan.
These two recipes are from the same author, Gale Gand, and two books, Lunch and Brunch. Lunch is new, Brunch is a few years old. Both would be tasteful additions to your kitchen bookshelf.
Chipotle and Cheddar Biscuits
Yield: 12 2-inch biscuits
Ingredients:
2 ¼ cups all-purpose flour, plus more for your work surface
4 teaspoons baking powder
1 ½ teaspoon salt
1/8 teaspoon freshly ground black pepper
1 tablespoon plus 1 teaspoon sugar
2 teaspoons smoked or regular paprika
1 teaspoon ground chipotle
1 cup grated sharp cheddar cheese
2 tablespoon chopped fresh scallions
½ cup [1 stick] cold unsalted butter, cut into ½-inch cubes
1 cup buttermilk
Preparation:
Heat the oven to 400 degrees. Line a baking sheet with parchment paper.
In the bowl of a stand mixer fitted with the paddle attachment, combine the flour, baking powder, salt, pepper, sugar, paprika, chipotle, ½ cup of the cheddar, and the scallions. Mix on low speed for 30 seconds to combine and blend in the spices. Add the butter and continue to mix on low speed to break down the butter, mixing just until just combined. Turn the dough onto a floured work surface and knead it slightly to bring it together, if necessary. Roll out the dough to ¾-inch thickness and cut out 2-inch-diameter circles with a cookie or biscuit cutter. Place the circles on the lined baking sheet. Press the dough scraps together, roll them out again and cut out as many biscuits as you can. Repeat until you've used all the dough. Evenly distribute the remaining12 cup cheddar over the tops of the biscuits.
Bake for 12 to 15 minutes, until the biscuits are puffed up and golden brown on top.
The biscuits keep in an airtight container for up to 1 day at room temperature or up to four days in the refrigerator. If refrigerating, reheat them in a 350-degree toaster oven for about 5 minutes before serving.
Source: Lunch by Gale Gand
Honey Butter
Yield: ½ cup
Ingredients:
½ cup [1 stick] unsalted butter at room temperature
1 pinch salt
1 tablespoons honey
Preparation:
In a bowl, beat the butter with a wooden spoon. Then mix in the salt and honey. Pack the honey butter into ramekins, and serve at room temperature; or warm it in a small saucepan over low heat (or in the microwave for 10 seconds at a time) until melted, and serve hot.
Source: Brunch by Gale Gand
Photo Information [top picture]: Canon T2i, EFS 60 mm Macro Lens, F/5.6 for 1/16th second at ISO-3200
It's Christmas Eve and for many people this is a time of miracles. For your table tonight or tomorrow, here's a delicious side dish. A wondrous biscuit. You might try this instead of mashed potatoes. Oh, your family will rebel, as mine would? Then consider this quick delight for Christmas breakfast around the tree. Or, wait until Sunday night when you are having leftovers. The bright flavor of this biscuit is a match for dark turkey meat.
These biscuits are one of my personal favorites. My clients wanted a biscuit with a twist. With 40 people cooking in my kitchen at Cooking by the Book, I wanted something that was delicious, fast, and absolutely fail proof. These Chive-Cheddar Biscuits are the solution, not a compromise, but an all out perfect solution.
The biscuit is soft and has the lovely flavor combination of chive and cheddar. Brian will eat these without any additional butter. I can't tell you what a miracle that is.
Chive-Cheddar Biscuits
Ingredients:
2 cups all-purpose flour, plus more for kneading dough
2 1/2 tsp. baking powder
1/2 tsp. salt
1/2 cup finely shredded extra-sharp Cheddar cheese
1/4 cup minced fresh chives
6 Tbs. (3/4 stick) cold unsalted butter, cut into cubes
3/4 cup milk
Preparation:
Prepare the baking sheet:
Position a rack in the middle of an oven and preheat to 425°F. Line a baking sheet with parchment paper.
Mix the dough:
In a large bowl, stir together the 2 cups flour, the baking powder, salt, cheese and chives. Using a pastry blender or 2 knives, cut in the butter until the mixture forms coarse crumbs about the size of peas. Add the milk to the dry ingredients and, using a rubber spatula, stir just until evenly moistened.
Shape and bake the biscuits:
Turn out the dough onto a lightly floured work surface and press together gently. Knead the dough about 6 times and form into a ball. Pat into a circle about ¾-inch thick. Using a floured 3-inch round biscuit cutter, cut out rounds and place them on the prepared sheet, about 1 inch apart. Gather the scraps, pat out again and cut out more biscuits. Bake until the biscuits are golden brown, 15 to 18 minutes. Transfer to a wire rack and let cool slightly, then serve. Makes 12 biscuits.
Source: williams-sonoma.com which credits Williams-Sonoma Food Made Fast Series, Baking, by Lou Seibert Pappas