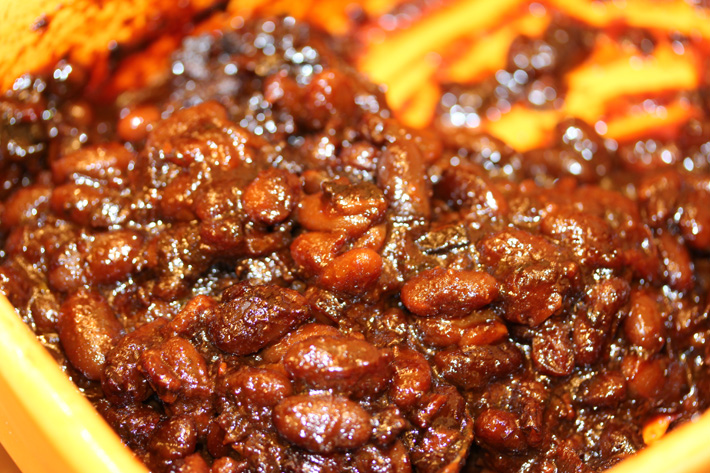 Slow food versus fast food. Slow food versus very slow food. Long cooking times can enable flavors and textures that simply are not possible with a microwave, a deep fryer or a simple broiler. Here's a perfect example. You start with cooked white beans, adorn them with a parade of additional flavors and let the combination bake away for hours. And the result? These are baked beans unlike anything you have ever had.
"More?" Brian asked me.
"I can make more," I said. I watched the tears fall from his eyes and all I could think was: leverage!
Your husband, wife or partner will beg you for these beans. Do not give up this recipe or your control. Slow is good. Very slow is very good.
Made according to this recipe, the chipotle here adds smokiness but only modest heat. The sugar and molasses of course add sweetness but also a stickiness that appeals. This a great complement to chicken wings or burgers. You will truly enjoy this complex combination of flavors.
Smoked Chipotle Baked Beans
Serves: 4 to 6 modestly, 2 persons hungrily
Ingredients:
One 16-ounce can cooked white beans
¼ cup chopped onion
¼ pound uncooked bacon, finely diced
¾ cup molasses
½ cup ketchup
¼ cup packed light brown sugar
1 smoked, dried chipotle pepper, seeded and crushed
1 teaspoons dry mustard
1 teaspoon salt
1 teaspoon Worcestershire sauce
1 tablespoon chopped fresh cilantro.
Preparation:
Heat the oil in a fryer to 350°F.
In a medium mixing bowl, combine the beans, onion, bacon, molasses, ketchup, brown sugar, chipotle, mustard, salt, Worcestershire, and cilantro. Mix well.
Transfer the mixture to a buttered 5- to 6-inch deep baking dish. Cover with foil and bake for 4 hours. Check the beans every hour for moisture content. If they become too dry, add a little water.
Serve piping hot.
Source: Wings Across America by Armand Vandersitgchel
Mark Miller is one of the most prominent Southwestern chef and cookbook authors. If you visit Santa Fe, then the Coyote Café is a festive spot for his delectable beverages, appetizers and full meals. The wide stairway lined with pink stucco leading you to the second floor makes you feel welcome from the first step.
Miller's recipes are spicy, authentic, and appealing from the first glance. In his new book, Tacos, Miller offers many recipes you'll enjoy, but this one is Suzen's favorite. The word charro refers to the original New World cowboys. These Mexican and Spanish men needed serious food at the end of their day, and they had one pot to make it in.
This dish will remind you of chili, but it's something different. The spicy aromas will fill your kitchen. As you peer into the pot, the combination of beans and spices will form a broth quite unlike what you've seen before: rich, thick, dark red, and obviously potent.
You can serve this with tortillas as Miller suggests, put it in bowls and garnish with sour cream, or do what Suzen and I did: heap it into a large baked potato and savor the combination of mellow potato and outrageously spiced beans.
Charro Beans with Blacked Tomatoes
Yield: 8 tacos worth
Preparation Time: 2 ½ hours
Ingredients:
1 cup dried pinto beans, rinsed 3 times and picked over for rocks
3 cloves garlic
1 small white onion, halved
6 ½ cups water
2 tablespoons olive oil (preferably Spanish)
2 cloves garlic, minced
2 jalapeno chiles, dry-roasted
1 pound tomatoes, blackened and cut into ¼—inch dice [directions below]
1 teaspoon tomato paste
¼ teaspoon chipotle puree
½ teaspoon smoked salt
¼ teaspoon dried Mexican oregano, toasted and ground
1 tablespoon chopped fresh cilantro leaves
8 (5 ½-inch) soft yellow corn tortillas, for service
Garnish: strips of soft beef or game jerky
Preparation:
To cook the beans, in a large pot, simmer the beans, garlic, ½ onion, and the 6 ½ cups of water over medium=low hat, partially covered, until the beans are almost falling apart, 2 to 4 hours. Add water as necessary during cooking so the mixture does not dry out. After the beans are cooked, drain the bean liquid into a saucepan and return the beans to the large pot. Over medium heat, reduce the liquid until it is thickened (not too much liquid will be left), about 10 minutes; reserve.
Meanwhile, cut the remaining ½ onion into ¼-inch dice. Ina skillet, heat the oil over medium-high heat and sauté the diced onion until it begins to caramelize, about 5 minutes. Add the garlic and sauté for 30n seconds (don't let the garlic burn); set aside.
Into the ;pot of cooked beans, stir in the sautéed onion and garlic, chiles, tomatoes, tomato paste, chipotle puree, smoked salt, oregano, cilantro, and the thickened bean juice, and cook over medium heat for 20 minutes. Remove from the heat and serve immediately, or keep warm in the pan until ready to serve.
To serve, the tortillas side by side, open face and overlapping on a platter. Divide the filling equally between the tortillas and top with salsa and jerky strips. Grab, fold, and eat right away. Or build your own taco: lay a tortilla, open face, in one hand Spoon on some filling, top with salsa and jerky strips, and eat right away.
To blacken the tomatoes, preheat a heavy skilled, cat-iron preferably, over high heat. Add the whole tomatoes and cook, turning occasionally until the tomato skins split and are blackened, about 5 minutes. Remove and let cool.  Peel the tomatoes, discard the stem ends and coarsely chop the tomatoes.
Source: Tacos by Mark Miller