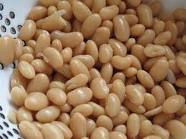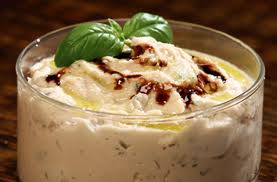 When I was growing up, the only beans were ever ate were from a metal can. We canned them ourselves in a local coop and for the first few months, they were okay. Not fresh, but edible. As time passed, as one year approached, opening a can was an exercise in self-destruction. Eating them was impossible. I always sat at the corner of the dinner table with a carpet corner just to my left. By an act of God, or for self-deliverance, I was left handed.
Decades later, if you say "beans" to me, be prepared for a violent reaction.  Sorry, time cannot erase some traumas.
However, Suzen keeps trying and I must say that she's found a great, and yet simple way, to erase bean nightmares. True, when you open a can of white beans, it's not an exciting event. But, in a short time, through the miracle of onion, carrot and certainly roasted garlic, those white beans can become an addictive puree.
The puree is wonderful as a simple side dish for roasted chicken. Or, if you can't wait for the main dish, spreading this on toasted bread and sharing a crisp white wine is a fine appetizer.
You can top off the puree with a dash of olive oil, balsamic vinegar, perhaps some crushed red pepper, or a garnish of herbs. This quick dish will make you believe in magic. True, you do start with something canned at the start. But you work with it, add fresh ingredients, cook to amplify flavors and concoct joy.
White Bean Puree with Roasted Garlic
Yield: 3 ½ cups
Ingredients:
1 tablespoon olive oil
½ cup carrot, finely chopped
½ cup chopped onion
1 whole garlic bulb, roasted
1 tablespoon fresh thyme
3 15 ounce cans cannellini (white kidney beans), drained
1 cup chicken or vegetable stock
Preparation:
Heat oil in heavy saucepan over medium heat, add carrots and onion then sauté until the vegetables are tender, about 5 minutes.
Add cannellini and broth; bring to boil. Reduce heat to low; cook until almost all liquid is absorbed, stirring often, about 20 minutes. Puree mixture in food processor with the roasted garlic. Season with salt and pepper. Return to saucepan to keep warm or place in microwavable bowl.
Source: Adapted from Bon Appetit Magazine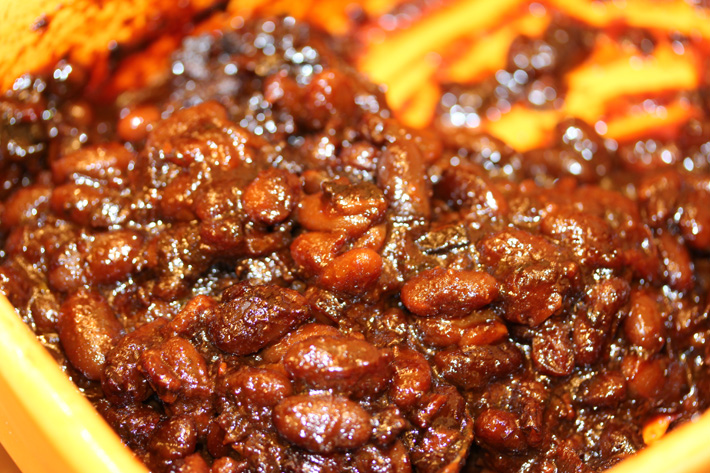 Slow food versus fast food. Slow food versus very slow food. Long cooking times can enable flavors and textures that simply are not possible with a microwave, a deep fryer or a simple broiler. Here's a perfect example. You start with cooked white beans, adorn them with a parade of additional flavors and let the combination bake away for hours. And the result? These are baked beans unlike anything you have ever had.
"More?" Brian asked me.
"I can make more," I said. I watched the tears fall from his eyes and all I could think was: leverage!
Your husband, wife or partner will beg you for these beans. Do not give up this recipe or your control. Slow is good. Very slow is very good.
Made according to this recipe, the chipotle here adds smokiness but only modest heat. The sugar and molasses of course add sweetness but also a stickiness that appeals. This a great complement to chicken wings or burgers. You will truly enjoy this complex combination of flavors.
Smoked Chipotle Baked Beans
Serves: 4 to 6 modestly, 2 persons hungrily
Ingredients:
One 16-ounce can cooked white beans
¼ cup chopped onion
¼ pound uncooked bacon, finely diced
¾ cup molasses
½ cup ketchup
¼ cup packed light brown sugar
1 smoked, dried chipotle pepper, seeded and crushed
1 teaspoons dry mustard
1 teaspoon salt
1 teaspoon Worcestershire sauce
1 tablespoon chopped fresh cilantro.
Preparation:
Heat the oil in a fryer to 350°F.
In a medium mixing bowl, combine the beans, onion, bacon, molasses, ketchup, brown sugar, chipotle, mustard, salt, Worcestershire, and cilantro. Mix well.
Transfer the mixture to a buttered 5- to 6-inch deep baking dish. Cover with foil and bake for 4 hours. Check the beans every hour for moisture content. If they become too dry, add a little water.
Serve piping hot.
Source: Wings Across America by Armand Vandersitgchel