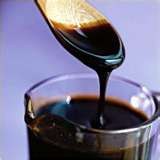 In upstate New York today, it was in the high 60s so that Halloween snow is gone. But more snow is on the way. That's why this was a Kindling Day. Warm, blue sky, no snow or ice. The perfect day to gather firewood and kindling. There may not be another day like this until April.
"This is crazy," my oil delivery man said to me. I think he was a bit disappointed at the temperature.
"That vine on the side of the house?" I pointed. "It's budding." And that vine has not had leaves for two weeks.
"Oh" he was now truly unhappy.
"Don't worry. Snow on Thursday," I said.
"Great." He whistled his way back to the oil truck.
After a few hours of lifting things, I wanted a quick, "comfort food" meal. I know that I rant about only cooking from scratch, but the truth is there are days when some grocery store beans are a great start. A start.
I took a 28-ounce can of baked beans and augmented it: sautéed celery and onion plus some molasses. The result is a one pot meal that, coupled with a good beer, lets the day end on a perfect note.
And for that molasses? Look for something a bit different. Suzen and I found some sugar cane molasses at a Middle Eastern market in Brooklyn. More subtle, and probably more sweet, it made for great beans.
Brian's Baked Beans, Augmented Style
Yield: 2-3 people
Ingredients:
1 28-ounce can of baked beans
1 stalk of celery, finely diced
1 medium sweet white onion, diced
2 tablespoons butter
½ cup molasses
Preparation:
Open the beans and pour off some, but not all, of the liquid. You'll be adding about ¾ cup of liquid between the molasses and vegetables. You want beans here, not soup.
Dice the celery and onion. Melt the butter in a 2-quart sauce pan. Add the vegetables and sauté until translucent. Add the baked beans and the molasses. Stir to combine. Heat until it bubbles, stirring occasionally.
Source: Brian O'Rourke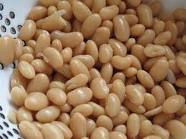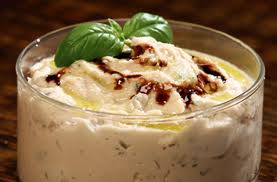 When I was growing up, the only beans were ever ate were from a metal can. We canned them ourselves in a local coop and for the first few months, they were okay. Not fresh, but edible. As time passed, as one year approached, opening a can was an exercise in self-destruction. Eating them was impossible. I always sat at the corner of the dinner table with a carpet corner just to my left. By an act of God, or for self-deliverance, I was left handed.
Decades later, if you say "beans" to me, be prepared for a violent reaction.  Sorry, time cannot erase some traumas.
However, Suzen keeps trying and I must say that she's found a great, and yet simple way, to erase bean nightmares. True, when you open a can of white beans, it's not an exciting event. But, in a short time, through the miracle of onion, carrot and certainly roasted garlic, those white beans can become an addictive puree.
The puree is wonderful as a simple side dish for roasted chicken. Or, if you can't wait for the main dish, spreading this on toasted bread and sharing a crisp white wine is a fine appetizer.
You can top off the puree with a dash of olive oil, balsamic vinegar, perhaps some crushed red pepper, or a garnish of herbs. This quick dish will make you believe in magic. True, you do start with something canned at the start. But you work with it, add fresh ingredients, cook to amplify flavors and concoct joy.
White Bean Puree with Roasted Garlic
Yield: 3 ½ cups
Ingredients:
1 tablespoon olive oil
½ cup carrot, finely chopped
½ cup chopped onion
1 whole garlic bulb, roasted
1 tablespoon fresh thyme
3 15 ounce cans cannellini (white kidney beans), drained
1 cup chicken or vegetable stock
Preparation:
Heat oil in heavy saucepan over medium heat, add carrots and onion then sauté until the vegetables are tender, about 5 minutes.
Add cannellini and broth; bring to boil. Reduce heat to low; cook until almost all liquid is absorbed, stirring often, about 20 minutes. Puree mixture in food processor with the roasted garlic. Season with salt and pepper. Return to saucepan to keep warm or place in microwavable bowl.
Source: Adapted from Bon Appetit Magazine